How To Choose A Pickleball Paddle Without Buying It
I've been playing pickleball for a long time but when I first started, I was confused with how to choose a pickleball paddle because of the sheer number of options available. However, a few years ago I found what I feel is the best way to choose a pickleball paddle and I'm going to share it with you.
The best way to choose a pickleball paddle is to try it out and play with it first. It sounds like an oversimplification, but how a paddle feels in your hand takes precedence over things like paddle weight and material. There are many programs that let you demo or buy and return paddles and I'm going to outline all of them.
In addition to demoing a paddle first, I'm going to cover the basics in paddle specs so that you know where to start on your list of paddles to try out. Specs like Price, Paddle Weight, Paddle Width, Handle Length and Grip Circumference can help narrow down where you start.
But they all take a backseat to actually experiencing how a paddle feels in your hands and how it plays on the court. Let's dive into the basics of how to properly choose a pickleball paddle.
Choosing A Pickleball Paddle – Demo Programs
When it comes to choosing the right pickleball paddle, demo programs are without a doubt the way to go. However, one of the things you won't find many people talking about is that many (almost all) online pickleball paddle retailers will let you try out the paddles in one of two ways.
The first is a demo program.
The second is a buy/return program where you have up to 30 days to return a paddle with no questions asked.
Some online retailers even offer both options. It truly is amazing!
I'm going to walk you through each online retailer that offers these programs and explain the "try before you buy" options that I've personally used.
Total Pickleball's Pickleball Paddle Programs
Total Pickleball.com has been around as long as I can remember and it's one of my go to online retailers when choosing a pickleball paddle. Total Pickleball is owned and operated by Tennis Warehouse, which is their much bigger Tennis sister site. So, you know they're paddle experts and a big operation.
When it comes to choosing a pickleball paddle,Total Pickleball offers you two incredible options.
A Demo Program
A 30 Day Buy and Return Policy
Total Pickleball Demo Program
I've used their demo program and it's the second best on the market. Second only to pickleballgalaxy.com because of the variety available to demo.
While many paddles are available to try within their demo program, not all of them are. Certain brands have fewer paddles included in their demo program. For instance, you might see 12 different Gamma paddles in the demo program but only one Engage paddle.
But, this demo program has some of the newest paddles on the market instantly available to demo! This is unique! Other demo programs don't have newly released paddles as part of their demo program right away.
So kudos to Total Pickleball, their demo program is updated all the time.
The demo program has a total of 63 paddles to choose from. The brands included are as follows: Babolat, Engage, Gearbox, Head, Onix, Selkirk, Paddletek, and Pro-Lite.
Here's how the Total Pickleball paddle demo program works.
You can select up to three different paddles. You pay the shipping, which is typically around $8. The paddles usually arrive at your doorstep in two days. You have a week to try them out, then ship them back using the same box they came in with the return shipping label included.
Simple.
And the fact that you can demo up to three paddles is unique. No pickleball paddle demo program allows you to demo this many paddles.
In addition to being the only demo program to offer three paddles, it's also the cheapest demo program around.
All they ask is that you treat the paddles with care knowing that someone else will probably be using them at some point. So no slamming the paddle down on the court in frustration.
Total Pickleball – How To Buy And Return
As for their 30 Day Buy and Return policy, it is fantastic!
ALL of the new paddles they offer come with a 30 day, no questions asked policy. Meaning, you have 30 days from the purchase date to use the paddle and if you're not a fan, you can return it for a full refund!
So, if you buy a new paddle and return it because you didn't like the way it felt in your hand after 3-4 weeks; you'll get a refund issued to your credit card in 2-10 business. It's easy!
Total Pickleball offers the following paddle brands for purchase: Babolat, Engage, Gamma, Gearbox, Head, Onix, Paddletek, Franklin, Prince, Pro Kennex, Pro-Lite, Selkirk, Wilson, and Vulcan.
Notable brands not available: OneShot, Electrum, Margaritaville, and Pickle-ball Inc.
Pickleball Central's Pickleball Paddle Program
Pickleball Central is arguably the largest online retailer of pickleball paddles, so they're selection of brands and models to choose from is second to none. The selection is huge, and I've used them many times.
However, they don't offer a true "demo" program. What they do offer is a 30 day trial program where, as they call it, you can "test drive" a paddle for 30 days and then return it for a full refund if you're not happy with it.
Here's how it works.
It's an awesome program, and they only ask two things from you when you're returning a paddle. First, they ask that you email them to make sure you're within the 30 day return window. And secondly, all you have to pay for is the return shipping cost through either FedEx or UPS.
After that, you get a full refund for the price of the paddle. Simple.
So, if you've got your eye on two paddles, both over $100. Buy them both. Try them for 30 days and return the one you didn't like as much for a full refund! Or if you just didn't like how either paddle played, return them both!
Choosing a pickleball paddle, playing with it for 30 days and then being able to return it, is the proper way to actually get the feel for a paddle. Even though you're technically buying it, you get to try it before you fully commit to it. In my opinion, when selecting a new pickleball paddle, this is the way to go!
The brands that Pickleball Central offers are: Amour, Babolat, Electrum, Engage, Franklin, Gamma, Head, Margaritaville, OneShot, Onix, Paddletek, Pickleball-Inc, Prince, Pro Kennex, Pro-Lite, Selkirk, Vulcan, and Wilson.
The only notable brand not included is Gearbox. But remember, Total Pickleball has them.
PickleballGalaxy's Pickleball Paddle Programs
Pickleballgalaxy.com is the second online retailer to offer both an outstanding demo program and a very friendly buy and return program.
Pickleball Galaxy's Demo Program
In my opinion, the best demo program to try a pickleball paddle is from Pickleball Galaxy. In my opinion, it's the best because of the sheer number of paddles available to try out. Basically, if they sell it, you can demo it!
It's awesome!
I've even emailed them when a new paddle came out and it wasn't included in their demo program yet and they immediately made it available for me to try out. They've even allowed me to extend my demo beyond the 7 day period in order to make sure I got enough time with it.
So they're customer service is outstanding. They're timely with their email responses and make sure the customer's needs are always first. They even allow you to use the paddle as if you own it. No need to go easy on it.
Overall, their demo program works similarly to Total Pickleball's program. You get a 7 day trial period to try out a plethora of paddles. The only difference is that you pay a flat $25 for two paddles.
So it's a little more expensive than Total Pickleball's program and you don't get to try an extra third paddle.
But, the extra cost is still manageable and it's worth it based on their selection of paddles available.
Speaking of selection, Pickleball Galaxy literally offers over 120 different paddles to demo! No other paddle demo program is that extensive. And like I said, if you don't see a paddle you're looking for, email them and see what they can do for you.
The brands included in their demo program are as follows: Babolat, Engage, Gamma, Gearbox, Head, Onix, Paddletek, Prince, Pro Kennex, Pro-Lite, Selkirk, Vulcan, and Wilson.
Notable brands missing: Amour Pickleball, OneShot, Franklin, Electrum, Margaritaville, Pickleball-Inc.
Pickleball Galaxy's Pickleball Paddle Buy And Return Program
Pickleball Galaxy allows you to try any one of their paddles for 30 days and return it. No need to call or email ahead of time, just send the paddle back and they'll either refund you or send a replacement paddle to try.
They even ask that you use the paddle as if you plan on keeping it. No need to baby the paddle, use it like it's yours to keep.
As far as brand selection for purchase, it's the same as their demo program with Margaritaville and Slam Master added in.
My only gripe with Pickleball Galaxy overall is that they are a little late in getting in new models. Not only in their demo program but also just to purchase.
So, if you're looking for a brand new paddle from a big name manufacture, chances are Pickleball Central and Total Pickleball will have it first.
But remember, when Pickleball Galaxy does get a paddle in, it will most likely be available in their demo program and their purchase program at the same time. This is something no other online retailer does as well as Pickleball Galaxy.
Pickleball Paddles Amazon Options 
Amazon is another pickleball paddle online retailer worth considering because they have almost any paddle you can think of. So, Amazon's selection of pickleball paddles is practically endless.
One of the things I like about buying paddles on Amazon is the fact that you're most likely getting the best price available. So, despite having no demo program, Amazon's paddle purchase prices are typically as low or lower than the other online retailers I've highlighted here.
However, there are a few things to consider.
Even though Amazon Prime has a very generous overall return program, each pickleball paddle's return policy may come down to the individual seller. So when purchasing a paddle on Amazon, thoroughly check your return options.
Amazon usually takes a week or two to get newer paddles into their inventory compared to Pickleball Central or Total Pickleball. The big brands tend to make their paddles available on Amazon a little later compared to other pickleball specific retailers.
Overall, if I'm going to buy a paddle with the potential option of returning it, I tend to lean towards Pickleball Central or Total Pickleball before Amazon.
How Do The Pros Choose Their Paddle?
I interviewed three professional pickleball players and even the president of Pro-Lite sports and asked them what the number one factor is to choosing a pickleball paddle. Here's what they said.
All pickleball pros choose a pickleball paddle based on one thing more than anything else – how it feels. The number one aspect for how an elite pickleball player selects a pickleball paddle is how it feels in their hand for deep baseline serves, soft dinks and topspin putaway shots.
Professional players use a play-test and how it "feels" over things like paddle weight and paddle shape.
In short, it's how it plays.
You can read my entire interview on what a pro looks for when choosing a paddle here.
What Is The Best Weight For A Pickleball Paddle?
Pickleball paddle weight is a subjective topic. Which is why it's so difficult to know where to begin. However, here is one easy trick to help you find what the best weight is for a pickleball paddle.
The best weight for a pickleball paddle comes down to personal preference and your style of play. If you like touch and feel at the net, you'll want a paddle between 7.4 and 7.8 ounces. If you like power on passing shots, then select a paddle between 7.8 and 8.4 ounces.
So, what type of player are you? If you're like me or a lot of traditional recreational players you probably fall into the biggest category of standard pickleball players. You don't want something too light or too heavy.
Like Goldilocks, you'll want some that's "just right."
So, where do you start? Well, that takes me back to my original point to this post. Try them out! I recommend trying a couple paddles in the standard weight range somewhere between 7.8 and 8.2 ounces.
Lots of paddles nowadays offer a lighter and heavier version. Here's a great example and a great place to start from a demo stand point.
Take the Babolat RBEL for example. It comes in a "Touch" and "Power" version. The Touch comes in between 7.4 and 7.8 ounces. That is a great paddle weight range for something on the lighter side.
The Power version of this paddle weighs in 7.9 to 8.3 ounces. That's a perfect balance for a paddle on the heavier side without it feeling like a sledgehammer.
Why not get them both and try them out? Total Pickleball offers them both in their demo program here.
After reviewing the most popular pickleball paddles sold across multiple online retailers, I found that the most common weight for pickleball paddles is between 7.4 to 7.9 ounces. The second most popular is on the heavier side between 8 and 8.4 ounces while lighter paddles below 7.4 ounces are the least popular.
Pickleball Paddle Price
Here's the truth about pickleball paddle prices that you don't hear anyone else talking about and why price should be an important factor when selecting a pickleball paddle.When choosing a pickleball paddle, price is actually a really good glimpse into the quality and quantity of materials used. And this dictates how big or accurate a paddle's sweet spot is.Let me explain.Pickleball paddle prices can vary considerably. Go look at Amazon. You'll see paddles ranging from $20-30, all the way up to $200.You can find a paddle priced under $50 that claims to have a polymer core and a graphite or composite face just like the paddles that are $150…so what's the difference?The difference is that the cheaper paddle, despite advertising that it has the same type of material (graphite face with a polymer core) is most likely using a lower grade of material and more importantly, less of that material.Especially when it comes to the polymer core.
Here's the thing, cheaper paddles may use honeycomb polymer cores, just like the higher priced ones, but the amount they use is what allows them to charge a cheaper price.
Picture the honeycomb polymer core like an accordion. If you use less of that sheet of honeycomb polymer to spread across the paddle, the accordion has to expand. The honeycomb expands and the honeycomb shapes across the paddle expand with it, and become bigger or stretched.
This means that less material is used and less material and lower grade materai means a cheaper price.
And, a cheaper paddle usually has a much smaller sweet spot and has way more dead spots. Smaller sweet spots on a pickleball paddle with more dead spots means you'll have more miss hits.
This is why I stay away from knock off brands that charge under $50.
Conversely, higher priced premium paddles have the reverse effect. They use premium grade material and more of it.
Meaning, the accordion is not stretched, the honeycomb shaped polymer core is tightly packed across the paddle face with no corners cut. This creates a more tightly packed core with fewer dead spots, a very large sweet spot, fewer miss hits, and a much more forgiving paddle.
For newer players, this is the way to go. This is why paddle price should always be a factor when choosing a pickleball paddle. And this is also why newer players should consider going with a more premium paddle in the $80 or above range.
They're more forgiving because of that build quality. And trust me, if you're still learning the game, a more forgiving paddle is definitely a good thing.
What Is The Best Material For A Pickleball Paddle – Graphite Or Composite?
Much like paddle weight, the materials a paddle is made out of are subjective. However, after trying out over 40 paddles in two years, composite paddles have performed the best for me because they give me more spin and power down the baseline while remaining consistent for volleys at the net.But, this is a personal preference for me. I'm not against graphite paddles. In fact, the Babolat RBEL and Paddletek Tempest are awesome paddles.I just found myself wanting more pop or power on my topspin forehand. Composite paddles tend to give me that pop a little more.
But, the gap is closing. 5 years ago, a graphite paddle would not have been able to compete in the "power" department. And a composite paddle would have been lacking in the "touch" or "feel" department.
However, that's all changing and both paddles are beginning to play more like one another.
What are the main differences between graphite and composite paddles?
Graphite paddles come in the more traditional 16" x 7" paddle shape and are rarely seen in the blade style shape. They are lighter and typically weigh between 7.2 to 7.8 ounces. Composite paddles have a rough textured finish that is great for spin, come in all shapes and sizes and weigh more than graphite paddles – between 7.7 to 8.3 ounces.
So again, it comes down to personal preference and playing with them first.
There is a newcomer to be aware of though and it's Carbon Fiber. Carbon Fiber paddles like the Pro-Lite Titan Pro or the Babolat MNSTR are premium grade paddles (carbon fiber is expensive) and offer a little different experience all together.
They can remain light like a graphite pickleball paddle but still give you great ball spin and baseline power like a composite paddle. Are they the best of both worlds? Not yet.
The technology is still being perfected and there are not a lot of carbon fiber faced paddles to choose from because manufacturing them is costly. But bigger pickleball paddle brands are offering a smattering here and there and claim they are the future.
We'll see if that trend continues. But in the meantime, try a few of each paddle type and decide for yourself. The point is, there is no clear winner when it comes to graphite vs composite pickleball paddles.
Related info: For my complete breakdown of graphite vs. composite – click here.
Pickleball Paddle Shapes – Length and Width Analyzed
ickleball paddle shapes have changed over the last four to five years. We no longer have the traditional 16"x8" paddle shape to choose from.But does it matter? In my opinion, yes it does!I've tried all different kinds of paddles and paddle shapes. Ranging from standard, to wide body, thinner paddles, thicker paddles and even elongated blade shaped paddles.They all have pluses and minuses. Let's talk about the three most common pickleball paddle shapes: Wide Body, Blade and StandardWide Body Paddles:
What is a "wide-body" Pickleball paddle? Wide-body paddles typically have a width of 8 inches or wider and have a paddle length under 15 inches Like the name implies, they have a wide, horizontal hitting area perfect for bigger sweet spots.
For example, the Prince Spectrum Pro has a wide 8-¼" face. Or the Onix Z5, a legendary graphite paddle, has a paddle width of 8-⅛" across the paddle face.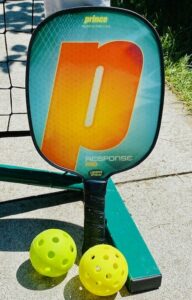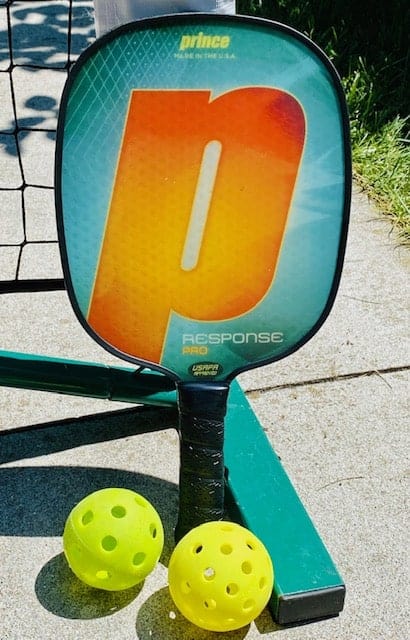 They're shorter but wider by design. This shape allows for a much larger sweet spot, and a more forgiving paddle if you don't happen to make contact with the ball squarely in the middle of the paddle.
I recommend wide-body paddles for beginners because the wider face allows you to still make solid contact with the ball even if your form or technique are still developing.
It sounds simple, but you will have fewer miss-hits with a wide-body paddle. If you're a beginner, I highly recommend a wide-body shaped paddle.
Wide-body paddles are also used by 5.0 level pros. In fact, Simone Jardim plays with her signature wide-body paddle, the Prince Response Pro and even won the US Open Pickleball Championship with it.
So wide-body shaped pickleball paddles are universally used and respected regardless of skill level.
Blade Paddles:
Elongated or blade style pickleball paddle are a unique shape that takes the concept of a wide-body paddle but reverse engineers it to give the player extra length instead of width.
This allows for more "whip" action, loads more power on serves and more top spin speed.
But you sacrifice sweet spot real estate and have very little width to hit a soft dink.
The point is, you've got to be spot on with your form and hit the ball in the sweet spot, nearly every time.
Blade shaped paddles tend to have an overall length of either 16 ½, 16 ¾ or 17 inches.
What is the maximum length of a pickleball paddle? 17 inches is the maximum allowed length for any pickleball paddle in today's game.
Examples of elongated blade pickleball paddles are the Vulcan 550 Hybrid and the Wilson Juice XL.
I've played with blade style paddles and while they're fun for crushing deep baseline hugging-serves, I found them not very well rounded and difficult at the kitchen line.
I'm my opinion, they're more of a recreational gimmick. Watch any pro level pickleball match on YouTube, you won't find a single high level player using one.
As far as I'm concerned, that tells me everything I need to know about blade shaped paddles.
Standard Paddles:
The standard and most common shape for a pickleball paddle is between 16 ½ to 15 ½ inches long and 7 ½ to 7 ¾ inches wide.
Any longer and it becomes a blade shape.
Any wider and it becomes a wide-body style paddle.
This shape is going to have the most variety with subtle size differences across the width and length depending on the brand and model.
But, they'll never be too long or too wide.
Standard shaped pickleball paddles are a great choice for beginners and advanced player alike.
Some great examples of a standard shaped pickleball paddle are the Tempest Wave by Paddletek or the Crush PowerSpin by Pro-Lite.
Choosing A Pickleball Paddles Based On Grip Length And Grip Circumference
Pickleball paddles come in different grip sizes and the size is based on two factors; handle length and grip circumference. Handle lengths range from shorter 4 ¼" to 4 ¾" lengths to longer 5" to 6" options. Grip circumferences increase in ⅛" increments and go from 3 ⅞" to 4 ½".

The most common grip circumference on a pickleball paddle today is 4 ¼".
The most common pickleball handle length is 4 ½ inches to 5 inches and most online retailers allow you to choose the specific length when some paddles offer different sizes to choose from.
So how do you choose a pickleball paddle based on grip? If you're a beginner, I'd start with a paddle length of 5 inches or 4 ½ if you have smaller hands. For grip circumstance, try 4 inches and go up or down from there based on personal preference.
But, much like everything else in this article, it should be based on trying some paddles first and seeing how they feel.
Here are some additional helpful resources about pickleball grips:
https://www.thirdshotdrop.com/blog/find-pickleball-paddle-grip-size.htm
How Do You Measure A Pickleball Paddle Grip?
The proper way to measure what grip length will fit your hand best is the take a ruler and measure from the bottom crease in the center of your palm up to the tip of your middle finger. The length you get equals the proper handle length for your hand.For me, the ruler measures 5 inches on the dot. So, I tend to pick paddles with 5" long handles and they work great for me.
Related Questions:
How Do You Pick The Right Pickleball Paddle?
Amongst pros and recreational players alike, the recommended way to pick a pickleball paddle is to try it out and see how it feels in your hand. Picking the right pickleball paddle should be based on how it plays and feels in your hand over how much a paddle weighs or the type of material it's composed of. 
Which Pickleball Paddle Is Best For Me?
Utilizing an online retailer's paddle demo program or their buy/return options is the best way to find what pickleball paddle is best for you. Playtesting a paddle allows you to accurately feel how the paddle performs for deep serves and soft drop shots at the net.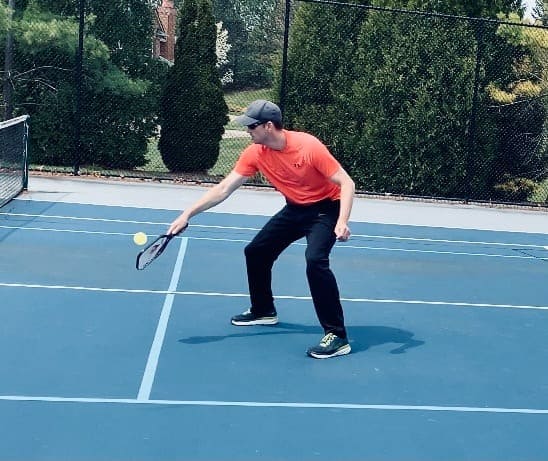 Welcome to TheVolleyLlama.com. My name is Keith, I'm just a lover of all sports that involve a racquet, net and a ball. I played competitive high school varsity tennis, love racquetball and my whole family plays pickleball regularly. I started this website to help give people like you the basics to learn these wonderful games.