Chances are if you're reading this article, it's because you're exactly where I was 5 years ago. You've played the game of pickleball, learned the rules, and fallen in love with it. You're playing regularly and are probably in need of a better paddle. Now, you're looking for the best pickleball paddles for beginners.
What is the best pickleball paddle for a beginner?
In my opinion, I found that the Prince Response Pro is the best pickleball paddle for a beginner-level player. Simply put, it has made me a better player because its wide-body paddle face made for a much more forgiving experience.
But, there is more to choosing the best beginner-level pickleball paddle than just the shape of the paddle.
Keep reading and I'll not only cover the 3 best pickleball paddles for beginners that I've ever played with but I'll also go in-depth on what features to look for in a paddle designed for beginners.
I'll also cover what NOT to look for when choosing the best pickleball paddle for a beginner.
Related: Wanna see some easy pickleball strategies designed for beginners complete with pictures?
Quick Breakdown – The Top Pickleball Paddles For Beginners
Below is a quick breakdown of my top 3 paddles with their pros and cons. But, scroll down further for a complete breakdown of each paddle and why I chose it.
My Top Pick: The Prince Response Pro
Pros: The largest sweet spot I've ever played with due to its wide-body shape and honeycomb polymer core that extends all the way to the edges. This helps shots that don't hit the center of the paddle, still arrive on point. Perfect for beginners!
Cons: It is expensive. At around $130, it's a premium paddle at a premium price. But, it's worth every penny in my opinion.
My Runner-Up: The Tempest Wave Pro from Paddletek
Pros: The Tempest Wave Po is one of the all-time greatest paddles ever made and it's arguably one of the most accurate graphite paddles on the market. This paddle excels at soft shots with touch.
Cons: While not as expensive as the Response Pro, it is still over $120 depending on where you buy it from. It also lacks a just little power.
My Budget Pick: The Z5 Graphite Pickleball Paddle
Pros: Few paddles deliver the kind of pop and power the Z5 does for under $90. Much like the Tempest Wave, the Z5 Graphite is a classic paddle that thousands of beginners have used to grow their game. If you're looking for a power paddle at an affordable price, this is it!
Cons: What this paddle gives you in power, it lacks in accuracy. I've found that dinks and drop shots don't come as easily with the Z5.
Keep reading and I'll give you an in-depth review of each paddle below.
Related: Looking for more paddle options? Check out the 5 best paddles I've ever played with!
How To Choose A Pickleball Paddle Designed For Beginners
Let me first start out by saying that a "beginner" pickleball paddle doesn't mean it's a cheap paddle. A lower-priced paddle doesn't necessarily mean it's a beginner's paddle. And expensive paddles don't mean they're exclusively for advanced players
Too many people looking for a beginner pickleball paddle make the same mistake I did. They go online to find a decent-looking $30 paddle that passes the eyeball test and they think they've found a good paddle for beginners.
In my opinion, this is the wrong approach because there are way too many knock-off brands (Amazon is filled with them) that are in the $20-50 price range.
Instead, look for well-known pickleball brands or tennis brands.
What Brands Of Pickleball Paddles Are Best For Beginners?
Finding a good brand that makes a good pickleball paddle for beginners can be a challenge because of the sheer number of options available. Search Amazon and you'll quickly get lost. And more importantly, it's hard to tell a cheap knock-off brand from a quality brand.
So, stick with brands that are big names in pickleball or tennis. A lot of brands are big names in both pickleball and tennis. So you're in good hands there.
Here are the top pickleball brands to look for when searching for the best pickleball paddle for beginners:
Paddletek
Prince
Engage
Onix
Wilson
Selkirk
Pro-Lite
Joola
Adidas
Babolat
Pro Kennex
HEAD
Franklin
Gamma
Looking for something more affordable and well under $100? Check this out!
The Best Pickleball Paddles For Beginners
Paddle #1 – The Prince Response Pro aka The Do It All Wonder Boy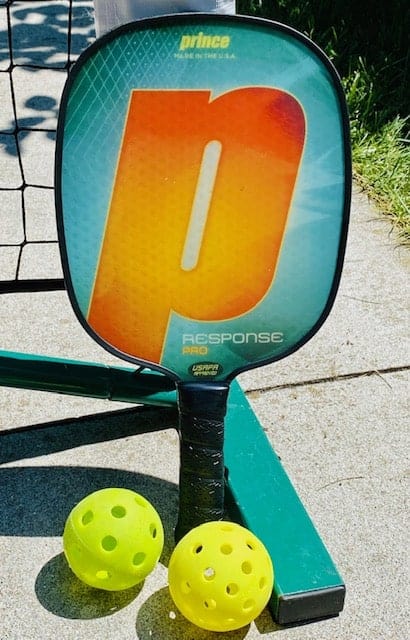 I recommend the Prince Response Pro to A LOT of people because it is the most forgiving paddle I've ever played with. This is because it has the biggest sweet spot I've ever encountered.
This is ideal for beginners like you who are still perfecting the basics of swing technique and may not always hit the ball in the center of the paddle.
Miss hits are when the ball strikes the paddle around the outer edge of the paddle resulting in "dead shots" that lands flat and off target. The Prince Response Pro just hasn't had very many of those since I began playing with it in 2020.
The Response Pro is a textured fiberglass paddle with a slightly rough surface for just a little extra "grab". This makes top spin forehands really lethal with this paddle.
The paddle core runs 9/16" thick and consists of honeycomb polymer that feels as if it covers every square inch of your hitting surface like a blanket! This polymer core is so evenly distributed across the paddle face, that you'll be hard-pressed to find a dead spot for the first six months.
Coming in at 8.25 inches wide, it's the ideal wide-body-shaped paddle. And to top it off, it comes in two grip sizes to choose from 4 ⅛" and 4 ⅜". Prince also offers two different weights to select from. A lightweight 7.2-7.7oz version and a standard weight option at 7.8-8.3oz.
Final Word: If you're willing to pay top dollar, the Prince Response Pro is the best pickleball paddle for beginners.
Paddle #2 – The Tempest Wave Pro aka The Silent Assassin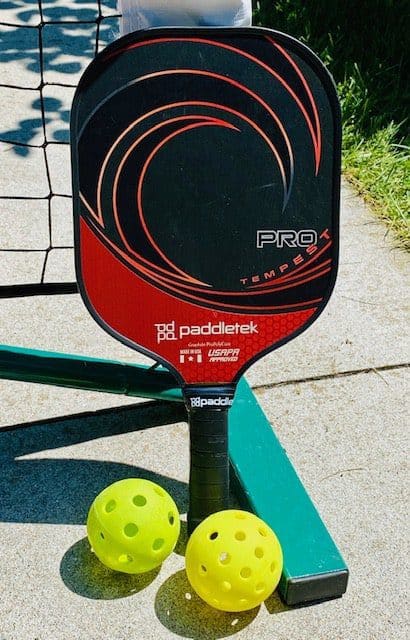 The Tempest Wave Pro from Paddletek was the first true brand-name paddle I played with. Prior to playing with the Tempest Wave, I was using off-brand cheapos from Amazon. And boy could I tell the difference immediately.
What you'll first notice about the Tempest Wave Pro is how light it is. At about 7.8-8.0oz, it is a breeze to swing with almost no arm fatigue after hours of play. There is no heavy option, so what you see is what you get.
If you're used to a heavier paddle, then you might need an adjustment period. I certainly did. But once I did, my shots were much more accurate and on point. I especially noticed better ball placement around the net. Which is this paddle's strength.
I was also shocked at how quiet it is! You don't get an obnoxious "pop" with this paddle. I've also heard it described as "muted" but in a good way. It's a quiet assassin.
The soft-touch this paddle gives you is where it shines! And I felt that right away. When you're at the kitchen line or attempting a third shot drop, the "feel" this paddle gives you is fantastic! This is all due to the graphite paddle face.
The Tempest Pro is a fairly straightforward paddle. It's not overly fancy and doesn't try to be something it's not. It's a light, graphite paddle with a textured surface and hard polymer core. Those are its basic fundamental features, and they're what give this paddle its impressive soft touch and feel.
There are no different weights or grip sizes to choose from here. Paddletek just keeps it simple. It's 8" wide, 7.6 oz, and comes with a slightly longer grip at 5 ¼' to allow for some players with small hands to try a two-handed backhand if they want.
Final Word: The Tempest Pro is not a flashy paddle. It's just a simple, quality made graphite paddle done the right way by a company that's been doing this for over a decade. If soft touch is your jam, this is your paddle.
Paddle #3 – The Z5 Graphite aka The Power Player
The Z5 is one of those paddles that is now reaching legendary status. It's been around forever and due to its stellar reviews and feedback, it's stood the test of time. It's arguably been on the Mt. Rushmore of paddles for the last 10 years.
This is an incredible feat when taking into account all the paddle technology that has been launched over the last 4 years. And yet, the Z5 is still there as one of the best beginner-level paddles with a graphite face ever created.
So what makes it special? Two things stand out to me about this paddle. First, it's core, and secondly it's 8 ⅛" wide paddle face.
The Z5 has a Nomex core NOT a polymer core. This automatically makes it different from paddles nowadays. But when the Z5 was just taking off, polymer cores were still relatively new.
This Nomex core gives the Z5 its loud, signature audible pop and its incredible power. Nomex operates differently from polymer. The general rule is that harder polymer gives paddles feel and touch. Nomex is also hard but the result is the opposite. (Keep reading below and I'll break this down for you).
This hard Nomex core acts like a spring when the ball connects with it and propels the ball back with an aggressive pop. To say this is a power paddle, would be an understatement.
To counter all this power coming from the Nomex core, the Z5 has a graphite face designed to give players some accuracy and touch around the kitchen line. Combine the graphite face with its wide 8 ⅛" paddle face and you've got a paddle that should give you great touch too right?
Well, almost.
What the Nomex core gives you in power, the wide graphite face doesn't quite make up for in the touch department. The Nomex core still dominates this paddle's performance metrics. Despite its wider graphite face, this is still undeniably a power player's paddle.
It's relatively lightweight at 7.9oz which helps soft, accurate dinks around the net but I found that other paddles, regardless of their weight or paddle face, provided more accuracy and feel.
The Z5 isn't terrible at it but this is not its strong suit. But keep in mind, those paddles that do perform softer shots better will be more expensive than the Z5. So is that a trade-off you're willing to make? Only you can answer that.
Final Word: If you're looking for a wide-body power-driven paddle under $90, this is the paddle for you.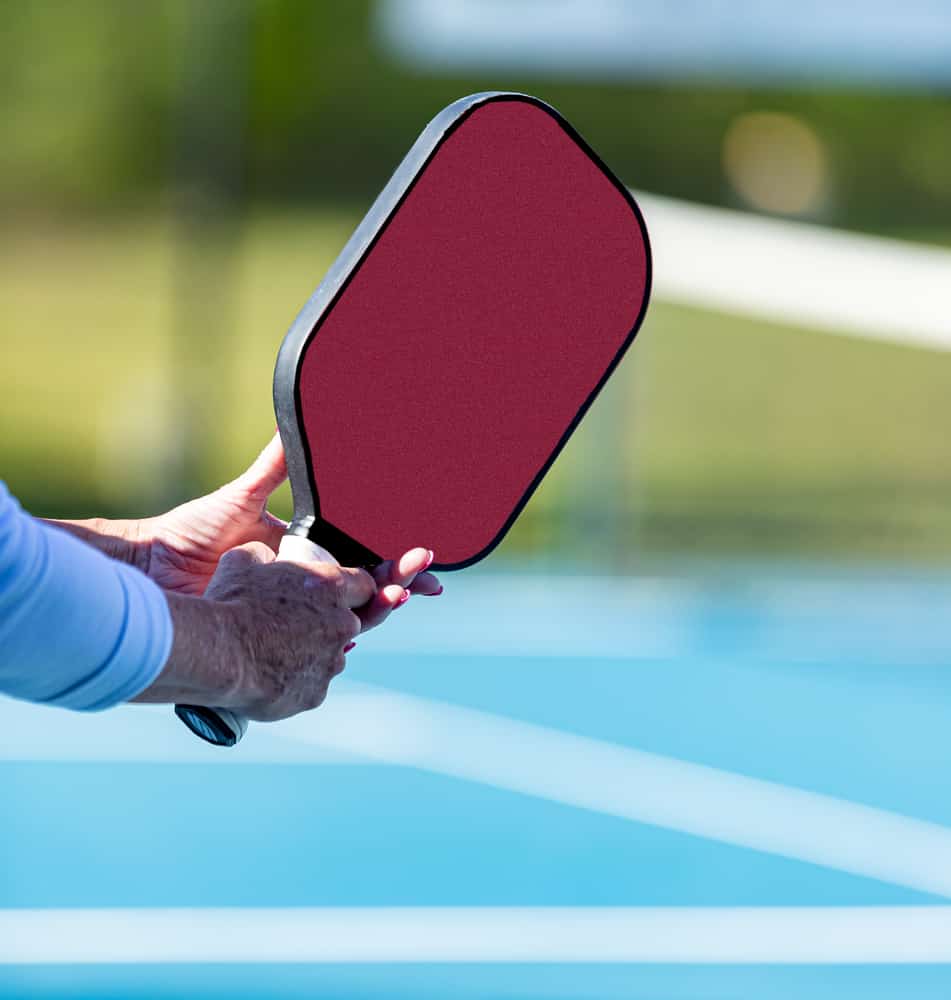 What Features Matter When Looking For A Beginner Pickleball Paddle?
So how should a beginner make sense of all the paddle technology and features found in a standard pickleball paddle these days?
Things like paddle shape, the weight of the paddle, grip length, paddle face material, and the paddle core are all features and specs you'll see when buying any paddle. They all matter to some degree but it's not worth going down a rabbit hole of specs.
Keep reading and I'll break down all the common features paddles offer nowadays, give you some direction on why it matters (or doesn't), and point you in the right direction on what to choose.
Should a Beginner Paddle Have a Wide Body or a "Traditional" Shape?
Currently, there are three different kinds of paddle shapes to choose from. Standard, wide-body, and elongated.
Here are the dimensions for the three common pickleball paddle shapes:
Standard paddle dimensions are: 8" wide
Wide-body paddles tend to be: 8 ¼" wide or more
Elongated paddles run: 7 ⅜" wide but are longer in height
As a beginner, I'd stay away from elongated paddles. They're too skinny and offer a smaller sweet spot. This means you have to hit the ball spot-on nearly every time to get the accuracy you want. This is not ideal for a beginner.
Instead, lean towards a standard-sized paddle or a wide-body paddle. Overall, I would heavily recommend wide-body paddles because they're the most forgiving.
The more forgiving a paddle is, the less you are required to hit the ball directly on the paddle's sweet spot.
Generally speaking, wide-body paddles allow you to hit the ball slightly off the mark and still put the ball where you want it to go. If you're looking for a beginner pickleball paddle, look for a wide-body paddle.
What is the Ideal Weight and Size of a Pickleball Paddle?
Paddle weight is super important. But weight and the definition of what constitutes a heavy paddle versus a lightweight paddle can vary depending on the retailer or the manufacturer.
But generally speaking, pickleball paddle weight goes something like this:
Lightweight paddles: 7.4oz-8.0oz
Medium weight: 8.0oz-8.3oz
Heavy paddles: 8.3oz and above
For beginners, I'd recommend staying in the medium weight range. But, if you're on the stronger side or like to play with power, try a heavier paddle.
There is very little downside to trying different paddle weights because most manufacturers offer a medium-weight version and a lightweight version of the same model.
And most retailers offer a 30-day return policy. So, buy a few different weights and see what works for you.
How to Pick a Grip Size For a Pickleball Paddle
Grip length and grip circumference matter but both attributes tend to be subjective.
Some people like longer handles, but some don't. Keep in mind, the longer the handle, the shorter the paddle face. And the shorter the handle, the more hitting surface you get.
Manufacturers are only allowed so much length and width to work with and still create a legal paddle within the game's rules. The length of the paddle (including the handle) plus the width cannot exceed 24 total inches. So there is a trade-off.
Short-handled pickleball paddles are 5" to 5.4" while the standard handle length is approximately 5.5" A paddle with a 5.6" to 6" handle is considered a long-handle paddle.
In terms of picking which length to go with, start with the standard length of 5.5″ and go from there. If that feels too long, you need a 5″ length. Most paddles come with a 5″ or 5.5″ option so you'll be set either way.
What pickleball paddle grip size is best?
My recommendation for beginners is to stick to the standard 5.5" length and try that first.
As for grip circumference, this is going to depend on your hand size. But, the good news is most paddles offer two options: a large grip at around 4 ⅜" and a smaller size at around 4 ⅛".
For beginners, choose the size that allows your hand to comfortably wrap around the paddle without straining too much for your fingers to come in contact with your palm.
For most beginners, the proper grip size for a pickleball paddle is going to be 5.5 inches long with a grip circumference of 4 ⅜ inches.
What is the Best Pickleball Paddle Surface: Graphite, Composite or Carbon Fiber?
The paddle face of a pickleball paddle is essentially what gives the paddle its personality. These features include the actual surface material used (graphite, carbon fiber, fiberglass and composite), the number of layers or thickness, and finally the finish or texture.
All these features factor into how the paddle will perform for you. So, knowing what they mean is important. But, you don't need to get caught up in the nuances.
Experts will say that paddles using fiberglass or composite materials tend to play "faster" because the ball stays on the hitting surface longer (compared to graphite and carbon fiber) meaning there is a rebound or trampoline effect. This effect gives these types of paddles more power.
On the other hand, graphite and carbon fiber paddles are "stiff". These are inherently harder materials without the trampoline effect and thus provide better touch and feel.
I can tell you from experience that this is true. Graphite paddles tend to lack a smidgen of power and provide an ounce more control. But, I'm here to tell you that the difference is minimal.
Fiberglass and Composite = More Power
Graphite and Carbon Fiber = Control
As a beginner, keep things simple. Know the above paddle characteristics, choose what matches your style of game the best, and go with what feels right to you.
What is a Pickleball Paddle Core and Why Does it Matter?
The core of a pickleball paddle is like its soul. It is the material sandwiched between the paddle face that dictates if the paddle is good for power, touch, or ideally both.
Paddle cores used to vary considerably about seven to eight years ago. We had aluminum, Nomex, and polypropylene. Now, however, polymer cores now dominate the market. And for good reason.
Most paddles you come across these days will have a honeycomb-shaped polymer core because as a material, polymer is much more durable, lasts longer, and is versatile. It's versatile because depending on if the manufacturer uses a softer polymer or a harder polymer, it'll change how the paddle behaves. Even how much polymer they use across the paddle face matters.
For instance, a harder and more dense polymer creates a paddle designed for control because the harder polymer core absorbs more energy in the hit. This absorption allows you to feel the contact more and gives you more "touch."
If the polymer core is softer, there is less absorption and the ball stays on the paddle surface longer, creating a rebound effect and propelling the ball more aggressively. Softer polymer cores create paddles designed for power.
There are no rules for how much material a company can use in its paddle core. So thickness is not governed. This is a good thing because the more honeycomb-shaped polymer used, the bigger the sweet spot. Paddles with a small sweet spot tend to stretch the honeycomb polymer across the paddle face (like an accordion) leaving dead spots.
I will mention nomex cores briefly because the third paddle I recommended above uses it. The Z5 is actually the last common paddle to use a nomex core. Nomex operates differently than polymer. It's a very hard material but that doesn't translate to touch and feel. Instead, paddles with nomex cores tend to be power-driven paddles through and through.
You can feel the difference immediately when comparing a polymer core versus a nomex core.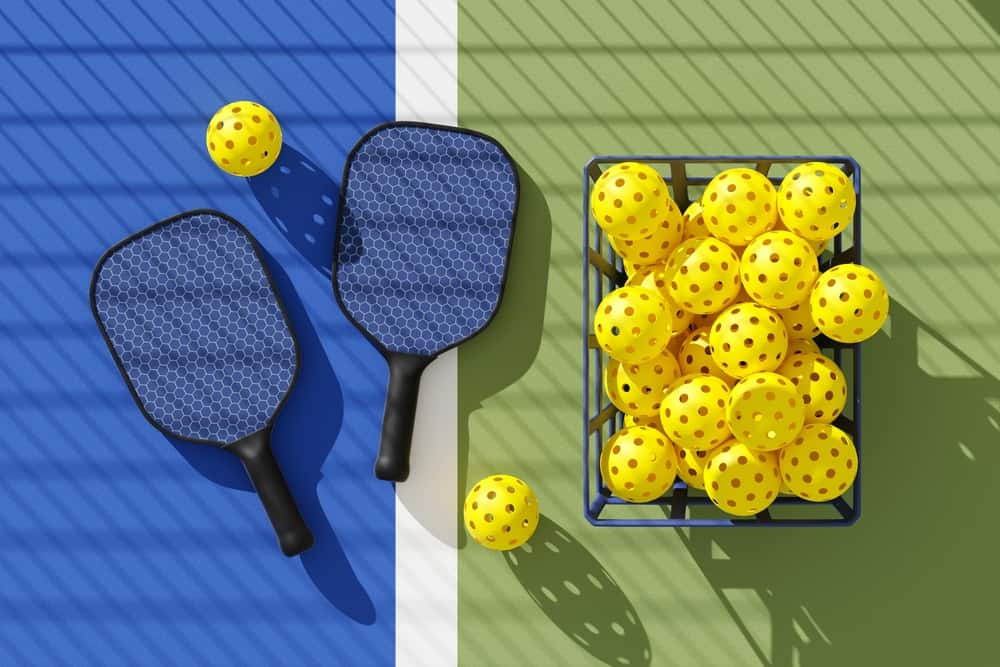 What is the Difference Between Carbon Fiber and Fiberglass Pickleball Paddles?
In all honesty, if you're a beginner you may not see a difference between a carbon fiber paddle versus a fiberglass paddle.
According to one of the top paddle manufacturers right now, Joola, they say:
"Carbon fiber is a stiff, durable material that offers refined touch and feel due to the material absorbing a pickleball's energy at impact and more evenly distributing it across the face of the paddle. The result is less deformation on contact meaning greater control and shot precision."
"Fiberglass is a composite material that has less stiffness than carbon fiber, which means it will be more flexible on contact, or in other words, offer more rebound as the ball hits the paddle surface. The result is greater energy return to the ball resulting in a more powerful response."
Click this helpful link to read more.
Is there really a difference between pickleball paddles?
Many beginners wonder if there really is a difference between paddles. In my seven years of playing pickleball both casually and competitively, I can honestly tell you YES!
The difference in the performance between two different pickleball paddles comes down to four key aspects:
The quality of the material used
How much of the material is used
The weight
The sweet spot
If the quality of the graphite or the carbon fiber is cheap, the paddle will not be as accurate of powerful.
Additionally, the amount of the material used matters; especially as it pertains to paddle cores. If the manufacturer skimps on the volume of its polymer core that it stretches across the face, the paddle will inherently have more dead spots
Paddle weight can affect a paddle's performance as well. I tend to go for paddles in the 8.2 oz range. Any lighter and you lack power. Any heavier and you lose touch. So, there is a Goldilocks effect where the right weight for you, feels just right.
As for the sweet spot, every paddle has one. The bigger the sweet spot, the better the paddle. But this gets back to how much polymer core is used by the paddle maker. Paddles that use lots of polymer in the core have honeycomb shapes (within the polymer) that are much smaller and not stretched out.
Smaller honeycombs of polymer across the entire face of the paddle yield better results. And the only way to tell if a paddle was designed like that is by the price. More expensive paddles have better materials and more of them.
Cheap paddles perform like cheap paddles.
Best Pickleball Paddles For Beginners – My Final Thoughts
The Prince Response Pro, The Tempest Wave and the Z5 represent the best pickleball paddles for beginners after play testing over 50 paddles in 5 years. They're not perfect but they each do something special so depending on your style of play or what you want your paddle to excel at, I've given you some great options to start with.
If you were to ask me, which paddle I'd recommend to beginner players, I'd tell you if you're willing to spend the money, choose the Response Pro from Prince. It does everything from power to touch really well. It's really comfortable in my hand and has the biggest sweet spot I've ever played with.
But if you're not willing to spend that kind of cash or want a more control-driven paddle, I've given you two other great options in the Tempest Wave and Z5.
At the end of the day, paddle selection just comes down to what feels right to you. So, trust your gut, choose one and go play!
Other Frequently Asked Questions (FAQs)
What are the advantages of using a graphite pickleball paddle?
A graphite pickleball paddle offers a combination of power, control, and durability. Its lightweight nature allows for faster swing speeds and better maneuverability. The graphite paddle is also known for its consistent performance and enhanced shot-making abilities.
How do I differentiate between a power paddle and a control paddle?
A power paddle is usually heavier and has a stiffer core, delivering more power in each shot. On the other hand, a control paddle is typically lighter and features a softer core, providing more accuracy and touch. It is best to choose a paddle that suits your style of play.
What is the recommended weight of a beginner pickleball paddle?
For beginners, it is generally recommended to start with a mediumweight paddle weighing between 8.0 to 8.2 oz. This allows for good control, and touch, and gives you an ample amount of power for baseline-to-baseline passing shots.
Can I play pickleball with a heavier paddle?
Yes, playing with a slightly heavier paddle can provide more power in your shots. However, it may also result in reduced accuracy, especially around shots that require touch. Like a drop shot. Advanced players tend to have that "touch" no matter what and can play with a heavier paddle. Beginners are going to have a hard time with that.
How important is the paddle surface in pickleball?
The paddle surface can significantly impact they way paddle plays! Paddle surface has a direct effect on ball control and spin. Most pickleball paddles have a textured surface that enhances the grip on the ball and allows for better shot placement. Consider a paddle with a surface that suits your playing preferences.
How do I know what size pickleball paddle I need?
This is a subjective question because people like different sizes. But, for a beginner I recommend the standard size of 8″ wide or more. And I'd lean towards bigger if you can. Wide-body paddles at 8 ¼" or more are great because the width is way more forgiving. Plus, wider paddles tend to have a bigger sweet spot.
Is there a difference between men's and women's pickleball paddles?
No, there is no pickleball paddle that is specific to any gender. All adult paddles are designed for both men and women. I'm a male player and I see women playing with the paddle I play with (The Response Pro) all the time. There are a few paddles designed for kids or "juniors" but those are also gender neutral.
Do you want a 16mm or 13mm pickleball paddle for thickness?
Paddle thickness is still a relatively new arena in the world of pickleball paddles. Contrary to popular belief, thinner paddles actually give you more power. So 13mm is going to give you more pop. While 16mm paddles are going to be better suited for touch and accuracy. So, if you're a power player go with the 13mm option. If you want more accuracy on your drop shots, try a thicker 16mm paddle.
What is the difference between carbon fiber and fiberglass pickleball paddles?
In all honesty, if you're a beginner you may not see a difference between a carbon fiber paddle versus a fiberglass paddle.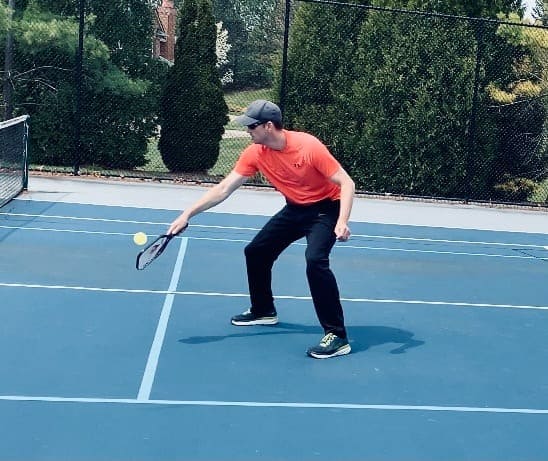 Welcome to TheVolleyLlama.com. My name is Keith, I'm just a lover of all sports that involve a racquet, net and a ball. I played competitive high school varsity tennis, love racquetball and my whole family plays pickleball regularly. I started this website to help give people like you the basics to learn these wonderful games.