Babolat Pickleball Paddles – My Hands On Review Of All Paddles
I'll admit, I had been wondering why it took Babolat, a huge racquet sport giant, so long to enter the world of pickleball. However, Babolat pickleball paddles are finally here and we have four models to choose from! So, which one is best for the average everyday player? I've played with them, and I'm going to break it down for you!
In my opinion after I playing with them, the best of the Babolat pickleball paddles is clearly the newest model of the bunch, the MNSTR. It's the best because it offers the best combination of power and spin at the baseline and great touch for dinks and soft volleying.
Let's quickly compare each model and get into why I feel the MNSTR or "Monster" is the best of the group after having tried them.
Babolat Pickleball Paddles – Model Breakdown
Babolat pickleball paddles come in four different options or models. This first is the XPLR.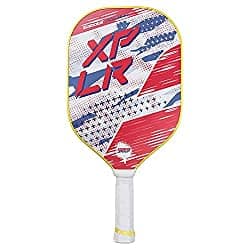 The XPLR is the cheapest of the group coming in at just under $80. It's a fiberglass paddles with a polymer core designed for all-around solid play for an absolute brand new recreational player.
The XPLR shape is traditional in nature, and that's a good thing. There are no wacky blade shapes to consider. With the XPLR you get a very standard but forgiving 16″ paddle length, 7.8″ width and a handle that is 5″ long.
Paddle weight for the XPLR comes in at a skinny 7.7oz.
Related Content: Just learning about pickleball? Learn the basic rules quickly and easily here.
Next is the RNGD or "Renegade" series. This is Babolat's composite fiberglass model with a polymer honeycomb core. It's comes in two styles, a "touch" version for more control and a "power" version for more baseline to baseline power.
The RNGD comes in at a standard 8.1oz for the "power" version and a lighter 7.6oz option in the "touch" version. Despite different weights, the paddle shape remains unchanged at 16-1/8″ long by 7-7/8″ wide and handle length of 5″.
The RNGD model, especially the Power version, is meant to give players a little more plow-through and drive in their game. I love composite paddles and expected to love this paddle. Surprisingly, I was underwhelmed. More on that below.

Like a lot of paddles these days, the RNGD series has a polymer honeycomb core and retails for just under $100.
Stepping up in price and overall playability is the Babolat RBEL known as the "Rebel" series. The RBEL is Babolat's signature graphite option and is one of the best graphite paddles I've ever played with.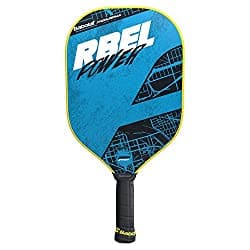 The RBEL also comes in a "touch" version or a "power" version depending on your style of play. Like the RNGD model, the "touch" model weighs 7.6oz while the slightly heavier "power" model comes in at 8.1oz.
The RBEL also comes in a standard tried and true shape with proven paddle dimensions of 16-1/8″ in length, 7-7/8″ in width and a handle length of 5″. It also incorporates Babolat's polymer honeycomb core.
At around $120 the RBEL is more of a premium paddle, especially for a graphite face. It's more expensive than other graphite paddled I've played with but I'd say it's worth it. 
And finally, we have the Babolat MNSTR. And like the name implies, this pickleball paddle is a beast! In a good way!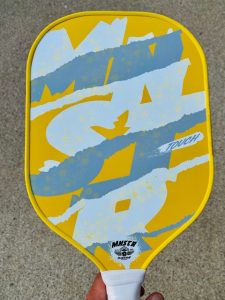 The MNSTR is Babolat's flagship paddle and its price represents that. At just under $140, it's not cheap. But I've played with paddles even more expensive, like the Gamma Typhoon, that don't perform nearly as well. Most flagship paddles from other companies will cost over $150 so its price is actually on the low side when it comes upper tier, premium paddles.
The trend continues with the MNSTR where we get both a "touch" and a "power" version. The heftier "power" version strolls in at 8.2oz like all the others.
But, there are two things that make the MNSTR different from all other Babolat pickleball paddles.

The first is the the fact that the "touch" version is the lightest of the bunch at 7.2oz. And the second spec exclusive to the MNSTR is its face – a premium grade carbon fiber/fiber glass combination.
This unique paddle face makes this paddle take off like a rocket ship but also gives it the elegance and touch few paddles under $140 can match.
The paddle core is slightly more forgiving and responsive thanks to it's polymer honeycomb shape with an added layer of EVA foam for a larger sweet spot.
Like you'd expect from most paddles, I got more out of the higher priced MNSTR touch versus all the others in Babolat's lineup.
So, the old saying "you get what you pay for" rings true here. Keep reading for my more thorough play test results and why I now play with the MNSTR exclusively.
Babolat Pickleball – MNSTR Review And More
Basically, I can sum up my play tests of each Babolat Pickleball Paddle with the fact that my enjoyment of the paddles matched their pricing tier identically.Meaning, I felt that the best paddle that performed the best and complimented my play style the best was the Babolat MNSTR. The paddle I liked second was the graphite RBEL.However, because I've always gravitated towards composite paddles, I wasn't expecting to like the graphite faced RBEL as much as I did. It was a really dependable and accurate paddle.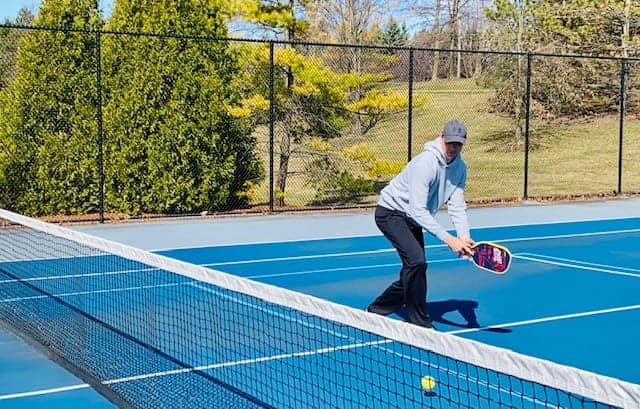 It was on point at the kitchen line and accurate for deep baseline serves. As far as graphite paddles go, it's up there with the best of the best like the Onix Z5 and Paddletek Tempest Wave. Maybe even better.
But, as great as it was, it was lacking ever so slightly in two departments, spin and power.
I loved the pin point accuracy the RBEL provided me but I wanted more on my put-away passing shots. And I needed more sledge hammer power on my top spin forehand (my favorite shot).
I'm excited to report, that the MNSTR has solved those two subtle but crucial gripes I had with the RBEL.
In short, after using the MNSTR for just one full day of competitive play, I LOVED IT!
And after multiple play sessions with the Babolat MNSTR, it's easily one of the best paddles I've ever played with and definitely one of the top pickleball paddles in 2021.
It's that good!
The MNSTR was brilliant at the following shots for me:
-Deep, consistent baseline serves
-Topspin forehand returns down the sideline
-Soft, low dinks at the net after a soft dink was hit first
Related Content: Looking for a dependable pair of court shoes that don't cost hundreds of dollars? Here are my favorites.
What I Liked Best About the Babolat MNSTR
For me, after I played with Babolat's flagship MNSTR paddle for days on end – two things stuck out to me.1. It's accuracy2. It's powerThe point and shoot accuracy especially when blasting drive shots at my opponents was remarkable. Hitting passing shots down the sideline just out of reach from your opponent is a thing of beauty.This paddle gave me confidence to hit a power topspin forehand down the side line when my opponent had sagged towards the middle a little.
Any little opening on the left or right sidelines was more than enough room for this paddle to make the ball go where I wanted it to go. These are difficult shots I've not necessarily had a lot of confidence in until playing with this paddle.
The fact that this paddle gave me a boost of confidence to try and execute challenging shots is a HUGE endorsement as far as I'm concerned.
So, it's got the power, it's got the spin. What about touch and dinking at the no-volley zone?
It's a very fun paddle to play with at the net as well! Especially when the dinking is soft at the net. This paddle really shines when you're returning a soft dink and go to hit a soft dink of your own.
I loved hitting soft crosscourt dink returns at my opponent because I could do it all day and wait for them to make the mistake!
What Didn't The MNSTR Do Well?
No paddle is perfect, and as much as I loved it, the MNSTR is no exception.
The one thing I wished this paddle did better was consistently take pace off the ball after a hard hit shot. It's consistency at taking speed off the ball and dropping hard hit shots softly into the kitchen was inconsistent.
Now, I realize this is s small gripe and also one that is subject to "user error". Hitting a beautiful third shot drop into the kitchen, takes good technique and form and is not entirely up to the paddle to perform.
I get that. But after drilling third shot drops with this paddle, I found it' response to be a little on the erratic side. At least at the beginning.
Over time, this got better. Probably because I was adjusting to how much follow through I had to account for when dropping hard shots back into the no-volley zone but I was hitting too many balls into the net early on.
Even after extensive play, I still found the right amount of "follow through" difficult to find.
Babolat Pickleball Paddles – Who Is The MNSTR For?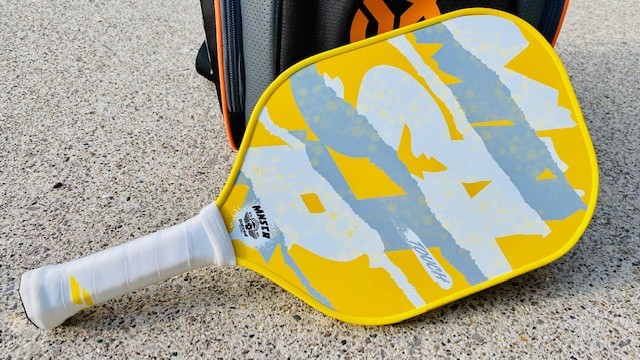 So if I was that impressed with the MNSTR, and it's Babolat's premium flagship paddle…who is it for?
Does its upper tier price and performance make it a paddle only for 4.0 level players or above?
In my opinion, no! Sure, it has all the bells and whistles and the price to match but that doesn't make it a paddle only for experienced, seasoned tournament level players.
I'm proof of that. I'm not a 5.0 level pro nor do I enter a lot of tournaments. And I really enjoyed this paddle! It's helped compliment my style of play and made me a better player in certain areas.
That's what really good pickleball paddles do!
So, overall I'd say the Babolat MNSTR and the RBEL are great for both the everyday rec player who's improving and wants a paddle upgrade as well as the advanced player looking for a paddle that provides a balanced approach.
If you're an absolute beginner and have never played the game, I could see the XPLR being a great place to start because of the price.
But even if you're just starting out but know you're going to be playing regularly because you're addicted to pickleball, I'd absolutely recommend jumping right to the MNSTR. You won't regard paying more and investing in improving your game.
Related Content: Click here for an illustrated look into the simple pickleball strategies pros use that every beginner can implement.
About Me
I'm just a lover of all sports that involve a racquet, net and a ball. My whole family loves and plays pickleball regularly. I started this website to help give people like you the performance tips and buying info they need to make an educated and informed purchase.
The products I recommend here have been researched, analyzed, compared and in a lot of cases bought, worn and used. If it's a bad product, I don't recommend it. Any small purchase made from this site gives me a small commission that helps fund the growth of the site to provide you more helpful information.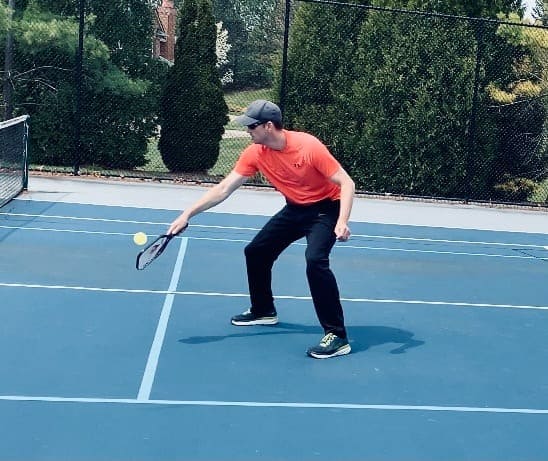 Welcome to TheVolleyLlama.com. My name is Keith, I'm just a lover of all sports that involve a racquet, net and a ball. I played competitive high school varsity tennis, love racquetball and my whole family plays pickleball regularly. I started this website to help give people like you the basics to learn these wonderful games.