Welcome
Welcome to TheVolleyLlama.com. My name is Keith, I'm just a lover of all sports that involve a racquet, net and a ball. That's my son and I playing pickleball. My family is a huge fan of all racquet and paddle sports and we love playing together, both casually and competitively.
I played competitive high school varsity tennis, love racquetball and am addicted to pickleball and ping pong. I started this website to help give you the basics to learn these wonderful sports in a simple, beginner-friendly, easy to learn way.
I also love providing players like you with simple, actionable tips to help improve your game on the court.
I take pride in the fact that the products I recommend here have been researched, analyzed, bought, played with, worn, and used. So you can be sure that if I recommend a product, it's because we've used it!
TheVolleyLlama is a participant in the Amazon Services LLC Associates Program. This is an affiliate program which means we earn fees by advertising and linking to Amazon.com. However, this will not increase the prices you pay for products.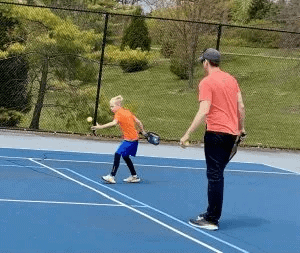 Our Mission
The goal of this site is to provide the most concise information around rules and strategies for the six most popular racquet sports on the planet. In addition, I aim to provide the most accurate, play-tested product reviews for all the gear you want and love.