Searching for the perfect pickleball paddle set for your kiddo can feel like tall a task because there are so many options out there. Trust me, I've been there! I've got two boys and finding a good paddle for their smaller hands wasn't easy. After diving deep into research, I've discovered some key features that really matter when choosing kid-friendly paddles.
In this article, I'll explore these essential aspects together and give you my top recommendations for the best pickleball paddle sets for kids in 2024. Lace up those court shoes because it's time to help your little one swing their way into the world of pickleball with confidence and joy!
My Quick Recommendations & Comparison Table
Take a look at my top 5 picks below in my convenient comparison table for a quick overview of each paddle set. The first three sets are designed for kids only while my final two are paddle sets for the whole family that include two adult paddles and two smaller kids paddles.
Whether you're looking for a couple of paddles for the kids to casually play with or a set for the family to enjoy together, I've got you covered.
*Click each link to see the product page for each paddle
Why Pickleball is a Great Sport for Kids
Pickleball is a great sport for kids because it provides physical activity and exercise, helps in the development of coordination skills, and encourages social interaction and teamwork.
Related: Are you a mom or a dad looking for a little better paddle designed for adult beginners? Check out my top 3 paddles that can make any beginner better!
Physical Activity and Exercise
Pickleball serves as a fantastic source of exercise for your kids. Not only does this fun sport get them up and moving, but it also encourages regular physical activity. Your children will be running, jumping, and swinging their paddles while engaging in exciting quick-paced games.
This dynamic game helps to burn calories, strengthen muscles and improve cardiovascular health. Plus, pickleball players need agility and speed which further promotes fitness levels.
I've seen it firsthand with my two boys, ages 13 and 10. They play regularly with their cousins who are of similar age. In fact, when we stripe the driveway and lay a court down there, they are constantly playing. This allows them to get their physical exercise and get off their phones.
Playing pickleball means less screen time in our household, and that's a good thing.
The beauty of pickleball lies in its ability to turn an exercise session into a thrilling competition that children eagerly participate in without even realizing they're working out! An active lifestyle nurtures healthy habits from a young age so integrating sports like pickleball can certainly ensure your child's vitality.
Development of Coordination
Pickleball provides an excellent way for kids to enhance their coordination. As a sport that demands precision, it offers youngsters the opportunity to hone both hand-eye and neuromuscular coordination skills.
Imagine your child on the pickleball court, balancing their body as they shift weight from one foot to another, while keeping their focus on the flying ball. This is not just fun, but also helps develop agility and fluency in movements.
Now consider how these individual movements connect in a game of pickleball. When chasing and hitting the ball with junior pickleball paddle sets designed specifically for them, children learn how different body parts work together smoothly – better known as muscle coordination! The improved responsiveness due to playing this exciting sport may be noticeable even outside of games when your kids are performing everyday tasks or other sports activities!
Social Interaction and Teamwork
Playing pickleball gives your child more than just physical benefits. The team aspect of this sport encourages lively social interaction among young players. In each match, dynamic discussions come alive as strategies are planned out on the court.
This instills a strong sense of teamwork in your kids. It's not all about winning but how they cooperate to make successful plays together. Over time, friendly competition blooms into lasting friendships and connections that extend beyond the boundaries of the pickleball court.
Your kid can potentially form a tight-knit group with their fellow junior pickleball paddle set users, fostering camaraderie enriched by shared experiences and fun memories!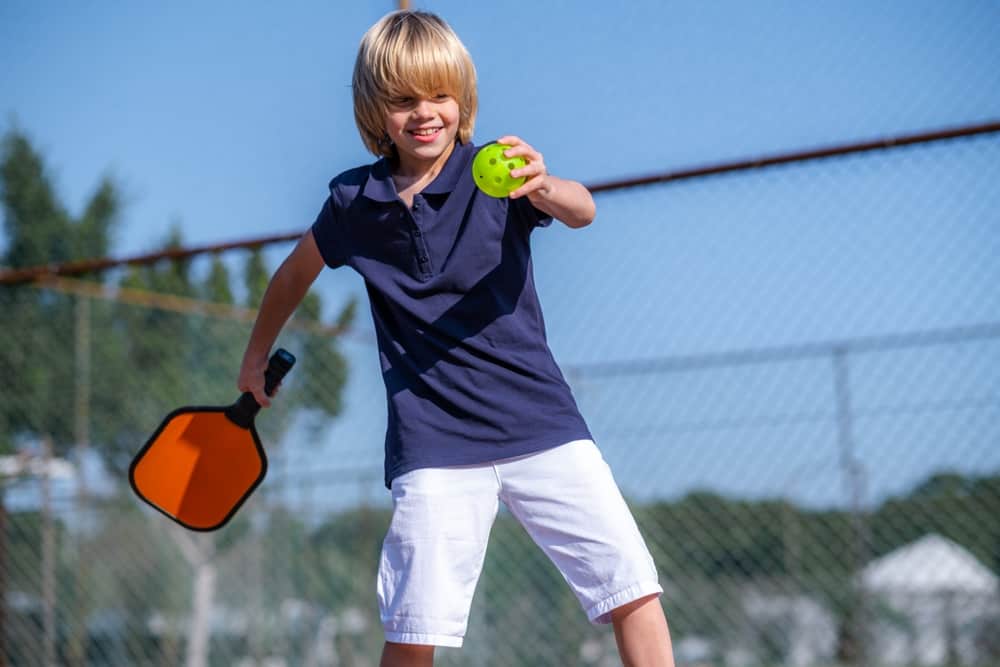 Key Features to Look for in Pickleball Paddles for Kids
When choosing pickleball paddles for kids, it is important to consider features such as lightweight and durable materials, appropriate size and weight, and a comfortable grip.
Lightweight and Durable Materials
Lightweight and durable materials make a big difference when choosing pickleball paddles for kids. High-quality paddles often use fiberglass, carbon fiber, or graphite due to their light yet strong properties.
Related: If you're wondering how graphite paddles play differently than fiberglass or carbon fiber paddle, I created a friendly got on paddle tech here.
A junior pickleball paddle can weigh as little as 5.8 ounces. Meanwhile, a graphite paddle usually weighs around 7.5 ounces but is well-regarded for its combination of lightness and durability.
This feather-light design aids in better maneuverability, giving your child an upper hand with quick reaction time during the gameplay. Durability becomes vital too as these paddles will face regular use, rough handling, and possible drops on hard surfaces by younger players; therefore picking one from such sturdy material ensures a longer lifespan of the product providing value for your money spent on youth pickleball paddle sets.
Appropriate Size and Weight
Choosing pickleball paddles that are the appropriate size and weight for kids is crucial to ensure an enjoyable and successful playing experience. Kids need paddles that are designed specifically for their smaller hands and bodies, as using adult-sized equipment can be uncomfortable and hinder their performance on the court.
When looking for pickleball paddles for kids, it's important to find ones that are lightweight yet durable. This allows children to maneuver the paddle without straining or feeling weighed down easily.
Additionally, paddles with a comfortable grip allow younger players to hold the paddle longer with less arm fatigue and prevent accident slips or drops.
Best Pickleball Paddle Sets For Kids in 2024
Let's take a more in-depth look at each of my top picks for the best pickleball paddle sets designed with kids in mind. In each section, I'll cover the specs of each paddle as well as give you an unbiased look into each paddle's pros and cons.
1. Litakon Premium Youth Pickleball Paddle Set
The ideal bundle for young pickleball players, designed for maximum fun!
(Images Credit: Amazon)
Highlights
Lightweight and compact design for easy handling by kids
Made of durable fiberglass material for long-lasting use
Includes 2 youth pickleball paddles, 4 pickleballs (2 indoor, 2 outdoor), and 1 youth backpack
Suitable for beginner players in the age range of kids
Features a comfortable grip size of 3 7/8 inches
The vibrant blue color with a star pattern adds a fun and attractive look to the paddle
My Take
As a parent and pickleball enthusiast, I'm particularly impressed with the Litakon Premium Youth Pickleball Paddle Set. It's clear to me that it has been carefully crafted keeping in mind young children aged 4-12 years. The smaller grip size of about 3.8″ is perfect for tiny hands. My own kids found great joy in how the rackets didn't slip from their grip!
The paddle sizes at 7.4″ W x 14.3″ L provide a large sweet spot which eases control over shots and adds to the fun! And trust me, it's lighter than you imagine – just about 6 oz; ideal for beginners really getting into pickleball.
This bundle offers great value with its two premium quality fiberglass paddles, and four balls (two each for indoors and outdoors), wrapped up neatly in an easy-to-carry backpack!
So why is this my top pick? Simply because this set prioritizes both quality and convenience while being tailored specifically for younger players' needs. Indeed, Litakon has delivered a fantastic all-in-one solution for youth pickleball equipment and stress-free playtime outings!
Pros
Large sweet spot for easy control and great rebound off the paddle face
Small non-slip grip designed for small hands, offering better control and preventing flying paddles
Lightweight fiberglass paddle weighing only 6 oz, making it easy to handle for beginners
Kid-sized paddle perfect for children aged 4-12, providing a comfortable grip and optimal playability.
Cons
Limited color options
May not be suitable for advanced or competitive players
The Backpack may not have enough storage space for additional items
The Litakon Premium Youth Pickleball Paddle Set is perfect for active and fun-loving kids ages 4-12 who are looking to improve their skills on the courts. With its lightweight, kid-sized design and all-inclusive bundle, this set is sure to provide hours of entertainment for your youngster. Order now and give your child the gift of pickleball!
Specs:
Brand: Litakon
Grip Size: 3 7/8 inches
Sport: Pickleball
Material: Fiberglass
Skill Level: Beginner
Item Weight: 8 Ounces
Price Range: $30 to $50
2. MYKUJA Pickleball Paddles Set For Kids
For ultimate family fun: Lightweight, shock-absorbing paddle set for kids!
(Image Credit: Amazon)
Highlights
Designed specifically for kids aged 4 – 12 years old
Lightweight at only 6.5 ounces, making it easy for kids to handle and maneuver
Made with durable fiberglass material for long-lasting use
Suitable for all skill levels, from beginners to advanced players
Features a comfortable 4.3-inch grip size for small hands
Vibrant "Cool" color design adds excitement and appeal for young players
My Take
The MYKUJA Pickleball Paddles Set for Kids is a fantastic choice that's worthy of its number-2 spot on our list. As a pickle-loving parent myself, I fully appreciate the balanced design and user-friendly features that this set offers. It comes equipped with two lightweight fiberglass paddles, four indoor/outdoor pickleballs, and even includes a handy drawstring bag for convenient transport.
This makes it an ideal gift to help your kids enhance their pickleball skills while fostering family bonding.
What sets these rackets apart is the anti-slip grip design that employs sweat-absorbing ventilated holes for maximum comfort during playtime. The high elasticity contour reduces strain on young wrists and elbows – something any caring parent can appreciate.
Also, in an effort to make the paddles more appealing to kids, they have multiple captivating paddle face graphics to choose from! This gets kids excited about the game.
Given its unique blend of functional design aspects coupled with appealing visuals tailored just right for kids makes MYKUJA's pick No. 2 in our best Pickleball Paddle Sets list totally deserving! Not only can it kickstart your child's interest in pickleball games, but also serve as a perfect medium to enjoy some quality time as one big happy family out in the sunshine or indoors if you prefer.
Pros
Perfect size specifically designed for children, making it easier for them to exercise and play pickleball.
Anti-slip, sweat-absorbing grip tape that improves comfort and reduces stress on the wrist and elbow.
Cool designs that excite kids and lift their sports spirits.
Lightweight construction with fiberglass surface and honeycomb core for flexible receptions.
Cons
Limited color options for the paddles
The bag may not be very durable and could potentially rip easily
Some users may find the grip size to be too small or uncomfortable
The MYKUJA Pickleball Paddles Set is perfect for the active and adventurous child who loves spending time with their family. This set is designed specifically for children ages 4-12 years old, making it a great gift that will get them excited to play pickleball.
Don't wait until 2024, start enjoying fun family games today with this lightweight and durable paddle set!
Specs:
Brand: MYKUJA
Grip Size: 4.3 inch
Paddle Weight: 6.5 ounces
Paddle Material: Fiberglass
Skill Level: All
Price Range: $30 to $50
3. Helium Pickleball Paddle Set for Kids!
The best beginner graphite paddle set for kids and youth players!
(Image Credit: Amazon)
Highlights
Kid-sized paddle set designed for young players
Lightweight graphite shaft and frame for easy control and maneuverability
Beginner skill level, perfect for learning the sport of pickleball
Durable materials ensure long-lasting use
2-year manufacturer replacement warranty for defective parts
The compact size (13.88″L x 7″W) makes it easy to handle for kids
My Take
As a parent, you'll appreciate the Helium Pickleball Paddle Set designed especially for kids. The set includes two paddles and two drawstring bags – POW! and Girl Power which feature creative designs that will captivate your children's interest in pickleball.
More than just fun graphics, these paddles are built to match the physical needs of children under 12 years old. They're lightweight at 6oz and have a smaller grip size tailored to fit little hands comfortably.
What really caught my attention is the premium lightweight construction with a composite graphite surface and high polymer honeycomb core – materials typically used in professional standard-sized paddles. This shows Helium's commitment to providing quality gear regardless of skill level or age group, ideal for nurturing love for the game among young talents.
We ranked this product as No.3 primarily due its balance between design appeal and material quality. It carries an element of fun while not compromising on pickelball performance standards – precisely what children need when they begin their journey into sports activities like pickle ball.
Pros
Fun and colorful designs that get kids excited to play pickleball
Lightweight construction and smaller grip size for easy handling by children
Durable composite graphite surface and high polymer honeycomb core for enhanced performance
Comes with 2 paddles and 2 drawstring bags for convenient transportation of pickleball gear.
Cons
Limited design options, as the set only includes two specific designs (POW! and Girl Power)
May not be suitable for older children or those with larger hands, as the paddle has a smaller grip size
Higher cost compared to other beginner pickleball paddle sets on the market
Doesn't come with any pickleball balls
Our Helium Pickleball Paddle Set for Kids is perfect for parents who want to introduce their children to the sport of pickleball in a fun and exciting way. If you have a child under 12 years old who loves to play, our lightweight and specifically designed paddles will elevate their game and keep them engaged with our creative designs. Elevate your child's pickleball experience with Helium!
Specs:
Brand: Helium
Skill Level: Beginner
Paddle Material: Graphite
Paddle Dimensions: 13.8″ x 7″
Item Weight: 6.0 ounces
Price Range: $40 to $50
4. Helium Element Pickleball Family 4-Pack
The Top-rated pickleball paddle set for the whole family in 2024!
(Image Credit: Amazon)
Highlights
Honeycomb polymer core and fiberglass composite strike face for enhanced performance
Junior-sized paddles included for younger players
Includes 4 USAPA-approved adult paddles for advanced players
Graphite shaft and frame material for durability and strength
Comes with a drawstring carrying bag for easy transportation
2-year manufacturer replacement warranty for defective parts
My Take
If you're a parent seeking to engage your family in a fun, wholesome sport, the Helium Element Pickleball Family 4-Pack is an excellent choice. This set caters to all ages and skill levels – providing both adult-size and child-size paddles.
Made with lightweight materials such as a high-grade honeycomb core and graphite strike face, these paddles offer the perfect balance of power and control needed for exciting games.
The unique aspect that sets this pack apart from others on the market is its thoughtful design, making it user-friendly for kids and adults alike. For example, children's paddles are lighter than adult ones but maintain high-quality construction ensuring durability while allowing kids easy handling.
The adult paddles meanwhile, have optimal size and weight for extended play without causing excessive fatigue.
With two kid-friendly green & blue paired with two adult-sized blue & green pickleball paddles alongside four pickleballs neatly packed in a handy drawstring bag- this set has everything to make it one of the top Pickleball Paddle Sets for Kids in 2024. So whether you're planning a family picnic or just want to introduce your children to sports at an early age – look no further than the Helium Element Pickleball Family 4-Pack.
Pros
Perfect size for both children and adults
Premium construction with high-grade honeycomb core and graphite face
Lightweight and easy to handle for kids, optimal size and weight for adults
Comes with everything your family needs, including paddles, pickleballs, and drawstring bag.
Cons
Limited color options (only green and blue available)
May be too lightweight for advanced adult players
Some customers may prefer a different type of paddle face material (e.g. composite or polymer)
The Helium Element Pickleball Family 4-Pack is perfect for families who love to play pickleball together! With a durable yet lightweight design, this set is ideal for both children and adults of all skill levels. Upgrade your family's game in 2024 with the top-rated pickleball paddles on the market. Get yours now and elevate your game today!
Specs:
Brand: Helium
Grip Size: 4.5 inches
Paddle Dimensions: 13.8″ x 7″
Paddle Core: 12mm Honeycomb Polymer Core
Paddle Face Material: Graphite
Item Weight: 6.5 to 7.5 ounces
Price: $50 to $60
5. Nuipipo Lightweight Pickleball Paddle Set
A colorful, quality pickleball paddle set for the whole family made by an up-and-coming pickleball company!
(Image Credit: Amazon)
Highlights
Lightweight design for easy maneuverability
Made with durable graphite shaft and frame materials
Suitable for all skill levels, including beginners and advanced players
Includes paddles for both adults and kids in the set
Features a comfortable 4 1/2 inch grip size
High customer ratings with over 1,500 positive reviews
My Take
As a parent who's always on the lookout for fun, active games that my kids and I can enjoy together, I came across this fabulous sports equipment: The Nuipipo Lightweight Pickleball Paddle Set. What initially struck me about these pickleball paddles was their compliance with USAPA standards. This means they're designed to enhance performance while adhering meticulously to safety regulations.
The Niupipo Pickleball Paddles are perfect because they cater not only to adult players but also juniors under 12 years of age. The lightweight junior paddle weighing just over 6 ounces offers excellent grip and control making it ideal for young enthusiasts learning the game.
Your son or daughter will play more comfortably with these paddles due to its unique Polypropylene-honeycomb composition, which ensures strength without adding weight or causing strain on her arm.
But what truly sets this set apart is its fiberglass surface in the paddles along with an expansive sweet spot area (the best part of a paddle for striking). This allows extra power and a 'pop' sound upon each hit – something my son absolutely loves!
Plus, there's an added bonus – it comes complete with four pickleball balls (two indoor and two outdoor), all tucked neatly into one easy-to-carry bag!
In conclusion, whether you're looking to introduce your kids to pickleball or plan family tournaments at home or outdoors, investing in Nuipipo's Lightweight Pickleball Paddle Set would be my top recommendation for parents aiming at both quality time as well as physical activity.
It has everything the entire family needs to head to the courts and have some pickleball fun!
Pros
USAPA standard compliant paddle set suitable for players of all ability levels
Made by a reputable pickleball brand
Premium grip and edge guard for better paddle control and protection
Wide body shape with optimal weight for extended play without strain
Upgraded fiberglass and polypropylene construction for superior strength, power, and quieter hitting experience
Cons
It's fairly expensive compared to other sets designed for the whole family
May be too lightweight for players who prefer a heavier paddle
Grip may not be suitable for players with larger hands
Limited color options (only available in yellow)
The Nuipipo Lightweight Pickleball Paddle Set is perfect for players of all levels, from kids to adults, looking to improve their game in 2024 and beyond.
With its USAPA standard design and upgraded materials, this paddle set offers the ideal balance of power and control for a superior playing experience. So why wait? Grab your set today and hit the pickleball courts with confidence!
Specs:
Brand: Niupipo
Grip Size: 4.25 inches to 5.75 inches
Paddle Face Material: Fiberglass
Paddle Core: Honeycomb Polymer
Paddle Weight: 6.3 ounces to 7.6 ounces
Price: $100 to $110
Additional Factors to Consider When Choosing the Best Pickleball Paddle Set for Kids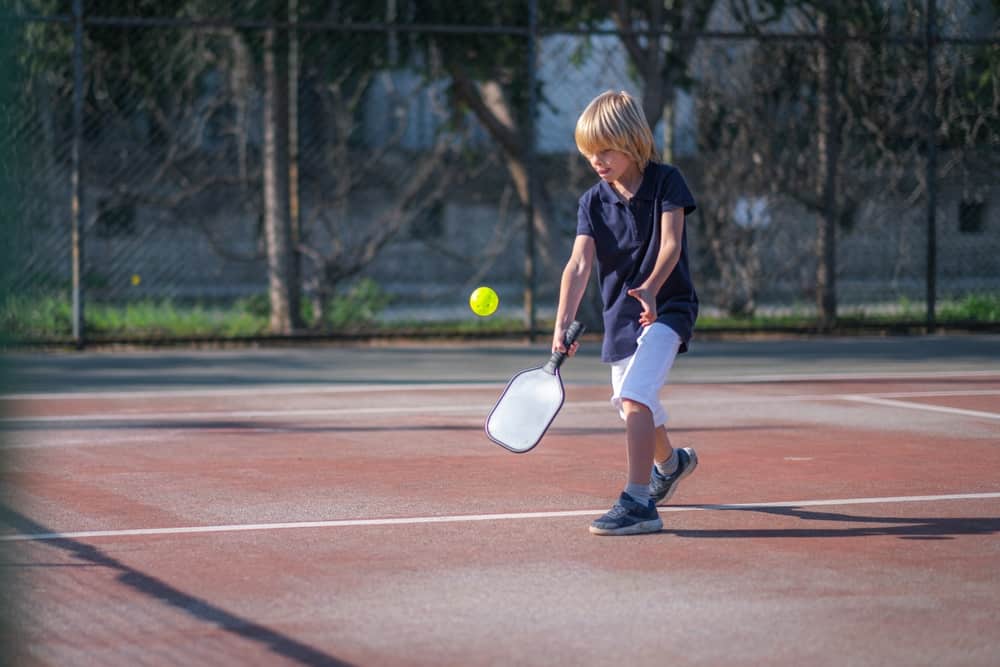 Consider paddle sets that have noise-reducing technology to minimize the sound impact during play, as well as sets with extended handles for better reach and unique designs and colors to enhance your child's enjoyment of the sport.
Noise-Reducing Technology
In 2024, noise-reducing technology is an important factor to consider when choosing pickleball paddle sets for kids. Innovations in the core material of paddles have made them quieter than ever before.
Sound barriers and space planning on pickleball courts can also help reduce noise. When buying a paddle set, make sure to look for features that prioritize noise reduction, as this can provide a more enjoyable playing experience for both your child and others around them.
Extended Handle for Better Reach
An extended handle on a pickleball paddle is a great feature to consider when buying for your child. It provides better reach on the court, allowing them to hit balls with less foot movement.
This means they can cover more ground and make plays without having to take as many steps. Additionally, an extended handle offers added leverage on serves, giving your child more power behind their shots.
With a longer paddle, they'll be able to reach further and hit the ball harder, which can really make a difference in their game.
Unique Designs and Colors
Pickleball paddles for kids come in a variety of unique designs and colors to suit different preferences. For example, the MYKUJA Pickleball Paddles Set offers four sets of color choices, each with a unique pattern.
The Amped Epic paddle comes in vibrant colors like red, blue, purple, and black/white. These visually appealing options can make playing pickleball even more fun for kids. Whether they prefer bold and bright colors or more subtle designs, there is a paddle set available that will catch their eye.
So not only can parents choose a high-quality paddle set for their child, but they can also find one that matches their style on the court.
Related: Click the link if you're a beginner looking for simple pickleball strategies that you can implement in 5 minutes!
Best Pickleball Paddle Sets For Kids – Conclusion
In conclusion, when it comes to choosing the best pickleball paddle sets for kids, it's important to consider factors like lightweight and durable materials, appropriate size and weight, and a comfortable grip.
Based on these criteria, the Litakon Premium Youth Pickleball Paddle Set and MYKUJA Pickleball Paddles Set For Kids are two top recommendations. With their vibrant colors, durable construction, and comfortable grips, these paddle sets are sure to provide young players with hours of fun on the pickleball court.
So why wait? Get your kids started in this exciting sport today!
Other Related FAQs Around Pickleball Paddle Sets For Kids
1. Are pickleball paddle sets suitable for kids?
Yes, pickleball paddle sets designed for kids are specifically made with smaller grips and lighter weights to accommodate their size and strength.
2. What age range is recommended for the kids' pickleball paddle sets?
The recommended age range for the kids' pickleball paddle sets varies, but most are designed for children aged 6-12 years old.
3. Can adults use the kids' pickleball paddle sets?
While adults can technically use the kids' pickleball paddle sets, they may find them too small and light compared to regular adult-sized paddles. It's better to choose a set specifically designed for adults.
4. What features should I look for in a good quality kid's pickleball paddle set?
A good quality kid's pickleball paddle set should have a lightweight design, durable construction, comfortable grip, and be appropriate in size and weight for children.
5. Does this particular set come with balls included or do I need to purchase those separately?
Each product listing will specify whether the set includes balls or if they need to be purchased separately. Be sure to check before making a purchase.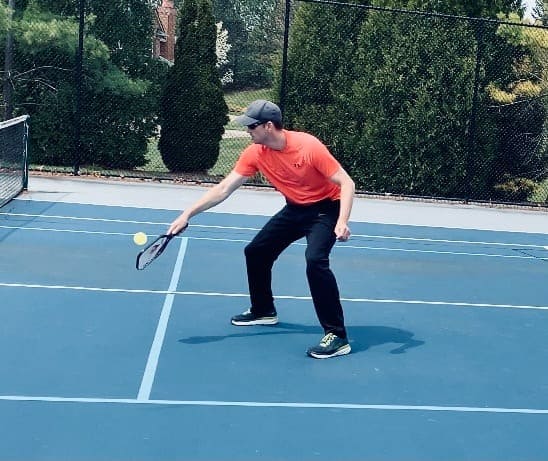 Welcome to TheVolleyLlama.com. My name is Keith, I'm just a lover of all sports that involve a racquet, net and a ball. I played competitive high school varsity tennis, love racquetball and my whole family plays pickleball regularly. I started this website to help give people like you the basics to learn these wonderful games.