The goal of this article is to give tennis players plagued with flat feet a comprehensive list of the Best Tennis Shoes For Flat Feet that have a proper "low arch" rating ideal for players with fallen arches.
The best tennis shoe for flat feet in my opinion is the Nike Zoom Vapor 9.5 because of its lightweight feel, superior arch comfort, and its advanced tennis shoe technology. The Zoom Vapor gives tennis players lightweight durability and the arch support flat footers need.
If you love tennis like I do, but also have flat feet like some of us, it can pose quite a problem. If your feet are as flat as boat oars, running and cutting on a tennis court can cause a lot of pain and give you sore feet for days. Grabbing a decent pair of court shoes and doubling up your socks isn't the best solution.
When it comes to flat feet, it's ALL about the actual pair of shoes you put on your feet. Finding really good tennis shoes for flat feet can make all the difference in the world.
But, not all tennis shoes are created equal. And not all tennis shoes are designed for people with low arches (flat feet). Lucky for you, I've put in over 20 hours of court shoe research and analyzed all the top brands to give you the Top 9 Best Tennis Shoes for flat feet.
Related Content: My favorite tennis bag has a dedicated slot for shoes! Click here for my breakdown.









Wrong Fit? Wrong Shoe.
If you feel like your tennis shoes never fit right, or if they cause you pain while you are playing, you are not alone. Many players struggle to find a court shoe that works for them. The good news is that shoe problems, even ones that cause pain, are easy to fix once you have the right information.
You can usually trace the "wrong-shoe" issue to the shape of your feet. Like other parts of the human body, feet come in different shapes and sizes. The most common tennis shoes, however, are made for a specific foot shape.
The pain and discomfort begins when your foot does not match the shoe shape. The solution is to seek out footwear that matches your foot type.
Related Content: Are you an older player looking for a racquet ideal for tennis elbow? Click here!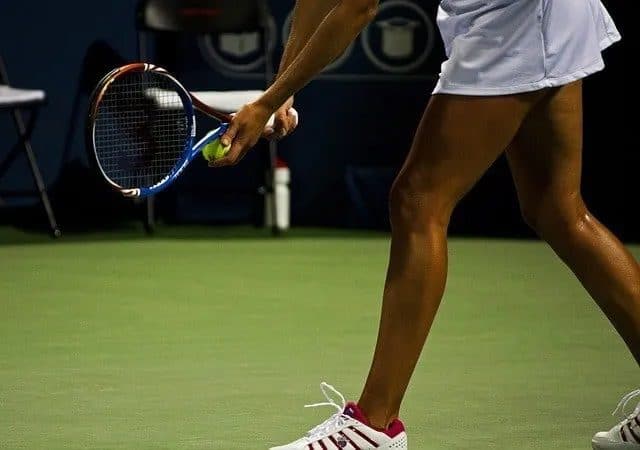 What Does It Mean To Have Flat Feet?
Flat feet are when the entire sole of your foot, touches the floor. The term "flat" refers to the arch on the bottom of the foot. When you have little to no arch, you have flat feet.
The arch is on the inside between the heel and the ball of your foot. Most people with flat feet have no symptoms or pain during normal activities, but regular shoes may feel tight, uncomfortable, and generally not fit properly.
Discomfort can be especially pronounced during strenuous activity, such as jumping, cutting, and running on the tennis court.
However, the good news is having flat feet IS something you can overcome. Once you know the best tennis shoes for flat feet, it is only a matter of finding them and choosing the one that fits best.
Having flat feet doesn't necessarily mean you'll need special custom-made shoes. There are shoes actually designed to give people specialized arch support. Other options like arch inserts aren't a bad idea either.
When it comes to flat feet, I feel your pain, and I've got your back.
What Type of Tennis Shoes are Best for Flat Feet?
When it comes to choosing the best tennis shoe for flat feet, the first step is to understand your foot shape.
The foot is an amazing appendage. Small bones, the tarsal, and metatarsal, held together by tendons and ligaments, can support the whole weight of your body when you are standing, walking, running, jumping, stopping, and cutting (all the movements you perform when playing tennis).

When you run, jump or stop quickly, the force that you exert on your foot may be as much as eight times your body weight! Think about. Eight times your body weight!
That alone proves that the right shoe is absolutely a necessity! That is why proper footwear is vital, and why foot discomfort is possible if you do not have the right court shoes.
In my opinion, the best tennis shoe for flat feet will provide support, cushioning, and the proper measurements to accommodate your specific foot shape without pressing on the bones, tendons, and ligaments that you need in order to absorb the shock from the rigors of tennis.
If you want to continue playing the game you love, you must have the proper equipment, and footwear is arguably the most important piece of equipment…even more important than a good racquet.
How Tennis Shoes for Flat Feet Also Work for People With Low Arches
The shoe industry uses several terms for foot shape. Another way to describe flat feet, for example, is "low arches." You may also hear the term "fallen arches" instead of low arches.
When it comes to finding the best tennis shoe for flat feet, all three terms refer to the same foot shape…yours.

Therefore, when someone says they're looking for tennis shoes specifically for people with flat feet, it means the same thing as wanting to find the best tennis shoes for people with low arches or the best tennis shoes for players with fallen arches. It's all the same.

On shoe websites, you will often see a line for "arch" under the shoe's specifications. Usually, "arch" will be followed by "low," "medium," "high," or some variation or combination thereof.
If you are looking for the best tennis shoes for flat feet or low arches, you'll want to look for an arch rating of "low".
All of the listings I cover below, have a "low" arch rating and are widely considered the most comfortable tennis shoes for players with flat feet.
What is Pronation and How is it Related to Flat Feet?
Pronation is the term that is related to the shock-absorbing properties of your foot. You can think about pronation as your body's suspension system. When you play tennis (or any other sport), your foot will roll inward, and your arch will press downward towards the court to absorb the shock when you are running.
Approximately one-third to one-quarter of all people have "neutral" pronation. Neutral pronation means that they have a natural inward roll that allows them to absorb shock effectively. Those with overpronation roll inward excessively, which can cause less-than-perfect shock absorption. This motion can lead to foot pain.
You should also understand the relationship between pronation and foot shape. Shoe sellers usually do not ask you about "pronation" when you go to purchase a shoe. Most do, however, have information about the arch height of their shoes.

Arch height is vital because the height of your arches is directly related to pronation. People with fallen arches, or flat feet, are usually over-pronators. Therefore, the best tennis shoes for flat feet are shoes with low arches.
Related: Does your High Schooler need a good racquet?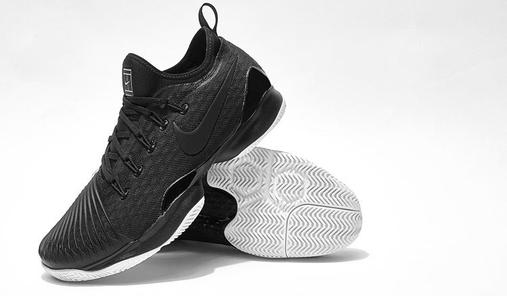 What is Supination and How is it Related to Flat Feet?
The other extreme is under pronation, or supination, which occurs when the foot does not roll inward enough at the end of each stride. Athletes will naturally experience supination when they are pushing off or accelerating, but those who experience
This tends to happen to athletes who have high arches, not low arches. If you have flat feet, you do not want to search for tennis shoes for people with high arches or supination.
How Do I Know If I Have Flat Feet?
If you are not a podiatrist (a doctor specializing in feet), then you probably will not be able to tell where you fit on the pronation scale just by looking down. Luckily, you can perform a simple test without any special equipment to see if you have flat feet.
The "wet feet" test requires water and either a cement floor or a piece of paper or fabric. You can use any surface that will absorb the water and create a visible and complete imprint of your foot.
To perform the wet feet test you will wet your feet, and walk over the surface using a normal stride. You will want to take at least a few steps for the water to do its thing. Also, avoid using too much water because that will not help create a well-defined footprint.
How do you translate the results of the wet feet test? Fallen arches, (in other words, if you over-pronate), mean the whole sole of your foot will be visible in your footprint.
If you are a neutral pronator, then the outer half of the middle of your foot will appear in your foot outline. You could be a supinator, which means you will only see your toes, the ball of your foot, and your heel in the footprint.
What if the wet feet test shows that you have fallen arches? The next step is to find the best pair of tennis shoes for your lovely flat feet. Again, this does not mean that you have to get custom-made footwear.
Not only can you find court shoes with low arch support on the market, but brands like ASICS and Nike have some of the most lightweight, comfortable tennis shoes for people with flat feet. Let's get into my top 10 picks!
My Top 10 Picks For The Best Tennis Shoes For Flat Feet
My #1 Top Pick – The Nike Zoom Vapor 9.5 Tour
What is the best court shoe for tennis players with flat feet? If you ask me, and if you ask Roger Federer, the answer is the Nike Zoom Vapor 9.5 Tour. The 9.5 is one of the most sought-after tennis shoes on the market right now.
The Vapor 9.5's popularity is not just due to its association with Federer. It's my top pick because it outperforms most other options in terms of technical specs, comfort, and weight. So essentially, it's the complete package!
For players with flat feet, it is an especially good option because of its low arches and wide design. The lightweight upper is seamless and an improvement over the previous model, the Vapor 9 Tour. Plus, it provides a superior level of support thanks to its adaptive fit design.

The adaptive fit limits break-in time, so you can wear a pair of Vapor 9.5s right out of the box. The cushioning is soft in the heel, and lower to the ground in the front, like a sports car!
This is a technical feature that advanced players, who like to feel the court when they move, will appreciate. Players will also love the lightweight design, which will help you move like a cheetah on the court!
My Runner-Up – The Nike Air Vapor Advantage
The Nike Air Vapor Advantage takes the runner-up spot for the best tennis shoe for flat feet because it's almost as good as the Zoom Vapor but easier on the wallet. The Vapor Advantage is based on the design and style of Roger Federer's Vapor Tour series.
However, the difference is that the Vapor Advantage is a more affordable option that still has a lot of the Vapor Tour elements that make it so popular among advanced players. The Nike Air cushioning gives this shoe a soft, supportive feel. True Vapor Advantage fans sometimes describe the cushioning as being so soft that it is "pillowy."
The synthetic upper adds to the lightweight, airy feel. What makes this tennis shoe a good option for players with flat feet is that it is wider than the average shoe, and it has a low arch.
This combination is ideal for players who feel "pinched" by medium-width shoes, which make up the majority of the tennis shoe market. The Vapor Advantage's XDR rubber sole gives players traction and durability.
When combined with the Air cushioning, the rubber provides this shoe with a speedy, low-the-the-ground, stable feel. The synthetic-and-mesh upper is breathable and lightweight. These pliable materials also make for a short break-in period so you don't have to worry about getting blisters just to get used to them
My All-Around Value Pick – The Asics Gel Challenger 11
The Challenger 11 offers the most value for avid players who are searching for the best tennis shoes for low arches because of its durability and versatility.
Despite falling in the middle tier as far as price is concerned, the Challenger 11 has some high-end features. These features will appeal to players who value performance and appreciate the more technical aspects of shoe design.
The Challenger 11 has a high-abrasion rubber sole that offers excellent traction on different court surfaces. More importantly, the multi-court versatility is what makes this my value pick. The upper part of the shoe has synthetic material and mesh.
This allows for a lightweight feel with a blend of breathability and support. No sweaty feet here.
The shoe is very durable, making it a good investment for players who are on the court more than twice a week.
Like other ASICS shoes, the Challenger 11 has the Trusstic system for extra arch support. We've worn many ASICS shoes and are big fans of the Trussic system – it's the real deal in our opinion.
Related: Adidas Barricade Boost full shoe review.
This system, combined with the lower arch rating, means that this model is a good option for avid players who have a difficult time finding shoes to fit their flat feet.
This is a great tennis shoe for players with fallen arches and wide feet. In fact, ASICS in general tends to run wide. If you are looking for value, then we think this should be the first pair you try on. The Challenger 11 comes in both men's and women's sizes.
My Budget Pick – The ASICS Gel Dedicate 5
The Dedicate 5 is another shoe with ASICS Gel padding for extra shock absorption. The arches on this shoe are "lower than medium," so it is a great option for players who score somewhere between neutral pronation and overpronation on the wet feet test.
The shoe offers a combination of synthetic leather and mesh for a blend of support and breathability. The ASICS Trusstic system offers extra arch support and stability for players whose feet are on the flatter side.
The ASICS Dedicate 5 is on the lower end of the price spectrum, so it is ideal for entry-level players, recreational players who like the feel of the Gel cushioning, and any player who is in search of a comfortable budget option for players with flat feet.
If you're in the market for an in-expensive court shoe for casual play – this is a great option!
#5. Asics Gel Court Speed
The ASICS Gel Court Speed meets all the main criteria for a player with flat feet because of what ASICS put into it. First, the design has low arches.
The upper part of the shoe has a breathable mesh material, and it also boasts a mesh lining. The mesh makes the shoe breathable and cool, which is an excellent combination for hard-court players!
The mesh also helps to make the shoe lightweight without sacrificing support. Also, since it is mostly mesh, the shoe will fit well right out of the box. In other words, you will not have to deal with a "break-in period."
The Court Speed has a removable padded footbed. If you need a different level of support, you can easily add a custom insert for additional support. So really, you can make this shoe as supportive or as comfortable as you'd like.
This is a feature I love! The padded collar and rubber outsole add comfort and traction for performing quick cuts. Finally, the proprietary ASICS Gel cushioning at the front and heel of the shoe adds an extra layer of shock absorption without interfering with your ability to cut on the court.
#6. Nike Air Zoom Cage 3
The Zoom Cage 3 offers an attractive blend of support and durability. The proprietary XDR outsoles come with a six-month durability guarantee, which will appeal to avid players looking for a good investment.
This is unique in the tennis shoes arena. Flat-footed tennis players will like the low arch and support-focused design of this shoe.
The Cage 3 has what Nike calls a "full bootie" design. This means that the shoe has extra padding around the ankle that locks your foot into place, and an external heel molding offers added support without sacrificing cushion or comfort. Think of it like a padded sock that comes up over your ankle, like a boot would.
The upper part of this shoe uses a material called Kurim. Kurim is a lightweight compound that is flexible, and durable and provides an almost "skin-like" or "sock-like" feel for the wearer.
Since it is pliable, Kurim will conform to your foot, which is perfect for anyone who does not have an average to medium-arch and medium-width foot.
On the Cage 3, the Kurim sits over a breathable mesh lining. This combination brings a fitted, breathable feel without adding much weight. The Air Zoom Cage 3 is an excellent option for players who want a snug fit that is not too tight. The "just-right" fit is a quality that is not always easy to find if you have flat feet.
#7. Nike Air Zoom Prestige
The Zoom Air Prestige features Nike's Dynamic Fit design and superior cushioning via the Zoom Air system. If superior comfort is your thing, this may be the shoe for you.
Thanks to the internal low arch, players with flat feet can enjoy the snug fit and ample support without worrying about the bending and bulging that come from shoes with medium arches.
Nike's TPU shank provides extra support where players with low arches need it most: in the space between the insole and outsole. In shoe design, the shank is very important for diminishing the load on the wearer's feet and lower legs and this Nike model does a great job at that!
At first, "shank" was a term used in hiking and mountaineering boots. However, the extra support is beneficial for any sport that requires running, aggressive starting and stopping – like Tennis or even Pickleball.
The Prestige also boasts an extra layer of toe rubber. The XDR rubber outsole makes this an extremely durable shoe.
#8. Nike Air Zoom Ultra
The Air Zoom Ultra is one of the better options for players with flat feet who prefer ultra-lightweight footwear. The Ultra has Nike's trademark Zoom Air cushioning system.
The cushion, combined with the woven mesh upper, provides support and performance in a shoe that weighs in at an impressive 11 oz.
11 ounces, that's it!
Because of this lightweight, flexible design, the Zoom Air Ultra does not require a break-in period. That alone makes the Ultra one of the best tennis shoes for players with low arches if you want something that you can wear right out of the box.
Some tennis shoes should come with an extra pair of socks because your feet will need them for the break-in period. Some tennis players don't mind doing that and sometimes prefer two layers of socks. That, however, is not needed with the Air Zoom Ultras, which in my opinion, is ideal.
Another advantage of the lightweight mesh design is superior breathability. How does such a lightweight shoe perform when it comes to supporting your foot? The Ultra has Nike's trademark Flywire cable lacing, which helps to provide a snug fit that can conform to your foot shape.
The TPU shank provides support for the middle of the foot, which is especially noticeable when you are cutting or stopping on the court. The thin rubber area around the toe adds to the shoe's overall durability.
As a bonus, this rubber portion is waterproof, so your shoes will stay dry. No swamp feet here!
Tennis Shoes For Flat Feet – Final Thoughts
Playing tennis with flat feet can be a challenge but, your low arches do not have to be a disadvantage for you when you're on the court. When it comes to selecting the best tennis shoes for flat feet, there are plenty to choose from.
But, selecting the best brands with a "low" arch rating is crucial and in our opinion, step number one. Hopefully, you realize that if you're playing with the right pair of court shoes, the issue of flat feet can be overcome.
Among the options we have listed above, you should be able to find a shoe that can finally solve the footwear issues that you have experienced in the past. You may even discover that the right shoe will help you take your game to a higher level.

Even if none of the shoes I recommend suit you, hopefully now you have the knowledge and shoe terminology to go out and find a shoe that fits your needs, your skill level, and most importantly, your foot shape.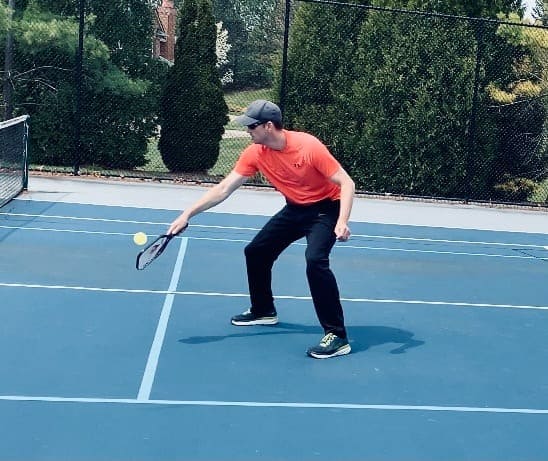 Welcome to TheVolleyLlama.com. My name is Keith, I'm just a lover of all sports that involve a racquet, net and a ball. I played competitive high school varsity tennis, love racquetball and my whole family plays pickleball regularly. I started this website to help give people like you the basics to learn these wonderful games.