My goal in this post is to thoroughly analyze, compare and provide you the very best tennis racquets under 100 dollars that are designed for beginners and intermediate skill levels.
If you're not willing to invest $200 or more in a tennis racquet because you're either just starting out or are still a beginner-level player, finding an inexpensive racquet that isn't junk can very difficult.
That's why I'm here to help.
I've done over 20 hours of thorough racquet research, consulted with racquet enthusiasts and professionals and read countless user reviews and analyses. In short, we've done our homework because our goal with this article is to give you a complete, concise picture of the Best Tennis Racquets Under 100!
Let's get started!
Cheap Tennis Racquets – A Note On Price And Quality
If you've been considering getting into tennis but haven't because you thought it was too expensive, then this article will bring you good news. It's true that there are some pretty pricey racquets out on the market these days but if you're a beginner, you can still hit the courts with a quality racquet that won't break the bank.
The key is to find that sweet spot between price and quality. Sure you can run out and buy a racquet for under $50. The problem is that it may not last long and you won't enjoy playing with it.
You can also throw a few hundred bucks at a fancy racquet with all the bells and whistles but at this point, is that really what you need?
That's a lot of money to spend on a piece of equipment that may or may not fit your style of play, especially if you're still learning the game.
Are Inexpensive Racquets Only For Beginners?
Before we get too deep into which racquets to consider, let's take a look at what makes some racquets better than others, especially those that are designed for beginners. If you've started looking at racquets then you may have noticed that there are so many options to choose from.
Even the same model can have two to three different versions! The sheer number of brands, head sizes, and variations within each product line can be very confusing. This is probably why you are reading this article…you might be looking for help selecting a racquet.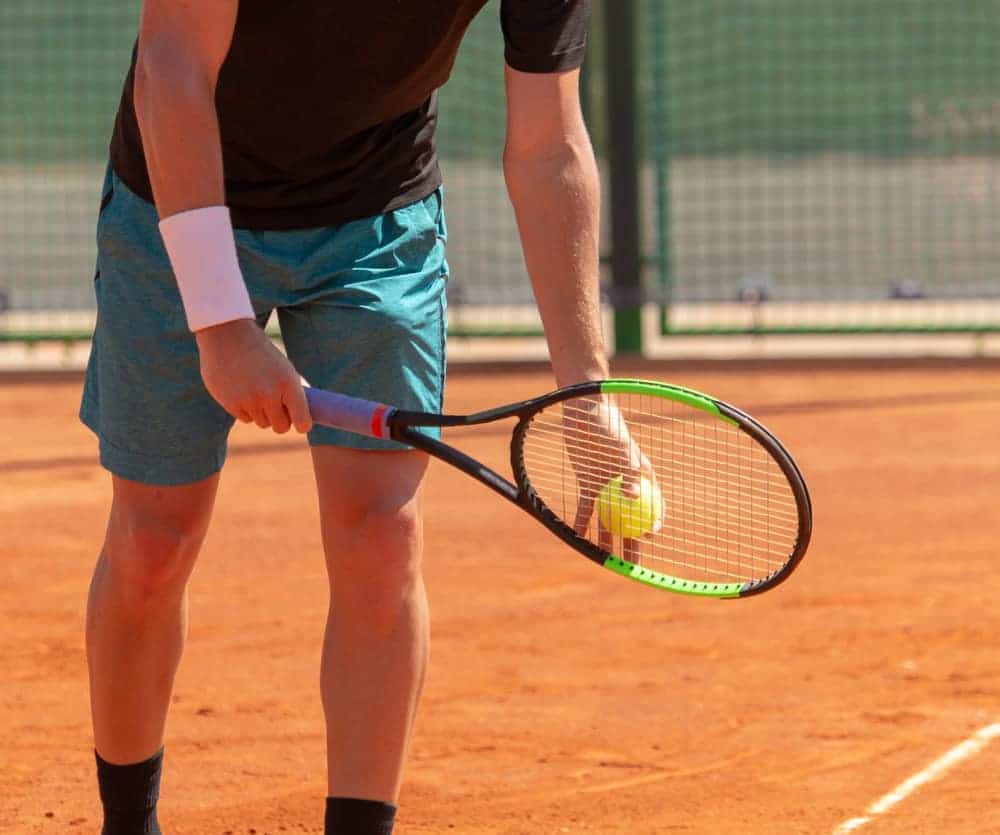 It's actually ok if you feel a little bit overwhelmed. Not all racquets are created equal. Some help to give you more power, while others give you more control. There are different lengths, different grips sizes, and a number of different shapes for racquet heads.
So, that can be a lot to unpack. Especially when you're looking for something simple, and inexpensive.
If you are a beginner, you most likely don't know whether you need more power or more control yet. If you're like most folks just starting out, you're just hoping to hit the ball over the net consistently.
The first thing that you want to look for in a beginner's racquet is a large sweet spot. This means that you don't always have to hit the tennis ball in the middle of the strings on your racquet.
Many beginner players can become frustrated by not being able to hit the ball squarely. Larger sweet spots allow you to hit the ball outside the center of the racquet and still get a good result.
Next, you will want to look for racquets that have an oversized head. The bigger the racquet head, the easier it is to hit that fuzzy little green ball; it's just that simple.
Tennis racquets under $100 should still have many of the same features as higher-priced models. Many of the more expensive racquets that are designed for advanced players have smaller heads making it tougher for beginners to make consistent contact.
Advanced racquets are customized towards control, not power, making it difficult for newer players. Of course, if you watch professional tennis then you have visions of smashing forehand winners past your opponents. Until you get your tour card, however, you will want a racquet with added power.
Most beginners take shorter swings and don't generate as much power on their own. This is why you will want to find a racquet that helps you generate power. This is accomplished by having more weight in the head of the racquet along with a stiffer frame.
Power is not much good if you can't control it. Tennis courts might feel big when you are running around on them for an hour chasing the ball but they can feel tiny when you are trying to keep the ball in play.
Beginner racquets also have dampening systems that help reduce vibrations. This will give you a better feel for the ball resulting in better overall control of your shots. So you see, you're not really asking for too much from a beginner's racquet.
We just need one with an oversized head, a large sweet spot, extra power, and good control. Here are our choices for the best tennis racquets under 100 Dollars.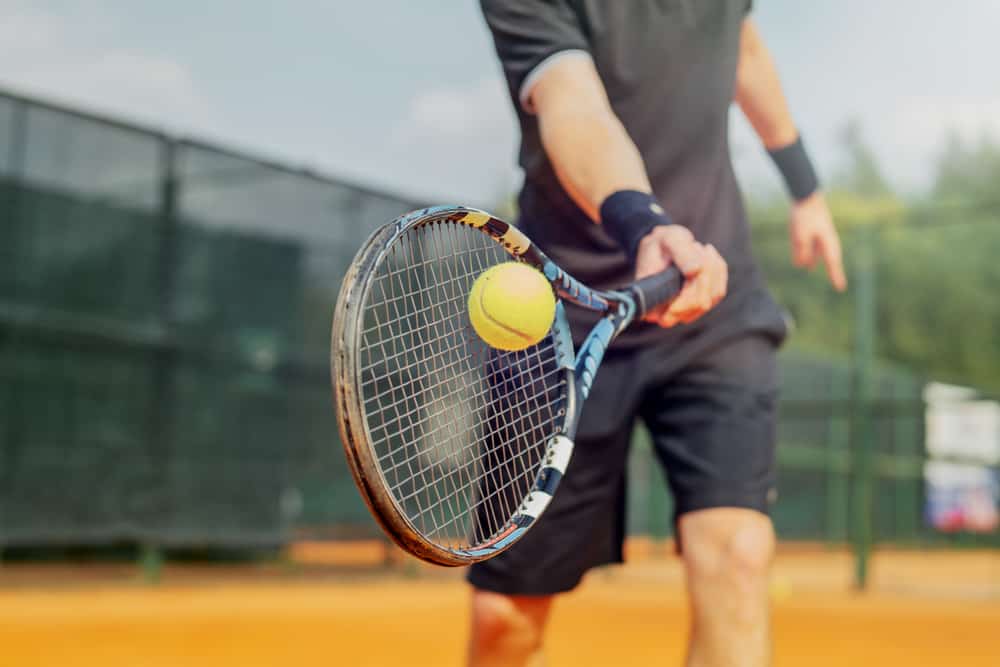 Best Tennis Racquets Under 100 For Beginners
If you are a true beginner, then these 2 racquets are ideal for your level of play.
#1 – The HEAD Ti S6 Tennis Racquet
This racquet from Head is my top overall pick. It comes in at number one because it has those four key features that we outlined above (oversized head, large sweet spot, extra power and good control).
First off, it has a sweet spot that covers the entire face of the racquet. This is ideal for newer players still learning form and mechanics.
The oversized head measures 115 square inches giving you plenty of space to hit the ball with. This racquet features a head-heavy frame that helps to boost your power as well. This makes it easier to hit volleys and half volleys.
You're not wielding a sledgehammer here but, when you want it to, the ball will pop off the strings!
The heavy head along with the unique material placed in the frame can add a whopping 29% increase to your swing power! This is ideal for newcomers who can't generate enough power on their own.
To round out the features and give you the best feel for the game, the Ti S6 8 has a dampening system on the strings and in the handle.
This helps the racquet reduce vibration by more than 25%. This will give you a comfortable grip and an improved feel.
By combining all of this into one racquet priced below $100, Head takes first prize for the best beginner tennis racquet under 100 bucks.
The only downside to this racquet might be that its head size is too big for some players. At 115, it's the largest on my list. If it feels too big, try something in the 110 range.
#2 – Runner-Up: The Wilson Hyper Hammer 5.3
The Hyper Hammer racquet from Wilson is my value pick and runner-up. I give it this rating because this racquet will help your game as a beginner and continue with you as your game improves.
This means that you can plan to use this racquet for several seasons to come. This is rare for beginner racquets because a lot of them can become obsolete once you've hit a certain skill level. Meaning most beginner-based racquets leave you wanting more from your racquet and thus forcing you to upgrade.
Not the Hyoer Hammer 5.3.
For the beginning player, the Hyper Hammer offers the things we really love. With a name like "Hammer", you know you are going to be getting a boost in power.
The frame is constructed of Hyper Carbon, which is Wilson's response to all those titanium racquets on the market today. It also makes the Hyper Hammer a light 10oz.
The string pattern is tighter which favors players with longer swings that tend to hit the ball flat.
This racquet is also longer than most beginner racquets coming in at an impressive 27.5 inches. The extra length not only gives you a little more court coverage but it also gives you better leverage on your swing.
The sweet spot on this racquet is big but the overall head size is a bit smaller than other beginner racquets from Head. At only 110 square inches, the Hyper Hammer gives up a little size in exchange for all that power.
This also means that the construction of this racquet is less concerned with control. If you are a player that likes to put a lot of spin on the ball, then you may have difficulty controlling your shots.
If you are a beginner that has a powerful swing then you will like playing with the Hyper Hammer even as your game improves. The smaller head will improve your hand-eye coordination so you will develop your own control over time while maintaining or perhaps increasing your power.
Now that's a good value! We love what Wilson had in mind with this racquet!
Best Tennis Racquets Under 100 For Intermediate Players
If you've been playing tennis for a while and have advanced your play to the intermediate level then here are 2 racquets that are made specifically for you, without that high price tag.
#1 – The Head MicroGel Radical
The Radical series from Head was the preferred racquet for the legendary Andre Agassi.
If you ever had the pleasure of seeing him play you will recall that he had a unique combination of power and control all wrapped up in a tiny package. The MicroGel Radical MidPlus is the latest generation of Andre's racquet that continues the tradition of power and control.
It comes in two sizes: a traditional 98-inch head size and an oversized option. Let's talk about the oversized option for a minute.
The MidPlus Oversize has 107 square inches of hitting surface which offers ample size to hit the ball. It is a longer racquet at 27 inches long and it weighs only 11 ounces. While this may sound like all the beginner racquets we just reviewed, it is, as the name suggests, radically different.
The difference lies in the weight balance. As you recall, beginner racquets are designed to be heavier in the head to help novice players generate more power.
The Head Microgel Radical is actually 2 points lighter in the head. This configuration begins to transition toward the head-heavy models preferred by professional players. The result is significantly improved control and spin capability.
This control is made possible by the MicroGel that is part of the frame's construction. Mixed with carbon fibers, the MicroGel works to allow the racquet to conform to the ball on impact.
This allows the racquet to absorb and then distribute the impact of the ball throughout the entire racquet head. The folks at HEAD know what they're doing, you can feel that immediately with this racquet.
The result is a smoother swing and precision control which is why the Radical MidPlus Oversize is our top pick for intermediate players looking for the best tennis racquet under 100 dollars.
#2 – The Babolat Boost Drive
The final racquet on our list is from a company that has become synonymous with tennis over the years – Babolat. Babolat has long been one of the most trusted brands in the game and for good reason.
The Boost Drive is another example of Babolat's commitment to making great racquets, at extremely affordable prices. This series of racquets has quickly become a well-known model for Babolot and is used by both beginners and intermediate players alike.
The Boost Drive is made from lightweight graphite and comes in at a feathery 9.8oz fully strung. In addition, it has a 16×9 string pattern and a very "goldilocks" 105 square inch head size. This means it's not too big but not too small either.
Racquets at 110 square inches of head size (or bigger) can feel bulky to some players. The bigger head size helps create artificial power so when a player moves from beginner to intermediate levels, they begin to want to generate their own power.
To do that while gaining some control, moving down in headsize is usually a good option. That's where the Boost Drive comfortably sits for players looking to take that next step.
In fact, its strongest attribute in my opinion is its versatility. This is a racquet that could be used by beginners but is versatile enough to stay with them as they grow in skill level. Meaning, it's got longevity and you'll get more bang for your buck because you'll not outgrow this racquet as fast as some others.
Babolot even advertises it for beginners to intermediate players and highlights how it is meant to stay with the player moving up in skill level as they get better at tennis. And you just wouldn't be able to do that with a head size bigger than 105.
So, the 105 head size chosen by Babolat is kind of genius. And they've poured their genius into this racquet. I highly recommend it to anyone looking to buy an inexpensive racquet that will stick with them for a while.
The design of the Boost Drive is eye-catching and like most Babolat racquets, it's immediately noticeable by its bright color scheme. In addition to bright color options, you'll find all the standard grip options available as well. From 4-1/4″ to 4-3/8″, they're all here.
Best Tennis Racquets Under 100 – My Final Thoughts
At the end of the day, if you're looking for the best tennis racquet under 100 dollars, we hope these six options give you a place to start. Remember, just because you've found an inexpensive racquet, doesn't mean it's a good one. Quality can be found at lower price points, you just have to know where to look.
Whether you're a beginner or climbing up to intermediate ranks, we've given you six budget-friendly racquet options that are tested and proven in the tennis community.
Give one of them a test drive and buy the one that fits your style of play the best. Then you can take all that money you saved and get yourself some tennis lessons!
Have a budget racquet you love that we didn't mention? Post a comment below, we'd love to hear what you're playing with!
Need help selecting other tennis-related gear? Click here.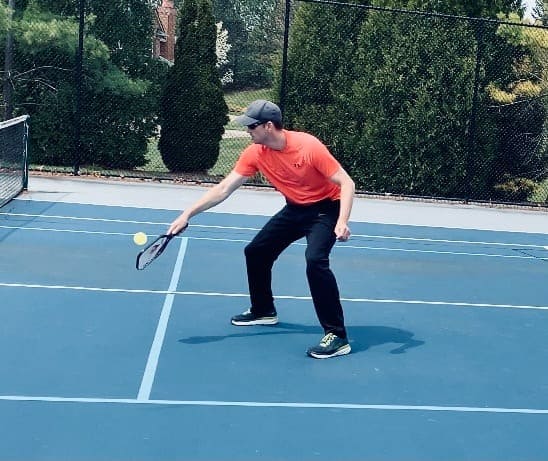 Welcome to TheVolleyLlama.com. My name is Keith, I'm just a lover of all sports that involve a racquet, net and a ball. I played competitive high school varsity tennis, love racquetball and my whole family plays pickleball regularly. I started this website to help give people like you the basics to learn these wonderful games.