Best Tennis Racquets for High School Players – Article Goal: Our goal in this article is to analyze, compare and provide young players, specifically high school players, with a list of the best three tennis racquets available, at the best price, tailored just for them!
If you're like me, you may not have really played tennis competitively until you reached high school. That's when it starts to get serious. So, I began to think back to that first season I had as a freshman in high school playing JV doubles. I tried to remember…what racquet did I play with? Which made me think. If I had to do it again, what racquet would I choose now?
What is the best Tennis Racquet for High School players, nowadays? Well, in my opinion, if I was going into high school right now and going to play competitive tennis, I'd choose the Babolat Pure Drive Lite because of its forgiving sweet spot and lightweight feel.
However, the Pure Drive Lite isn't the only good option. The Wilson Pro Staff 97 and HEAD MicroGel Radical are also great tennis racquets for high school players. Let's examine these three racquets and why we feel they represent the best tennis racquets for high school players in today's game.
Editor's Note: If you're a female beginner, I highly suggest you read my article on the best racquet options for female beginners. I did real research and got real recommendations from racquet experts.
You will probably not need to invest in a pro-level model, but you will want something that provides you with the right set of technical features, and, more importantly, you will want a racquet that will still be effective and grow with you as you improve. Having a racquet that is versatile enough to stay with you as your skill level improves is important…and it's a smart way to get the most out of your equipment.
I know there are more options out there than anyone will ever have time to test, so we are going to take you past the manufacturer's marketing language and show you the specs and features to help you find the best racquet for your needs and skill level.
Why trust our opinion? For starters, we eat, sleep, and breathe tennis. We know how to comb through racquet specs, decipher the specific features, and pinpoint models that are best suited for various skill levels across different price points.
In short, we've done our homework (hours upon hours of it) because we love comparing head size, racquet length and string spacing – so you don't have to.
Whether you are relatively new to tennis and playing it seriously for the first time, or you are an intermediate player who has been in the game since you were much younger, we believe that our three choices are the best tennis racquets for high school players.
Related content: Got an advanced player not yet in high school? Click here for the top racquets for advanced juniors.
How Did We Choose the Three Best Racquets for High School Players?
First, we looked at head size, which is vital because it gives beginning and intermediate players a larger "sweet spot" so that they can hit a quality shot even if they don't connect with the center of the racquet. A larger head will enhance your power as well.
You need power so that you can hit groundstrokes from the baseline and, as you improve, place your shots deep in the opposite court. You will also want a lighter racquet because you may be playing and practicing longer than you have before. Lighter racquets can help with arm fatigue after hours of play day after day.
Our choices for the best tennis racquets for high school players also boast shock-absorbing features that limit the strain on your arm during play. Cheaper racquets lack this feature. Better equipment tends to have better options. Finally, this racquet is an investment, so you should look for something that is durable and will stand up to regular use.
All of our options below have the features we just took you through…even our budget model. Let's take a closer look at our selections for the Best Tennis Racquet for High School Players – The Babolat Pure Drive Lite, the Wilson Pro Staff 97, and the HEAD MicroGel Radical.
Let's take a deeper look into each racquet I selected.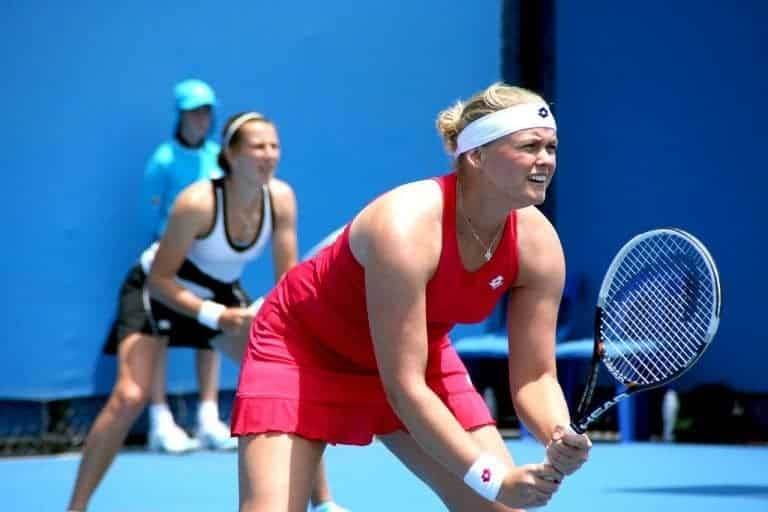 The Best Tennis Racquet For High Schoolers: The Babolat Pure Drive Lite
The Babolat Pure Drive Lite is, in our opinion, the best tennis racquet for high school players.
The Babolat Pure Drive Lite weighs only 9.5 ounces without strings and just over 10 ounces with strings attached. (Hence the "Lite" in the name). This lightweight design makes this the best racquet for high school players who are making the transition to a full-size model that is going to give them more power and accuracy.
The head offers players a large sweet spot. The Pure Drive Lite also features something called the Cortex dampening system. The system is made up of rubber material that takes more impact off your arm. If you are practicing and playing daily, this will undoubtedly be a useful feature.
Babolat's FSI Power system uses cross-string placement to provide more power and make the racquet more responsive to spin. As you move through your high school playing career, placing spin on the ball is another area where you can improve significantly.
Powerful forehand strokes with massive topspin from baseline to baseline is a skill you'll undoubtedly work on through high school, and this racquet will allow you to improve those techniques.
This flagship model from Babolat is user-friendly for beginners and has technical features that are ideal for intermediate players – this is why the Babolat Pure Drive Light is our best racquet for high school players.
The standard version, the Babolat Pure Drive, is one of the best tennis racquets for beginner adults for all the same reasons we've just mentioned for the Lite. If you're thinking of trying the adult model, you can find that here.
It should be mentioned that the standard Pure Drive has an overall heavier feel, especially in the head of the racquet.
Our Runner-Up: The Wilson Pro Staff 97
The Pro Staff line is well known, having been used by pros like Roger Federer (who endorsed the Pro Staff 97 RF Autograph). The Pro Staff 97 is an entry level model that will provide the performance that high school players will need as they move through their young playing careers.
The racquet is 11.7 ounces and, as its name suggests, the head is 97 square inches. That is slightly smaller and slightly heavier than the Pure Drive Lite, but the difference is negligible.
Editor's Note: The "97" does not stand for the year it was created.
The Pro Staff 97 has a vibration-dampening feature that increases comfort and reduces arm strain during long practice periods. It also has an "open" string pattern. In other words, some strings are placed further apart to make it easier for you to generate spin.
This is ideal for younger players still learning the fundamentals of spin for power in their cross-court returns.
Also, the frame is thin and constructed with a braided graphite design, providing superior control and feel for the ball. When combined, the power, spin, and touch of this racquet make it one of the most versatile racquets on the market today.
That is a positive combination for young, intermediate players who are still developing their game and focusing on fundamentals.
Related Content: Are you and older player looking for a racquet that allows you to hang with younger players? Read why this racquet is by far my favorite.
Our Best Budget Option: The Head Microgel Radical
The Head Microgel Radical comes in as our best "budget option" for high school players on more of a budget. Head's entire Radical line is popular with recreational players. Adding Microgel puts this racquet above the rest in the "inexpensive beginner racquet" category.
What is Head Microgel technology? Microgel helps to absorb and distribute the impact of the ball around the entire frame of the racquet. The technology brings more comfort to your arm, and reduces racquet twisting which is a common problem with cheaper models.
This improves comfort while giving you a feel for the ball and a high level of control.
At 11 ounces, the Microgel Radical is light enough for comfortable daily use. Its 98 square-inch head size puts it in the same size category as the Pure Drive Lite and Pro Staff 97.
The control and feel of the Microgel Radical do come with a slight drawback, it is not quite as powerful as the other two racquets on our list. The other models we've featured generate more power than the Head Microgel Radical, which some younger players may need.
However, its versatility makes it a top option for high school players. It is also one of the best tennis racquets for beginning adults on a budget.
Related: Looking for a tennis racquet that won't break the bank? Check out our list of the best options under $100.
Conclusion – Time to Hit The Court!
These three tennis racquets provide a versatile set of features that will help high school players perform well and develop the skills that they need without forcing them to change racquets too quickly. Racquets can get expensive quickly so getting the most out of your first few racquets is ideal.
The light design and shock-absorbing features of these three racquets will keep players comfortable on the court and hopefully lessen the likelihood of common tennis-related arm problems.
Hopefully, you've learned a little something and are now armed with the information you need to make a great purchase! The next Rafael Nadal or Simona Halep is out there!
Related: Looking for a great pair of shoes to go with your new racquet? Check out the latest from Adidas and Nike.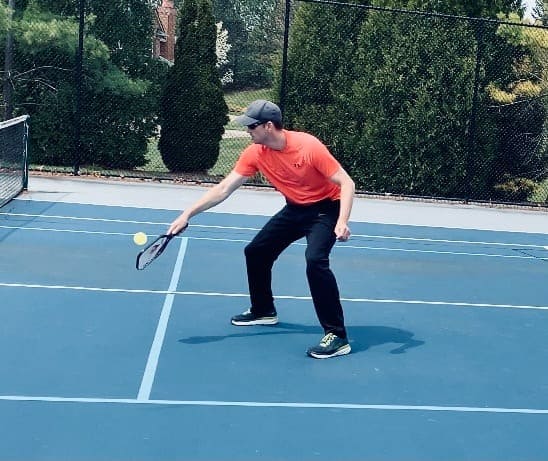 Welcome to TheVolleyLlama.com. My name is Keith, I'm just a lover of all sports that involve a racquet, net and a ball. I played competitive high school varsity tennis, love racquetball and my whole family plays pickleball regularly. I started this website to help give people like you the basics to learn these wonderful games.