My goal is to provide the recreational tennis player or series tennis enthusiast an honest, unbiased look into Adidas newest tennis shoe model – the Barricade and its cousin, the Barricade Boost.
Adidas has arguably always played second fiddle to Nike in the United States market for the best tennis shoes, but that doesn't make Adidas unworthy. Their latest model, the Adidas Barricade, and its companion the Barricade Boost are both solid contenders that will give you the edge in footwork on the tennis court.
With Adidas' patented Boost technology in the Boost model, these shoes give your feet ample cushioning and extra power to propel you forward.
Adidas Barricade Backgrounder
The Barricade line first came out in 2000, with its defining feature as the high toe profile to provide increased durability and protection. It also allowed greater push when going into a sprint or changing direction.
This is ideal for tennis shoes that propel the foot vertically AND laterally…unlike running shoes which only propel the foot forward. Over the years, Adidas made gradual adjustments to the design, like springier insoles, greater heel cushioning, changes to the profile, and the addition of stronger or more breathable materials.
In 2018, you could say it's one of the best, if not the best, footwear products on the market for beginners and seasoned players. In 2012, Adidas got access to some advanced gel sole technology simply called Boost, courtesy of a German developer.
It could be placed into the heel and sole of the shoe to add to the force of rebound and propel the foot forward.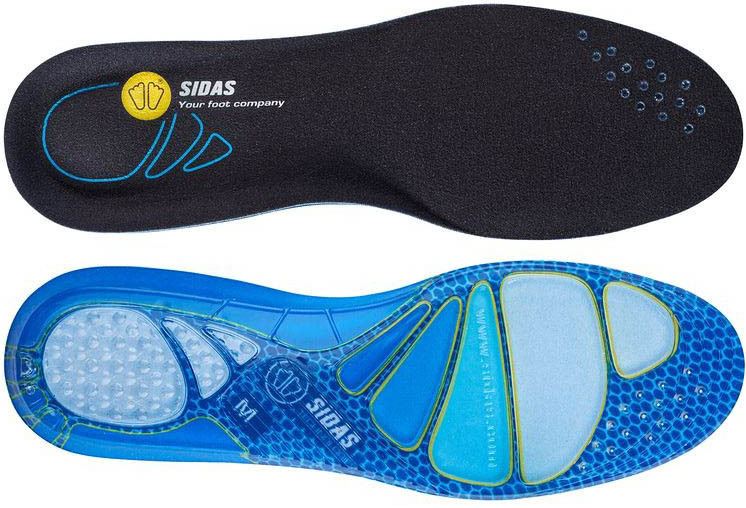 This is essential to give you enough speed to be competitive. In about 2015 the Boost technology became so popular that, Adidas began incorporating Boost into virtually all their models.
To this day, there are still two versions of the Barricade: one with Boost and one without. In other respects, they're identical. Therefore, it's probably best to get the Boost version for reasons we'll talk about in a bit.
So now, we get to analyze the 2018 Adidas Barricade Boost, the latest in Adidas' lineup. The Boost cushioning in the heel is the obvious standout feature, but that isn't all this shoe has to offer.
In this Adidas Barricade 2018 Review, we'll delve deep into shoe mechanics and features so you can have the info you need to make the best decision based on your court shoe needs.
Related: Looking for shoes because you suffer from flat feet? I've got you covered.
Adidas Barricade Boost Features – The Chassis
Much like a car chassis, the chassis of a shoe is the core or foundation of a good court shoe. The Barricade chassis carries over from the Barricade 2017 and previous models.
Think of it as a sort of "if it ain't broken, don't fix it" approach. When you're darting around the court, you'll end up placing a lot of pressure on your feet, twisting and turning the muscles and tendons…a good chassis helps reduce soreness and foot pain for these muscles and tendons.
Without proper support, it's easy to pull a muscle and take you off the court for weeks or months while you recuperate. This can cause you to lose your playing edge or stunt progress if you're a beginner tennis player.
The Barricade chassis helps to prevent that unfortunate occurrence. It's a tight fit, molded to your foot to provide as much midfoot support as you could need.
I love that about this shoe! It has a 3D triangular model to keep your arches from falling and flares out to allow plenty of freedom in your forefoot so you can move your toes.
The only issue we saw was that it can be, based on foot width and shape, a fairly tight fit. Some players are going to want that, others may not, so just be aware.
If you have wide feet like me, you might be a little uncomfortable unless you go up about half a size. Average-sized feet might benefit from going down half a size because this shoe tends to run narrow. Again, just a heads up.
Related: These are my favorite tennis bags and some even come with a stink-free compartment to keep your new court shoes looking fresh and new!
Adiwear Outsole
The AdiWear 6 outsole is made of hardened rubber shaped into a herringbone pattern. With that high-tech outsole, you get some of the best traction and durability ever seen in a tennis shoe! This makes it perfect for changes of direction without slipping.

Horizontal lines running from side to side give court shoes their lateral movement.A slip on a hard tennis court can lead to painful court rash or a sprained ankle. We know first had what it feels like to role an ankle so a shoe that is properly equipped, is crucial.
Adituff Forefoot
With some shoes, the forefoot area can wear out quickly, collapse, or begin to irritate your foot even with good socks. Adidas has a technology designed to address this common issue.
The inner forefoot above the toe box is made of AdiTuff, which is a hard, abrasion-resistant material.
Not only will it protect your toes from bruises better than other shoes, it will also keep its shape and color, so you can keep your shoes looking good for a longer period of time.
Geofit Cushioning
No shoe is any good without cushioning at least on the ankle and heel. The back-and-forth motion of the shoe against the foot would otherwise create serious abrasions and chafe at the collar. Good, durable tennis shoes like the Adidas Barricade will avoid this.
The Adidas Barricade looks good on and off the court.The Adidas Barricade Boost 2018, like earlier models, uses Geofit foam cushioning around the opening of the shoe. It fits your foot like a glove and holds the shoe in place and contributes to good arch support.Those with very flat feet may want to try other "low arch" options.
Adiprene Heel Support
Your heel and forefoot both take a serious beating while you run back and forth and up and down the court. Even when you're walking, your heel takes four times the pressure of your body weight on every single step.
Imagine that multiplied by several times and you'll start to see the value of good force absorption. Good court shoes, like the Barricade provide this…cheaper shoes simply don't.
This is where Adiprene comes in. This is the foam used in the sole of the shoe, used to cushion your heel and transmit energy back to your toes and keep you moving.
Boost Foam For Heels
The Adidas Barricade Boost 2018 model uses Boost foam, which is made of thermoplastic polyurethane (TPU). The foam consists of hundreds of small styrofoam-like balls compressed together that can return the vast majority of energy you put into the court back into your foot every time you take a step.
I believe Adidas' Boost technology is real game changer, and if we had to choose, we'd select the Boost version of this court shoes over the traditional version every time.
This can gain you critical milliseconds to return that next shot or to outmaneuver your opponent on the court.
Difference Between This Barricade And Previous Models
When writing my Adidas Barricade 2018 Review, I knew we'd have to compare it to last year's installment. The Barricade 2018 has many of the same basic features as the 2017 version, however, there are a few differences.
For starters, the upper in the 2017 model was made of a close-knit material. This made it easy for the shoe to contour to the shape of your foot but didn't do much for breathing.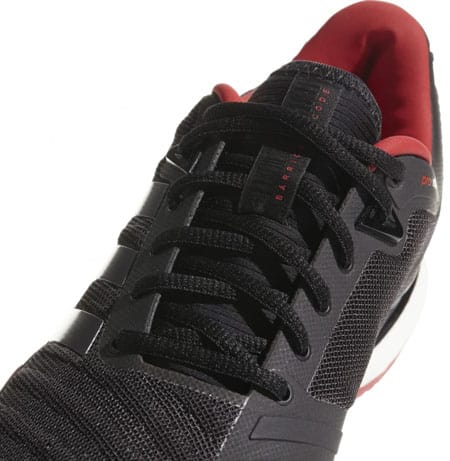 The 2018 model does away with the knit and replaced it with a forged mesh that allows better airflow.
The result is a shoe that breathes a lot better and improves overall comfort; especially if you're wearing it for an extended period of time on the court. In my opinion, this is a welcome addition that previous models were lacking,
Adidas Barricade – Potential Downsides
The 2018 model made slight improvements to the Geofit and Adiprene technologies, making it quicker to break the shoes in. The downside to the 2018 Adidas is a bit of stiffness in the arch, but once it's broken in it can be very comfortable.
The wide toebox prevents toe jamming on aggressive forward motions. This can however, lead to a little heel slippage at first.
Adidas Barricade Review – Final Thoughts
Overall, if you're looking for a pair of shoes that almost make you feel like you're running on air while still providing plenty of power and traction, look into getting a pair of Adidas Barricade shoes.
I highly recommend this court shoe as one of the best court shoes for tennis lovers in 2018!
Are you a fan of Adidas tennis shoes? Let us know which ones you play with and why in the comments section below!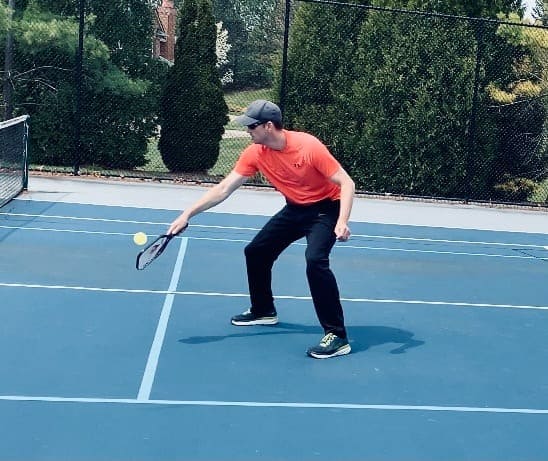 Welcome to TheVolleyLlama.com. My name is Keith, I'm just a lover of all sports that involve a racquet, net and a ball. I played competitive high school varsity tennis, love racquetball and my whole family plays pickleball regularly. I started this website to help give people like you the basics to learn these wonderful games.