If you're like me, you've been playing pickleball for a while now and want to upgrade your paddle. Whether you're still relatively new to the game or a self-proclaimed gearhead, getting that next new pickleball paddle is one of the best feelings in the world for a pickleball player.
But, with well over 500 companies making paddles now, finding the best pickleball paddle for your game has never been more challenging. Being a gearhead myself, I decided to spend an obnoxious amount of time and money on new paddles, try them out and after an extensive playtest, give you my favorites.
After playing for months with some of the best pickleball paddles on the market today, I felt like these 5 paddles made me a better player. As for the best pickleball paddle, the one that has been the most consistent for me and does everything well is the Prince Response Pro.
The One Paddle I Recommend For Serious Beginners – The Prince Response Pro
This paddle is perfect for beginners because it offers, in my opinion, the largest sweet spot of any paddle on the market right now! This is ideal for beginners wanting to play more pickleball because it allows "miss-hits" to still be on point. It's also got loads of power and plenty of touch at the net.
Why Trust Me?
I've been playing pickleball for seven years now. I've played with 5.0-level players who compete in national tournaments. I've played with pickleball trainers, coaches, and even a college tennis coach who also plays pickleball.
Why is that important?
It's important because, in addition to my experience, I've surrounded myself with experts so that you get a comprehensive, detailed opinion when answering the question "What are the best pickleball paddles?"
When you get a "Best Paddles" list from me, it's a reliable one because I actually play the game regularly, have play tested the paddles, and get the opinion of other experts around me.
You'd be surprised at the number of articles you'll find with a "best paddles list" that goes 15 paddles deep and includes off-brand, cheap junk. Explaining why 10 to 15 paddles are the best doesn't serve my readers. It does you no good to give you a list that long.
Instead, I believe playing with as many paddles as possible and then narrowing it down to 3 to 5 good options that apply to all player types and skill levels is a more helpful approach. So, that's what I've done.
And the opinion of these paddles isn't just coming from me. I've incorporated all the feedback from friends and family that also play the game regularly. These are fellow pickleball gearheads, including a college tennis coach, that live and breathe what goes into a pickleball paddle and how it plays.
In short, I've played with well over 60 paddles in my time, and am constantly trying new ones. So, if you were my new next-door neighbor and asked me which paddles to consider – these are the ones I've played with and would recommend.
How Many Pickleball Paddles Are There To Buy?
Did you know there are 7 pages worth of pickleball paddles on Amazon? Each page allows you to browse 64 paddles. 64 paddles a page multiplied by 7 pages means there are well over 448 paddles listed on Amazon alone.
What about other online retailers?
The most popular online retailer PickleballCentral.com has 24 manufacturers with a total of 314 paddles to choose from. That's a lot!
The other major site TotalPickleball.com has 25 major brands and over 296 paddles to choose from!
The point is, finding the right paddle for you has never been harder because of the sheer number of options – but I am here to help. This article is intended to help you sift through all the options and give you tangible options to try that fit your game.
Who Is This For?
This article is for anyone who plays pickleball regularly and is looking to upgrade their paddle. This is not exclusively for advanced players and it's not just for beginners.
If you play pickleball weekly and are not afraid to invest $100 or more in a good paddle from a reputable brand, then this article is for you.
If you just play casually with friends to socialize, then this article is not for you. I have nothing against that approach. Pickleball is a social game that brings people together. The more people that get introduced to the game, the better.
But this article is for the recreational player looking to improve their game, and who wants a new paddle that can help take their game to the next level and grow with them.
How I Picked The Paddles
Choosing the right pickleball paddle can feel overwhelming because of the sheer number of paddles to choose from. If you're feeling stuck on where to shop and what to shop for, I recommend reading my guide on choosing a paddle here.
For this article, I automatically narrowed my search using two methods.
I only bought paddles from reputable pickleball or tennis brands. I stayed away from Amazon-only, off-brand paddles that tend to be cheaply made.
I stayed with the traditional paddle shape or wide-body shape. I stayed away from elongated or "blade" style paddles.
Let me go into more detail on my two requirements.
First off, choosing the brand matters. Pretty much every tennis brand is now making pickleball paddles. That's a great palace to start.
I've played with dozens of paddles from huge tennis brands like Babolat, HEAD, Prince, and Wilson. But quality paddles aren't made by just big tennis companies. There are mainstream pickleball brands that have led the charge in redefining what pickleball paddles are capable of.
Brands like Paddletek, Pro-Lite, Gamma, and Engage don't make tennis racquets but make fantastic pickleball paddles because they've been in the game from day one! In fact, they're a big reason why pickleball continues to be the fastest-growing sport for 10 years running!
So, for this article, I chose big-name, reputable brands and chose paddles in the medium to high-tier price point. Some manufacturers make inexpensive starter paddles for $50. That's great for family play but not ideal for competitive recreational play. So, I stayed away from those.
Secondly, choosing the type of paddle or paddle shape is important. I am not a fan of elongated paddles also known as "blade" paddles. These paddles tend to have a skinnier paddle face but one that's longer.
They're inherently harder hit in the sweet spot. This is not ideal for someone looking to improve their game.
Instead, I opted for the traditional paddle shape of 8" x 15" or wider.
I'm a big fan of wide-body paddles that give you a little extra width. They tend to be 8¼" or wider. These are great paddles for anyone looking to move up to a more serious paddle because they are more forgiving and have larger sweet spots.
Related: What to know what pickleball paddle has the largest sweet spot?
So when choosing paddles for this "best of" list, I stayed away from off-brand, cheap junk. And, I chose paddles that were the traditional 8" x 15" shape or wider for optimal playing experience.
Testing Methods
Ask any pickleball pro and they'll all tell you that the best way to choose a pickleball paddle is to actually play with it. Every paddle has its own feel so the only way to truly know if it fits your style is to try it out.
So that's what I did. I bought and played with over $2500 worth of paddles. I took them to the courts, spent hours upon hours with them and even let other players I respect try them out.
I even let my family and friends play with them, including my cousin who is a professional tennis coach but also plays in competitive pickleball tournaments.
This allowed me to get diverse, unbiased feedback about these paddles beyond just my own play experience and opinion.
I brought these paddles to the local park where I play with competitive 3.5 and 4.0 players who enter tournaments year around. This was my first level of feedback. I analyzed how these paddles performed for me against a high level of competition.
If a paddle didn't make me better in any way or didn't strengthen a weakness of mine, it didn't make this list.
My second level of feedback focused on getting the opinion of friends and family who also play pickleball. I have friends who play as often as I do and family members who are still improving every day. Like my kids.
Feedback from beginners is also valuable. I felt that getting feedback about which paddle helped a brand-new player get more accurate serves or improve their touch was also helpful.
So, if multiple friends or family members all felt like a paddle did one thing poorly, it didn't make my list.
What These Paddles Represent
With all that being said, these five paddles truly represent the best pickleball paddles on the market today.
Whether you're a beginner looking to purchase your first serious paddle or an advanced player wanting to take advantage of the latest and greatest paddle technology, the list below has something for you.
As you read each paddle's comprehensive breakdown below, you'll see I've conveniently included who I feel this paddle is for and what type of player would benefit from it the most. I've even included what type of shot the paddle does best.
I am sure that after reading about each paddle, you'll be able to identify which paddle is the best pickleball paddle for you.
The Best Pickleball Paddle – My Top Pick – The Prince Response Pro
Over the last three years, the one paddle that has been the most consistent performer for me has been, without a doubt, the Prince Response Pro. That consistency is why it's my pick for the best pickleball paddle.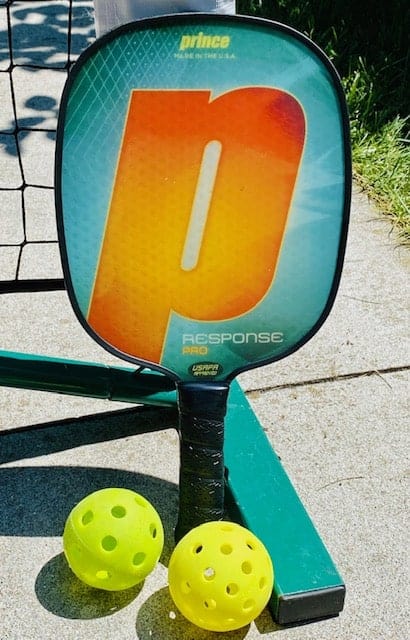 What kind of paddle is it?
The Response Pro is technically a composite paddle, meaning it combines fiberglass and carbon fiber. But the paddle technology that matters the most is its textured coated fiberglass face and polymer core.
These two features are the paddle's heart and soul that allow players to feel the touch for drop shots while allowing for power and spin at the baselines.
After being my go-to paddle for over three years, I can tell you it does a great job of balancing power and control. But, it does spill slightly over to the power side of the spectrum in my opinion.
The paddle width is 8 ¼" so it's considered a wide-body paddle, which is my favorite because the hitting surface is larger. It's also got a slightly longer handle at 5 ½ " to allow for comfortable two-handed backhand shots.
Who is it for?
The Response Pro is designed for the 3.0 to 3.5 level player who is looking for a paddle to complement their game and move up to the next skill level. It comfortably sits in that space where any 3.0 and 4.0 level player will love this paddle.
I play competitively in the 3.5 to 4.0 class and no other paddle has allowed me to feel this comfortable with players as good or better than me. If you're a 3.0 or 3.5 player looking to move up a class, this paddle is for you!
What does it do well?
In short, pretty much everything! But the best feature of the Response Pro is its sweet spot. After play testing over 60 paddles, since I started playing pickleball, the Prince Response Pro has the single largest sweet spot I've ever played with!
This super large sweet spot allows the paddle to work some serious magic on the court! I found that even some of my miss-hits still made it over the net. Miss hits happen with every paddle because it's difficult to hit the ball squarely on the sweet spot every single time.
But, with the Response Pro, even when I hit the ball on the outer edge of the sweet spot, the ball still went where I wanted it to go! That type of response (hence the name) is amazing! I've never played with a paddle this forgiving. Ever.
Best Shot?
For me, the best shot with this paddle has to be a power forehand down the sideline with topspin. The feeling I got when executing this passing shot (usually on the right side, hitting to the right sideline) to put the point away is the best feeling in the world!
Editor's Note: As of this writing, the Prince Response Pro is one of the most inexpensive advanced paddles on the market today! While other top-of-the-line paddles are going for well over $200, the Response Pro is still around $130-$150!
My Runner-Up: The Engage Poach Infinity
The Engage Poach Infinity has to make my list because when an Engage sponsored player, stopped by my local courts to play and allowed us to demo Engage's new product line, a funny thing happened.
My doubles partner and I actually beat her and her partner in a doubles game and I was using her Poach Infinity. I was super impressed with this paddle!
What kind of paddle is it?
Like the Prince Response Pro above, the Poach is a composite paddle blending fiberglass and carbon fiber elements. But this paddle face is unique because Engage has given it 6-layers of vibration-dampening texture for added spin and power.
I immediately noticed the power this paddle gave me. Within the first 10 minutes of playing with it, I could tell this paddle was going to rip! And boy did it ever!
At 8" wide, it's not considered a wide-body paddle but it feels like the right size. Paddle specs are rounded out with a 16" paddle length and a handle that is 5.25 inches long. That's .25 inches shorter than the Response Pro, but honestly, I never noticed. The handle length and comfort level all feel spot on to me.
Who is it for?
The Poach Infinity is designed to fit a diverse group of players but if you peel back its layers and play with it for a month, you'll notice it's best suited for power players.
It's got good touch around the net. My dinks were well placed but I've noticed other paddles were more accurate on my backhand dink.
But if you're the type of player that likes to absolutely rip serves or return of serves deep and low over the net, then you're going to love this paddle.
I was ripping serves with this paddle that my opponents were struggling to get back over the net effectively. This is a well-designed paddle through and through. But if you're a player who loves deep, baseline-to-baseline power – you'll feel right at home with this paddle.
What does it do well?
After playing just one game with this paddle, I knew it was meant to crush serves and return of serves. The power this paddle gives you to blast shots at your opponent's baseline is remarkable!
I noticed that the power wasn't just pure, uncontrollable power either. I wasn't spraying speedballs all over the court. I was able to execute well-placed topspin forehand shots right at my opponent's feet at the baseline.
Other paddles, like the Onix Z5 give you more power but they won't give you the ball control that the Poach Infinity does.
Few paddles have given me this type of accuracy behind power shots. It's a "point and shoot" response that few paddles can match when hitting at the baseline.
Best Shot?
For me, the shot that improved the most with this paddle was my serve. It wasn't even close. I can absolutely rip my serves with this paddle!
Serving has always been about consistency with me. I never try to get too fancy. I just want to hit the ball deep, at my opponent's backhand and, put it "in". But with the Poach, I was able to add an element of speed and spin that isn't there with other paddles.
I was playing against a 4.0 Pro with this paddle and my serves had never felt more unreturnable. They were deep, landing at the baseline, and had some serious zip and spin on them.
Many of my opponent's returns were landing in the net. That's a huge credit to this paddle because I felt like I was able to open up my swing on serves and really blast it without losing much control along the way.
With this paddle, my serves were coming in low over the net with loads of speed and topspin and hitting the baseline consistently!
In the world of pickleball, this is rare. But not for the Poach Inifinity.
My Value Pick – The Babolat MNSTR
I've tried all of Babolat's pickleball paddles but the Babolat MNSTR is by far Babolat's flagship paddle. Their other paddles don't even come close to delivering the overall experience that the MNSTR offers.
The MNSTR actually offers two different variations to accommodate two types of players. If you want more control and touch at the net, then the MNSTR "Touch" is the way to go. But if you want a little more power added, the MNSTR "Power" is the right choice.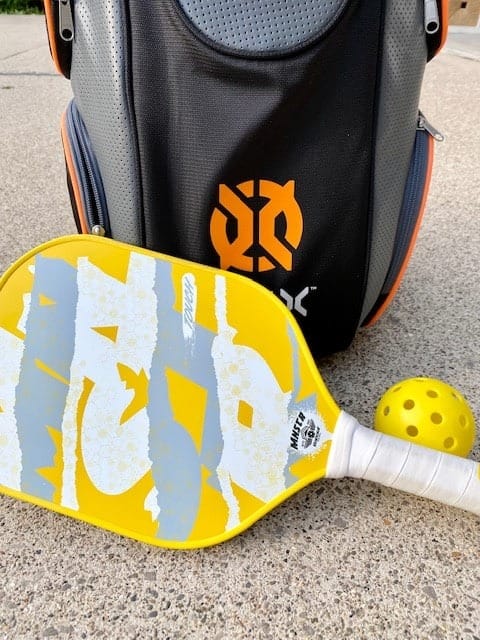 What kind of paddle is it?
Regardless of which model you get, the MNSTR is a composite paddle with the paddle face consisting of 80% Carbon Fiber and 20% Fiberglass.
That's all well and good but what makes the paddle face so special is the textured grip you get with both versions. That texture combined with the EVA foam layer that surrounds the polymer core gives it phenomenal "grab" when going for topspin!
As I said, both versions are a texted composite face but they do vary in thickness and in weight. The heavier Power version is 15mm thick and 8.1oz while the Touch comes in at 13mm and only 7.2oz
I definitely noticed how light the Touch was right from the get-go.
The added thickness of the Power version gives it that added rebound effect and hence…more power.
These subtle little differences in specifications do make a difference in how a paddle plays. Don't let anyone tell you otherwise.
Who is it for?
Well, this is a little tough to answer clearly because of the two versions. They each play a little differently because they're tailored toward two different aspects of the game of pickleball.
Yes, the Touch version is geared towards those who want more touch and control, particularly at the net when dinking. It's very lightweight and easy to maneuver, especially when I was trying to get my paddle up to block a shot at the net.
For such a light paddle, the Touch version sure took pace off some fastballs hit my way. But the gritty textured surface allowed my topspin forehands to feel great from the baseline. When playing with the Touch, I did notice a lack of power, especially during my serves.
This brings me to the Power version. I liked this version the best because I still felt like I was getting good ball placement at the net with my dinks but the heavier Power version felt better for stronger forehands and backhands.
The Power version just felt better when I wanted to wind up and blast it whereas the Touch version felt like it was missing something. Both versions did a great job of adding spin though.
That sandpaper-like surface of the composite face really shined regardless of what versions I was playing with. I could feel the spin come off the ball with both versions. The Power just had more oomph behind it.
My advice, if you want a little more control in your soft game at the net but still consider yourself a power player – go with the Power model and start there.
What does it do well?
Again, answering this question depends on the version you have. The lighter Touch version does what you'd expect a paddle designed to improve control to do at the net when dinking.
It provided me with a soft touch for both my forehand and backhand dinks. In fact, I was pleasantly surprised at how few I hit into the net. A backhand dink that stays lows over the net and lands in the kitchen is not an easy shot to execute but I found that I was able to hit this shot more consistently with the Touch.
As for the Power version, it too gave me good touch around the net. The difference at dinking between the Power and the Touch was negligible. But what the Touch lacked in baseline pop for my serves, the Power made up for.
My serves with MNSTR Power had more heat on them and didn't require nearly as much swing as the Touch did. The Touch required too much of an aggressive swing on my serves for my liking.
If I feel like I've got to swing like a crazy person to get speed and spin on my serves, then my technique and accuracy suffer greatly. This was not an issue for the Power version which is why I recommend it over the Touch.
Best Shot?
You're probably thinking the best shot that I noticed for the Touch version would be dinking at the net. But, that was not the case. While my dinking was good, the best shot I noticed from the MNSTR Touch was the defensive block shot!
The Touch was a thing of beauty when I was able to get my paddle up to block a hard-hit ball. It took off so much pace from fastballs hit my way. That was very impressive!
As for the MNSTR Power, my favorite shot with this paddle was easily my topspin forehand. The amount of grab this paddle has with its textured surface is remarkable. I've played with other paddles that boast an even rougher surface area, like the $220 Joola Hyperion, but they still didn't match what I've gotten out of the MNSTR Power.
That's saying something because as of this writing, the MNSTR (both versions) is extremely affordable at only $120!
Editor's Note: As of this writing, the Touch version of this paddle can be hard to find. The Power version is more readily available. You can't get the Touch even on Babolat's own website.
This makes me wonder if the Power version will eventually replace the Touch model for good.
My Pick For Beginners – The Tempest Wave Pro by Paddletek
The original Tempest Wave from Paddletek will always hold a special place in my heart. It was the first pickleball paddle I ever played with. It instantly felt good in my hands. It's one of Paddletek's most popular paddles of all time. And from that success, the Tempest Wave Pro was born.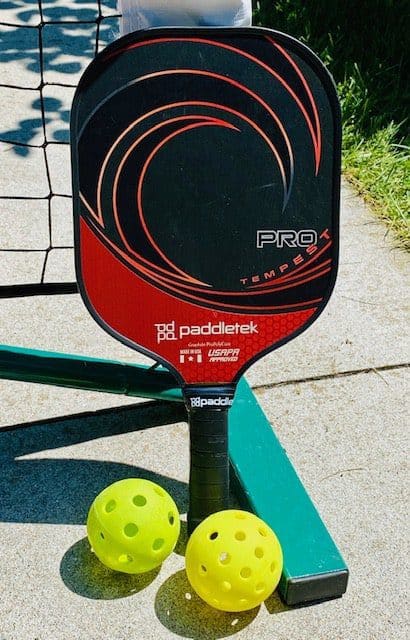 What kind of paddle is it?
The Tempest Wave Pro and the original Tempest Wave for that matter, are both graphite paddles. In my opinion, the Tempest Wave paddle series is one of the most accomplished graphite paddles on the planet.
In fact, I'd call the Tempest Wave Pro the best graphite pickleball paddle on the market today.
The main differences between the Tempest Wave Pro and the original Tempest Wave are the weight and paddle thickness.
The Pro version is slightly heavier at 7.8oz whereas the original version is 7.6oz. But the paddle thickness is where the two really separate and why I play with the Tempest Pro.
The Tempest Pro has a thicker polymer core and more polymer jammed into it. This gives the Pro model a much bigger sweet spot and added power.
Graphite paddles tend to lack power compared to composite paddles but with a thicker core designed to rebound the ball more aggressively, the Tempest Pro is modified to do a little of everything.
Who is it for?
In my experience, the Tempest and the Tempest Pro are fantastic beginner paddles! They are the "goldilocks" of the paddle world. Especially the Tempest Pro.
It gives new players the right combination of touch and feel at the net (thanks to the graphite face). But also enough pop and power to windup and go for it on serves (thanks to the added polymer core).
To use the "goldilocks" analogy again, it does a little bit of everything "just right." And it feels "just right" in your hand.
The Tempest Pro is the paddle I gave to my wife to use when she began to learn the game and play more regularly. She prefers it because of the added control she gets versus composite paddles that need to be reeled in from time to time.
Beginners will benefit from a well-rounded, complete paddle that does it all. And the bigger sweet spot with the Tempest Pro will help any beginner.
What does it do well?
Would it be a copout to say everything? I know that sounds cliche but the Tempest Pro truly does give players a little of everything.
But if I had to nail down one thing that has impressed me and those that have played with it, it would be the "feel" you get at the net. Paddletek's graphite technology really is something special.
When I was dinking at the net with the Tempest Pro or hitting a third shot drop where touch is so crucial, I could feel the impact of the ball transfer through the paddle. This may sound like a bad thing, but trust me it's not.
Feeling that impact allowed me to know how much backswing I did or did not need. This resulted in a much more accurate shot. It's almost as if the paddle was an extension of my hand.
Best Shot?
Picking the best shot for the Tempest Pro was difficult because it is so well-rounded. But, I'd have to say my dinks at the net were the one shot that impressed me the most when using this paddle.
The MNSTR and the Tempest Wave Pro are two of the most consistent paddles when it comes to soft touch shots. So naturally, dinking with the Tempest Pro was responsive and accurate.
The word I would use to describe the Tempres Wave Pro, especially with touch shots at the net would be "reliable". It delivered time and time again when I was at the net dinking at my opponents.
Pro players and coaches alike will say to hit at your opponent's feet when you're at the net. This isn't always easy but with the Tempest Wave Pro, I found that I was much more consistent with this strategy.
I'd hit at their feet when at the kitchen line, and they'd back up and pop one up for me to put away. This strategy is extra effective with this paddle!
My Pick For More Advanced Players – The Pro Kennex Black Ace Pro
When Pro Kennex burst onto the scene and started making pickleball paddles with their "Ovation" series of paddles, I'll be honest, I wasn't impressed. The shape looked weird and they played too lightweight. It felt like a feather in my hand.
But Pro Kennex has now entered the market with their premium line of paddles called the Black Ace line. The gloves are off and they're no longer sitting at the kiddie table. Look out folks, the Black Ace Pro is a beast and it's getting noticed.
What kind of paddle is it?
Without a doubt, the Black Ace Pro is a power paddle. This is undeniable. This is in large part because it is a pure carbon fiber paddle through and through. The core is a polymer core like most paddles but the paddle face is carbon fiber.
It should also be noted that this paddle is designed to be a molded one-piece without an edge guard. This one-piece design is unique in the world of pickleball.
Typically, pickleball paddles are two pieces – the paddle face and the handle. But Pro Kennex is one of only a few manufacturers that design their paddles to be one solid piece from the paddle head, all the way down to the grip.
And the result is something truly different. It feels different, plays with loads of power and even sounds louder. It is even rumored that Pro Kennex made this paddle slightly louder on purpose – to intimidate.
From the louder sound to the jet-black design with its intense red Ace logo, this paddle is a badass. And it's not apologizing for it.
Who is it for?
The Black Ace Pro is without a doubt a power paddle designed with advanced players in mind. It's the one paddle on my list that I feel is for experienced players only.
If you already have good hand and swing technique and can generate touch and feel on your own, then this paddle is for you!
Also, those coming from an experienced tennis background may also feel right at home with this paddle.
Less experienced players will struggle with this paddle because it is so power-focused. I saw that beginner-level players have a difficult time reeling this paddle in and getting control of it. It's by no means impossible for a less experienced player to use this paddle, but it will just take more time to get used to.
There is a break-in period with this paddle so be patient.
What does it do well?
Once you get accustomed to the Black Ace Pro though, you're going to be amazed at the speed and spin this beast generates! It's remarkable how much power and topspin I saw this paddle generate on forehands and backhands!
Third-shot drives are a thing of beauty with the paddle and put-away shots are a blast! The baseline-to-baseline power you get from serves and return of serves makes it so much fun to play with. You almost don't want to get to the net because it's so much fun at the baseline!
I did struggle at times at the net with this paddle. So did my friend who uses this paddle exclusively. But with time, this can be overcome. But depending on your skill level, this may take more time.
The ball tends to pop off this paddle, even at the net when blocking. So dialing it down and taking pace off the ball was a struggle with this paddle at first.
Best Shot?
By far and away the favorite shot for me and everyone else that used this paddle was the serve. Specifically a spin serve.
The speed and spin this paddle is capable of generating is obnoxious! But, in a good way. Now add that to your serves and you'll have your opponents shaking in their court shoes.
One of my friends and teammates was super impressed with how unreturnable some of her serves were with this paddle. They were low over the net, with loads of speed and spin behind them.
When a paddle allows you to generate this much speed on a serve, while keeping the ball low, it can be very difficult for the returning team to get a decent shot back. It's such a great feeling when your serve is so strong and low that your opponent puts their return into the net.
With the Black Ace Pro, this can happen time and time again.
The 5 Best Pickleball Paddles – Conclusion
There you have it. Those 5 paddles represent the best pickleball paddles I've played with and are the only ones that have complimented my game and made me a better player.
Whether you are a recreational player looking to take your game up a level or an intermediate player looking for that next great paddle, I feel one of these paddles will have what you need to take that next step.
If you want to read more about the paddles that have made my "best of" list from years ago, then keep reading. Keep scrolling to read more about the paddles I used to play with.
While many of the paddles below are still around and still available, they do not compare to the five I've reviewed above. But, it is a fun look back on some of the paddles from 5 years ago that helped pave the way for the market as we know it today.
Best Pickleball Paddles – My Previous Favorites
The Engage Poach Advantage – An Awesome Option For Beginners and Improving 3.5 Players
PADDLE SPEC SHEET:
Paddle Face: 6 Layers of Fiberglass Composite
Paddle Core: Polymer Honeycomb
Paddle Weight: 7.5-7.8 for light or 7.9-8.3 for standard
Weight Length: 16"
Width: 8"
Grip Length: 5"
Sweet Spot: Very Large
PADDLE SCORE
Power Score: 8/10
Spin Score: 8/10
Accuracy: 8/10
Drinkability: 8/10
My Play Test Thoughts
The Poach Advantage has been a paddle I recommend for two years now. Like the Tempest, it's one of those tried and true paddles for me that I can always rely on.
Back in late 2018, the Engage Poach jumped onto the scene. And by early 2019, it was a fan favorite and arguably Engage's most popular paddle. Scroll down and you'll see that it topped my best pickleball rackets list for 2019.
And for 2021, it's still one of the paddles I recommend.
What the Poach does best is put the ball where you want it to go. Which is especially useful for newer players just getting the basics down.
The Poach performed well in my serve test where I see how accurately a paddle delivers deep, baseline hugging serves. The Poach has little to no break-in period and I was blasting deep serves very quickly.
Serving accurately and consistently is easy with this paddle and I noticed it right away. Where other paddles like the Selkirk Invikta and Gamma Shard were kind of spraying deeper serves all over – the Poach remains calm, collected, and precise. This is largely due to the six layers of high-tech composite that the paddle face is made up of.
Play with the Poach even for just 20 min and you'll feel this six-layered beast go to work for you. The sweet spot is large, the response and accuracy are outstanding and passing shots just go where you want them to. It's a thing of beauty.
You might wonder if six layers of composite material for the paddle face are going overboard. When this paddle launched, this was a new concept. But since then, we've seen 5 layers, 6 layers, and even 7 layers hit the market.
So no, it's not ridiculous. It's genius. And it works.
While the Poach is not the most powerful paddle we tested, it's no slouch either. Its power and pop is best felt with pass shots a little behind the kitchen line. I put a substantial number of shots away with this paddle in my mid-range and deep game.
"I love the Poach Advantage because it has a large sweet spot." – Michelle Esquivel 5.0 Player
Blasting it between your opponents on a return of serve just feels good with this paddle. It's got more pop than the traditional Tempest but, it's not a mega-power level paddle. It's got more pop than a pure beginner paddle but without the control issues.
From a power standpoint, I'd say it's just behind the Gearbox GX5 Power and the Prince Response Pro…but above the Tempest. So, it's a good place to be for beginner-level players wanting a little more oomph.
Dinking with this paddle is very solid. My brother, a 4.0-level player agrees with me that the Poach has a more accurate punch to it, but lacks the touch at the net compared to the Tempest and Tempest Pro. So, it could be a smidgen better at the kitchen line when it comes to keeping the dinks feathery light and the ball low.
But that's a minor gripe. This paddle is a beginner-level player's dream and will impress even seasoned veterans when it comes to its precision at the baselines.
Not to mention, Engage has updated the paddle face graphics on this paddle so that it finally looks cool AND plays well. The original version was an eye sore to look at even though it played really well.
Now, we've got a sharp paddle face design and color palette to go along with its supreme playability.
The GX5 Power by Gearbox – Taylor Made For Experienced Racquet Sport Athletes & Power Players
PADDLE SPEC SHEET:
Paddle Face: Single Piece Handcrafted Carbon Fiber
Paddle Core: Solid Span Technology
Paddle Weight: 7.8 for light or 8.5 for standard
Weight Length: 16 ⅝"
Width: 7 ⅜"
Grip Length: 4 ¾"
Sweet Spot: Very Large
PADDLE SCORE
Power Score: 9/10
Spin Score: 8/10
Accuracy: 9/10
Drinkability: 9/10
My Play Test Thoughts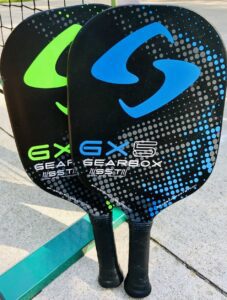 The Gearbox GX5 made my list because of the consistent feedback I got from players who are quite frankly – better than me.
Gearbox is a big brand but is relatively new to the pickleball paddle market. And, they've made quite an entrance. Instead of opting to go with the standard two-piece paddle construction, we see so common in the industry right now – they broke the trend.
They decided to trail-blaze a path all their own.
And I give them credit.
What makes Gearbox paddles so unique is their "one-piece" construction. That means the entire paddle – from paddle face to paddle handle – is ALL one solid piece. And you can feel this design aspect almost immediately…at least I did.
Most paddles have two separate pieces – the handle and the paddle face – that are molded together. This creates the standard two-piece design.
Gearbox decided to do things differently. They went all-in with a one-piece mold to create a pickleball paddle that feels and sounds a lot more solid.
Before going back to his Tempest Wave, my brother (a 4.0 tourney-level player) was using the Gearbox GX5 Power. And he has had really good success with it because he's won multiple tournaments with this paddle.
This paddle helped him win his very first tournament because of the power and pop it delivered all while remaining steady, controlled and refined. The GX5 Power brings, like the name implies, "power" to your game but it does an outstanding job of allowing you to control this power.
In short, there is loads of accuracy behind this paddle's power. In fact, that's what my brother and I love most about this paddle. If you're a baseline power player who loves to put away power passing shots – Gearbox created this paddle for you.
Want to blast the serve back in between your opponent's dead center, and on the baseline? This paddle can do it for you.
Want to rocket forehands right back at your opponent just behind his/her reach before they have time to react? This paddle can do it for you.
To really get a better feel for this paddle, I gave the GX5 Power and six other Pro Level paddles to my cousin – a 5.0 tennis instructor who's just now getting into pickleball – and got his unfiltered thoughts.
"The thinner grip gives me nice wrist mobility…" – 4.5 Player Rachel Chai-Wise
After playing with all seven paddles extensively, he came away most impressed with the GX5. He said of all the paddles he tried, he thought the GX5 Power was the best.
It gave him the entire package. Power, pop, incredible accuracy, and touch at the net.
But keep in mind, he's a tennis instructor. So even though he's new to pickleball, his learning curve is a lot more friendly than yours and mine.
His tennis background allowed him to reel in the power the GX5 gave him.
Because the GX5 is a power paddle, beginners will have a harder time controlling dinks at the net. But my cousin was able to do this with little break-in time because he's a racquet expert and it comes easier to him.
I say this only because if you're a 3.5-level player (or even less experienced), it's going to take you some time to get the hang of this paddle and learn to control its pop at the net when dinking.
Let's talk paddle technology for a moment because this paddle is SO unique.
The power and accuracy come from Gearbox's patented core called – Solid Span Technology. What does that mean? Well, it's handcrafted graphite-filled chambers instead of a honeycomb polymer core used in a lot of other paddles.
It's what makes the paddle feel unique from the moment you pick it up. And it's why it plays so quietly. It has a distinct, smoother sound.
I even had someone ask me if I was using a wooden paddle. My response? "No, it's a single piece of Carbon Fiber." They looked at it dumbfounded and impressed.
This unique core, combined with the single-piece design, gives the GX5 a massive sweet spot. Even Gearbox advertises that their paddle has very few "soft spots". This is when you make contact with the ball and the ball seems to die on the paddle and not pop off. No paddle is perfect but this doesn't happen much with the GX5.
You can really tell Gearbox went all in with their line of paddles. They didn't cut corners or use conventional design patterns. Again – they blazed their own trail.
They designed their own take on a pickleball paddle. And I give them big props for that.
Dead spots in any paddle will lead to more miss-hits and this paddle just doesn't have them. Or if it does, they're hard to find.
Another reason why dead spots or soft spots as Gearbox calls them, are almost non-existent with this paddle is because there is no honeycomb core. This also makes the paddle a LOT quieter than any paddle on my list.
Topping off the paddle tech is the Hyper Bite Spin Technology Gearbox incorporated.
My cousin loved the fact that this paddle was entirely made from one-piece, handcrafted carbon fiber. That and the Hyper Bite Spin Tech allowed him to put tons of "whip" on the ball and put away his opponents when the opportunity presented itself.
Seeing an experienced player work this paddle was a thing of beauty.
If you're an experienced player who can manufacture your own touch with any paddle, you're going to LOVE this paddle!
Three additional things to note:
It comes in two models. A light version and a heavier version but because of the one-piece design – paddle weight may vary more than other paddles.
It's a thinner paddle overall compared to other paddles on my list and has NO edge guard. So careful when dropping it.
If you want a longer paddle face and a longer grip – go with the GX6 line of paddles. The GX5 and GX6 series are virtually the same outside of the length of the paddle face and handle.
The Pro-Lite Titan Pro Large – A Carbon Fiber Masterpiece That Plays As Good As It Looks
PADDLE SPEC SHEET:
Paddle Face: Carbon Fiber Face
Paddle Core: Polymer Honeycomb
Paddle Weight: 8.0 top 8.4oz
Weight Length: 15 ¾"
Width: 8 3/16"
Grip Length: 4 ¾"
Sweet Spot: Very Large
PADDLE SCORE
Power Score: 8/10
Spin Score: 8/10
Accuracy: 8/10
Drinkability: 9/10
My Play Test Thoughts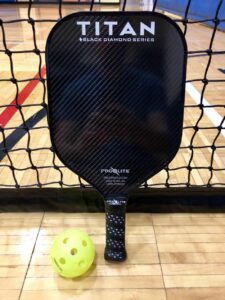 When I bought the Titan Pro, I was super excited to try it out. With its woven carbon fiber face, it marked a new area in pickleball paddles. You simply don't see carbon fiber paddles much because the price needed to develop them is so steep.
It's next-level paddle tech and Pro-Lite is leading the charge.
Read my exclusive interview with Pro-Lite President Neil Friedenberg about why Pro-Lite is investing in carbon fiber-based paddles vs graphite paddles.
But what does carbon fiber do for the average player over traditional paddles made from graphite or composite? Well, in theory, it's meant to provide the features and playability of both.
Did it? Well after playing with the Titan Pro extensively – I came away thinking that for the most part, it did.
First off, I have to say that despite the look of this paddle, overall it is a touch and accuracy-driven paddle. The all-black, silky smooth paddle face is really eye-catching and instantly screams "Pro Paddle."
I got comments from fellow players about it looking like a 5.0-level paddle.
The textureless face almost glitters when you look at it. Giving off the impression that it's a power player's paddle. But, it's a Jedi mind trick of sorts. Because despite the black, stealth bomber appearance, it's actually a "touch" paddle in disguise.
After playing with the Titan Pro Large edition, I came away thinking of one word to describe it.
Consistent.
"I love it because of the balance and the feel." – Del Kauss 5.0 Player
It's a steady, reliable paddle that is focused on delivering a solid combination of power, touch and spin.
But in my opinion, its strength is in the touch department. The carbon fiber face and polymer core work flawlessly. Together, those two elements gave me a large hitting area that was very reliable at the kitchen line.
This paddle did a wonderful job returning harder shots at the net and returning them softly into the kitchen. This, in my opinion, is a very difficult thing for a paddle to do. Taking speed off the ball and returning it with touch and balance is something most paddles, in the hands of a beginner simply can't do.
Take some of the Gamma paddles for example. The Gamma Voltage is a power paddle that really rebounds the ball. But expect it to soften a strong third-shot drive at the net to slow the pace down, and you'll be disappointed.
The Titan Pro however does this. And doesn't disappoint.
The other strength of this paddle is its sweet spot. This hitting surface is large and forgiving so even an off-center shot, feels right on target. This was evident when I examined the paddle face after hours of play.
The carbon fiber face looks like glass. So the imprints of the ball are shown like a toddler's fingerprints on a freshly cleaned window. I saw ball imprints all over the face, even on the upper corners where most of my shots would fall dead.
But the imprints, even at the top, showed the ball hitting the paddle face completely and thoroughly. Giving me the impression that the ball made ideal contact with the paddle face and rebounded it as if it had hit the sweet spot like a bullseye…even though it hadn't.
Overall, I was impressed with the Titan Pro. Honestly, I was expecting to like it more. But, I also expected it to deliver big-time power. Once I realized it wasn't a power paddle per-say, I adjusted to its strengths and began to like it more and more.
Does it deliver the power of the Response Pro? No. Does it deliver the spin of the Response Pro? No.
So, who's this paddle for? In my opinion, it's designed for true pickleball enthusiasts. It's designed for the player who's played for a while and has adapted to a finesse, touch-at-the-net style of play.
I see this style of player all the time. They're the older 60-year-old retired person who likes to stay active. They don't need or want to generate gobs of power with their paddles because they've mastered the third shot drop and dink you to death. That's who this paddle was made for.
If you want great touch at the kitchen line – this is your paddle!
The Pro-Lite Rebel PowerSpin – A Great Budget-Friendly Paddle With Power And Accuracy
PADDLE SPEC SHEET:
Paddle Face: Composite with Fiberglass Finish
Paddle Core: Polymer Honeycomb
Paddle Weight: 7.7 to 8.4oz
Weight Length: 16"
Width: 7 ⅝"
Grip Length: 5"
Sweet Spot: Large
PADDLE SCORE
Power Score: 8/10
Spin Score: 8/10
Accuracy: 8/10
Drinkability: 8/10
My Play Test Thoughts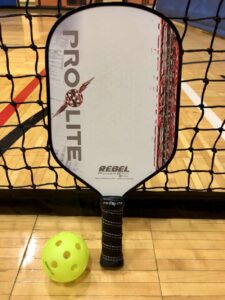 At first glance, you might expect the Rebel PowerSpin from Pro-Lite to be THE premier paddle when it comes to putting english on the ball. At least, those were my expectations.
Why?
Well, the name alone implies that it's going to give you some tacky, spin ability. Add the fact that it's a composite paddle with a textured fiberglass finish, and you've got a paddle design to grip, hold and release the ball with scary accuracy.
And the Rebel PowerSpin delivers there.
But don't let the name fool you. This is a power paddle through and through. There is a reason why Pro-Lite put the "Power" in front of the "Spin" in its name.
The more I played with it, the more I began to push and appreciate the level of power this paddle generated for me. It was fun pushing how far I could go with booming return of serves. It never felt difficult or inconsistent. Just natural and full of pop.
I also immediately noticed the slim "feel" to this paddle. Now, don't get me wrong. This is not an overly thin paddle like the Selkirk Invikta (which I did NOT like at all). It's not a blade-style paddle.
"I enjoy it because it gives me some good feedback when I hit the ball." – Tom Grubb 4.5 Player
But, after coming from the oversized Titan Pro Large and the Response Pro, I could tell I was playing with a paddle that was less than 8 inches wide.
I like widebody paddles. And I thought the small difference in size would actually start to bother me.
It was noticeable right away, but I'll be honest with you. It never bothered me.
I quickly began to appreciate it's longer paddle face. This gave me extra room for backhands and allowed me to reach a little more on well-placed dinks at the net.
So, not only did the longer paddle face not bother me, it was extraordinarily easy to adapt to and roll with. There was virtually no break-in period which I found exceptional because I prefer bigger-bodied paddles that are more forgiving.
Here's the interesting part though. It didn't give me any extra spin versus the Titan Pro. I was surprised because the Titan Pro is glass-like carbon fiber with no texture at all. The Rebel PowerSpin is sandpaper rough by pickleball paddle standards.
But the two paddles performed the same when it came to spin.
Whether it was a topspin return or a backhand cut – I saw almost no difference between Pro-Lite's two signature paddles.
Where the Rebel did outperform the Titan Pro was in the power department. On my serves, I noticed more pop. In my mid-range game, I had more plow-through on my put-away smashes or sideline put-aways.
However…Did it outperform the Response Pro in Power? No.
How about in spin? Was it better than the Response Pro there? Nope.
If you're not ready to jump into the $150 price range for paddles then this could be an option for you.
It's good (not great) at a lot of things. But there are paddles on this list that perform better…you'll just have to be willing to pay more. For its price, the Rebel PowerSpin is a heck of a deal!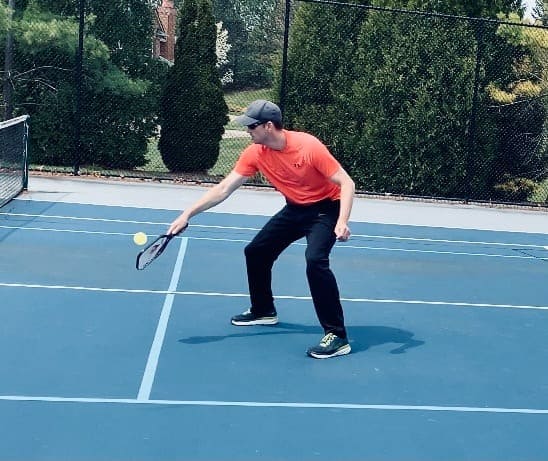 Welcome to TheVolleyLlama.com. My name is Keith, I'm just a lover of all sports that involve a racquet, net and a ball. I played competitive high school varsity tennis, love racquetball and my whole family plays pickleball regularly. I started this website to help give people like you the basics to learn these wonderful games.