Pickleball's growth and popularity has created a bit of a problem. The number of companies making inexpensive paddles has exploded. Meaning finding the best pickleball paddle under $50 can be a difficult task.
There are literally hundreds of pickleball paddles to choose from that are under $50.
So how do you filter through them and choose the best one? Well, that's what I'm going to answer for you in this post.
The Prince Response Graphite is the best pickleball paddle under $50 because it shares many of the same design concepts as the Response Pro, also a Prince paddle and the best paddle currently on the market.
There are also paddles from HEAD and Wilson that I recommend as well. I'll cover all three paddles more in-depth below.
But how I came to decide upon these three specific paddles is what matters…because they all have one thing in common.
Keep reading…
What To Look For In The Best Pickleball Paddles Under $50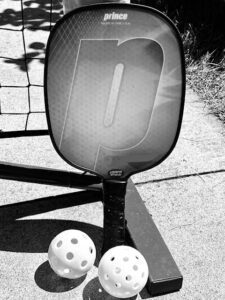 I've researched pickleball paddles for years and when it comes to finding the best pickleball paddle under $50, there is a secret to finding the best one.
And I'm going to share it with you.
It has to do with the one thing all three of my paddles have in common.
What is it?
They're all made and manufactured by major tennis racket brands and have made huge splashes in the game of pickleball.
Why does this matter?
Well, anyone can manufacture a cheap $50 paddle from China and sell it on Amazon and make a buck.
But many of those types of paddles are NOT USAPA certified.
And even the ones that are USAPA certified, are made by small knock-off paddle companies.
Sure, their $50 paddle could be halfway decent but these companies don't make more expensive paddles. This means they don't have a lineup of paddles above the $50 price point. They don't have a higher-end series to offer.
That's important because knowing how to make a premium paddle helps any paddle company get the most out of their more affordable paddles.
So, if you're going to choose a cheap, $50 paddle wouldn't you choose one made by a big-time racket/paddle company? One that makes higher-priced, elite paddles in the $150 price range too?
Well, that's why $50 paddles from Prince, HEAD, and Wilson are the best. They're big-time paddle companies who know how to incorporate some of the features of their higher-end models into their inexpensive ones.
I'd much rather play with a $50 paddle from Prince, a racket and paddle sport giant who makes paddles in all price ranges versus play with a paddle from a little-known brand that only specializes in cheapos.
I'm spending $50 either way, so why not choose the expert brand right?
Helpful Guide: My helpful resource on What Is Pickleball is a great guide for anyone who's just starting out. You can read more about the controversy behind pickleball's bizarre name and the story behind it here.
The Best Pickleball Paddles Under $50
#1 My Top Pick – The Prince Response Graphite
The Prince Response Graphite is my favorite pickleball paddle under $50 because it shares many of the same design concepts as my all-time favorite paddle and the one I currently use – the Prince Response Pro.
Related: If you're willing to pay more and even improve your game, read why these paddles are my current favorite here.
Prince Response Graphite Design
The Response Graphite actually takes design cues from two of Prince's most popular but also more expensive paddles in their lineup; the Response Pro and the Spectrum Pro.
The biggest shared concept is the shape. The rounded oval shape is a Prince trademark and it's what gives every Prince paddle a large, very forgiving paddle face with a huge sweet spot.
Having a wide, oval shape with that textured fiberglass finish on the paddle face provides a very beginner friendly hitting experience tailor made for new players.
Combine that with the Response's textured graphite face and you've got a a pickleball paddle that despite its teeny $50 price point, is designed to perform in a big way!
Prince Response Graphite Specs
One of the things about the Response Graphite I like best is its width. The paddle width is 8 ¼" which is the same as Prince's other more expensive paddles.
If you're a beginner, you'll appreciate the Response Graphite's wide body feel and oval shape.
In addition the paddle length is 15 ¾' long – this includes the handle – which for a paddle this wide, that's pretty long.
In fact, Prince did this on purpose.
Why?
Well, if you're a female player, you may have hands small enough to incorporate a two-handed backhand. If you happen to come from a tennis background, you'll love how this feels!
If you're a male player, you probably won't be able to perform a two-handed backhand but, you'll love the extra "whip" you get from the longer grip length.
This makes topspin forehands that much easier to perform, not to mention more effective.
Rounding out the specs are the Response's graphite (textured) paddle face and polypropylene core.
These two paddle specs give this paddle it's touch, power and accuracy.
What separates this paddle from Prince's more advanced paddles is the paddle core. While the Response Graphite uses polypropylene, the Response Pro and Spectrum Pro both use higher grades of Polymer and in a honeycomb shape across the paddle face.
This honeycomb shape for the polymer core gives the paddle fewer dead-spots and a bigger overall sweet spot.
You just don't get that with the less expensive Response Graphite.
Editor's Note: The $50 paddle from HEAD below does have a honeycomb core. Keep reading to learn more.
But reassured, for that $50-70 price tag, Prince has made a damn good paddle.
In terms of paddle weight, the Response Graphite comes in at an average weight of 7.6 ounces. This is on the lighter side but a good starter weight for a beginner.
Editor's Note: If you're willing to pay a premium price, click here for my comprehensive play-tested breakdown of the best paddles on the market today.
#2. The Head Radical Elite
My runner-up pick for the best pickleball paddle under $50, is the Radical Elite from HEAD.
If you've played tennis, then you'll know HEAD as a serious racket sport brand.
And they've dedicated themselves to pickleball by making a wide range of paddles; from beginner level paddles to 5.0 pro level paddles.
In fact, 5.0 professional and gold medal winner Sarah Ansboury is sponsored by HEAD.
HEAD Radical Elite Specs
The Radical Elite is heavier than the Prince but is still very much a beginners paddle.
Its average weight range is somewhere between 8.1 and 8.3 ounces. This is tailor made for someone who likes a little more "oomph" on their swings.
It's also got a long 16 inch paddle face for easier reach. This makes it more forgiving for newer players.
It's also got a paddle width of 7 ⅞" which is a perfect width to match the 16" length making this another great wide-body paddle.
The wide-body length and width combined with its slightly beefy 8.1 ounce weight give this $50 paddle plenty of paddle surface to work with.
Again, this is ideal for someone just learned the game….but likes some pop to their swings.
The final paddle tech spec to mention is its smooth fiberglass composite paddle face and honeycomb polymer core.
But what makes this HEAD paddle even more unique, despite the $50 price tag is its "single-piece" construction.
This means that the paddle, from its paddle face to its 5 inch grip is one single piece.
Lots of cheaper pickleball paddles are a "two piece" design which means the paddle face and the handle are two separate pieces.
The connection point between the handle and the face is where a lot of paddles, regardless of price, tend to break.
With a single-piece design, you get a more sturdy build.
#3. The Wilson Profile
The Profile comes in at #3 on my list because it is an affordable paddle under $50 (depending on the color you buy) and it's manufactured by the tennis heavyweight Wilson.
The Wilson Profile is a good starter paddle because it boasts a lightweight graphite face with a honeycomb polymer core.
Wilson opted to make this graphite paddle a bit of a tank when it comes to its weight because it weighs in at around 8.4 ounces. That's on the heavy side for a graphite paddle.
Graphite paddles tend to be the lightest paddle material on the market today but regardless, the Wilson Profile offers substantial heft.
This added weight, combined with its longer 5 inch handle give the Profile good power while the graphite face provides it with ample touch and feel at the net.
The only reason why the Wilson Profile comes in at #3 on my list is because it's been discontinued by Wilson. Their cheaper line of pickleball paddles now start above the $50 price point.
But the Profile is still a good paddle and can be easily found on Amazon.
If you are a little leery of a paddle that's no longer made by its manufacturer, I'd confidently point you in the direction of the Rally Flare.
The Rally Flare is not made by a big time paddle/racket company but it's a reliable $50 paddle that is widely used by those just getting into the game.
Best Pickleball Paddles Under $50 – My Closing Thoughts
These three paddles represent the best pickleball paddles under $50 on the market today. My favorite is without a doubt the Prince Response Graphite. However, they're all worth their $50 price tag.
One of the things you may have noticed is that no paddles showed up from other big pickleball manufacturers like Pro-Lite, Selkirk, Engage and Paddletek.
Why is that?
Well it's simple. These heavyweight pickleball paddle makers just don't make a paddle in the $50 price range.
Perhaps they'll expand their lineup to include more inexpensive versions in the future but until then, the $50 paddles offered from Prince, HEAD and Wilson are fantastic options.
About Me
I'm just a lover of all sports that involve a racquet, net and a ball. My whole family loves and plays pickleball regularly. I started this website to help give people like you the performance tips and buying info they need to make an educated and informed purchase.
The products I recommend here have been researched, analyzed, compared and in a lot of cases bought, worn and used. If it's a bad product, I don't recommend it. Any small purchase made from this site gives me a small commission that helps fund the growth of the site to provide you more helpful information.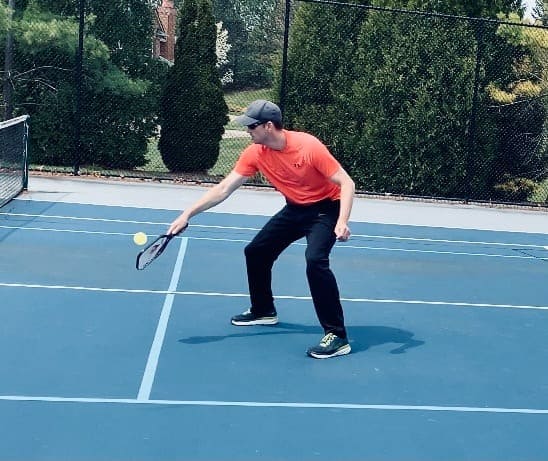 Welcome to TheVolleyLlama.com. My name is Keith, I'm just a lover of all sports that involve a racquet, net and a ball. I played competitive high school varsity tennis, love racquetball and my whole family plays pickleball regularly. I started this website to help give people like you the basics to learn these wonderful games.