Over the past 3 years, I've been buying and trying out various pickleball paddles to get a better feel for which ones are the best pickleball paddles for spin. If you come from a tennis background like me, hitting a topspin forehand shot back at your opponent can be an insanely gratifying experience.
But are certain pickleball paddles better at putting spin on the ball? After play testing over 25 paddles, I can confidently tell you YES!
So, what are the best pickleball paddles for spin? After playing with the Ben Johns Hyperion from Joola, it is the best paddle for spin because it is designed from the ground up for players who love spin. Everything from its thicker 16mm core to its gritty carbon fiber surface is engineered for more spin.
Given Joola's background in ping pong, it's no surprise they make the best pickleball paddle for spin.  But other paddles like the Engage Poach Infinity and the Prince Response Pro do an outstanding job of adding accurate spin to anyone's game. I'll cover these paddles plus two more that round out my top 5 pickleball paddles for spin.  
Trust me, topspin passing shots are a thing of beauty with all of these paddles!
Top 5 Pickleball Paddles For Spin – Quick Breakdown
Is Spin Important in Pickleball?
Spin is an essential part of any racquet or paddle sport and pickleball is no exception. But, the advantage that spin gives you in pickleball isn't as obvious as you might think.
In fact, using spin in pickleball isn't entirely about brute force and power like it is in tennis…at least not yet. More on that in a moment.
In pickleball, having a paddle that can help put topspin or backspin on a shot can dictate the cadence of a point and more importantly, force your opponent into a difficult shot. And forcing your opponent into a bad shot is a fundamental pickleball strategy.
Putting some wicked spin on your passing shots, or even dinks, can force your opponent into hitting an "attackable ball" to you. An attackable ball is one that forces the other team to have to hit up on the ball. This then allows you to hit down on the ball and attack!
Using spin to keep the ball low over the net and then stay low after bouncing is the best way to force your opponent into hitting an attackable ball back to you.
Pickleball Paddle Trends: Spin, Power and Paddle Thickness
Pickleball paddle technology has grown tremendously over the last five years. In fact, just ten years ago, you wouldn't be able to find a carbon fiber paddle with a gritty surface. They just didn't exist.
Nowadays, carbon fiber paddles can easily be found for under $100.
But the paddle trends we're seeing now in pickleball go much deeper.
Today, pickleball paddles have much thicker materials, carbon fiber or fiberglass surfaces, advanced honeycomb polymer cores, and sandpaper-like rough paddle faces that are all designed for more power and more spin.
Anyone who has followed tennis over the last two decades saw this coming. Time for a quick history lesson.
Back in the early 2000s, tennis racquet technology exploded. Racquets got lighter and strings got more bouncy. When combined, the racquet became a trampoline of sorts and the game changed. The serve-and-volley strategy became extinct and the game began to be dominated by baseline-to-baseline power and spin.
A new age was born. And we're headed in a similar direction with pickleball.
Paddles are thicker, have much bigger sweet spots, and allow the ball to stay on the paddle for a longer period of time. This advancement in paddle technology is optimal for more speed and more importantly, more spin!
What Paddle Face is the Best For Spin?
There are essentially three main paddle faces in pickleball today: graphite, fiberglass also known as composite, and carbon fiber. Debating over which paddle face yields the best spin is a little subjective.
When combined with a rough, tacky outer layer, all three surfaces will do a good job of putting spin on a pickleball. But, in my experience, carbon fiber and composite paddles do a better job than graphite paddles.
Graphite is a harder surface, which actually gives you more control versus power. And the ball doesn't stay on the paddle for as long. Making graphite paddles a little less effective at spin.
Conversely, carbon fiber and composite paddles tend to have more grit and are designed to hold the ball longer and create a rebound effect. Plus, carbon fiber paddles in particular tend to be thicker which leads to longer "hold times" and more spin.
After playing pickleball for nearly eight years, in my opinion, carbon fiber paddles are without a doubt the best at putting spin and power on the ball.  They're engineered for massive power and spin for serves or deep baseline returns with loads of topspin behind them.  
If you're a power player looking for more spin, go with a carbon fiber paddle.  If you're a softer finesse style of player, try composite/fiberglass as a happy medium between graphite and carbon fiber.
Related: Check out my beginner's guide to better serves!
Best Pickleball Paddles For Spin – My Top 5 Playtested Recommendations
Let's take a closer look at my top 5 play-tested paddles for spin. I'll cover the specs of each paddle, how it was designed, what the paddle does well, and what could be improved.
#1 – The Ben Johns Hyperion CFS by Joola
Joola (a brand known for table tennis, not pickleball) made an instant splash in the pickleball world by not only making high-end paddles but by signing, sponsoring, and consulting with the number 1 men's player in the world (Ben Johns) along the way!
Joola was not known for pickleball but gained instant credibility when they actually let Ben Johns incorporate his own design elements into this paddle. Here's what you get with Joola's flagship paddle:
| | |
| --- | --- |
| Average Paddle Weight Standard Version: | 8.4 oz |
| Average Paddle Weight Light Version: | 7.9 oz |
| Grip Circumference: | 4 1/4″ |
| Handle Length: | 5.5″ |
| Paddle Length: | 16 1/2″ |
| Paddle Width: | 7 1/2″ |
| Paddle Face: | Carbon Fiber |
| Paddle Core: | 16 mm Polymer |
Ben Johns has talked about the need to change from a fiberglass paddle to a more advanced carbon fiber paddle with an extra textured face, in order to give him more spin and power. He wanted a paddle that was lighter on its feet for flicks and topspin rolls at the net so he could take shot mechanics he learned from table tennis and incorporate them into pickleball.
The 16mm thick core also adds to its ability to manipulate the ball. Thicker paddles tend to have a little less "feel" but allow for the ball to stay on the paddle longer.
The Hyperion's 16mm core actually grabs the balls and creates a rebound effect – making it perfect for topspin forehands down the sideline.  I especially noticed this on my return of serves or third-shot drives.  It's a thing of beauty!
What It Does Well
The Hyperion CFS is the ideal paddle for anyone with an extensive table tennis background who has fallen in love with pickleball. I found my drive shots, whether it be at the baseline or at the net to be extremely effective and always under control.
But my favorite shot with this paddle was the topspin flick at the net when someone popped it up. Instead of dinking it softly back over the net, you hit a forehand shot and flick your wrist to roll it back over aggressively.
This is a shot Ben Johns is known for and it's a lethal shot when at the net. This is a shot he was not doing when he was sponsored by Wilson and playing with their paddles. But with the Hyperion, Ben wanted a paddle that could incorporate these types of shots so he could attack more at the net; and this paddle delivers!
Keep in mind, that type of shot takes some time to learn but, this paddle was made for it!
As expected this paddle performs really well when executing topspin forehands or backhands from the baseline either during the serve or the return of serve.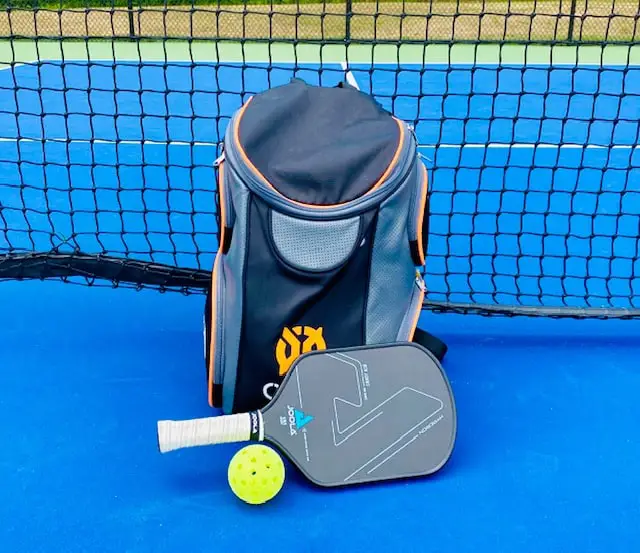 What Could Be Improved?
The two drawbacks to this paddle are that it requires a break-in period and it's not a forgiving widebody paddle. Because of this, novice players may struggle with it.
Heck, even seasoned players may need to be patient to get a feel for this paddle. I've played with other paddles (like the Prince Response Pro) and instantly felt comfortable with the paddle. This was not the case for me with the Joola Hyperion.
Patience is required because "feeling" the response from this paddle, especially at the net, can be challenging.  
On top of that, I do wish Joola made a wider version of this paddle. It's under 8" wide which makes it a little on the thin side. It's not an elongated "blade" shaped paddle by any means but personally, I like the wider sweet spot that a wide body paddle (8.25" or wider) gives me.
For future versions, I hope Joola offers a wide-body option.
#2. Engage Poach Infinity EX
I've been playing with Engage paddles for over 5 years now and my favorite product from Engage is by the Poach series. The Poach Infinity was demoed for me by a 4.0 Engage-sponsored player at my local courts.
The Engage-sponsored player allowed me to "try it out" against her and her partner. Well, my partner and I went on to defeat them 11-8 and my serves had never been so on point with that much power and topspin. I was sold. Here are the specs:
| | |
| --- | --- |
| Average Paddle Weight Standard Version: | 8.1 oz |
| Average Paddle Weight Light Version: | 7.6 oz |
| Grip Circumference: | 4 1/4″ |
| Handle Length: | 5 1/4″ |
| Paddle Length: | 16″ |
| Paddle Width: | 8″ |
| Paddle Face: | Composite |
| Paddle Core: | 13 mm Polymer |
Editors Note: The Poach Infinity "EX" is different than the "MX" version in terms of paddle shape. We'll be talking about the EX version because it is a wide-body-shaped paddle. The MX is an elongated paddle and I'm not a fan of elongated paddles.
What It Does Well
All Engage paddles I've ever played with have always had a "point and shoot" quality to them. That speaks to the incredible accuracy that is engineered into every paddle. And the Poach Inifinity is no exception.
But by far and away, the best shot I experienced with the Poach Infinity was my serve! The combination of power, spin, and accuracy I had with this paddle, right out of the gate was amazing! I experienced zero break-in period, unlike the Joola Hyperion.
When hit in the center of the paddle (or sweet spot), my serves were deep, low over the net and coming off of the paddle with loads of topspin.  I was blasting serves at players who were above my skill level and making it very difficult for them to return back aggressively.  
A topspsin serve or return of serve that lands at the baseline or at your opponent's feet is a very difficult shot for your opponent to return and the Poach Infinity made this shot routine for me!
What Could Be Improved?
To be honest, there is not a lot to criticize with the Poach Infinity. It does a lot of things really well. The only reason why it's not #1 on my list of best pickleball paddles for spin is because there are other paddles that have rougher surfaces.
The Joola Hyperion is one of them.
Other paddles have tacky, sand-paper-like surfaces that are rougher than the Poach and are capable of producing more spin and grab. But most of those paddles don't have the power and accuracy that the Poach also delivers.
While it may not be the grittiest paddle on my list, it is gritty enough, and combined with its insane accuracy on power shots, this paddle is tailor-made for spin and power across all areas of the court.
#3 – The Response Pro by Prince
The Prince Response Pro is the same paddle that Pro player Simone Jardim won the triple crown with. You read that right. In 2018 she won the US Open Women's Singles crown, the Women's Doubles Championship, and the Mixed Doubles Championship.
Simone Jardim won three gold medals – ALL with the Response Pro! In my opinion, what makes the Response Pro so good at manipulating and grabbing the ball are two fundamental design elements: its sweet spot, and one-of-a-kind shape.
Here are the specs:
| | |
| --- | --- |
| Average Paddle Weight Standard Version: | 7.2-7.7 oz |
| Average Paddle Weight Light Version: | 7.8-8.3 oz |
| Grip Circumference: | 4 1/8″-4 3/8″ |
| Handle Length: | 5 1/2″ |
| Paddle Length: | 15 3/4″ |
| Paddle Width: | 8 1/4″ |
| Paddle Face: | Composite |
| Paddle Core: | 14 mm Polymer |
What it Does Well
Of all the paddles I've tested, the Prince Response Pro has the largest sweet spot I've ever played with. There is rarely a bad hit or miss-hit on this paddle's face. What does this have anything to do with being one of the best pickleball paddles for spin?
The larger the sweet spot, the more accurate and on-point the paddle is when attempting advanced shots like a deep, topspin return to the baseline. This paddle does this very very well.
Other paddles that claim to be the best for putting english on the ball have a rough sandpaper-like texture on the paddle face, but if the sweet spot is tiny, then you'll be spraying those topspin or backspin shots all over the place.
The Response Pro is not the grittiest paddle, but its composite paddle face has enough texture on it that when combined with its gargantuan sweet spot, topspin forehands and backhands can generate a lot of spin with the right technique.
Its best feature is its sweet spot which makes topspin passing shots for your opponents who are sleeping at the net a thing of beauty!
Related Content: Read why the Prince Response Pro sits atop my Best Overall Paddles List.
What Could be Improved?
Much like the paddles I've listed above the Response Pro, it is very hard to find fault in this paddle. It's one of the best well-rounded paddles I've ever played with. But it's not perfect.
After paying with the Response Pro for two years now, I can confidently tell you that its weakest feature is at the net. Soft dinks can sometimes be too soft and a little inconsistent. Finesse play at the net is an integral part to pickleball and I've played with other paddles that do this a little better.
The Response Pro is not bad at this, but it could be better. The good news is, this has nothing to do with being a great paddle for spin. If you're a baseline spin and power player, especially for serves and returns, you're going to be a fan of this paddle. I guarantee it.
#4 The CRBN2 by CRBN Paddles
Carbon fiber paddles used to be the flagship model for only a select few paddle manufacturers because making a pickleball paddle out of carbon fiber ten years ago, was very expensive.
Now, however, they're fairly common.  We even have a paddle brand named CRBN, which as you may have guessed, specializes in nothing but carbon fiber paddles.  And boy did they ever make a name for themselves!
CRBN is the one brand known for super gritty textured faces.  In fact, they rewrote the rule book.  Or to be more accurate, they broke the rule book on how much texture a paddle can have!  They're the bad boy paddle company!
Back in April of 2022, all CRBN paddles were banned by the USAPA because they didn't meet deflection test standards.  That's lawyer speak for, the surface was too gritty.  So, CRBN had to dial it down.
And they did, for the most part. But even in March of 2023, their new line of 16mm Power paddles were subject to "on-site testing" by the PPA.  But don't freak out, this doesn't apply to the 13mm CRBN2 model I've chosen.  Here are the specs:
| | |
| --- | --- |
| Average Paddle Weight: | 8.0 oz |
| Grip Circumference: | 4 1/2″ |
| Handle Length: | 4 3/4″ |
| Paddle Length: | 15 3/4″ |
| Paddle Width: | 8″ |
| Paddle Face: | Gritty Carbon Fiber |
| Paddle Core: | Polymer |
What it Does Well
The CRBN 2 does a LOT of things well. While its super textured surface is a no-brainer for massive amounts of spin, this paddle is actually very well-rounded.  It performs as well if not better than one of my favorite graphite paddles, the Tempest Wave from Paddletek.
This is in large part due to its 13mm core.  It's like the "Goldilocks" approach to paddle thickness – not too thin but not too thick either.  Making it great for touch and feel around the net.  
The Polypropylene core allows this paddle to deliver just enough power for baseline zingers.
Overall, this paddle masquerades a little as a "power" paddle when in fact it's a closet "touch" paddle with loads of grit for spin on slices and cut shots.  If you hit the sweet spot and have good technique, you'll have no issues getting enough power and plow through from this paddle. 
But at its core, it's a "do it all", versatile paddle with a slight, nod to players who like touch.  There are plenty of paddles that do third-shot drives better than the CRBN2. But none of them have the "grip and hold" potential like this black assassin.  
If you're looking for a paddle with good control and insane amounts of texture for spin, then this is your choice!
What Could Be Improved?
Determining what could be improved really starts with what type of player you are.  Like I said above, if you're a control and touch-focused but also someone who wants more spin, you're going to be hard-pressed to find issues with this paddle.  
But if you're a power player or like thicker paddles, then you may find yourself wanting more.
At 13mm thick, it's not the beefiest of paddles.  So, if you're accustomed to thicker 16mm cores like the CRBN1 or newer CRBN3, or even the Joola Vision, then it may take a little time to get used to the thinner CRBN2.
Another glaring issue some players will have is its handle length.  Most paddles come with a standard 5" handle.  But the CRBN two has a stubby 4.75-inch handle making it nearly impossible for a two-handed backhand.  
While this is not a game changer for me, it is for a lot of people.  In fact, this is the most common gripe heard surrounding this paddle.  So, for that fact alone, I have to mention it.
#5. Babolat MNSTR Power/Touch
The name Babolat chose for this paddle is extremely fitting because once you peel back the layers of design and dig into what this paddle is made of, you'll notice that it's kind of the Frankenstein of paddles.
And I mean that in a good way.  Babolat chose to add design elements and concepts from different types of paddles and in the end created one hell of a product.  Most smaller brands would not have been able to pull this off but Babolat, with their experience in tennis, undoubtedly nailed it!
The Frankenstein analogy is in reference to its paddle face technology.  This isn't just a straight carbon fiber, composite, or graphite paddle.  It's all of them!  Babolat made the face 80% carbon fiber, 20% fiberglass (composite) but also threw in a layer of graphite skin and gritty textured surface paint to top off this delicious paddle sandwich.
All of this delivers consistent reactions across the face, great accuracy at the net and, precise, detailed spin you can feel!  Here are the specs:
| | |
| --- | --- |
| Average Paddle Weight: | 7.9 – 8.3 oz |
| Grip Circumference: | 4″ |
| Handle Length: | 5″ |
| Paddle Length: | 16.4″ |
| Paddle Width: | 7.8″ |
| Paddle Face: | 80% Carbon, 20% Fiberglass, Graphite Skin |
| Paddle Core: | 15 mm Polymer |
It should be noted that this is the most affordable paddle on my list.  This paddle retails for just over $100 by most online retailers.  And right now, you can get this paddle and a custom Babolat case for under $120 at the time of this writing.  Click the image below to see this special offer. 
What it Does Well
After using the MNSTR, I found that its best attribute for spin shots was actually in its mid-range game.  By that I mean, approach shots as you're coming up to the net.  These shots are not necessarily full-blown baseline power shots with topspin, although this paddle does that well too.  
Mid-range approach shots, with backspin or backhand cutters, are where this paddle really shows what it's made of!  Heck, even Babolat advertises on its product details page that it is designed for cuts and slices!  So, they absolutely deliver in that area with this paddle. 
I was also really impressed with its control and touch at the net during my dinks.  While this is an article about paddles made for spin, I found that the MNSTR was by bar the best for consistent accuracy at the net for softer shots. 
Combine that with its sticky face and large sweet spot and you've got a paddle that performs well in all areas but has the extra paddle face design and texture tailor-made for cuts, slices, and backhand spin.
What Could be Improved?
One of the first things I noticed when playing with the MNSTR was its weight. It took a little getting used to how light it was. At around 8 ounces, I found myself swinging bigger to get more power on my topspin drives.
So for me, I think the paddle lacks a little power because it feels and plays a little like a featherweight.  But, this may not be a negative for some players.  In fact, if you get arm or elbow fatigue, this may actually be a plus for you. 
In addition to that, I found that the MNSTR's paddle width was a little too thin.  At 7.8 inches, I wanted more real estate when working at the net returning quick balls back and forth.  Maybe it's because I tend to use wider paddles that are more than 8 inches wide but, there were times when I wanted to get more of the paddle on a ball and felt like I just couldn't because of its width.
So, this took some getting used to, especially after coming from wide-body paddles like the Response Pro.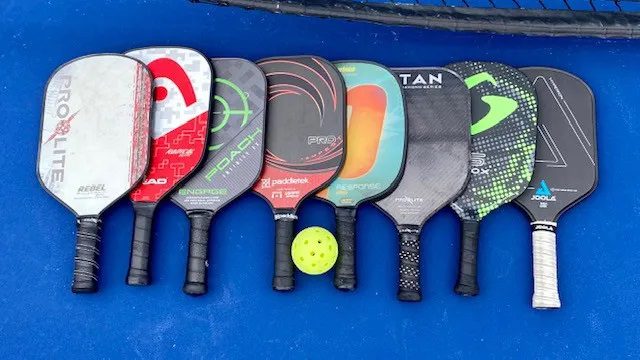 Best Pickleball Paddles For Spin in 2024 – Final Thoughts
I hope you've enjoyed my list of the Top Pickleball Paddles for Spin.
If you're new to pickleball or a seasoned player, these three paddles represent the best place to start in my opinion. I've played with all of them extensively and feel confident any one of them would be a great choice for someone looking to add serious spin to their game.
Check out some additional questions below related to pickleball paddles and spin.
Pickleball Paddles For Spin – Other FAQs
Below are some other common questions beginners tend to have when considering pickleball paddles for spin.
What Makes A Pickleball Paddle Good For Spin?  Features To Look For
There are some key features to look for when wanting more spin out of your pickleball paddle. While anyone with good technique can put english on the ball, paddles with these three main features provide the best results:
A gritty, rough paddle surface
A wide sweet spot
13mm thick core or thicker
It goes without saying that a smoother paddle surface will not hold onto the ball as well as a gritty one. But when you combine that with a large sweet spot, and a thicker paddle in general, the results can be amazing!
How Long Does Grit Last on a Pickleball Paddle?
How long the gritty surface paint lasts on your pickleball paddle will depend on two factors: how often you play and how you treat your paddle.
If you play more than 3 times a week, you'll begin to notice some paddle wear and tear at about the 6 month period. That general wear and tear will include paddle face grit especially where the paddle repeatedly makes contact with your paddle.
In addition to how often you play, how you treat your paddle matters too. Especially when it comes to the elements of outdoor play. If you leave your brand-new gritty paddle out in the blazing hot sun all day, you'll see the color and graphics fade and impact the stickiness of the paddle surface.
So, keep your paddles out of the sun.
Composite Paddles vs Graphite vs Carbon Fiber – Which Is Best For Spin?
I can make a case that the most important piece of equipment for any new pickleball player is a good pair of court shoes. Aside from that, a good paddle tailored to your type of game is the next best piece of equipment.
In the game of pickleball, the right paddle can help you improve certain types of shots dramatically. Currently constructed in materials made from composite, graphite, or carbon fiber, pickleball players remain divided in their preference for one material over the other.
Graphite pickleball paddles generally have smooth, polished, lightweight faces that are free of texture and any kind of grip. The perfectly even and flush surfaces of graphite pickleball paddles are more tailored towards control and feel.
Conversely, composite paddles (also known as fiberglass) and carbon fiber paddles tend to have slightly rougher surfaces and are designed for more power and generally speaking, more spin to go along with that power.
In short, if you're looking for the best pickleball paddle for spin – carbon fiber and composite paddles will do a better job at grabbing and holding onto the ball and launching it back it at higher speeds.
Does a Paddle's Sweet Spot Help With Spin?
Yes, absolutely! The size of the paddle's sweet spot has a direct correlation to how much accurate spin you can put on your shots. The larger the sweet spot, the more accurate your shots will be in general.
So, if your paddle has a big sweet spot, you'll be able to have more pinpoint accuracy on your forehand topspin and backhand slice shots.
A larger sweet spot doesn't necessarily yield more spin per se, just more accurate spin.
What Types of Shots in Pickleball Are Best For Spin?
The most common shot in the game of pickleball to see spin involved is the serve.  This isn't necessarily the best shot for spin, but it is the most common.  
In my opinion, trying to put massive amounts of spin on your serve can lead to an inconsistent serve and one that lands in the net.
With that said, the best shot to incorporate spin is the return of serve using a topspin forehand.  This is because you are guaranteed to have plenty of room on the court.  Because the return of serve has to bounce due to the two-bounce rule, the serving team has to stay back at the baseline.  
This means the return team can blast topspin forehands to the baseline without worrying about the other team hitting a volley!
Should Beginners Choose a Paddle for Spin?
If you're a beginner, there is nothing wrong with using a paddle that is gritty and produces lots of spin. Just make sure you're not sacrificing control.
Beginners should look for wide-body paddles with big, forgiving sweet spots that also provide ample spin.  With that in mind, I'd stay away from a spin-oriented paddle like the Ben John's Hyperion because it's an intermediate paddle that can be tougher to control at the net at first.  
If you're a beginner, instead opt for a more forgiving paddle that's easy to control right out of the box, and one that also produces loads of spin – like the Prince Response Pro.
Why Composite Pickleball Paddles are Great for Spin
Pickleball paddles constructed of composite materials are highly sought after for four main reasons:
Great for Power and Touch
Highly Durable
Big Sweetspot
The exceptional ability to give any level of player opportunities for precise SPIN
The classification of composite material is a misnomer since the material these paddles are constructed from are unique blends typically consisting of carbon fiber, resin, fiberglass, and vinyl in addition to new and advanced aerospace materials such as polymer cores and polycarbonate.
Bolstering the level of performance that composite paddles provide are textured tactile paddle surfaces that facilitate the best spin possible due to its ever-so-slight grab of the ball.
The textured surface of the paddle's face, allows players to momentarily "grab" or manipulate the ball midair. This gives players unparalleled precision and control when wanting to execute shots that require putting english on the ball – like top spin or back spin.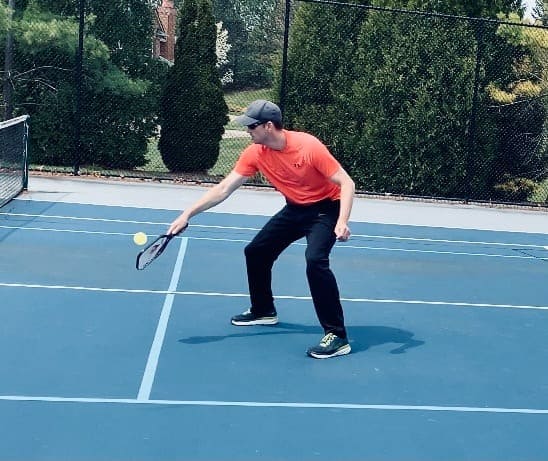 Welcome to TheVolleyLlama.com. My name is Keith, I'm just a lover of all sports that involve a racquet, net and a ball. I played competitive high school varsity tennis, love racquetball and my whole family plays pickleball regularly. I started this website to help give people like you the basics to learn these wonderful games.