If you've landed on this page, it's most likely because you've got a little one interested in tennis – and you're looking for tennis rackets for 2-year-olds.  This is a very specific article but for good reason.  I've researched tons of different tennis rackets for different types of players, age groups, and skill levels.
But, it's not very easy to find good information on tennis rackets for 2-year olds.  So, in an effort to give parents like you the most accurate information on tennis rackets for two-year-olds, I created this helpful guide so that when it was time for your to make a racket choice – you were properly informed.
What is the best tennis racket for a 2-year-old? After using many toddler rackets for my kids, the clear choice is the 17-inch Babolat Ball Fighter. It's one of the few rackets made from a reputable tennis brand that comes in a tiny 17-inch head size.
Why Trust Me?
After putting my two sons through many different kinds of tennis lessons, yes even at a very young age, I learned a lot about tennis rackets for little ones.  After having spent hundreds of dollars on tennis rackets for my kids, I can tell you which ones to avoid and which ones to consider.
In the rest of this article, I'm going to share what I've learned through the years as a dad putting two young kids through tennis lessons and trying to find the right size racket for them as they got bigger.  
That knowledge can directly help you when looking for the right-sized racket for your two-year-old.  I'm just here to share my story and the knowledge I've learned along the way.
Related Content: Got an older kid playing tennis for the first time?  Check out our favorite racquet that my kids use and LOVE!
How To Choose Tennis Rackets For 2-Year-Olds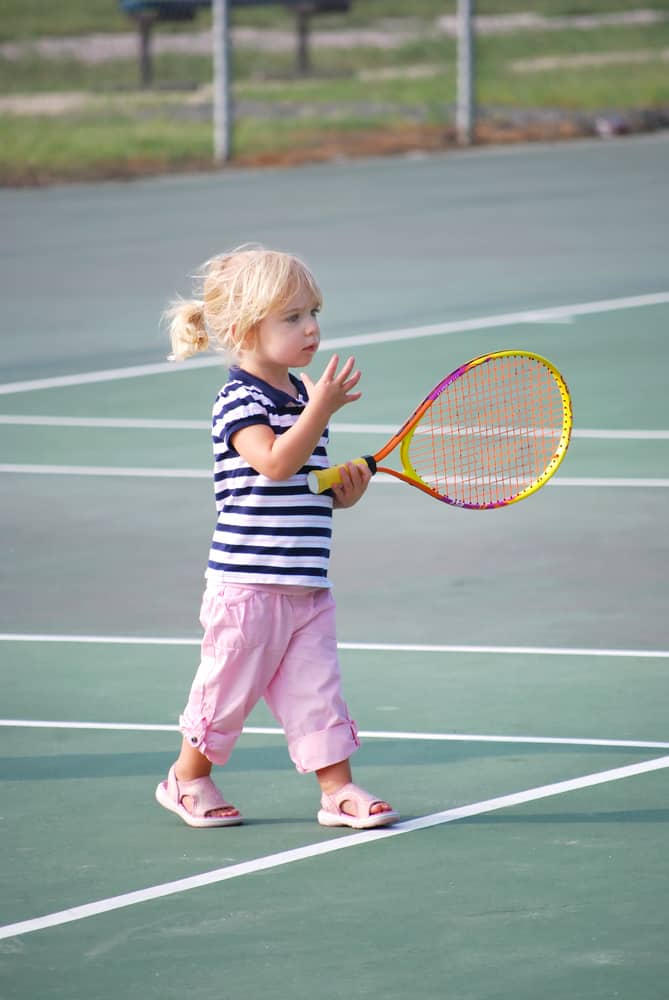 As I said, I've got two boys that have played tennis and started tennis lessons very early on.  So, I've got some experience when it comes to sizing tennis rackets for 2-year-olds and beyond.  I'll keep it simple; based on my experience the best tennis racket for a 2-year-old is a 17" toddler racket.  
Let me explain.
Why 17-inches Is The Right Size
For those new to tennis rackets for little ones, there are two types of tennis rackets for small children: toddler rackets and junior rackets.
Toddler rackets are 17" in length and are loosely designed for children between the ages of 2 and 5 years old. This is not a hard and fast rule but more of a general guideline.
Kids over 5 and under 11 years will need a junior racket with sizes starting from 19"(that's the overall length of the racket frame). The difference of 2 inches may seem small at first, but closer inspection reveals that for a two-year-old – a 17" racket is most likely the better choice and proper size.
More On Size
Children under 5 years old are typically 35" or shorter (roughly speaking).  A 19-21" tennis racket would be too long because it would take up more than half of your child's overall body length.  This would make it very difficult for your two-year-old to swing properly and make decent contact with the ball.
The right racket length is SO crucial, especially for little ones. I learned this directly from my kids' tennis instructor.
As a general rule, if your toddler is dragging the racket on the ground, it's too big for them. A pint-sized 17" toddler racket works best for their height and grip size. Of course, you could go with toddler rackets at 15" or less, but good luck finding these, since many manufacturers do not make them anymore.
Why do most racket companies not make a 15" racket anymore?  Well, I suspect because they were in fact too small.  Most kids, especially a two-year-old, would outgrow a 15" tennis racket in no time.  Making the purchase a waste of money.
When your child is over 40" tall, you can upgrade to a junior-sized racket at 19" and more. As a general rule, for every 4 inches they grow, the length of the tennis racket should increase by 2 inches.
All in all, in my experience, the best tennis racket for a two-year-old is a 17" toddler-sized racket.
If you've got a toddler who's older than two years of age – you'll want to read my complete guide to toddler rackets here.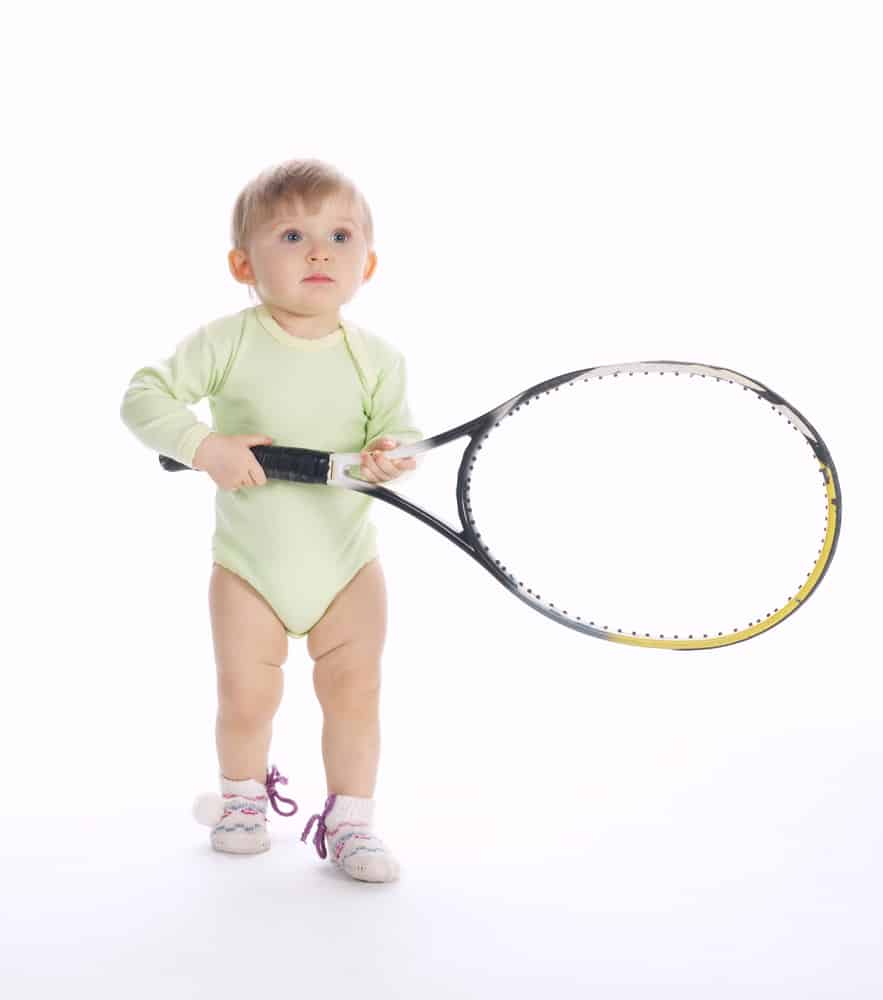 The Best Tennis Racket For A 2-Year-Old – The Babolat Ball Fighter
Babolat specially designed this racket for toddlers so they can get a feel for the game and learn basic swing mechanics.
To make each shot more stable, Babolat went with the standard 16 by 19 string pattern to grip the ball harder while generating more spin behind each shot. This is an easy, fun-filled way for a child to learn the fundamentals of swinging properly.  And trust me when I say this is soo crucial for them to learn the game the right way!
But aside from the standard 16×9 string pattern you'd come to expect, what's most important is the fact that the Ball FIghter comes in a 17 square inch racket head size. This is the ideal head size for two year olds!
This feature, along with the fact that this racket is made by arguably the most popular brand in tennis right now, make it the ideal choice in my opinion. No off brand junk here. Babolat is the real deal.
The racket makes use of a grip size between 3 to 4 inches, which is ideal for little ones around two years of age who are still learning the sport. Its tiny grip allows for a two-year-old to swing the Babolat with greater accuracy and put more force behind each swing. 
The Babolat Ball Fighter features a vibrant color scheme with yellow as its base color. From a design perspective, the color yellow has become a trademark of sorts for adult Babolat rackets and I think it's cute Babolat decided to incorporate that same feel into this racket for two-year-olds.
My Runner Up – The Ezone Junior Racket By Yonex
Yonex is the only other major tennis brand that makes a quality 17″ racket for two-year-olds. Sure, other great tennis brands like HEAD and Wilson make junior rackets but none of them are 17-inch in size.
Those brands make rackets 19 inches and up, which is NOT ideal for 2-year-olds.
So, the Yonex comes in at number two on my list. Is the Babolat Ball Fighter tangibly better? No. But the Babolat Ball Fighter has been around a lot longer than this pint sized option from Yonex. So I gave the Ball Fighter the slight nod.
As for racket specs, the Yonex Ezone is made from lightweight but durable aluminum. This will help with any potential wear and tear and accidential drops that might happen.
It comes prestrung (you'd be surprised at how often rackets online don't come prestrung when purchased) and weighs in at just 5.6oz. Add a 4″ grip size and you've got a beautiful looking little racket tailor made for the hands of your little two-year-old!
The only downside to this racket (at this point) is that it only comes in one color option – blue. As your toddler gets bigger and moves up in racket size, the color options become plentiful. So, this is only a minor set back.
If you can't find the Ball FIghter in stock, I highly recommend the Ezone from Yonex!
Alternative Choice – The Street Club Tennis Racket for Kids 
The Street Club's Tennis Racket For Kids is a good alternative to the Babolat Ball Fighter and Yonex Ezone. Street Club isn't a big name in the tennis industry, but they have carved out a tiny, valuable role in the large sports niche.
Street Club is focused on making fun, inexpensive starter rackets for toddlers of all ages.  They're not a racket company like Babolat or Wilson.  They're just a family-owned company dedicated to giving kids a fun first experience at tennis.
And you'll see that from the minute you place your eyes on this cute little racket. It's got a prominent smiley face etched into the racket strings that would make any child want to pick it up and try it!
It's got a lightweight but durable aluminum frame, much like the Babolat, that is built to last. Your toddler will have a breeze with this little tennis racket as they gradually learn different techniques and strokes.
At a length of only 17", the racket seamlessly connects with the ball without the toddler having to strain themselves. In fact, this racquet is so easy to swing with, it's been used by kids just 16 months old!
The Street Club's tennis racket was built with a large head size which means your toddler will have fewer miss-hits. The large surface area leverage on serves and allows for more groundstrokes.  This is the main reason why it's great tennis racket for two-year-olds (or potentially younger).
Other Features
Another great feature that I love about this racket is the use of its power pads to prevent premature breakage and sheering. This means that the strings aren't stressed to the point of breaking every time they come in contact with the ball. The power pads also offer excellent ball rebound and shock absorption. 
Market research shows that most young tennis players prefer bright colors, which is why The Street Club's tennis rackets come in a variety of fun colors that will appeal to your two-year-old.
For such a feature-rich tennis racket, the Street Club has been able to keep prices super affordable.  As a parent who knows they're going to outgrow this racket, I like that!
Note To Parents: Because this racket comes in different sizes, if you're truly shopping for a two-year-old, make sure you buy the 17" version.
My Value Pick – Weierfu Tennis Racket for Kids 17
Weierfu is a brand that most parents may not have heard of, but surprisingly the company has been around since 1990 and also makes quality tennis rackets for two-year-olds.
Like Street Club, Weiefu is not a big brand name in adult tennis but instead focuses on inexpensive starter rackets for little ones…real little ones, like your two-year-old.
The Weiefu features a 14 by 16 resistant string pattern that increases the chance of making contact with the tennis ball. This means more power and tactile feedback with every shot, along with increased comfort as each impact feels softer.
The Weierfu Tennis Racket For Kids, comes in different color finishes that suit both boys and girls so regardless of your child's gender, they can play with a racket that suits their kiddie style.
The racket is very easy to hold and grip thanks to its weight of only 5.28 ounces. This is mainly due to its top-quality aluminum frame. The small footprint makes it easy for toddlers to hold and put more weight behind each swing. This is crucial if they're starting lessons and learning the game for the first time.
Having a racket that allows your child to position their feet, align their hips, and swing; without feeling too heavy – is critical as they start out.  A heavier racket won't allow them to do this and the Weiefu is designed to allow your little one to build upon these technique fundamentals.
In addition, to add more stability and rigidity to the tennis racket, Weierfu uses its proprietary "Rectangular Section" technology which offers unmatched stability.
Sizing Options
The racket's head reads Tornado 17, which indicates the size of the length to parents.  When ordering online, make sure the "Color" selected has the number "17" somewhere in it – that indicates it's the 17" size.  If you see "19", then you've selected the 19" version.  
Weierfu did some creative packaging for their toddler tennis racket using a cover bag with a fun design over it. It makes for a cool gift that inspires kids into becoming energetic every day.
And best of all, they offer a full money-back 90-day guarantee!
Tennis Rackets For 2-Year-Olds – Final Thoughts
All in all, finding the right size racket for your two-year-old is the most important part.  In my experience, a 17" racket is the right choice and even gives your child something to grow into.
All four options I've outlined are great choices and can even be used by kids younger than two years of age!  All four rackets are relatively inexpensive and don't require a big long-term investment if your child is just learning tennis.
If I was buying a tennis racket today for a two-year-old, I'd get any one of these four rackets I've outlined.  The Ball Fighter 17" has a little bit more of a stylistic advantage and looks more like an adult racket because it's manufactured by a big-time racket company. 
But, all four are made from simple, durable aluminum.  They're all the proper 17" size frame and give your little one the best chance at learning the game and having fun!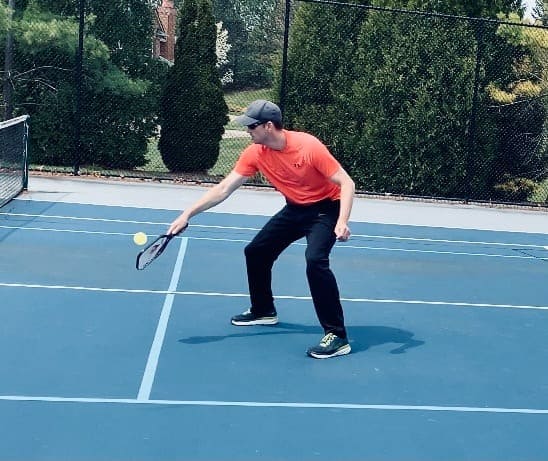 Welcome to TheVolleyLlama.com. My name is Keith, I'm just a lover of all sports that involve a racquet, net and a ball. I played competitive high school varsity tennis, love racquetball and my whole family plays pickleball regularly. I started this website to help give people like you the basics to learn these wonderful games.