A Helpful Beginners Guide To – Where Is Pickleball Played?
Pickleball is a sport that's been gaining in popularity for more than 15 years, mainly because it's fun to play, easy to learn and at it's heart, a game that bring people together. Also, a pickleball court is much smaller than a tennis court. But where is pickleball played?
Pickleball is played in over 57 countries globally but is most popular in the US where it is played regularly at outdoor parks, indoor rec centers, YMCAs and even schools, making it the fastest growing sport in the United States.
Keep reading to learn more about where pickleball is played and if it differs depending on the type of location.
Where Can I Play Pickleball?
You can find pickleball courts at:
– tennis centers
– pickleball complexes
– outdoor parks
– retirement homes
– senior centers
– community centers like YMCAs
– schools like community colleges.
These are all great places to play pickleball.
Chances are good that your local tennis court has pickleball court lines laid down on it. This is oftentimes the easiest place to play pickleball.
But dedicated pickleball courts are becoming the ideal place to play pickleball for real fans.
It doesn't matter if you're in a cold weather state like Michigan or a sunny state like Florida – pickleball is played both indoors and outdoors. The challenge can be finding a place to play near where you live.
Here are the most common places where you can play pickleball no matter where you live.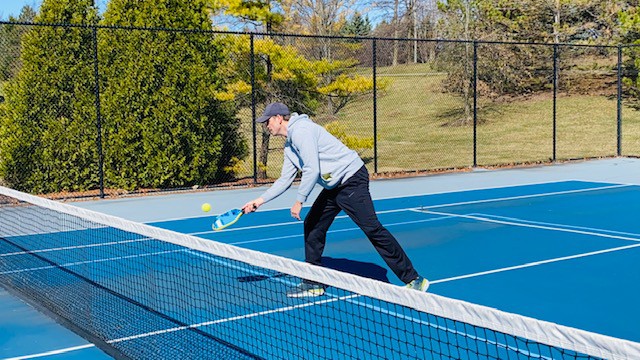 Pickleball Can Be Played At Tennis Centers
Since tennis and pickleball share many similarities and many athletes love to play both, it's relatively common to see pickleball courts in tennis centers.
Of course, they don't typically have separate pickleball courts. Instead, they simply convert the existing tennis courts instead.
They do this by laying down blue pickleball court lines into the existing tennis court. This effectively makes the court duel functional.
Depending on the tennis center and how many courts they have available, they might make certain tennis courts full-time pickleball courts dedicated only to pickleball.
For instance my tennis center allows for two or more tennis courts at any one time to be used solely for pickleball.
They even dedicate more courts during their monthly pickleball open-house events.
The point is, an indoor tennis center is a fantastic choice year-round because you can play on it rain or shine and always have a court ready.
Related: Click here for my simple walk-through on how to paint pickleball lines down on a tennis court.
And click here for how many pickleball courts you can actually fit onto a single tennis court. It's more than you think!
You Can Play Pickleball At Community Centers
Regardless of where you live, your local community center might be worth checking out when you're looking for a place to play pickleball.
Many community centers have several tennis or badminton courts, but a lot of these are being used for or converted to pickleball because of a significant rise in popularity.
If your local community center has a tennis or badminton court already, you could suggest adding pickleball lines and a net if they haven't already.
Many community centers offer "open gym" for pickleball and will allow for drop-in play to anyone during a specific time period.
Other community centers allow scheduled use of the pickleball courts and rent them out for group play.
After playing at a few different community centers, I'd recommended calling ahead to see how (open or scheduled) and when they offer pickleball.
Pickleball Can Be Played At Schools or Colleges
Just like any other major sport, pickleball has made it into high schools and colleges.
If you know a local school or college with a dedicated indoor sports arena, they might just have a pickleball court or two.
I've played at a local, small community college in their indoor workout facility. There is a weight room, a track and two basketball courts that on certain days are converted to pickleball using portable pickleball nets and are open for drop in play for a small fee.
The typical fee for indoor pickleball at schools is around $10-12 dollars.
Click here for my all-time favorite portable net perfect for driveway pickleball.
Pickleball Complexes Are A Great Place To Play
Of course, you don't have to go out looking for a pickleball court in a tennis center if you have a pickleball venue near you.
Yes, dedicated venues also called pickleball complexes are popping up all around the United States.
From Richland MI to Naples FL, you can find a dedicated pickleball complex in almost every state.
The advantage to playing pickleball at one of these complexes is that they tend to be indoor facilities. Meaning year round play in a cold weather state is possible.
Secondly, minus a small fee, you can almost always find players at your skill level to play with.
And lastly, because all skill levels play at these pickleball facilities, it's easy to assimilate with a 5.0 crowd and find a pro who gives one on one lessons.
Pickleball complexes are some of the best places to learn from a pro.
The best way to find a pickleball complex is to check online if there are any clubs near you and your zip code.
Examples of awesome pickleball complexes:
The Alley Pickleball Complex in Kalamazoo Michigan.
https://www.localgymsandfitness.com/US/Richland/2007363252918324/Alley-Academy-Pickleball-Club
Pickleball Island in Grand Island, New York.
http://www.pickleballisland.com/
Chicken N Pickle with locations in both North Kansas City MO, Overland Park KS, San Antonio TX, and Oklahoma City OK
Pickleball Can Be Played At Local Parks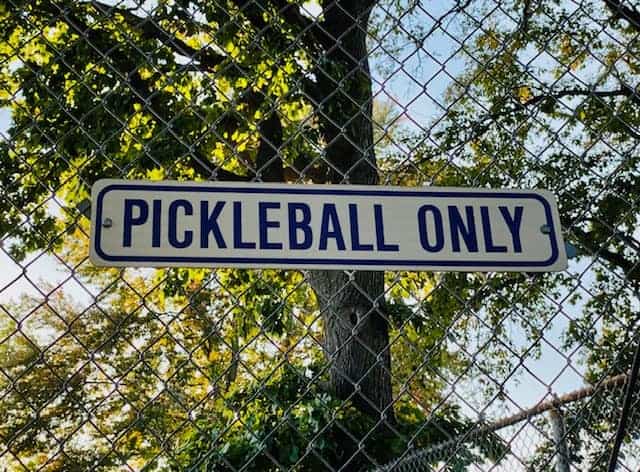 Many parks around the country have either dedicated pickleball courts or tennis courts with pickleball lines laid down for dual use.
For instance, the little family friendly park 2 min from my house has two tennis courts. Each tennis court has pickleball lines on them.
A little further from me is massive park where community sports are played like soccer and baseball but they have eight, yes eight dedicated pickleball courts.
This is my favorite place to play because the dedicated pickleball courts are beautiful, clean and always has people playing on them.
The easiest way to find a place to play pickleball is most likely at your local park where tennis is played. There you will find a pickleball court either on its own or on a tennis court.
Pickleball Can Be Played At Senior Centers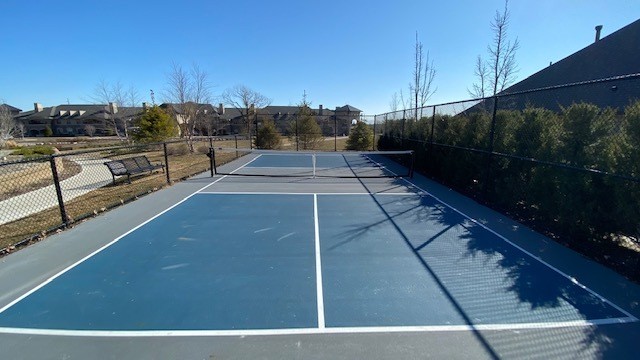 Pickleball has many health benefits, especially for older retirees. Because of these health benefits, many senior centers, even retirement homes or retirement housing developments have installed pickleball courts.
Many of them are outside and free for anyone to use.
In addition to outside courts at retirement homes, many indoor courts can be found at OPC communities.
What are OPC communities?
OPC stands for "old persons commission" and these are centers (like a small YMCA) that have regular pickleball games played at them.
The only stipulation with OPCs or retirement homes is that they sometimes limit play to people 50 years of age or over.
Check to see if a local retirement home or OPC near you has a pickleball court and if you could join them for a match.
Link to OPC Rochester
How Do I Play Pickleball on a Tennis Court?
You can play pickleball on a tennis court by adding the appropriate lines and lowering the net. You can make up to four pickleball courts on a single tennis court, but you'll have to buy additional pickleball nets.
USA Pickleball explains that you can convert a tennis court into up to four pickleball courts.
You can convert a single tennis court into one, two, or four pickleball courts using the guidelines provided by USA Pickleball.
Where Is Pickleball Played – Final Thoughts
As one of the fastest growing sports, pickleball is now a global phenomenon but is most popular in the United States.
Whether you live a warm weather state like Arizona or a cold weather state like Wisconsin, pickleball can be played indoors or out.
While Pickleball is played at churches, community colleges and recreational centers, the easiest place to find a court and go play is at your local park with tennis courts.
Chances are in the park doesn't have dedicated pickleball courts, they'll have tennis courts set up for pickleball usage too.
So find your local park, give them a call and ask if they've got pickleball!!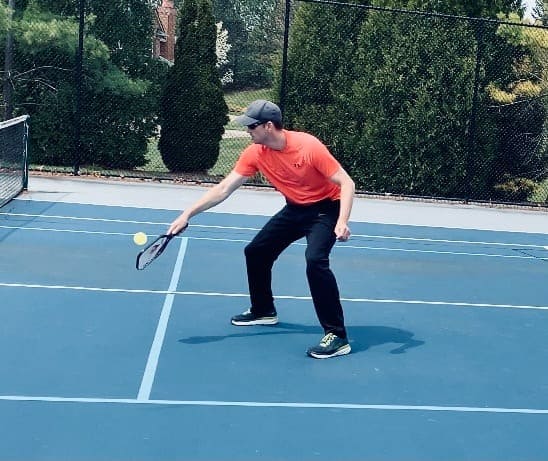 Welcome to TheVolleyLlama.com. My name is Keith, I'm just a lover of all sports that involve a racquet, net and a ball. I played competitive high school varsity tennis, love racquetball and my whole family plays pickleball regularly. I started this website to help give people like you the basics to learn these wonderful games.