Today I'll be reviewing the Killersping Jet 800 and let you know what makes it special, who it designed for and how it plays. This is a highly coveted ping pong paddle with loads of history, but is it worth it?
So, you've dominated your friends in the basement or are undefeated at work in the break room and are starting to take ping pong a little more seriously huh?
You need a new paddle, one that can handle your growing skill set and expand upon it. Well, you've come to the right place. In our Killerspin Jet 800 review, we're going to give you all the details behind this elite, yet surprisingly affordable paddle and why it's perfect for those that take their table tennis seriously!
If you're looking for a substantial paddle upgrade, you're going to LOVE this paddle!
Fast Facts
Want the skinny on this paddle quickly? The Killerspin Jet 800 is arguably the best recreational to intermediate level paddle money can buy.
Casual players will love it and intermediate to advanced level players will appreciate it's meticulous design. Looking to improve your paddle after your last one was not up for the challenge?
Go with the Jet 800, you don't be disappointed.
What steps do you take when choosing the right paddle, and does a paddle affect your game in any way?Like with any good product review, we will be discussing the Jet 800's features, benefits, and weaknesses. More importantly, we will answer the question – is worth its mid tier price tag?
Related: Check out the most comprehensive look into the absolute best ping pong paddles across all price points, all skill levels and ratings, here.
Ping Pong Paddles 101
Ping pong dates back to Victorian England where the upper class would play it after dinner in the parlor. Through the decades, the game has evolved and spread through the continents, as well as the paddles used to play the game.
In the 1950s, the game of ping pong took to another level when paddles were fitted with a rubber and sponge underlay – allowing for faster speed and better control to spin the ball. These days, the myriad of choices might make your head spin.
Traditionally, paddles are made of wood and a layer of rubber coating on one or both sides. The wooden part is known as the "blade" and features one to seven layers of wood. Other materials such as carbon fiber, aluminum fiber, glass fiber, cork and even Kevlar are often used.
In the case of the Jet 800, Killerspin uses two layers of carbon and five layers of premium wood. What does this mean? It means it's professional grade materials that give the blade proper balance, grip and feel.
While these specifications are standard, the materials used can vary depending on the manufacturer. A quick search online will find you paddles for as low as $5 to upwards of $300.
Though it may be tempting to purchase a cheap paddle, you will end up spending more in the long run because poor quality paddles will swiftly wear out and will need to be replaced frequently. In short, you get what you pay for. Cheap is…well, cheaper.
A Closer Look at Killerspin And The Jet 800 Paddle
Killerspin is no stranger to the table tennis game, with distribution spanning 14 countries, across five continents. Founded in 2002, Killerspin is a Chicago-based company currently offering a variety of paddles across the board including their signature JET paddle series, elite Kido paddle series, pro-level
Diamond paddle series and SVR limited edition paddles. Many consider the Jet 800 to be a premium paddle, and it is, within the Jet lineup of paddles. The Kido and Diamond series take what makes the Jet 800 special, and expand up on it significantly – while doubling in price.
If you're not ready for a close to $200 commitment, the Jet 800 will be a welcome alternative for you.
When it comes to affordability and quality in all of Killerspin's products, it's hard to beat what the Jet 800 offers. Trust us.
Killerspin Jet 800 Review – Notable Features
Paddle Specifications and Technical Details:
6.1 x 6 x 0.5 inches
Lightweight at only 1.8oz
Approved by the International Table Tennis Federation
2.0mm high tension Nitrx-4Z rubber
Killerspin's ratings out of 10: Speed 9.0, Spin 9.0, Control 7.5
Comes with a 30-day warranty
Construction
The Jet 800 paddle is made from two layers of carbon fiber and five layers of wood, totaling seven layers of tip top performance. No other paddle in the Jet series offers this many layers or this kind of meticulous design.
4z rubber allows for grip on the ball, giving you more control and way more power, as well as spin ability when cutting the ball. If you've had inconsistent spin serves using a cheap paddle, you're going to notice a big difference here!
Speed
The Jet 800 paddle offers a speed rating of 9.0 which is optimum for aggressive play. The seven layers of material and 4z rubber combine to give this paddle the ability to generate plenty of zip when the ball connects.
Average players using cheaper starter paddle will notice the ball leap off of this paddle. You'll feel right home with this paddle when performing loops and forehand drives. Traditional paddles simply won't perform as well.
Control
The paddle offers a wood side tape which allows you better control of the ball whether you're delivering a serve or returning a shot.
The tape is designed absorb the energy from your shot, allowing to propel the ball back at your opponent more accurately and with greater speed.
The two layers of carbon provide the blade it's feather weight feel but more importantly add to it's aggressive style and "point and shoot pop" on returns and serves. It's an excellent choice for amateurs and aggressive players alike.
Spin
The Killerspin Jet 800 is true to its name, delivering an outstanding spin of 4.7/5 which is what pros prefer, and amateurs strive for. The 4z specialized rubber comes into play here as well and is the central component to adding english to the ball.
While other paddles in the Jet series also offer the 4z rubber, the dual carbon sandwich gives the Jet 800 an advantage over the others and allow it to achieve a much higher spin rating. If you've not played with a spin oriented paddle, then the Jet 800 is going to surprise you!
Depending on what you've played with in the past, the Jet 800 may take a little while to get used to but once you do, you'll love the top spin serve it gives you!
Did you know: the Stiga Pro Carbon has arguably better ratings for speed and spin than the Killerspin Jet800?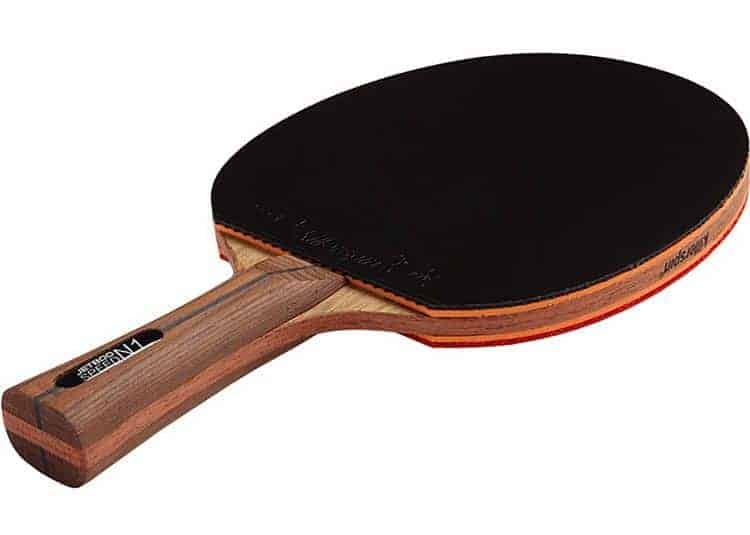 The Handle
The Killerspin Jet 800 is one of the most ergonomically and aesthetically pleasing paddles on the market today, and we've played with a ton.
The paddle face features two layers of a carbon material sandwiched between five layers of wood and the handle is designed to control all of it in a plug and play style – meaning despite all this technology, Killerspin designed it so you could pick it up and just go play – right out of the box.
Its well-balanced control is suited for both right or left-handed users of all levels. The burn wood handle also looks good too!
The Blade
As we've said, the blade it's self is a high quality blend of two layers of carbon between a 5-ply wood base making it a beauty to play with. This also gives the paddle a rather large sweet spot.
The lightweight wooden blade and sleek handle give the Jet 800 a modern, professional look and feel. The wooden side tape along the edge of the blade is designed to keep the energy from each hit encased in the paddle.
This is ideal for optimal power and deflection.
"Weight" A Minute
The Jet 800 paddle is super lightweight, weighing in at approximately 190 grams, allowing you to use it for an extended period without suffering from hand fatigue, pain or cramping.
The weight feels appropriately balanced with a sweet spot right where it should be. The handle feels solid without a top heavy feel to it. It's a nice, even keeled balance of lightweight maneuverability and control with the hand shake grip style.
Who Is The Killerspin Jet 800 Best Suited For?
With so many choices on the market today, those who are just learning the game will find it especially daunting when choosing their first paddle. As a newbie, your first instinct might be to buy a cheap paddle.
While that might seem a logical choice, you must keep in mind that these paddles are usually constructed using poor quality materials which fall apart quickly.
In the long run, buying a cheap paddle is not economical because you will have to keep replacing them when the paddle breaks at the handle or dents at the paddle face.
The rubber could also peel, and the wood may start to chip off here and there. Cheap paddles are not strong enough to withstand the trauma of repetitive impact.
We wanted to showcase how multi-faceted the Jet 800 paddle is, and how it fits perfectly across all levels of play regardless of how good you are.
The Killerspin Jet 800 is lightweight and a very good choice for beginners. You will feel the power this paddle generates on every return.
If you're a casual recreation player, and looking for something in the lower tier price point, check out the Stiga Titan, or read which paddles we loved the best for beginners and under $50 in our Best Ping Pong Paddles for 2018 Buyer's Guide.
The Killerspin Jet 800, while powerful, also offers the simplicity of use which no doubt will impress your opponent on every return shot.As one of the most balanced paddles in the Killerspin line, it comes equipped with Nitrx-4z rubber which creates exceptional grip and allows for all the fancy spins and cutting shots you need to improve your forehand and backhand.
The Jet 800 paddle is so versatile that even professionals are huge fans of this bat. if you play semi-competitive tournaments, you will want to invest in a high-quality paddle to see you through at the top of your game during every competition.
The Jet 800 consists of high grade materials which hold up to the force of continuous tournament style play. Even pros use it! US National Table Tennis Champion Ilija Lupulesku and Chinese Olympic gold medalist Chen Qi are two notable professionals who use the Killerspin Jet800 paddle.
Approved by the International Table Tennis Federation, this paddle meets all the requirements for professional competitions. International Table Tennis Federation regulations stipulate that the paddles' blades must consist of 85% natural wood.
In Japan, hinoki wood is very popular while other woods such as cypress, limba, and balsa are more common in other parts of the world.Its various features are loved and embraced by everyone, no matter what level of the sport you are engaging in.
The Jet 800 paddle is the top choice for beginners, intermediate players and even some professionals.Therefore, the Jet 800 paddle is one of the most versatile paddles on the market today.
What Are Others Saying About The Jet 800?
I was interested to see how this paddle fared amongst other consumers and did a bit of research on the online to find out. I'm happy to report that most agreed that their game improved after using the Killerspin Jet 800.
Other players were pleased with the spin and power this paddle delivered, and how consistent and balanced their games were when using a paddle of this caliber.
Like me, most were especially impressed by its lightweight agility, allowing extended play with less fatigue. Most users felt they got their money's worth with this paddle and would purchase it again when given a chance. We agree wholeheartedly.
The Best Of The Killerspin Jet 800
It is without a doubt that the Killerspin Jet 800's strengths lie in its versatility and ability to deliver all-around high-quality hits.
It is powerful, yet light and diverse. The seven-layer blade is comfortably light and able to deliver forceful, yet precise shots.
The overall balance of ergonomics versus lightweight blade is what makes the Killerspin Jet 800 stand out amongst the rest in its class.
The high quality Nitrx-4z rubber also offers fantastic spin, something that is highly desired and should be included at this price point. The Jet800 delivers this in spades!
What Could Be Better?
It's hard to find much fault in this paddle. It's excellent in nearly all facets. If there is a downfall to the Jet 800 paddle, it is getting used to how powerful it is.
You may need some time to acclimate yourself to this paddle's power and speed. Once you get the hang of it, this paddle will be an indispensable part of your game.
Others may not be willing to stomach its price tag, but in our opinion, it is clearly worth it.
Killerspin Jet 800 Review – The Verdict
Despite its mid to high retail price, the Jet 800 paddle is worth every penny you pay considering the quality of materials used and how precise and balanced it is.
The Jet 800 will allow you to play better, and with more power. It is a solid choice for every ping-pong aficionado and could be your favorite paddle for years to come.
I love its design and feel, but most importantly, it can tangibly improve a beginners game and help them make a leap to the next level.
Do you play with the Jet 800? If so, how do you like it? Are you a fan of other Killerspin paddles more? Leave us a comment below and let us know!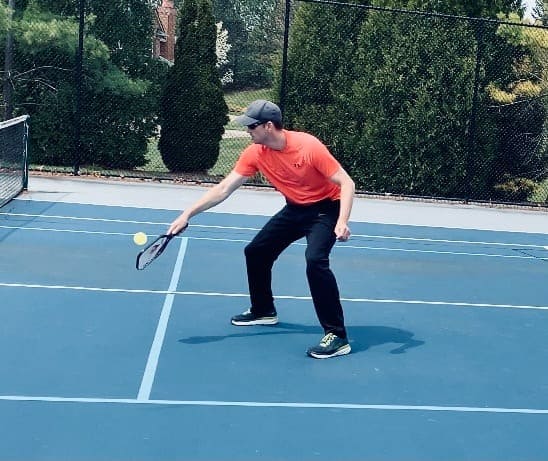 Welcome to TheVolleyLlama.com. My name is Keith, I'm just a lover of all sports that involve a racquet, net and a ball. I played competitive high school varsity tennis, love racquetball and my whole family plays pickleball regularly. I started this website to help give people like you the basics to learn these wonderful games.