An Illustrated Look at the Best Pickleball Bags
I recently bought a bunch of new paddles and I needed to upgrade my pickleball bag badly! I began to research and look into the best pickleball bags on the market and analyze which one met my needs the best. But not all bags are the same and everyone's needs are different. So, I decided to buy a bunch of bags, try them out and share with you which ones truly are the best pickleball bags available today.What are the best pickleball bags right now? Well, after using and abusing six different bags and styles, I can confidently recommend to you the Onix Backpack. I loved it because I could fit 7 paddles in it along with a water bottle, shoes, and a clean pair of clothes. I could fit ALL of this without it feeling too bulky or overloaded.The Onix Backpack is my current favorite bag but there are many other great pickleball bags to choose from. In fact, there are many types of styles with different features and storage capabilities. And in this article, I'm going to walk you through the best pickleball bags based on each bag type and explain the benefits they provide.
Why Trust Me When It Comes To The Best Pickleball Bags
You can trust my word on pickleball bags because I took the time to buy and use the bags I talk about in this article. I've bought and used a bag in each pickleball bag category. So if I bought a pickleball bag and liked it, I recommended it. If I didn't like it, it didn't make my list.
If you like small sling bags, I've got you covered. If you're a two racket kind of player – I've used a bag I think you'll love. Or, if you're like me and you need a bag that holds over 4 paddles comfortably along with some dedicated shoes and other gear – then I've got the right pickleball bag for you.
In short, because I've used all various types of pickleball bags – I feel this is the most honest, play tested list of the best pickleball bags you'll find.
RELATED CONTENT: Want to know why thew Prince Response Pro is my absolute favorite paddle right now? Two words: sweet spot.
Best Pickleball Bag For 2020 – My Backpack Of Choice
-The Onix Pickleball Backpack-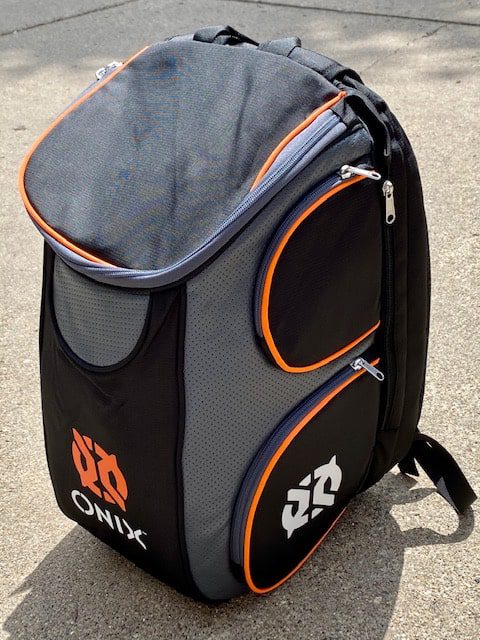 The Onix backpack is the best pickleball bag for 2020 because of how functional it was for me. In fact, I wasn't expecting it to be this roomy, have this much storage and have the amount of pocket space that it does.And to top it all off, it's got a separate shoe compartment. Which for me, is a must.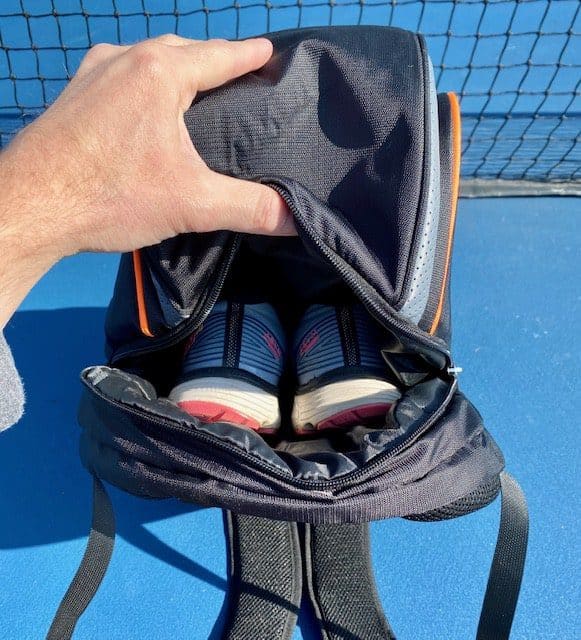 Separate shoes fit easily in their dedicates slot.And the best part? It's only around $60!!What I was most impressed with was how compact this pickleball bag was without feeling too bulky.Based on its size, you wouldn't expect to be able to carry 8 paddles comfortably…and that's not counting the separate shoe area.This bag proves you don't need a giant bag to hold a lot of gear.In fact, compared to the Wilson Rak Pak Paddle bag, which holds just as much, the Onix is actually smaller.Yes smaller.Meaning it holds as much (if not more) than paddle shaped bags bigger than it.Here's a look at the two bags, side by side…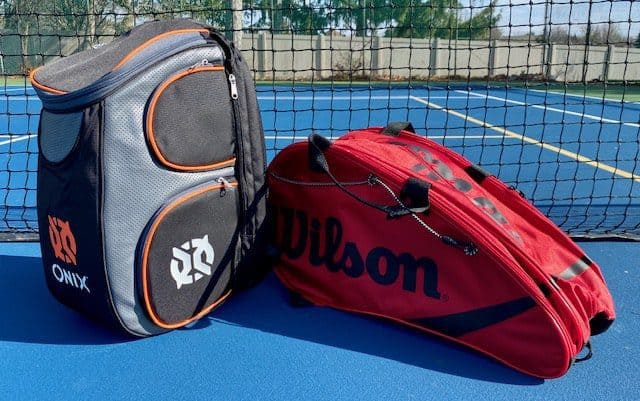 It's got tons of storage capacity but doesn't take up much floor real estate. Which also makes it easy to carry and store.You won't find another Pickleball bag with this much functionality, in this price range. It just doesn't exist. Trust me, I've looked.If you've got two or more paddles and like the idea of keeping your shoes separate (which can extend court shoe lifespan) then this pickleball bag is a no brainer.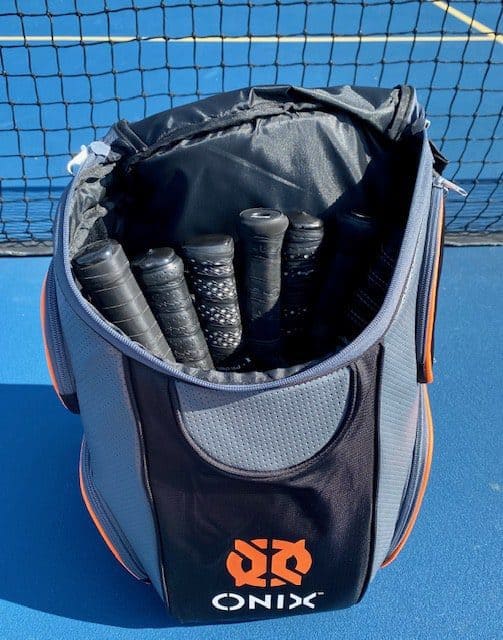 The Onix Pickleball Bag held all 7 of my paddles.The only thing I'd change is the size of the thermal pocket on the side. It's got a total of four side pockets for personal items, which is plenty. And one of them is thermal insulated to keep food cold.This is a nice feature that not all bags have but it's small. It's not big enough to hold a water bottle, which is probably the number one thing you'd want to keep cold. Instead, its shape and size is tailored towards something smaller….like a power bar or ham sandwich.Power Bars don't need to be cold and nobody is going to bring a ham sandwich to the pickleball court. See my point?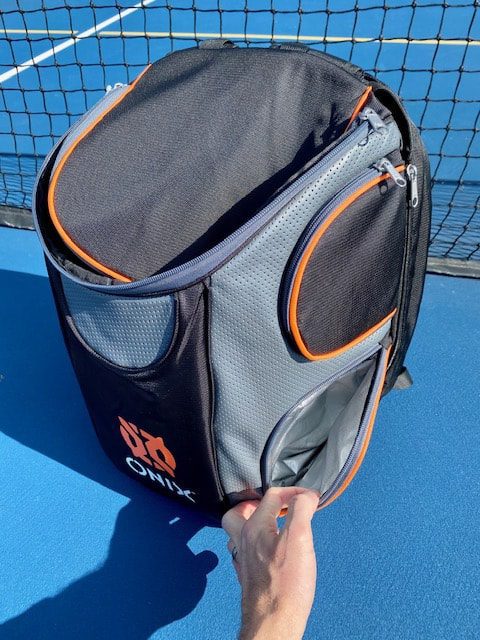 The thermal insulated pouch could be bigger.Overall though, there is just so much to like about the Onix Pickleball Backpack. It really has everything you need for a friendly afternoon at the courts or for a weekend tournament.It's super spacious without being bulky. It's has dedicates space for shoes and paddles along with every side pocket you'd imagine.All of this easily make it my top pickleball bag for 2020

Pros
Massive main storage area
Separate shoe compartment
Two separate zippered paddle slots
4 zippered pockets for personal items
Super comfy, padded shoulder straps
Sits upright when on the ground
Cons
Thermal insulated pocket is too small
Want An Upgrade Option?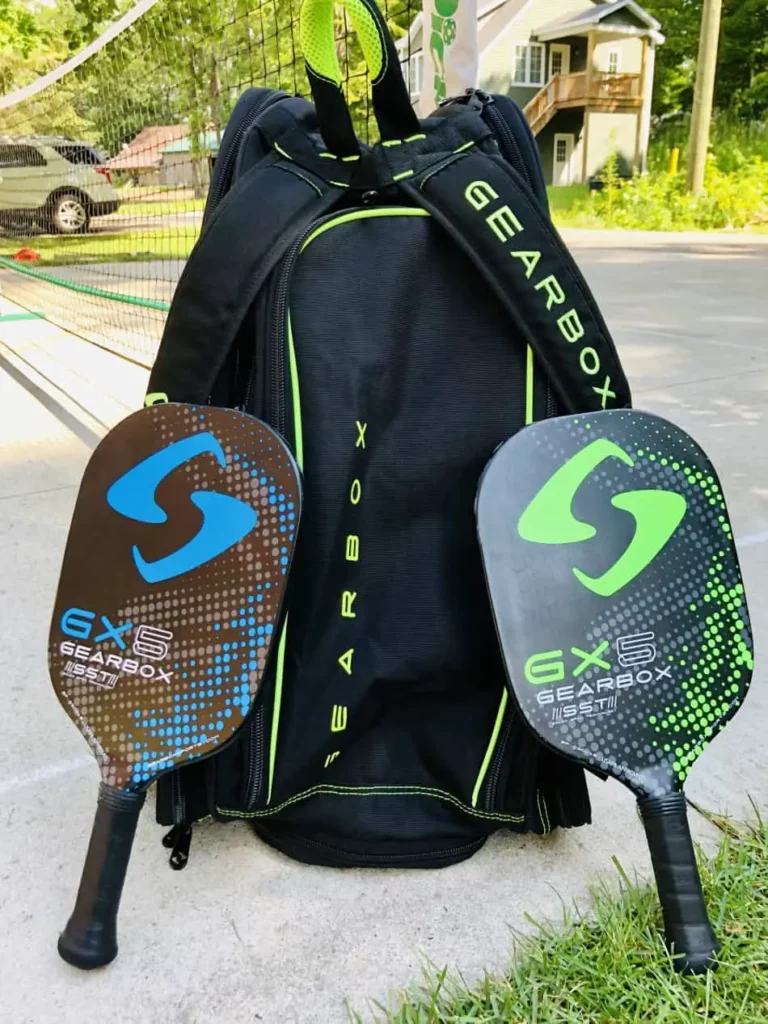 If you like the backpack style of Pickleball bag but need something a little bigger, try the Gearbox Pickleball Backpack. The Gearbox Pickleball Backpack is my choice if you're a serious Pickleballer who enters tournaments, and needs room for extra gear.My brother is a tournament player and this bag has served him well for two years. It's the perfect upgrade option from the smaller Onix backpack.
Best Pickleball Bags 2020 – My Choice For Top Duffle Bag Style
-The Game On Pickleball Duffle Bag-
If you're a simple person, don't need anything fancy, and just want to throw your gear into a bag and be done with it, then I've found the bag for you!The Game On Duffle Bag was SO roomy and SO spacious it almost took my top spot. When I bought it, I didn't envision myself being this impressed. I mean, it's just a small duffle bag.But looks can be deceiving.Apparently, bags that come in small sizes can offer a ton of space!And that's this bag's strongest feature!The amount of gear I was able to dump into this bag, zip it up and carry around comfortably was shocking!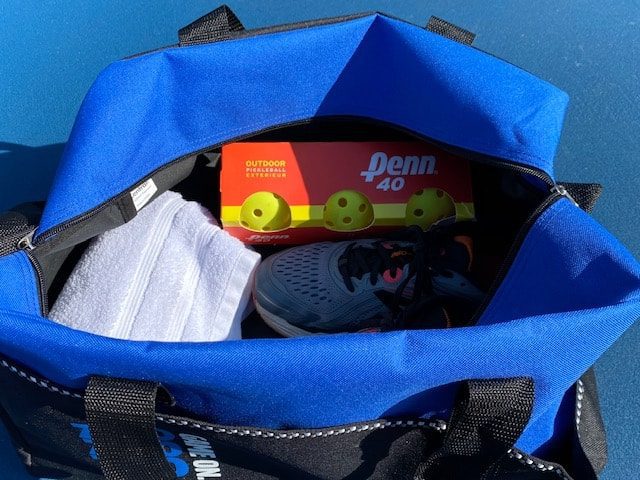 I basically took all the gear I packed into much bigger bags like the Wilson Rak Pak and Onix Backpack and wondered if the Game On Duffle bag could hold all of it as well. No way, I thought…this duffle bag is only a fraction of the size of those other two bags.I mean, just look at the size difference…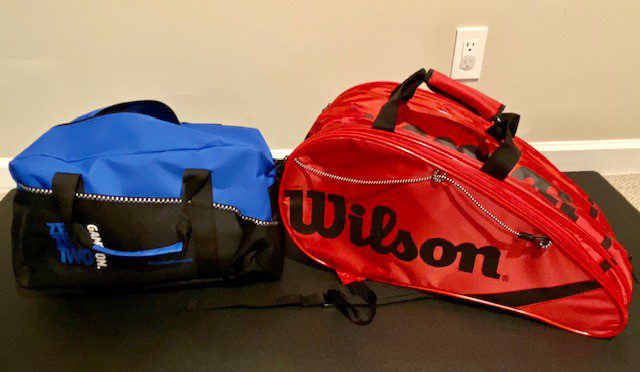 The bag on the left, held everything I put into the bigger bag on the right.There's no way but…I was wrong!It only features one main storage space in the center, like all duffle bags do, so I started piling the items in there.I was able to fit 7 paddles, a pair of shoes, a towel, a water bottle and a box of pickleball balls (set of three) in this thing!And I could zip it up!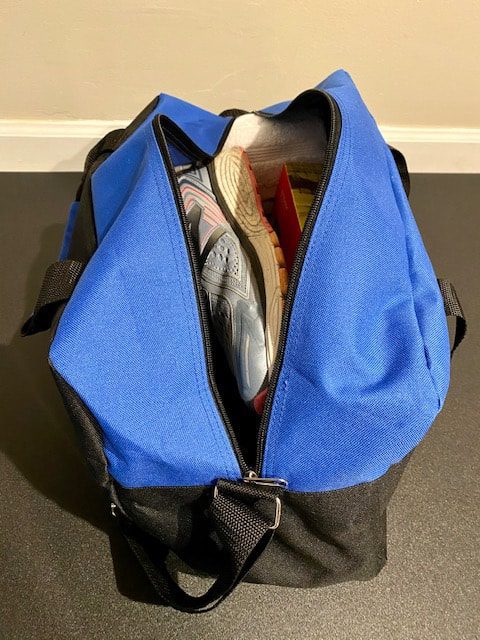 With all my gear inside, I could still zip this little bag up. Amazing!Now mind you, all these items were neatly placed inside this bag and I had to have my shoes sitting on top of the paddles to make it work. Then I put the towel, balls and water bottle in and off to the side.But it worked! I literally stood back and admired this set up. I didn't expect this cheap little bag to be able to do it!To top it all off, it's got a spacious side pocket along the outer edge for personal items. That is big enough for your wallet and cell phone, and even a snack of some kind.The straps to carry it are small but made of strong nylon so it's sturdy. Despite filling this bag to the brim, I never felt like I had overloaded it. I never felt like it was going to rip or tear it at the seams.Essentially, if you don't mind your things sharing space and want to just throw your gear in a bag and go….then I recommend a duffle bag. And this duffle bag is more than up to the task!
Pros
Held 7 paddles and shoes with no issues
Big open main storage space – 18"x10.5"x9"
Side pocket for personal items
Professional looking, doesn't appear cheap
Inexpensive – around $20
Comes in three colors: Red, Green and Blue
Cons
Would love if outside slip pocket was insulated
More color options would be good
Want Something Bigger?
As an upgrade option in the duffle bag arena, I recommend two. If you like simple, but just need something bigger, try the Pickleball Marketplace Medium Duffle Bag. It's got more room inside, more side pockets including a separate water bottle slot and is only around $30.
For something even more high quality for just a little more money, I'd recommend the WANDF Gym Bag. It's not a dedicated pickleball duffle bag but it's got plenty of storage including a separate wet pocket slot for shoes or sweaty clothes. It's a super versatile duffle bag, that's water resistant and folds up for easy storage.
Best Pickleball Bags 2020 – My Choice For Top Paddle Bag Style
-The Wilson Rak Pak Pickleball Bag-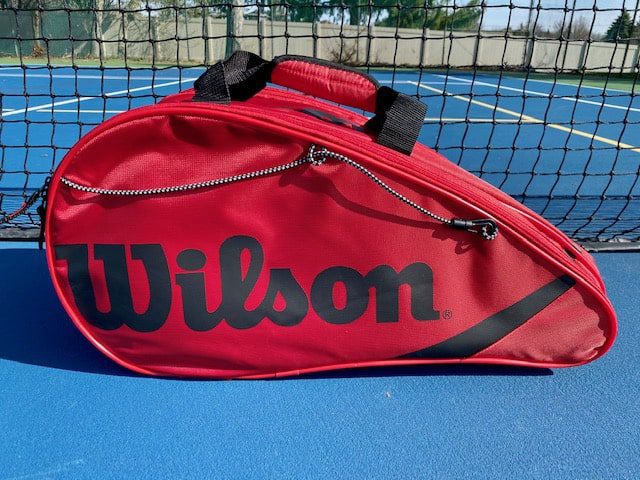 The paddle shaped style of pickleball bag is an interesting one.The shape of "paddle bags" as they are called, was inspired by popular tennis bags made nowadays to mimic the shape of modern day tennis rackets.The theory goes like this:A racket shaped bag can and should hold more rackets.Despite being in the shape of a racket, it takes subtle functionality cues from a duffle bag but is worn over both shoulders like a backpack.It's a hybrid bag of sorts. Part duffle bag, part backpack.This new shape and design trend took off in tennis. They're everywhere now!But does this shape and design work for pickleball bags too?Yes, it most certainly does! And I could make a case that this style of bag actually works better for the sport of pickleball than tennis because the equipment, namely the paddles, are smaller.Making for a smaller, easy to carry"racket" or in this case "paddle" shaped bag.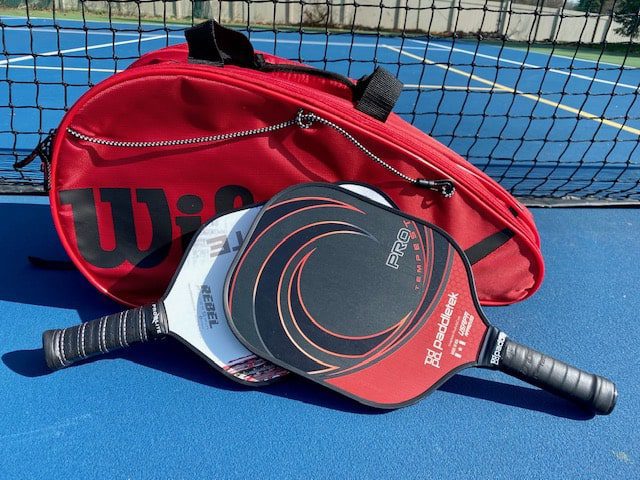 The tennis bags of this ilk are massive! They're too big in my opinion. They're uncomfortably bulky.Which is why I was apprehensive to try this pickleball bag made from Wilson.I was afraid, given its style and shape it would be too big and bulky like its tennis bag cousin.I was wrong.It wasn't massive at all. It was just the right size for this style of bag.And while it takes storage capacity and functionality cues from Wilson's line of bigger tennis bags (why shouldn't it), this pickleball bag is appropriately shrunk down to fit the game of pickleball just perfectly.It truly is made for pickleball. It's not a tennis bag in disguise. It literally is designed to hold only one kind of racket – a pickleball racket.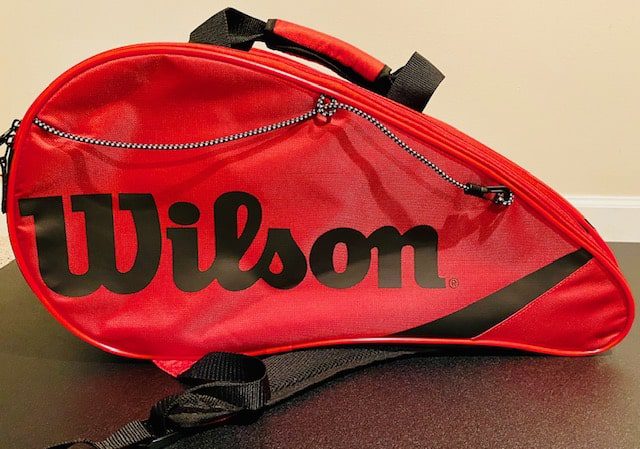 In fact, my one change would be to make that side personal item slot bigger to actually fit a paddle and move the personal item pocket on the opposite side of the bag – where there is nothing.But those are small gripes. I found the Wilson Rak Pak Pickleball bag to be extremely easy to carry, light on the shoulders and perfectly designed to hold all my gear comfortably.
Pros
Fancy side paddle pockets keep your paddles in their own padded slot
Easily holds 8 paddles
Main compartment great for separate shoes
Easy to carry, padded shoulder straps
Not overly big in size
Designed specifically for pickleball
Cons
No dedicated shoe area
No separate sweaty clothes spot
No thermal insulated compartment
Only one personal item pocket
Best Pickleball Bags 2020 – My Choice For Top Sling Bag
-The Franklin Sports Pickleball Sling Bag-
I've tried many sling bags for pickleball and one bag keeps topping them all.The Franklin Sports Pickleball Sling Bag just out does the competition buy simply having more room and a better overall design.In fact, I recently tried the Pickleball Fanatic Sling Bag thinking it might be as good or better than the Franklin Sports Bag.It wasn't even close…check out the pic below. I couldn't even fit three paddles in it and zip it up.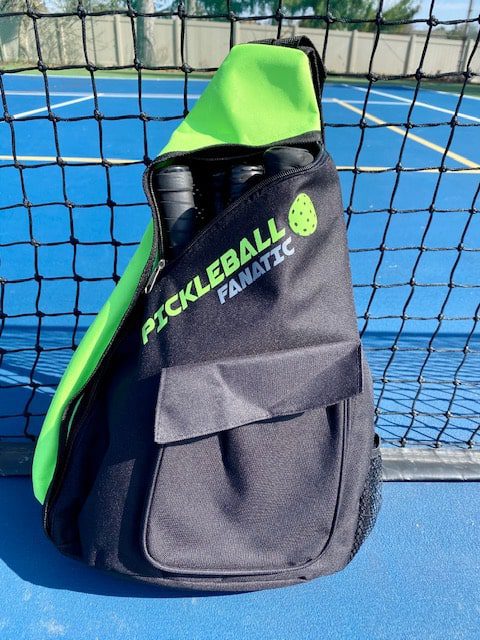 I had trouble fitting three paddles into the Pickleball Fanatic Sling BagWhere other sling bags offer a small main compartment and very little personal items space, the Franklin Sports Sling Bag gives you more.3 more to be precise.This is the only pickleball sling bag I've found to offer three zippered pockets.
Compare it to the Pickleball Fanatic Sling Bag which only has one zippered main pouch and a tiny velcro pouch for small items and you'll immediately begin to appreciate why Franklin sells more of their sling bag versus everyone else.
With two large zippered slots you can simply carry more paddles.
Other sling bags would struggle to fit two paddles and a bottle of water with a towel.The Franklin Sports Sling Bag does not.And for a little over $10 more, why not be able to carry more?It's also got a thick padded strap that is adjustable so that your shoulder doesn't get worn out.There really is no other choice. What is the best pickleball sling bag? It's hands down the Franklin Sports Pickleball Sling Bag.This little bag also comes in five different colors. Black and green (shown), black and grey, black and blue, all gray, and gray and pink for the ladies.
I don't even have an upgrade option for you.For under $30, this is the only sling to consider.
Pros
3 total zippered pockets
Holds 2 paddles and other gear easily
Comes in five colorful schemes
Holds more gear than other cheaper sling bags I've tried
Made from really high quality, durable nylon
Most professional looking sling bag out there
Cons
No thermal insulated compartment
Personal item pouch could be a little big
Best Pickleball Bags – Final Thoughts
So there you have it. In 2020, those are the best pickleball bags I've tried and used.My top pick still remains the Onix Backpack for its space functionality and affordability.Keep scrolling down for my top pics from last year.What bag do you carry to the courts? Leave a message below and let me know!Happy pickleballing!
Best Pickleball Bags From Previous Years: 2019 and Before
Once the sport has you hooked and you've bought the two fundamental pieces of equipment (proper court shoes and the right paddle) you might be in the market for a dedicated pickleball bag.
There are a wide range of pickleball bags available on the market today ranging from sling bags, to duffel bags, backpacks and even tote bags. All of these come in a vast array of colors, sizes, styles, and functions. There are even pickleball "paddle" bags or covers, dedicated to keeping just your paddle tucked away safely.
In this post, we're going to be giving you a run down of the very best pickleball bags on the market today across ALL bag types. So, whether you're looking for a simple sling bag to hold a paddle or two and some balls, or a complete duffel bag to carry paddles, balls and clothes – we've got you covered and have found the best pickleball bags to fit your needs.
4 Types of Pickleball Bags
When you're searching for the best pickleball bag to purchase you'll be presented with four primary choices: a smaller "sling bag", a traditional "duffel bag" style, a "backpack" and even a "tote bag." Each type of bag has its respective virtues and depending on you're needs, can offer what you want at a reasonable price. We will cover the best pickleball bags available for each style in more detail below, but first, let's talk about what each style offers you the player.
Pickleball Bags – Sling Bags
Sling bags are the most popular type of bag for pickleball players and generally speaking, offer a great combination of comfort, portability and functionality.
They are designed to mimic a pickleball paddle's tear drop shape to comfortably hold your repertoire of paddles. Sling bags do not typically offer separate storage compartments so as long as you're okay with most of your gear sharing the same space, you'll be fine.
However, they DO offer smaller items like cell phones their own space along the sides, to prevent larger items in the main area from causing accidental damage. Fitting a minimal amount of gear will be easy with sling bags and they won't wrench your shoulders all the way.
Good pickleball sling bags have either a double cinch strap to comfortably throw over both shoulders, or one large padded shoulder strap that comes across your chest. Overall, sling bags make a great choice if you're looking for a simple, lightweight bag that is easy to carry around and hold you're basic pickleball gear (paddles, balls, water bottle, personal items etc).
Pickleball sling bags are an excellent option for the no-frills player who wants to easily "sling" their bag over their shoulder and arrive at games unencumbered and ready to play.
Pickleball Bags – Duffel Bags
When you need to carry more than just the basics, you'll want to look for a larger duffel bag for your pickleball needs.
True to a traditional duffel or "gym" bag type of approach, pickleball duffel bags feature a large expansive main interior compartment that can house all of your essentials that you would need during a friendly game or weekend tournament.
Pickleball duffel bags are typically large enough to carry up to 4-6 paddles, towels, shoes, water bottles, snacks, a change of clothes and more!
Additionally, many of the better pickleball duffel bags on the market will feature an array of exterior pockets for quick-to-reach convenience of keys, cell phones, and sunglasses. Simply put, you can't beat a pickleball duffel bag's size and functionality.
If you're playing for extended periods of time at a gym, recreation center or even a tournament, we highly recommend going with a duffel bag.
Pickleball Bags – Backpacks
With pickleball backpacks, the name of the game is "organized storage." Nothing offers a more systemized approach to holding your pickleball gear than a backpack.
Pickleball backpacks offer way more room than a sling bag and are designed to be more coordinated than a duffel bag. Do they offer as much room as a duffel bag? No, but with two main compartments to separate your larger items, and a plethora of zipper side pockets and flaps, pickleball backpacks offer way more structure to how they hold your pickleball items.
In addition, if comfort is king and you want something that is supremely easy to carry, nothing is easier on the shoulders and lower back than a backpack. You'd be surprised what you can fit in a backpack as well…paddles, shoes, clothes; they all fit comfortably thanks to separated compartments held within the main zippered chamber.
If you want storage space without the bulk of a duffel bag, we recommend you check out a backpack – it could be the best pickleball bag based on your needs.
Pickleball Bags – Tote Bags
Pickleball tote bags just started trickling into the market and offer a great alternative to sling bags. Tote bags fall somewhere in between a sling bag and a duffel bag.
They offer slightly more room and accessibility than a sling bag, without the size and bulk found in a large duffel bag. You could say, it's a "tweener" bag and offers a little bit of everything.
The tote bags on our list are more geared towards female players looking for a practical pickleball bag with less of masculine feel and more style. Inside a good pickleball tote bag you'll find plenty of space in the large main compartment while offering simple side zipper pockets to safely store smaller personal items.
Most tote bags can comfortably hold 3-4 paddles with extra room for other smaller pieces of pickleball equipment. Portability for pickleball tote bags depends on your personal needs.
Some tote bags just have long handles and do not offer shoulder carrying options while some may offer both. It's important to look at these carrying options so that you find the right level of comfort while transporting your gear.
Closing Thoughts
Whether you are a 5.0 player or a beginner who has been freshly inaugurated to the sport of pickleball, choosing the right pickleball bag is important.
Before making your purchase, consider your expectations of a bag and ask yourself if you need compartments and pockets to store important accessories, a spacious interior that can house up to four pickleball paddles, or do you really just want a convenient option that you can throw over your shoulder and take to the court while protecting your paddle?
Are you looking for space and functionality or something durable, simple and lightweight? We hope this comprehensive breakdown of the best pickleball bags gives you a great place to start so you can buy the best bag that meets your specific needs.
Please leave a comment below! Let us know what your favorite bag is and why, we'd love to hear from you!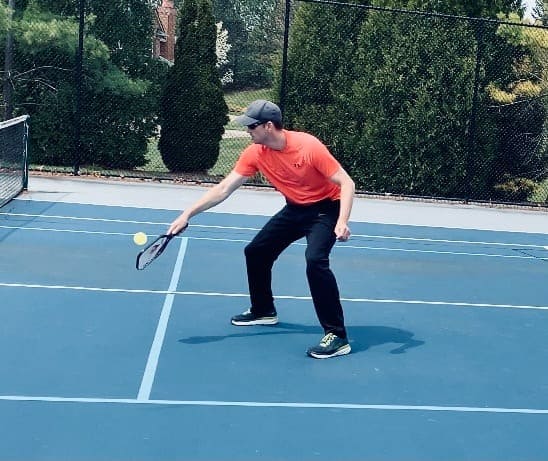 Welcome to TheVolleyLlama.com. My name is Keith, I'm just a lover of all sports that involve a racquet, net and a ball. I played competitive high school varsity tennis, love racquetball and my whole family plays pickleball regularly. I started this website to help give people like you the basics to learn these wonderful games.