Best Indoor Pickleball Balls – Jugs Review and More!
Indoor Pickleball Balls – The Facts
Ever wonder what the difference is between an indoor pickleball and an outdoor ball? Can you play with an indoor ball outside? Can you play with an outdoor ball, inside? And finally, which brand has is the best indoor pickleball balls? We'll answer ALL these questions!
Despite all the different (and sometimes subtle) variations in pickleball balls, there are basically two kinds. Indoor pickleball balls and outdoor balls. In this post, we're going to discuss the four most popular indoor pickleball balls and tell let you know which one we like the best.
There are many different brands but we tend to like these brands the best: Jugs, Onix, Dura Fast from Pickleball- Inc, and Gamma. Pickleballs come in tons of color variations but color really has no bearing on performance. Performance is going to to come down to the specs of the ball.
The specs of an indoor pickleball are slighly different than an outdoor ball. Let's review…
Related: Ever wonder why some paddles have larger sweet spots than others? I interviewed four paddle experts and got the facts. What I learned, shocked me!
Pickleball Material – The Plastic Touch
To start, the common indoor pickleball is made of a softer plastic and has larger holes compared to the outdoor ball. The indoor ball also has fewer holes. This allows for the ball to response to the indoor court surface a lot better. The softer plastic has more give, allows for quieter play and better control. This also means rallies with an indoor ball tend to last longer.
Average Bounce Height
The softer plastic of the indoor pickleball ball allows it to bounce significantly higher than outdoor balls. That's a big reason why they're easier to control. The average bounce height of a good indoor ball is 37 inches! The average bounce height for an outdoor ball is closer to 31-33 inches.
Average Weight and Diameter
Indoor balls are quieter because they're lighter and slightly smaller than an outdoor ball. The approximate weight and diameter of an indoor pickleball are around .81 oz and 2.8″. The weight and diameter of the average outdoor ball is .88 oz and 2.9″ in diameter.
Are They Interchangeable?
Technically, you could play with any kind of ball on any kind of surface. But we don't recommend it. Playing with an outdoor ball, indoors is tougher. You'll lose control and accuracy on your shots.
Playing with an indoor ball, outdoors is more common and may actually lead to better play; depending on the weather. The only draw back to playing with an indoor ball outside is that the lighter indoor ball can tend to sail on you. If the weather isn't calm, the lighter indoor ball with larger holes may get caught by the wind a little.
Wear and Tear
General wear and tear is going to happen to any piece of equipment. Your pickleball ball is no different. However, indoor balls wear out differently than an outdoor ball.
Indoor balls are going to last longer due to being played inside but, over time they may begin to soften. If you notice your ball has become alot softer lately, it's time to replace it.
The good news is:
indoor pickleball balls rarely loose their shape and almost never crack or split…this is much more common in outdoor balls.
The Jugs Indoor Pickleball
The Jugs Indoor Pickleball Balls are among the best-selling pickleballs on the market, but contrary to popular belief they can be used outside as well. Jugs are constructed using soft plastic and while they are best suited for indoor play, their versatile design allows them to be used outdoors on dedicated pickleball courts, like at a professional tournament, with little issue…as long as the weather is generally calm and mild. Any inclement weather is going to have it's way with most indoor balls.
The balls are available in a bright-lime green shade that instantly adds color to your pickleball gear. The are also available in a standard white color too. Jugs have been approved by the USAPA and the IFP. The balls have a nice bounce and can be used by all types of players, whether you are a beginner or an experienced player.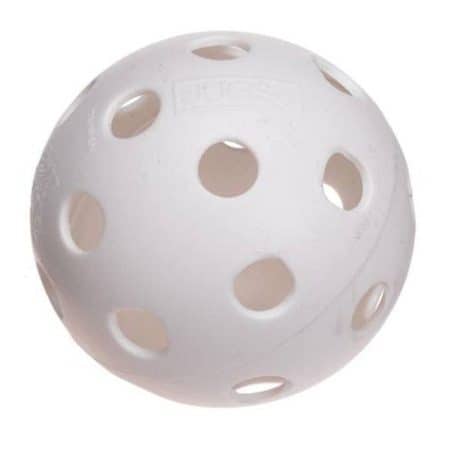 Features of Jugs Indoor Pickleball Balls
Constructed using soft plastic
Features large holes for extra bounce
Highest average bounce height for any indoor ball – 37 inches
Uniform holes for greater accuracy
Measure 2.875" in diameter
Weighs about .85 ounces
Available in 2 colors, i.e. white and bright lime-green
Pros of Jugs Indoor Pickleball Balls
Brilliant Performance: Jugs pickleball balls are specifically designed with larger holes and are lighter in weight than other balls on the market, further validating their brilliant performance.
Suitable for any Hard Surface: The soft plastic ball performs well on practically any hard surface, be it tile, cement court or hardwood surfaces. You can pack a set for all your indoor and outdoor games without worrying about inconsistent performance.
Suitable for Everybody: Whether you are a beginner or an experienced player, Jugs Pickleballs can be used by anybody.
Great Bounce: The ball's slightly textured surface and soft build allows it to bounce off the ground at high speeds, better than most pickleball balls available on the market.
Produces a Noticable "Pop" Sound: The game of pickleball has become known for it's trademark "pop" sound when the ball hits a paddle or the court. The Jugs balls have the most pop in them and can achieve an impressive height of 37" when bounced.
Best Value: Get a pack of 12 balls at an incredibly affordable price. This is a no brainer, Jugs offers a great value for its low price. This offer is exceptionally beneficial for people who wish to buy pickleball balls in bulk for recreational centers and other organizations.
Approved for Tournament Play: Since Jugs have been approved by the USAPA and the IFP, they can be used for tournament play. This gives the Jugs brand an extra level of credibility and should give any consumer peace of mind.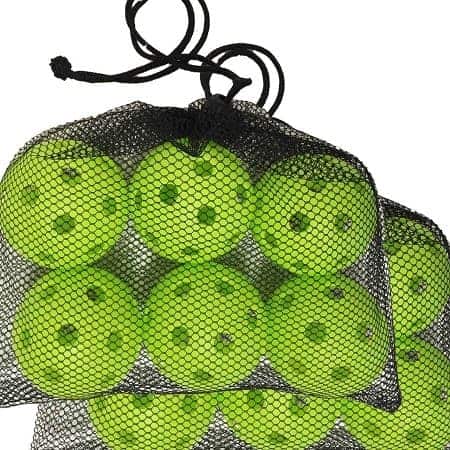 Cons of Jugs Indoor Pickleball Balls
Slightly Uneven: Some players have noticed that the pickleballs have an uneven equator seam. However, this is rare and does not impact performance. Additionally, this can be resolved with the broadside of a sharp knife edge.
Limited Color Choices: While players can choose from bright lime-green or white, we would love to see one of the industry leaders offer more choice, such as yellow, red, pink or blue.
Design Best Suited for Indoors: While the instructions do state the balls can be used for outdoor play, they're design is slightly tailored to the indoor pickleball court. If you're using a portable net, and playing on a very uneven surface outside, consider an alternative.
Verdict
Jugs Indoor Pickleball Balls are a must-have for players who want to practice the sport daily but do not want to damage their expensive gear. The affordable price makes the product a best-seller despite having minor durability issues. The Jugs Indoor Pickleball is out top picks because of it's best in class bounce height of 37 inches!
The Onix Pure 2 Indoor Ball
Onix gained popularity with their Pure 1 indoor ball and followed that up with an even better dedicated indoor ball in the Pure 2. Onix specifically engineered this ball for indoor play and claims it holds its shape longer, flies straighter and has a more accurate bounce return compared to the Pure 1. This is all done through their proprietary technology called "True Flight Technology".
If you're looking for a ball that has consistency regardless of paddle type, this could be the ball for you! The Onix Pure 2 comes is two colors; yellow and orange (featured) and is approved for tournament play by the USAPA.
Features of Onix Pure 2 Indoor Pickleball Balls
Two piece construction, seamed ball
Features larger holes and thicker plastic for optimal performance
Average bounce height – 33 inches
Uniform holes for straighter flight and consistent bounce
Measure 2.875" in diameter
Weighs about .81 ounces
Available in 2 colors: yellow and orange
Pros of Onix Pure 2 Indoor Pickleball Balls
Peak Performance: The Onix Pure 2 features "True Flight Technology" designed from the ground up to improve bounce height, flight accuracy and overall consistency.
Precision Drilled Holes: Despite using thicker plastic than most indoor pickleball balls, Onix delivers perfectly round holes using precision drilling to ensure accuracy across many indoor surfaces.
Package Variety: The Onix Pure 2 comes in a variety of package options, depending on how many balls you need. You can purchase balls in packs of 3, 6 or 12.
Unique Visibility: Onix's decision to offer a rare orange color makes the ball easily visible across different indoor courts. The Onix Orange makes it one of the most visible pickleball balls on the market!
Approved for Tournament Play: The Pure 2 is sanctioned and approved for USAPA Tournaments.
Cons of Onix Pure 2 Indoor Pickleball Balls
The two piece heat weld approach can lead to an uneven seem, but it's rare.
Only two color options makes for a limited variety. We'd like to see a line green color to offset some indoor court patterns for easier visibility.
Bounce height is average for an indoor ball. Second best to the Jugs ball.
The Dura Fast Indoor Ball by Pickleball-Inc.
The DuraFast ball is a popular ball because of it's larger holes. The DuraFast line of balls from Pickleball-Inc come designed for either indoor play or outdoor play. The big hole indoor ball is lighter than it's outdoor brother because of the larger holes. It's also made from a one piece construction mold (unlike the Onix Pure 2, which is a two piece mold) so in effect, it is seemless.
If you're looking for the best indoor pickleball ball, and select the DuraFast, make sure you've selected the "indoor" version. With the DuraFast line of balls, it can be easy to confuse the two and accidentally purchase the outdoor ball. More online retailers carry the outdoor ball than the indoor ball so it can be harder to find the indoor ball at times. That's why we recommend going through our direct link to Amazon to get the correct ball; for indoor play.
Features of the DuraFast Indoor Ball
One Piece construction mold for seemless round edge
Larger holes make for a lighter ball vs. outdoor balls
Larger holes slow the ball down making it easier to hit
Average bounce height – 31 inches
Measure 2.9375" in diameter
Weighs about .92 ounces
Available in 3 colors: yellow, orange and white
Pros of the DuraFast Indoor Ball
Larger holes make it an easier ball to hit becasue the speed is slowed down
Larger holes make it a good ball for those that love spin
One piece construction is a big plus, virtually no issues with seems
No cracks or breaks – VERY durable
Cons of the DuraFast Indoor Ball
Poor bounce height compared to the Jugs ball
Despite larger holes this ball is slightly heavier than other balls on our list
Online buyers beware, these indoor balls are hard to find (we recommend going through our link below)
The Gamma Photon Indoor Pickleball
Gamma is well known and respected name in the growing world of pickleball. The neon green Photon Indoor Pickleball Ball is one of their flagship pickleball products and is widely considered one of the tougher more durable balls on the market. Despite it's two piece design, Gamma took special care in creating a ball that is balanced and ideal for consisant bounce rates for indoor play. Gamma claims their indoor balls have a thicker construction than some outdoor balls, making the Photon Indoor ball extra touch and crack resistant.
The 26 evenly drilled holes offer great reliability and a bounce height of 33 inches earning it approval from the USAPA as an approved tournament indoor pickleball.
Features of the Gamma Photon Indoor Pickleball
Touch, thicker two piece plastic molding made to last longer
Precision drilled holes designed for greater accuracy and better durability
Average bounce height – 33 inches
Measure 2.9" in diameter
Weighs about .85 ounces
Optic neon green color makes for exceptional visibility across most indoor court
Pros of the Gamma Photon
This is easily the toughest ball on our list designed to withstand cracks and uneven wear and tear better than most indoor balls. This is all due to the thicker, stiffer plastic used during the molding process.
The 33 inch bounce height is second only to the Jugs ball, response and placement is solid.
This is a great ball to help transition from indoor play to outdoor play. Outdoor balls will not feel as foreign having played with the Photon indoors.
Like all others on our list, the Gamma Photon passes the USAPA requirements and is approved for tournament play.
Despite being thicker than most outdoor balls, it's rather light coming in under .9 oz. (most outdoor balls weigh over .9 ounces).
Cons of the Gamma Photon
Touch, thick design can feel stiff at first and takes some getting used to
Lacks a variety of color options
Isn't as soft as the Jugs ball, putting touch on the ball is a little different with the Gamma Photon
Final Verdict – The Best Indoor Pickleball is…
The Jugs indoor pickleball! All four balls on our list offer great performance and will treat any pickleball player well. But, the Jugs ball stands out across metrics: weight, feel, bounce height and durability. It's soft plastic is perfectly design for indoor play and can even be used outdoors if need be. Give it a try today, we highly recommend it!
For more reviews on paddles, nets, paddle bags and more see our Reviews Page here: Reviews & Gear.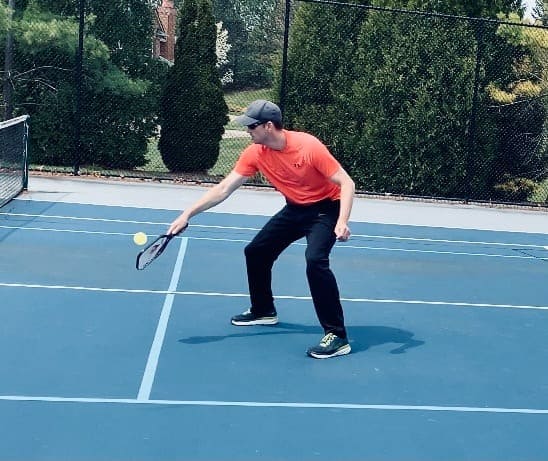 Welcome to TheVolleyLlama.com. My name is Keith, I'm just a lover of all sports that involve a racquet, net and a ball. I played competitive high school varsity tennis, love racquetball and my whole family plays pickleball regularly. I started this website to help give people like you the basics to learn these wonderful games.