If you've recently purchased a brand-new pickleball paddle, you may want to spend a little extra money and consider buying one of the best pickleball paddle covers on the market. This will help keep it in good condition. New pickleball paddles, like the ones we listed in our Best New Pickleball Paddles, can cost a fair amount of money, why not protect it?
Related: Ever wonder what kind of paddle material tends to lead to more miss-hits or why some paddle have smaller sweet spots? I interviewed 4 paddle insiders, what I learned will shock you!
Why You Need a Pickleball Paddle Cover
If you've spent $100 or more on a good high-end paddle, you'll want to protect it. Dropping a brand new paddle can cause dents, dings and cracks. A dent in the face of the paddle can alter the paddle's sweet spot, hurting accuracy and performance.
If the paddle has an edge guard and that gets dinged up, the paddle's overall feel and weight distribution can be altered. These are all bad things if you play on a regular basis. Pickleball equipment isn't cheap.
Keeping it nice and taking care of it is crucial and the best way to do that for your paddle, is a paddle cover. In today's post we're going to look at the best pickleball paddle covers currently available.
Now, when we say pickleball paddle cover, we're not talking about a pickleball bag like the ones featured in our Best Pickleball Bags post. Those are true pickleball bags meant to carry ALL of your pickleball equipment…like balls, paddles, shoes, a towel and a water bottle etc.
Ideally, you'd put your pickleball paddle cover over your paddle, and then slip the entire thing into your sling bag or duffle bag.
See below for the difference between a pickleball paddle cover and a pickleball bag.
BEST Pickleball Paddle Covers
 
1. Pickleball-X Paddle Carry Bag
The Pickleball-X Single Paddle Carry Bag is easily the best paddle cover on our list because it offers the total package.
It's durable nylon material is tough and ready for the wear and tear of weekly tournaments and daily practice at the YMCA. It features an adjustable shoulder strap for easy transportation and if you're playing outside, just use the fence hook to keep it off the ground.
Inside the cover we get enough space to hold a single paddle in it's entirety. Other paddle covers only cover the face of the paddle, leaving the grip and handle exposed. This paddle cover however, made from Franklin Sports, wraps your premium paddle up in a soft, padded blanket like interior and securely zips shut.
You see this type of paddle or racquet bag all the time in tennis. It's the same thing the tennis pros use to carry their racquets. So why not do the same for your pickleball paddle? To top it off, the Pickleball -X cover is the most inexpensive option on our list of Top 5.
These are the reasons why the Pickleball-X paddle cover has become the Official Bag of the US Open Pickleball Championships AND our Top Pick Pickleball Paddle Cover!
Features of the Pickleball-X Paddle Cover
Stylish design and durable nylon material stand up to heavy use
Adjustable shoulder strap and fence hook make carrying easy
Zipper and padded interior make slipping your paddle in and out simple
The Official Bag of the US Open Pickleball Championships and very inexpensive on Amazon
Potential Drawbacks
It only comes in one color scheme and design, no color variations
Shoulder strap is on the shorter side

2. The Selkirk Pickleball Paddle Cover
This paddle cover is very similar to the Pickleball-X featured above in our top spot. Like the Pickleball-X, it completely covers the paddle from head to toe and has a shoulder strap for easy access.
This pickleball paddle cover comes from Selkirk. Selkirk is a household name in the game of pickleball. In fact, they make some of the best gear in all of pickleball right now. From hats to gloves, Selkirk knows what they're doing.
In my opinion, you could call this pickleball paddle cover a "bag" but it's not a true bag in the sense that you cannot carry a towel, water bottle, shoes and a change of clothes in it.
Nonetheless, the will cover the entire paddle and comes with a convenient zipper so it can fit any shape of paddle.
Features of the Wolfe Sports Pickleball Cover
Designed and manufactured by Wolfe Sports, a well known name in pickleball accessories
Holds any sized paddle from head to grip, even widebody paddles, comfortably
Felt liner inside treats graphite or composite paddles beautifully
Adjustable strap for easy transportation
Potential Drawbacks
More expensive than our Top Pick, the Pickleball-X Cover
No color options, lacks curb appeal cosmetically

3. The "Big Dill" Pickleball Paddle Cover
The Big Dill Pickleball Paddle Cover is one of the better sellers on the market today largely due to its affordable price tag and premium neoprene construction. The folks at Big Dill Pickleball designed this cover to protect against dings and cracks (from accidental drops) but also moisture protection as well.
The last thing you need is your water bottle leaking onto your paddle while in your duffle bag and warping your good composite or graphite paddle face. Any slight alteration to the face of any paddle type can impact a paddle's performance.
The Big Dill Pickleball Paddle Cover aims to keep that from happening at all times. I like the two color schemes available (black and green) but wish there were more options.
Based on the dimension lof this cover, it can hold any type of paddle shape. From blade shape to wide body, you're covered. But keep in mind that the handle of the paddle is not covered.
Features of the Premium Protection Pickleball Paddle Cover
Designed to protect against dings, cracks and moisture
Affordable price
Constructed from premium Neoprene material
Fits wide body paddles just fine, 8 inches wide is not an issue
Potential Drawbacks
Comes in just two color schemes, green and black

4. The Zero Zero Two Neoprene Pickleball Paddle Cover
This paddle cover from Pickleball Central is made from a durable neoprene material designed to absorb the wear and tear of dropping your paddle.
Arguably the most popular pickleball paddle cover on the market, this cover features a handy zipper that runs along side the edge of the paddle. This is unique because some paddle covers that use zippers, have the zipper running up the face of the paddle and back down the other side.
This can be a hassle. It's like trying to get a pillow into a pillow case that has the opening right down the center of the pillow case. Not ideal. This paddle cover avoids that headache completely!
The material has some flexibility to it as well, allowing for it to fit almost any paddle; even oversized paddles like the Bantam EX-L from Paddletek. Plus we love the "Zero, Zero, Two" graphic as an added cosmetic bonus! It should be noted, as with all flexible neoprene covers, the longer the paddle the more likely it is that your paddle may not fit as well. Research your paddle length, anything beyond 15.5″ is risky.
Features of the Neoprene Pickleball Paddle Cover
Durable Neoprene material for optimal protection against dings, scrapes and chips to your paddle face and edge guard
Fits most paddle types, shapes and sizes
Unique edge zipper makes it easy to slip on and take off
Comes in four colors: Green, Gray, Blue and Pink
Potential Drawbacks
The Neoprene cover does not cover the paddle completely, the grip is exposed and longer paddles won't fit as well

Our Final Verdict: The Pickleball-X Paddle Cover Reigns Supreme
Pickleball paddle covers should offer the everyday pickleball player a simple, reliable way to keep their paddle safe from bumps, bruises or wear and tear from the sun.
We like the Pickleball-X cover best because of it's combination of durability, materials it's made out, design and inexpensive price tag. You've spent enough money on a high-end paddle, you shouldn't have to fork over tons more cash for a cover.
It's also lightweight, holds all paddle types comfortably and doesn't leave the grip exposed. You can also throw the whole thing inside a duffle bag if you're carrying more equipment. It offers a combination of all the right features a paddle cover should offer, at the right price.
Click here for more pickleball equipment info and reviews!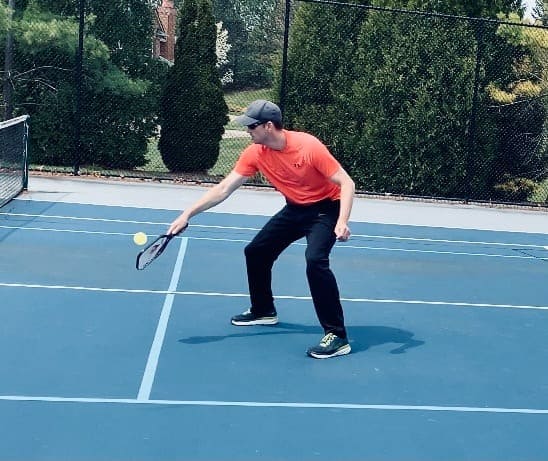 Welcome to TheVolleyLlama.com. My name is Keith, I'm just a lover of all sports that involve a racquet, net and a ball. I played competitive high school varsity tennis, love racquetball and my whole family plays pickleball regularly. I started this website to help give people like you the basics to learn these wonderful games.