The Wilson Rush Pro 3.0: The Most Durable Court Shoe Ever
Welcome to my review of the Wilson Rush Pro 3.0 court shoe. Most of the reviews of the Wilson Rush Pro 3.0 that you'll find online are going to be generic "retellings" of the manufacturer's specs and description with some colorful commentary sprinkled in.
That's not how I decided to do this review because that's not as helpful to you, the reader. If you're going to read a review, the reviewer (me) should have actually worn and tried out the shoe; right?
So, I bought, and wore the Wilson Rush Pro 3.0 for three weeks and in this review I'll dissect it as a worthy or unworthy pickleball shoe. Is the Wilson Rush Pro 3.0 any good? Is it worth its roughly $100 price tag? Well, in my opinion it is a great pickleball court shoe and is a steal at around one hundred bucks!
Let me tell you why….
Who Is the Wilson Rush Pro 3.0 For?
Let's start by analyzing who the Rush Pro 3 is for.
Before I go any further, let me clarify that this shoe is technically a tennis shoe. Is it a dedicated court shoe designed for solely pickleball like the K-Swiss Express Light? No.
Does that matter? No. It's a court shoe. And a damn good one.
So that means, it's good for pretty much any court surface you might play on – including a pickleball court. In fact, it's durability is what makes it one of the more popular court shoes for more demanding sports like platform tennis.
In the end, Wilson designed this court shoe as a tennis shoe. But part of this shoe's unique durability quality is that it can be played on an outdoor tennis court, an indoor tennis court, an outdoor pickleball court, a platform tennis court and even perform just fine on an indoor pickleball court too.
It's a "jack of all trades" type of court shoe and was designed to take a beating and keep on going.
I bolded the word DURABLE in the two paragraph's above because, that is who this shoe is for. It's designed for someone looking for extra durability in their pickleball shoe.
If you're like me and tend do blow through tennis shoes rather quickly, then Wilson designed this shoe for you!
I usually wear out court shoes within 6 months and the shoe begins tearing at the seam around my pinky toe because I have a wide foot. The Wilson Rush Pro feels tight, sturdy and up for the challenge when wrapped around my foot.
And best of all, it comes with a 6 month outsole guarantee! Meaning if the outsole (the rubber bottom of the shoe) wears out before 6 months, you get to return it for a full refund!
It's quiet simply, the most durable court shoe I've ever worn!
But don't let it's rugged exterior fool you, it's got comfort that would make a pillow jealous…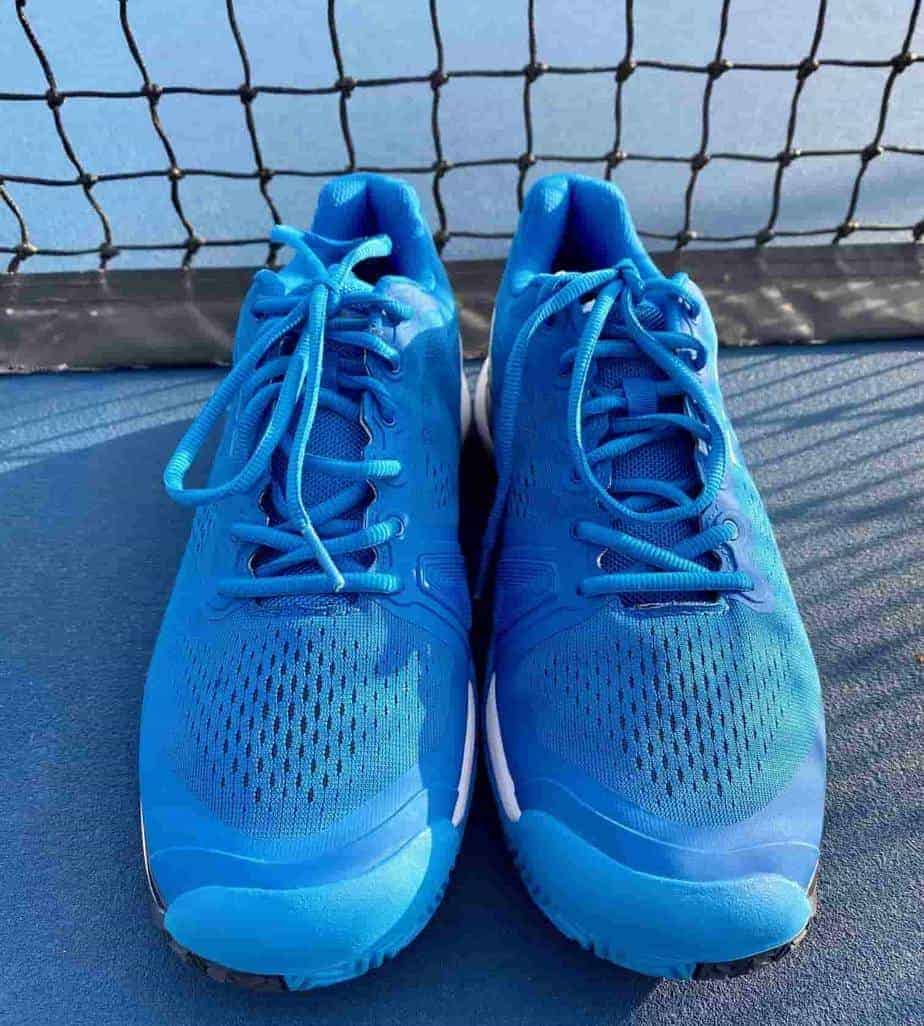 Overall Comfort
When assessing a court shoe's overall comfort, I always try to keep in mind that everyone's experience is going to vary.
"Comfort" is a subjective thing. Something that is comfortable for me may or may not be comfortable to you. But, since I've tried on and worn the Rush Pro 3.0, I can confidently give you a good idea as to where it stands from an overall comfort stand point.
First off, it should be noted that I bought and compared the Rush Pro 3.0 to two other court shoes for pickleball. They were the K-Swiss Express Light and the HEAD Revolt Pro 3.0.
Knowing how the Rush Pro series has been known for being extremely durable, I was expecting the Wilson Rush Pro 3 to feel rough and more rugged and less comfortable compared to other court shoes but in the end, I loved wearing it!
It is surprisingly comfortable for a shoe designed around the idea of providing supreme durability.
But that's where the benefit of improving upon previous iterations comes in.
Wilson has come a long way from the Wilson Rush Pro 2 and 2.5 versions and has done a tremendous job blending and combining rugged power on the outside with soft comfort inside.
The Rush Pro 2.0 and 2.5 were known for their tank-like indestructible attributes but always lacked a certain soft touch and overall level of comfort.
Wilson's design team listened and made changes.
They added a new level of comfort never before found in the Rush Pro series and did it without compromising much durability at all.
And to top it off, they reduced the overall weight of the shoe bringing it in line with pretty much any other court shoe out there.
It's an engineering marvel and it's why I kept coming back to them despite also wearing two other sets of court shoes from HEAD and K-Swiss.
Editor's Note: I expected the K-Swiss Express Light to easily feel like the lighter shoe compared to the Rush Pro 3. But, the difference was negligible. There was difference, but it was small. Smaller than I expected.
Toe Box and Toe Jam
Let's talk toe comfort for a minute. The toe box of any great court shoe is a vital part to its overall comfort when on the court.
If you're not familiar with what the actual toe box of a shoe is, it's the section of the shoe that your toes sit in. Simple, the toe box.
But this little section can make or break a shoe, especially one that you are running and cutting in – going back and forth and starting and stopping on a pickleball or tennis court.
And depending on how comfortable (or uncomfortable) and solid the toe box is, you could experience some "toe jam." Toe jam is when you come to a sudden stop on the court, like when executing a split step, and your foot moves forward – jamming your toes into the tip of the shoe.
So, how did the Wilson Rush Pro 3 feel as it relates to its toe box and toe jam?
The toe box was wide enough for me, which is saying something because I have wide feet. However, compared to the two other court shoes I've played with recently, it fell somewhere in the middle.
The toe box in the HEAD Revolt Pro 3 was smaller, yet the K-Swiss Express Light had a slightly roomier toe box.
The toe box in the Rush Pro 3.0 is adequately cushioned and it feels soft and plush. It's got a lot of padding which helps keep your foot, toes and everything in place but there is not a ton of wiggle room.
Literally, there is not a lot of toe wiggle room in there but that didn't bother me.
As for toe jam, I experienced some but nothing too bothersome. I play with thicker socks and have a wide foot, so my foot felt snug, plush and stable.
These factors are all going to reduce toe jam and overall foot movement. If you have a narrower foot, you're going to experience more toe jam.
If I had one teeny tiny complaint or recommendation, I'd ask Wilson to just make the toe box a little wider.
Tread Pattern And Traction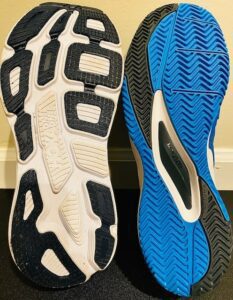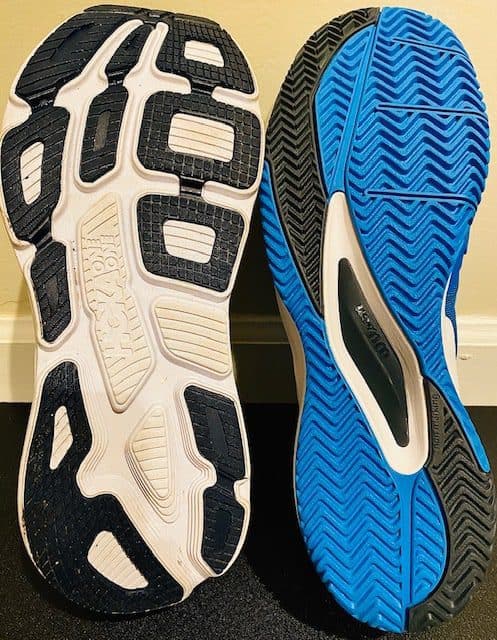 The tread pattern on my Hoka running shoes (left) is completely different than the pattern on my Rush Pro 3s (right).
The tread pattern for the Wilson Rush Pro 3.0 is a modified herringbone pattern which means it'll work on on pretty much any pickleball court you play on.
Herringbone tread patterns are common for court shoes and they're designed to help the player when moving both forward and backward but also laterally (side to side).
Running shoes (like the ones on the left in the pic above) are design for forward motion only.
It'll perform on outdoor pickleball courts and indoor pickleball courts but it really shines on outdoor courts which have the same traction consistency as a tennis court.
Indoor pickleball courts, like in a gym or YMCA are more like baskeball courts and while the Rush Pro 3.0 will work just fine, it's designed for the rougher surface of an outdoor tennis or pickleball court.
Overall, I saw great traction with this shoe. Read other reviews online and you'll hear the word sticky a lot. I'd have to agree.
The traction is sticky but nothing that created an issue for me.
Compared to the Express Light and Revolt Pro I also reviewed, the Rush Pro 3.0 felt like it had a little more "grab". Which is a good thing.
Curb Appeal – Style And Design
The "Rush Pro 3.0" etched into the side of the shoe is subtle but classy looking.
I love the look of the Wilson Rush 3.0! They're a very stylish yet professional court shoe to look at.
The mesh upper combined with a reinforced layer of rubber for extra durability is all done in a very simple, beautiful way.
It's the most durable pickleball shoe I've worn, but it doesn't look like an indestructible tank (nor does it perform clunky like one either).
Wilson has removed much of the overall weight from previous versions and yet they kept and improved upon many of the sleek, appealing design elements.
Somehow, Wilson has managed to make it look both light and airy with the mesh outer layer, yet tough with the thin layer of rubber on the toe guard, forefoot, mid foot and heel.
Even the lace eyelets are reinforced well but look cool.
I also noticed the "W" (for Wilson) stitched into the side is done in a subtle yet professional, classy looking way.
I am big fan of how this shoe looks. It's got curb appeal and best of all, it comes in a variety of bold, solid colors. Like black, deep blue, light blue and red.
Wilson did not go crazy with color designs or multi color patterns. When you select a color, the face of the shoe is going to be, for the most part, that single solid color.
This in my opinion, gives it a classic look but also makes it eye catching and professional all at the same time.
Wilson Rush Pro 3.0 – Strengths
This shoe's main strength is it's durability. I'll say it again. It's the most durable court shoe I've ever worn for pickleball.
But the overall comfort that it provided was a pleasant surprise for me as well.
It was a joy to wear and felt snug on my foot.
Its rugged exterior did not keep it from performing well for me and I quickly began to appreciate the unique combination of comfort and durability that only this shoe can provide.
It's lightweight enough but provides stability for months to come!
I also LOVE that Wilson has continued the 6 month outsole warranty!
Wilson Rush Pro 3.0 – Weaknesses
If I had to nit pick here, I'd love if the toe box was a little wider. I felt like my pinky toe was getting a little smushed after long term wear.
But again, my wide feet have a little something to do with that.
In addition, I'd love a little lighter feel to it. I'm not sure that's possible while still maintaining it's durability but it's worth mentioning. If anyone can remove an ounce of weight here and maintain toughness, it's Wilson.
A slightly lighter, more airy feel to it and I would have given this shoe a 4.5 our 5.
Wilson Rush Pro 3.0 Review – Final Thoughts
Overall, I'd give this shoe a 4 out of 5 on the pickleball court. It's one of my favorites right now. And if you're looking for a durable court shoe for pickleball – this shoe is it!
It's by far the most durable court shoe I've ever worn and the 6 month outsole guarantee makes it even better!
I'd recommend this shoe in a heart beat, especially if you're doing most of your play outside.
I want to know your thoughts! Have you played with the Wilson Rush series before? If so, what questions do you have for me?
If you're also a fan of the Wilson Rush Pro, please leave a comment below, our pickleball and tennis community would love to hear from you!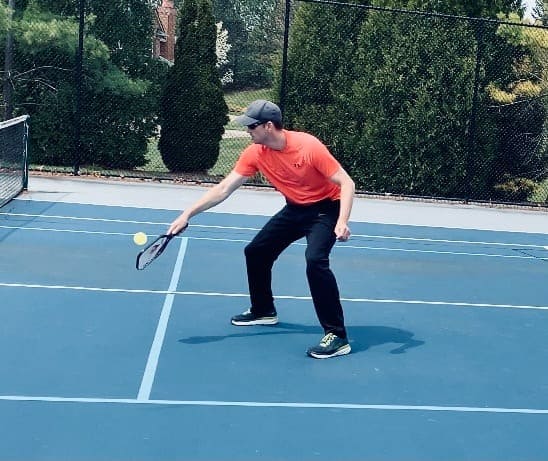 Welcome to TheVolleyLlama.com. My name is Keith, I'm just a lover of all sports that involve a racquet, net and a ball. I played competitive high school varsity tennis, love racquetball and my whole family plays pickleball regularly. I started this website to help give people like you the basics to learn these wonderful games.