The K-Swiss Express Light: A Perfect Dedicated Pickleball Shoe
The K-Swiss Express Light represents one of the first major racket sport brand's attempt at making a quality, dedicated pickleball shoe. But is it any good? I bought it, wore it for three weeks and in this review, I'm going to tell you why I recommend it as a great beginners pickleball shoe.
What makes the K-Swiss Express Light so good? Well to start, it's from a reputable court shoe brand in K-Swiss. But beyond its big brand appeal, I loved how it felt lightweight and comfortable from the toe box to the heel. It's a wonderful shoe designed specifically for pickleball players and its wide foot friendly, which is a huge plus!
Who Is The K-Swiss Express Light For?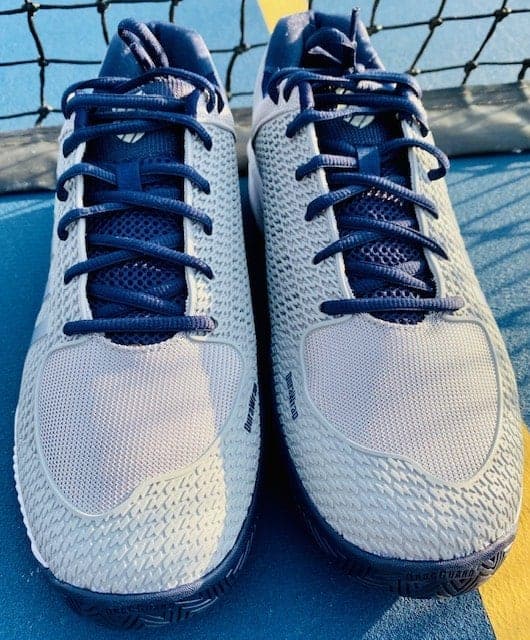 The Express Light, in my opinion is for anyone who plays pickleball regularly and wants a dedicated show for the when the go to the courts two to three times a week.
I realize that is pretty vague but, the Express Light is a fantastic all-around pickleball shoe for any beginner to intermediate player who doesn't want to spend over $100 on a pair of dedicated pickleball shoes.
It's also a great option for those with wider feet. My feet tend to be on the wider side and I almost always "break" my shoes through the seam just outside my pinky toe.
Basically the outside of my foot will begin to wear on the inside of the shoe and burst out. All the impact, force and stress I put on that outer corner of the shoe (by my little toe) usually creates a tear, and that's how I know my shoe is toast.
But with the Express Light from K-Swiss, that didn't happen. Now granted, I didn't play in it for 6 months straight everyday, but the more I wore it, the more I realized it was wide foot friendly.
In fact, it was much more forgiving to my wide feet than the Wilson Rush Pro 3 and HEAD Revolt 3s I've worn.
K-Swiss Express Light – Analyzing Overall Comfort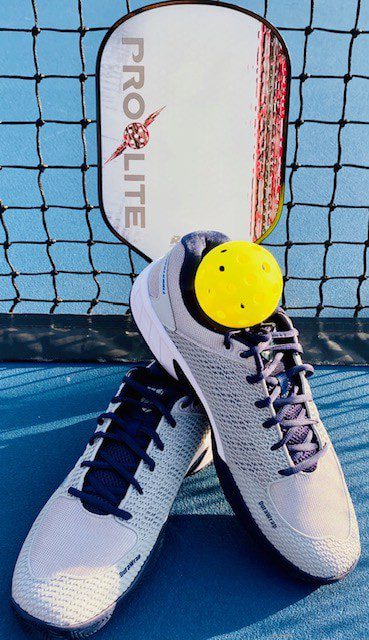 K-Swiss. The name should ring a bell.
They've been making killer tennis shoes for decades and the Express Light received all their attention to detail when it came making a dedicated pickleball shoe.
And after a short break-in period, I quickly began to appreciate this attention to detail when wearing these court shoes.
I'll be honest. After my first wear of the K-Swiss Express Light, I was expecting it to be lighter and feel more feathery on my feet. It didn't feel all that much lighter than the rugged, extra durable Wilson Rush Pro 3.0 I've worn.
In fact, I preferred the Rush Pro 3s a little at first.
But after wearing the Rush Pro 3s, then immediately switching to the Express Light, that's when I began to notice the difference and prefer the comfort of the K-Swiss.
The Rush Pro was plush and snug inside but the Express Light was roomy, and breathed better. After longer periods of wear time, it just felt more comfortable.
I began to prefer it's airier, roomier feel. And it allowed me more wiggle room for my foot to comfortably move around when cutting laterally and coming to a jump stop during my split step.
The wider toe box was a big plus for me because of my wider feet. The mesh liner on top of the toe box allowed it to breath better than other court shoes I've worn and its reinforced by a tough rubber wrap on the outer edge (K-Swiss calls this DuraWrap) to provide long lasting durability.
It is worth noting that the laces took some getting used to. I like that they have an extra eyelet all the way up your foot for an extra tight fit around your ankle.
But, using that extra eyelet didn't create a more comfortable, snug fit. In fact, it was the opposite.
Once I scrapped the "totally tied" look and left the top eyelets open, this shoe took off for me in the comfort department!
Toe Guard and Toe Jam
The rubber wrapping around the outer edge of the toe also provides protection against toe drag as well. That's the toe guard.
And while the K-Swiss Express Light does have adequate toe guard protection, it's not quite as rugged as the Rush Pro 2.5 or 3.0. Or even the Ultra Shot 2, which is also a K-Swiss court shoe.
But, that's not a problem. Because the Express Light isn't designed to be an indestructible tank like the other court shoes I've mentioned.
Its overall design goal was to be the "goldilocks" of pickleball shoes and provide the common player, everything they need to play comfortably; while remaining affordable.
Some shoes with a roomier toe box can create a problem in the form of "Toe Jam."
What is toe jam? If you're not familiar with it, it's a tennis term. It comes from when you come to a sudden stop, after running forwards.
So, if you're running up to the net or the kitchen line and stop quickly, your momentum is going to bring your feet forward, causing your toes to jam into the front of your shoe. Hence the name "Toe Jam."
If your court shoe isn't snug enough around the front of your feet, or has movement in the heel, you could experience toe guard.
If your court shoe is super tight around the toe (like I experienced with the Head Revolt Pro 3) you might not get any toe jam but your feet, especially your toes will feel like they're suffocating.
So, it's a delicate balance.
For the K-Swiss Express Light, I did experience a little heel slip, so I thought I was going to have a lot of toe jam. However, once I wore a little thicker sock, and got through the break-in period, everything felt great!
After a few days, no heel slip. And very little toe jam for such a spacious feel at the front end of the shoe.
I was sold!
K-Swiss Express Light – Traction and Control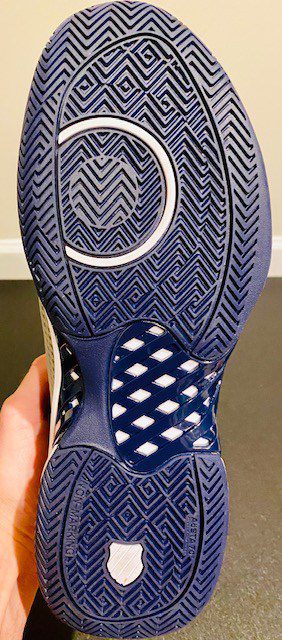 The traction and grip for the Express Light pickleball shoe is solid. It performed like any other standard outdoor court shoe that I've worn. So, it does the job whether you play indoor or outdoor.
Although, it's probably most suitable on an outdoor pickleball court where the surface is more rough, it can be used indoors as well. Some indoor pickleball facilities actually play on a basketball court, and while that's not totally ideal, the K-Swiss Express Light will work well there too.
Rest assured, it will work on virtually any pickleball surface and will help avoid injuries over a running shoe or cross trainer. Don't ever bring running shoes or cross trainers to a pickleball court.
It is worth noting that when it came to on-court grip, I did prefer the Wilson Rush Pro 3.0 a little more. It had just an ounce or two more snap to its grip over the Express Light.
But, I'm knit picking here. If you're a beginner, you're going to like the traction control here.
Court Shoe Curb Appeal – Style and Design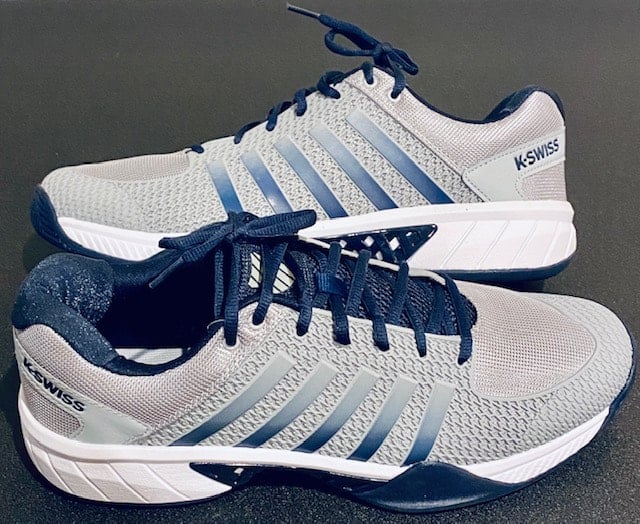 From a style perspective, I'm a big fan of the Express Light!
The Durawrap rubber wrapping that engulfs a lot of the shoe's exterior goes well with the breathable mesh lining it's paired with. It's an attractive look all around.
K-Swiss did slap some branding on the edges of the shoe but it's subtle, and professional looking.
You'll find the text "Durawrap" around the toe and " K-Swiss Pickleball" on the heel from a branding perspective.
I actually like the "K-Swiss Pickleball" text on the rear of the shoe. I like that K-Swiss is showing off it's pride at making a dedicated pickleball shoe and isn't hiding that fact.
K-Swiss is telling the world we make pickleball shoes and that helps legitimize the sport into realms only tennis has been so far. Props to K-Swiss!
For color options, I chose the grey with blue accents but it also comes in black with neon blue (very sharp) and light blue with yellow accents. If you're a LA Chargers fan, you'll love that option!
All in all, the design and look of the shoe is really good. I'd wear them with jeans no problem. I just wish there were more color choices.
What are your thoughts? Have you tried K-Swiss court shoes before and are you a fan of this shoe? If so, I want to hear from you! Leave a comment below and let us know what your favorite shoes is right now!
Got a shoe you want me to buy and review? Leave a comment and I'll review it!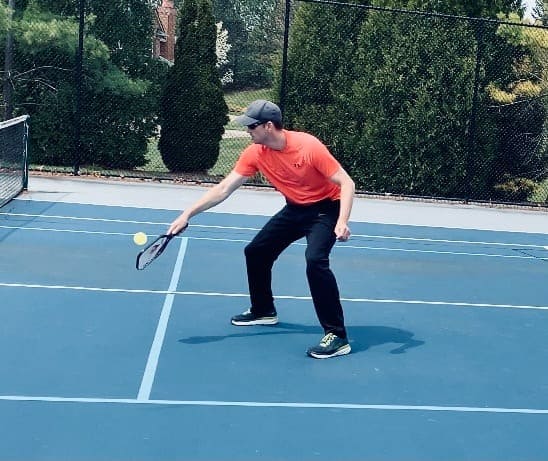 Welcome to TheVolleyLlama.com. My name is Keith, I'm just a lover of all sports that involve a racquet, net and a ball. I played competitive high school varsity tennis, love racquetball and my whole family plays pickleball regularly. I started this website to help give people like you the basics to learn these wonderful games.