Tennis Rackets For 4 Year Olds: A Helpful Beginners Guide
Hi, my name is Keith and I'm a tennis player and love all sports played with a racket or a paddle. If you've come to this article you probably have a 4 year old son or daughter or even grands kids about to start tennis for the first time. And, you're wondering "what are the best tennis rackets for 4 year olds?"
What are my top picks for a 4 year old? Well, I've outlined the top 6 rackets below but, I'd immediately recommend the Wilson US Open 19″ Junior Tennis Racket. This is the racket my sons have used because it was balanced perfectly for them at the age of four.
It was easier for them to swing and make contact with the ball, which made tennis lessons way more fun.
And best of all, its durable and cheap.
In fact, tennis rackets for 4 year olds are supposed to be inexpensive. If you're paying over $50 for something your four year old is going to out grow fairy quickly, you're wasting your money.
If you ask me, any toy/item for a 4 year old should be durable and cheap because we all know how little ones play with or use things and how often they break. With the Wilson US Open 19″ Junior Racket, you won't have to worry about any that.
When It Comes To Tennis Rackets For 4 Year Olds – Why Trust Me?
Well, I've got to sons and they started playing tennis at a young age, even 4 years old. And this article is dedicated towards helping you find the answers to all the questions you might have. In addition, I'll give you my recommendations along the way.
As my sons got older and continued to play tennis, I began to learn more about junior rackets. I learned first hand which brands were good ones and what size was the proper size for a 4 year old (and beyond).
You can trust me because I've had to do all the homework on good rackets for 4 year olds. And I've learned the hard way which ones to buy and which ones not to buy.
When it comes to buying a tennis racket for a 4 year old, odds are you're going to be a little lost.
There's a lot to think about. How do you know what the right sized racket is for a 4 year old? Should you buy a racket that's on the bigger side that they can grow into or one suited to their current height and size?
I'm going to answer these questions for you as well as provide you with my picks for the best tennis racket for 4 year olds in 2020.
If you have a 4 year old, you'll want to pick a racket that's going to make the game as easy and as fun as possible so that they're not going to want to quit after five minutes.
I'm going to tell you how to pick the best racket for your 4 year old so you can set them up for success.
Is 4 Years Old Too Early To Start Playing Tennis?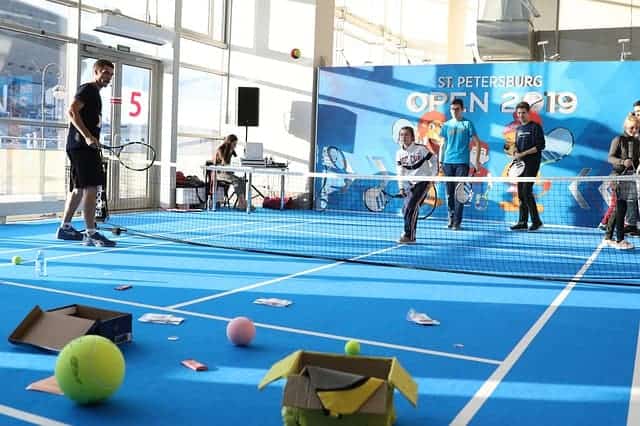 You might be surprised to know that most professional tennis players started playing the game as early as four years old so its NOT too early to start lessons.
If you're a little worried that your child isn't ready, most lessons for 4 year olds are designed to ease them into the game and make it fun. All while learning the fundamental mechanics of how to swing.
Just remember, the goal of starting your child in tennis should be about learning the basics of the game and NOT about becoming a professional. It's about having fun, getting some exercise, and enjoying the game!
What Is The Definition of A Junior Tennis Racket?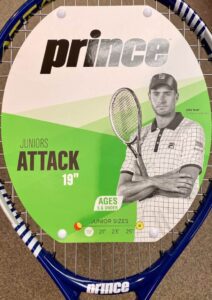 Tennis rackets designed for children four to five years of age (or older) are referred to as "junior rackets." Both the length and head are shorter than an adult racket.
A junior tennis racket's size is anywhere from 19 to 25 inches. For comparison, adult-sized racket are 27 inches long. For a 4 year old, the optimal size is a 19 inch racket.
You Might Like This: I sat and talked to the pro shop manager at my local tennis facility for 20 minutes and he told me which junior rackets were good ones, and which ones to avoid. Click here for a thorough breakdown.
Are there rackets smaller than 19 inches? Yes, some companies make a 17″ racket but those are technically "toddler rackets" designed for hands as young as 2 years of age.
There are only a few toddler rackets that I recommend, and you can read about them here.
Again, junior rackets start at 19 inches (perfect for your four year old) and end stop at 25 inches. There are 26 inch rackets but they are tweener rackets designed for kids not quite big enough for a full-sized 27″ racket.
Fun Fact: Although it is not a requirement of a junior tennis racket, they are usually made of aluminum. This makes them very tough, durable and can take a beating without cracking or bending.
There are junior sized rackets made out of high-end materials like graphite (the same material the best adult rackets are made out of) but I'd only recommend those for kids REALLY into tennis.
Buyer's Tip: Most 4 year olds are going to do just fine with a less expensive but well made, durable aluminum racket. Trust me, I learned this first hand from the pro shop manager where my kids take lessons and that's why I recommend these rackets specifically.
How To Choose The Right Size Tennis Racket For Your 4-Year Old
Like I mentioned earlier, the recommended size for a 4 year old is 19 inches. This is recommended because it's ideal for the average size and height of a four year old and is measured from the butt cap to the top of the hoop of the frame.
Children five to seven years of age typically need a 21 to 23 inch racket, depending on their height, followed by a 25 inch racket for eight to nine year old kids.
Children that are nine years of age and older need to use a 26-inch junior racket until they're ready to move onto an adult racket.
It's pretty simple.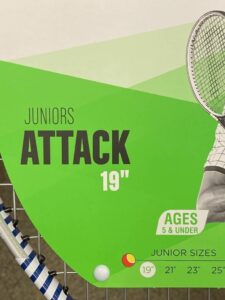 This 19″ racket from Prince shows that it's intended for ages 5 and under. Further proof that a 19 inch racket is ideal for 4 year olds.
Is It Better to Buy a Bigger Racket Size So My 4-Year Old Can Grow into It?
While this may seem like a solid plan, it's actually not a great idea when purchasing your first racket. If your child is in between sizes, it's best to go for a slightly larger racket.
That said, going too large before they're ready could interfere with their enjoyment of the game and their ability to develop their stroke and skill.
If you're worried about having to regularly shell out large amounts of money every year your child grows, don't be – children's tennis rackets are usually significantly cheaper than adult ones, ranging in price from as low as $25 to $60.
How To Size A Tennis Racket For A 4 Year Old
So, how do you know what is the best racket for your child? After all, not all children of the same age are going to be the same height.
Get your child to hold the racket to the side of their leg. The racket should hang below your child's ankle, without touching the floor.
If the racket is just touching the floor, they just have a tiny bit of growing into it left to do which should not affect their game. You should be fine.
If the racket is well above your child's ankle, it too small.
In an ideal scenario, you don't want the racket touching the floor OR sitting well above your child's ankle. If you can find the sweet spot in between, your 4 year old should be good to go!
Grip Sizes For 4-Year Olds
When it comes to 19″ junior rackets, the standard grip size is 4 inches. While this is usually fine, there's a chance it may be too big for your child.
The grip size is the circumference of the racket's handle and is usually given in inches. There's not a lot to analyze or consider when it comes to grip because most manufacturers put a four-inch grip on all junior tennis racket frames.
Longer rackets that are closer to adult sizes sometimes have two choices available, either four inches or 4 ⅛ inches.
The standard four-inch grip is fine for most kids but in some cases, it can be too large or too small depending on your child's hand size.
So, I recommend always having your child hold the racket and take some pseudo practice swings in order to see how it fits and how comfortable it is.
If you need to make the grip larger, that's easy. Just add an overgrip to increase the grip size by about 1/16 of an inch.
One the other hand, making the grip smaller is much harder to do. You either need to attempt a DIY job and shave off some of the grip material or take your racket to a local specialist that has worked with customization before.
But, this is highly unlikely. I've owned kids rackets from 19 to 25 inches and have NEVER had to make any grip adjustments.
My Top 6 Tennis Rackets For 4 Year Olds
Looking for the best options to get your 4 year old? After doing my homework, in my opinion, these 6 rackets represent the best ones to consider.
1. The Wilson US Open 19″ Junior Tennis Racket
This is a great quality racket from a leading manufacturer and an ideal pick when you want to start your little one off with the best while not spending a fortune.
This light racket is made with aluminum alloy, perfect for your toddler to go all out without causing them any arm discomfort.
Editor's Note: This is the racket my two boys use. My oldest even has the 25″ version of this racket. He likes it because it's easy to use and makes tennis lessons fun.
My youngest had a tiny Slazenger racket but when we gave him this Wilson, he was able to make more consistent contact with the ball and was easier to swing.
I like this racket because its aluminum frame makes it durable and inexpensive. My kids like this racket because it perfectly balanced for smaller hands, and is lightweight and easy for them to use.
2. Babolat Nadal Junior 19″ Tennis Racket
This is a great racket for kids up to age five. It's designed to look exactly like the 2019 Pure Aero, Rafael Nadal's racket of choice.
The large head size gives your 4 year old plenty of room for mishits, even if they don't hit the sweet spot in the string bed and the aluminum composition makes it easy to swing.
Editor's Note: You may see in the product description that this racket is ideal for kids ages 6 to 7 years old. That is for the 23 inch and 25 inch variations.
The 19″ inch version, which is the smallest for this Nadal inspired racket is the perfect size for 4 year olds. So don't worry, as long as you've got the 19″ version selected, you're good to go!
3. Wilson 19′ Junior Burn Pink Tennis Racket
The Junior Burn Pink Tennis Racket by Wilson is an extremely popular choice for children between four and 10 years of age.
Why?
Because it has a high-quality, state-of-the-art string pattern and is available in four different sizes.
So, if your child enjoys this racket, it's easy to size up until you reach the standard adult size of 27 inches.
Editor's Note: This is the perfect racket for a younger female player because of its attractive pink color scheme but it comes in many different color patterns depending on what your little one likes.
In fact, my youngest at age 4 actually used this racket for a while before inheriting his older brother's Wilson US Open Junior Racket.
It was a great little racket for him because it was perfectly sized for him.
4. HEAD Speed 19″ Kids Tennis Racket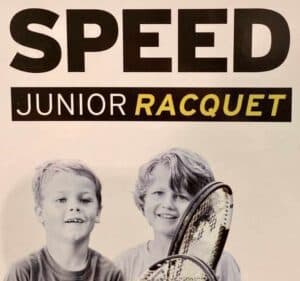 The Speed Tennis Racket by HEAD is another fantastic beginner racket for your 4 year old tennis prodigy. The Speed Kids Tennis racket focuses on both comfort and playability and has an excellent grip designed for younger players.
This is the perfect tennis racket for a little one interested in improving their skill level.
Editor's Note: When my kids were this young and taking tennis lessons, the pro shop at our tennis practice facility sold a lot of these rackets for their junior players. They were very popular and very sturdy
5. Gamma Sports Junior Tennis Racket
Another great racket for juniors looking to develop their game and hone their skills is the Gamma Sports Junior Tennis Racket. Customers who purchase this racket are incredibly pleased with the quality, especially for the price.
At an average of roughly $25, you get a racket made of high-quality aluminum that is incredibly light and long-lasting.
Fully strung, this little racket weighs only 170 grams, making it one of the lightest out there on the market for little ones – great for your 4 year old to confidently and comfortably swing around on the court.
6. Babolat B Fly 19 Junior Tennis Racket
This vibrantly colored racket is an ideal choice for young, beginning players. It's easy to use thanks to its wide head and racket face.
At 89 inches, this racket has enough room for both reliable contact and error. It also includes memo grip technology which helps build a powerful grip.
This professional looking yet tiny little racket is available in four different sizes so your child can upgrade to the next one once they grow out of the 19″ version.
Tennis Rackets For 4 Year Olds – My Final Thoughts
When it comes to choosing a tennis racket for your four-year-old, the most important thing is to choose one that is properly sized to your child's height height.
ANY of the rackets I've outline above will be a great option for a new player as long as it's the proper length.
However, I'm partial to the Wilson US Open 19″ racket because it's been an awesome, reliable option for my kids. So, my first hand experience and the recommendations I got from people more knowledgeable than me, make it my top choice.
It is not necessary to get an expensive, top-of-the-line tennis racket for your year old who is just starting out – odds are, there's not going to be a big price difference between any of the rackets above.
They're all made from inexpensive, yet durable aluminum. This is ideal for a racket that your child will most likely out grow in under a year.
Any 19-inch racket is generally a safe bet for a 4 year old, but to be safe, make sure they are present when you purchase the racket so you can make sure.
It's important to make sure your child is confident and comfortable with the racket to help them fall in love with the game.
After all, isn't that what it's all about?
If your child plays with any of the rackets above, leave your comments below to help the rest of tennis community.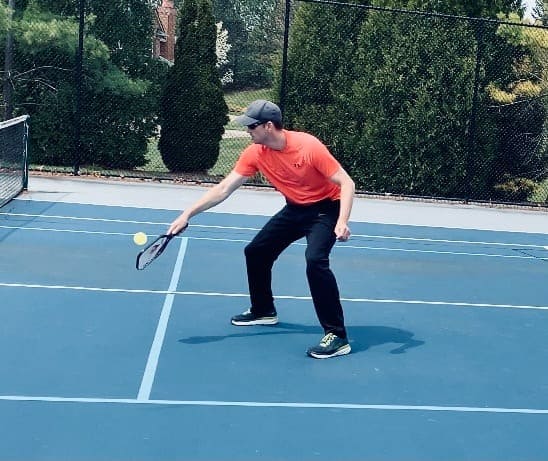 Welcome to TheVolleyLlama.com. My name is Keith, I'm just a lover of all sports that involve a racquet, net and a ball. I played competitive high school varsity tennis, love racquetball and my whole family plays pickleball regularly. I started this website to help give people like you the basics to learn these wonderful games.