Pickleball has steadily gained a loyal fan base ever since it was invented in 1965, with courts sprouting up in America and all over the world. From 2014 to 2021 alone, the sport gained a whopping 5 million new players. It didn't always have such a huge following, though. 
Pickleball became popular during the early 2000s but the game saw its largest jump in popularity in 2022. It started as a casual backyard game in the 1960s and quickly grew into a sport enjoyed by millions. By 1995, people in every American state played pickleball, and it began spreading globally. 
In this post, I'll detail exactly when and how pickleball reached these incredible heights of popularity. 
Key Statistics For Pickleball's Rise In Popularity
Let's take a look at some statistics that provide a glimpse into when the pickleball craze really took off here in the Unites States. These stats range from growth rate, number of players and courts to the paddle market and it's growth over the years.
Pickleball's Growth Rate:
Even during the heart of a pandemic, pickleball's growth was exceptional! According to the Sports and FItness Industry Association or SFIA, pickleball's growth rate through covid was massive:
Pickleball has steadily gained popularity over the last decade and is widely considered the fastest growing sport over the the last 3 years in the Unites States. Pickleball saw the most growth in popularity between 2021 and 2022 with a growth rate of over 85%!
Number of Pickleball Courts in the US:
The total number of pickleball courts in the US has paralleled the game's rise in popularity. These courts include both dedicated, stand alone pickleball courts as well as pickleball court lines laid down over a tennis court.
The USAPA estimates there were about 9,500 courts in 2021. In 2022 that number jumped to over 10,000.
Now, in 2023, even though the year is only half over at the time of writing, there are well over 11,000 pickleball courts in the United States. This growth is largely due to tennis facilities not only including pickleball courts, but also converting tennis courts to make room for more pickleball courts to accomadate the demand.
Number of Pickleball Players in the US:
The total number of pickleball players in the US is a startling number and is the best statistic to provide evidence of pickleball's cult like following. And I mean that in good way.
| Year | Number of US Players (Estimated) | Major Tournaments Held (Estimated) |
| --- | --- | --- |
| 2000 | 5,000+ | 2 |
| 2005 | 10,000+ | 5 |
| 2010 | 50,000-100,000+ | 20 |
| 2015 | 2+ Million | 40 |
| 2023 | 8.9 million | 47 |
Souce SFIA and Pickleheads.com
The total number of pickleball players globally is estimated to be over 36 million people as of 2023!
Pickleball Paddle Market
The market for pickleball equipment has exploded in the last 7 years! In fact, the overall pickleball equipment market was valued at 65 billion dollars in 2022 by Fact.MR. In 2023, that numbers is expected to balloon to over $155 billion! Yes, billion!
According to Marketwatch, the market value of pickleball paddles alone was $148 million in 2021 and that number is projected to grow to $258 million by 2028!
These are impressive numbers that saw substantial growth, even during covid.
Early Popularity & Success of Pickleball
Pickleball started as a backyard game, but inventors Joel Pritchard, Bill Bell, and Barney McCallum quickly realized they'd stumbled upon a great idea. 
The game expanded and eventually became a competitive sport that would require businesses behind it. 
Related: Ever wonder how pickleball got its crazy name?
Below is a table showing the rise in pickleball's popularity in the United States over the last 20+ years:
Please note that the numbers in the table are for illustrative purposes and may not represent the actual data. The popularity of pickleball has been steadily growing, and these estimates showcase the sport's impressive growth in recent years.
Pickle-Ball Inc. Was Created To Support The Sport
In 1972, seven years after he helped invent the sport, Barney McCallum started Pickle-ball Inc., a company solely dedicated to servicing the needs of the sport. 
These needs mainly consisted of bandsaw-made paddles and balls.  But they eventually made an entire equipment package that could be ordered and shipped anywhere.
Funny enough, these orders were all done by phone.  Leave a voicemail, mail your money, and get your starter paddles. 
But things grew from there.
According to its website, the company has helped sponsor thousands of pickleball tournaments. They even supported the creation of the USA Pickleball Association! 
Paddle Tip: Wondering if there is a paddle that can actually improve your game? These are the 5 best pickleball paddles that actually made me a better player.
The First Pickleball Tournament
Going from playing a game casually to organizing competitive tournaments is a crucial stage in the growth of any sport. For pickleball, this happened in 1976. 
In the spring of that year, the first known tournament took place in Tukwila, Washington. 
Who won the first-ever pickleball tournament?  First place in the men's singles event went to David Lester.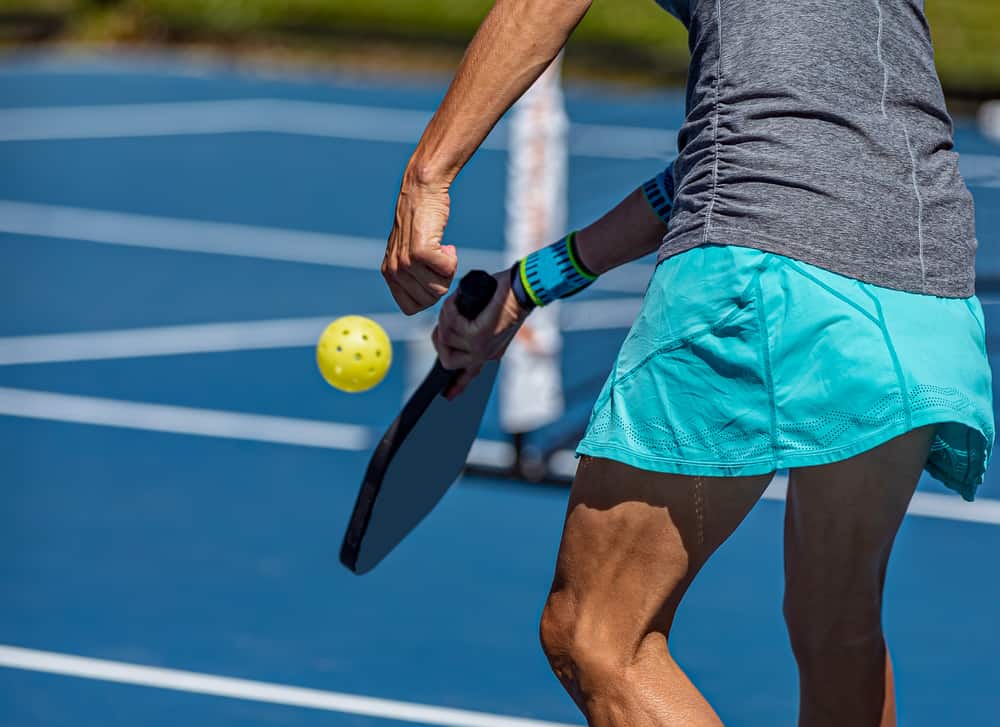 Creation of the USAPA
Having a governing body is crucial to the growth and legitimacy of any sport. It is proof that people are taking the sport seriously and there is a need for consistency in the rules and organizing competitions. 
Pickleball got that governing body in 2005 with the creation of the USA Pickleball Association (USAPA). 
The International Federation of Pickleball
If a sport isn't played globally, is it really popular? 
Pickleball checked this one off the list in 2010 when organizers founded the International Federation of Pickleball. Since then, the sport has continued to grow around the world. 
Pickleball is now played in 70 countries and in every single continent except Africa!  
No other sport can match that kind of growth that quickly. 
Where Is Pickleball Most Popular?
Pickleball is most popular in the USA, with nearly 5 million consistent players. Within America, pickleball is most popular in Washington, the state where the sport was invented. 
In addition to its home state of Washington, pickleball is extremely popular in other weather-friendly states like Florida, South Carolina, and Arizona.
Tennis clubs across the south in the US, are converting their tennis could to pickleball courts to accommodate the demand.
In fact, I recently played at a tennis facility in South Carolina where 24 pickleball courts are used (with a waitlist) versus only 9 tennis courts.  And there are more pickleball courts on the way.  
Outside of America, pickleball is quickly gaining popularity in Canada, Spain, and India. 
Fun Fact:  Gym teachers now introduce the sport in gym classes all over the world. 
Is Pickleball Played In All 50 United States?
Pickleball's humble beginnings can be traced to a backyard near Seattle, Washington, in 1965. From there, it spread throughout America. 
By 1990, people played pickleball in all 50 states. 
Out of those 50 states, the sport is still the most popular in Washington, but it's growing in popularity everywhere.
In terms of court density by population, Seattle leads the way. After that, St. Paul, Minnesota, and Madison, Wisconsin enter the list. 
Is Pickleball The Fastest Growing Sport In America?
It seems like a new sport pops up every few years with some inventive mind coming up with unique games to be played on different surfaces. 
But no other new sport has seen its spike in popularity quite like pickleball has. 
Pickleball is the fastest-growing sport in America, with 4.8 million consistent players overall. The number of participants grows every year, more than any other sport.
Sports like lacrosse, MMA, and eSports have quickly gained popularity over the years, but pickleball beats them all!
Pickleball's Popularity On A Global Scale
Pickleball hasn't only gained popularity in America. The sport has steadily grown its player base in other countries, especially since the IFP was created in 2010. 
In 2019, Canada, for example, had an estimated 75,000 pickleball players, and that number continues to grow. 
Across the world, 30 international or country pickleball organizations regulate the sport in their jurisdiction. Africa is the only continent not currently playing the sport. 
But that may change soon. 
Pickleball And The Olympics
With all of this success, it's only natural to wonder if pickleball will ever be an Olympic sport.
At this point, pickleball is not an Olympic sport, but popularity continues to rise.  To enter the Summer Olympics, participants must play a sport in at least 75 countries. According to an NPR article, pickleball only has 70.
It's something to keep an eye on, though, as most sports view the Olympics as the ultimate test of their popularity.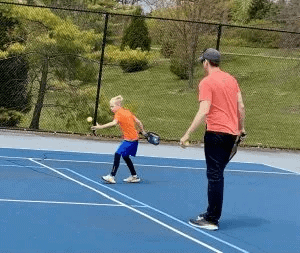 The Reasons For Pickleball's Popularity
Pickleball started as a casual game for families to play during lazy summer days. A straightforward game that anyone can enjoy. 
That accessibility is exactly why pickleball became so popular. 
Pickleball's Rules Allow for Widespread Participation 
The rules of pickleball make it so that everyone at least has a chance to get involved in a point. 
Players must serve underhand and hit the ball below their naval, so it's a lot more difficult to ace the other team, unlike sports like tennis. 
There's also the two-bounce rule, which states that the ball must bounce on either side of the court once before players are allowed to volley the ball (hit it out of the air). 
Pickleball Courts Accommodate Players of All Levels
Pickleball courts are smaller than tennis courts, which makes them easier to seamlessly incorporate onto a tennis court. 
While the net heights of a pickleball net and a tennis net do differ slightly, this hasn't stopped tennis courts from being the easiest place to play pickleball.  
The No-Volley Zone Levels the Playing Field
A rectangular piece of court stretching about seven feet on either side of the net is called the 'no-volley zone.' 
It's also sometimes referred to as 'the kitchen,' and it's the part of the court where hitting the ball in the air is prohibited. This reduces the advantage of being taller or more athletic and ensures that the game is fair for everyone. 
When Did Pickleball Become Popular – My Final Thoughts
Pickleball has been around for more than fifty years now. In the second half of those years, it started to truly catch fire. 
People around the globe enjoy the sport, and it's even being mentioned as a potential Olympic event. 
In my opinion, it's only a matter of time. 
Thanks to the game's diverse appeal, and its social nature, it looks like it will only continue its rise in popularity.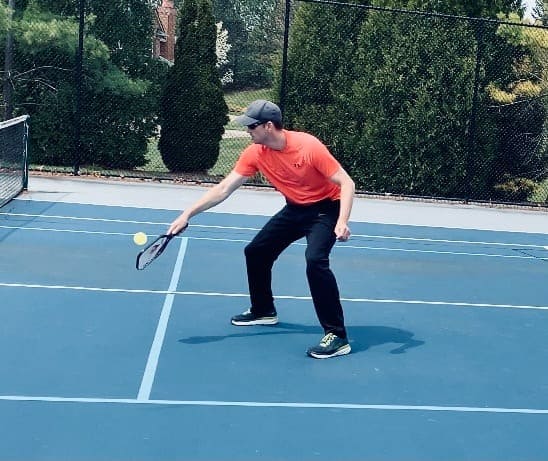 Welcome to TheVolleyLlama.com. My name is Keith, I'm just a lover of all sports that involve a racquet, net and a ball. I played competitive high school varsity tennis, love racquetball and my whole family plays pickleball regularly. I started this website to help give people like you the basics to learn these wonderful games.