If you live in the northeast part of the united states, and like to stay active even in the winter months, ​you may be familiar with platform tennis. You layer up and head outside to your local raised and heated courts for some friendly competition.
But, are you making the same mistakes I made when it comes to shoes? When it comes to the best shoes for platform tennis, you definitely cannot just grab an old pair of running shoes or cross trainers and go play. Heck, you might not want to put on your favorite pair of court shoes either. Here's why.
Shoes for platform tennis need to have a rugged outsole designed to withstand the rough surface platform tennis is played on. More specifically, they need to be outdoor court shoes that can withstand the rough, gritty surface that a platform tennis court is comprised of.
Otherwise, you run the risk of wearing and tearing through a traditional court shoe's outsole, and wasting your money. In this article, I'll take you through how I was able to find what I feel are the best shoes for platform tennis and how I found them.
For more on what platform tennis is, and how it's getting confused with pickleball, click here.
Looking For A Quick Pick?
If you're looking for a quick product recommendation, my top pick is the K-Swiss Ultrashot 3! The high-density outsole has the most durability of any court shoe from heel to toe. And it's built to withstand excessive toe dragging. In short, it's built for the wear and tear of platform tennis.
Finding The Best Shoes For Platform Tennis
After a quick internet search, not unlike the one you did to find this article, I was brought to various online retailers not named Amazon showing me different buying options.
These were racquet sport online retailers and yet I was being shown tennis shoes, indoor court shoes, and even racquetball shoes as buying options. This didn't seem right.
Shouldn't racquet sport sites show me shoes that were designed specifically for platform tennis? This is a game played, for the most part outdoors in cold weather states like Michigan. So, why then was I being shown indoor court shoes?
I didn't want to spend over $100 on some random court shoe that wasn't right for platform tennis, only to wear them out in one or two months. So that's when I called the American Platform Tennis Association. Yes, the governing body as it relates to the wonderful sport of "Platform Tennis" also called "paddle tennis."
Doesn't someone make shoes for platform tennis, designed specifically for platform tennis? The short answer is surprisingly, no. But there are plenty of good options, as long as you know what to look for.
After speaking with the APTA, I got some real answers. And finally, I was pointed in the right direction and given real product recommendations for those looking for the best shoes for platform tennis. And I'm going to share with you what I learned and the products recommended to me.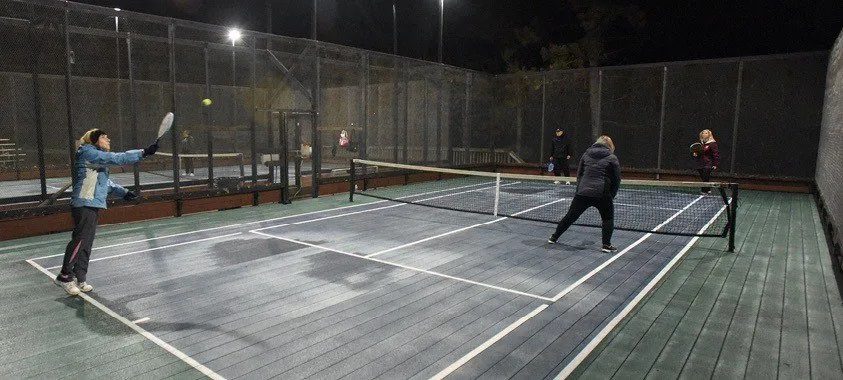 Platform Tennis Courts – A Different Kind Of "Rough"
When I spoke with the friendly folks at the APTA, they explained to me what makes a platform tennis court so different. If you're not familiar, platform tennis courts are constructed using aluminum planks.
Yes, "planks" like a wooden plank you'd see on an outdoor deck.
But, they're raised with heating systems installed beneath them to make it a friendly wintertime paddle sport. Having a raised court made entirely out of aluminum planks already makes platform tennis the most unique court of any racquet sport out there but, it gets better.
What makes a platform tennis court so unique is the hand-laid grit that is placed down when the planks are painted. What is platform tennis grit? It's a rough, gritty, textured resin that is embedded right into the paint on the planks.
This textured grit is so important when it comes to the shoes you wear for platform tennis because it can do a number on any outsole. The folks at the American Platform Tennis Association told me that if you play regularly (like 5 days a week) at any racquet sport, you'll quickly wear out any pair of good court shoes.
But, this "wear-out factor" is accelerated (almost doubled) because of the grit and planks in platform tennis.
Here's a fact – Experts say you should change your court shoes every 6 months. But, with platform tennis – you may need to replace them every 3 months – depending on how often you play.
So, two questions come to mind. Do they make court shoes with tougher outsoles that are ideal for platform tennis? Should you invest in expensive court shoes when you may need to replace them in 3 to 6 months?
Unfortunately, there are no shoes designed exclusively for platform tennis.
However, there are many outdoor-specific court shoes that are really great options. You just have to know what to look for. As for investing in expensive court shoes for platform tennis, I don't recommend it.
It isn't a good idea to spend close to $200 on a fancy pair of court shoes that probably were not designed for platform tennis. It's a waste of money. Finding a durable, relatively affordable pair is ideal.
What To Look For When Choosing Court Shoes For Platform Tennis
When it comes to researching platform tennis shoes, I quickly realized that you need to be looking for an outdoor court shoe. Avoid any indoor court shoes because of the softer rubber outsole used.
You'll also want to avoid super lightweight court shoes. Lightweight court shoes are great for tennis or indoor pickleball but when playing outside on a platform tennis court – lighter court shoes are not going to last.
So, you lose that durability factor with lighter court shoes. For platform tennis, I avoid lighter court shoes altogether.
When it comes to shoes for platform tennis, look for an outdoor court shoe that gives you these five key features:
A Tough Outsole
A Durable Upper
Affordability
A Partial Herringbone Tread Pattern
A 6-Month Outsole Warranty
Below is a brief overview of why each key feature above is important.
Court Shoe Anatomy – Outsole Toughness
When it comes to choosing a court shoe, specifically one designed to withstand the conditions of platform tennis, you must choose an outdoor court shoe.
Make sure your court shoe says "outdoor" and not "indoor". You'd be surprised how many people think a court shoe can be used anywhere.
The softer rubber outsoles of an indoor court shoe are going to get chewed up on a platform tennis court. Don't make the same mistake I did. Big brands offer specific outsoles that are tougher.
Asics for instance is a brand I love and their known for their toughness and durability. They incorporate an outsole technology called "AHAR". It's 50% more durable than their standard high-abrasion rubber outsole.
This makes it ideal for outdoor courts.
This is just one example using one brand name but no matter what brand you're choosing, make sure it's an outdoor court shoe with some sort of abrasion technology in the outsole. That'll ensure you've got a shoe with a tough outsole.
Court Shoe Anatomy – A Durable Upper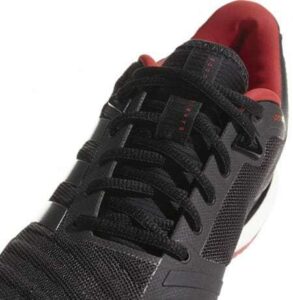 It's important to get a shoe that offers a durable upper. The "upper' is the part of the court shoe that you slip your feed into. It's the part that holds your foot on top of the midsole and outsole.
Essentially, it's the material that hugs your foot and is commonly made of synthetic mesh or leather. In the case of shoes for platform tennis, avoid super lightweight mesh synthetic uppers that are designed for optimal breathability.
Why?
Well for starters, they tend to be super lightweight, and far less durable. They breathe better to avoid sweaty feet syndrome but a super lightweight mesh shoe that breathes better isn't ideal for an outdoor racquet sport played in the winter months.
Instead, look for a more rugged, durable mesh material or leather…or a combination of the two.
Buyer's Tip: ALL of the platform tennis shoes I recommend below have the ideal material for the upper. So don't worry, I've done the work for you. Leather is going to offer more durability and stability when playing. It will also help your shoes last longer, and keep your feet warmer.
Court Shoe Quick Tip: Leather shoes will have less give and not expand as much to your foot shape. So, if you plan on wearing a double layer of socks like I sometimes do, make sure you can still fit your foot into the upper comfortably.
Court Shoe Affordability 
This aspect is SO crucial in my opinion. Even the folks at the APTA think it's important. It's easy to find a great pair of Nike court shoes that are comfortable and feel great.
But, they will could cost you well over $150 dollars. If you wear them to play platform tennis even 3 days a week, those expensive court shoes are going to be toast in a matter of months.
Instead, the American Platform Tennis Association informed me that choosing an affordable pair is the smartest way to go.
You don't want the cheapest, most uncomfortable pair of court shoes but you also don't want to spend big bucks on an expensive, fancy pair either.
Finding a happy medium is the best way to go. Even if you need to replace them in 6 months. When it comes to platform tennis, I look for good, reliable, durable outdoor court shoes in the $80 to $100 range.
My advice – avoid the elite-level, lightweight, fancy court shoes that cost $180.
Outsole Warranty On Court Shoes For Platform Tennis
This one's pretty simple. When I called the APTA, they mentioned that one of the major platform tennis sponsors, Viking Tennis, made a shoe that had an outsole warranty tied to it.
This made sense because platform tennis players tend to wear out their shoes faster.
But, after doing a little more digging and finding the shoe in question (the Viking T22), apparently they don't offer the warranty anymore on the outsole. That feature went away in 2016.
However, I didn't give up. I reached out to some additional platform tennis manufacturers and found out that there are some quality court shoes that still offer a 6-month outsole warranty!
So, I've included them in my top court shoes for platform tennis listed below.
Partial or Modified Herringbone Pattern

This last aspect is a bit technical, but I think it's worth mentioning. When I did my research I learned that court shoes tend to have two kinds of tread patterns: Full Herringbone and Partial Herringbone.
Both tread patterns are ideal for the lateral movement needed for sports like tennis, pickleball, and platform tennis. But, partial herringbone is ideal for platform tennis.
Why?
Well, full herringbone court shoe tread patterns are almost exclusively used for clay court tennis. So, when it comes to platform tennis – outdoor court shoes with a partial herringbone tread pattern are ideal for the outdoor court that you'll be playing on.
Quick Tip: Running shoes don't have a tread pattern that is made for lateral movement. Running shoe tread patterns are designed for a forward motion only. Their tread pattern doesn't account for any lateral movement. So, don't use running shoes for ANY racquet sport. Trust me.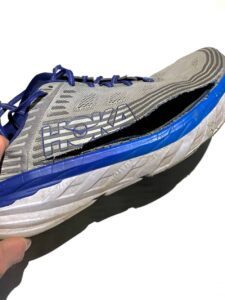 The Best Shoes For Platform Tennis Given To Me By The Experts
The four court shoes I've outlined below represent, in my opinon the best options for those looking for dedicated footwear ideal for the rugged nature of platform tennis. 3 out of the 4 options below meet all 5 of my platform tennis shoe criteria I've laid out.
The K-Swiss, the Wilson and the Asics Gel are all tough, durable, affordable, have the proper tread pattern and come with a 6-month warranty on the outsole. So, if the outsole becomes compromised, all you have to do is reach out to the manufacturer, and they'll replace it. As long as it's in the 6-month window.
The fourth option from Viking used to have an outsole warranty but they've discontinued it. However, it's still a great option for platform tennis players so I'm including it.
Let's take a closer look at the top shoes for platform tennis.
1. The K-Swiss Ultra Shot 3
The Ultra Shot 3 from K-Swiss is the best shoe for platform tennis because it was consistently recommended to me from the experts I spoke with from various platform tennis companies.
K-Swiss is steadily becoming a brand name to remember in the world of platform tennis and this is largely because of the progress K-Swiss has made in becoming a household name in standard tennis.
With the Ultra Shot 3 you get a molded rubber outsole with a partial herringbone tread pattern for durability and maneuverability on the court. It also features a synthetic leather design for the upper.
This gives it nice comfort inside but also the stability you'd expect from a leather material (versus pure mesh). K-Swiss has improved the Ultra Shot, hence the name Ultrashot "3". This second version has improved upon the first iteration by giving it a new tongue design for comfort as well as making it lighter.
It's also got a more comfortable toe box compared to the first installment.
So, K-Swiss has invested in improving an already great shoe. This added comfort and lighter weight however doesn't come at a price. The K-Swiss Ultra Shot 3 is as durable as it has ever been AND comes with an industry-leading 6-month outsole warranty.
In addition, it comes in both a men's and women's version with many stylish color options to fit your needs.
What I like best about the K-Swiss Ultra Shot 3 is that it's good for wide feet (like mine) and the break-in time is minimal. Meaning you can put it on and go play comfortably right out of the gate.
Buyer's Tip: When I researched this shoe, I found that Amazon had the best price. Other outlets including K-Swiss's website, had the shoe priced $20 to $30 dollars more. It also comes in a Men's and a Women's version.
The cool part is, no matter where I went…when I consulted with real platform tennis enthusiasts, the K-Swiss Ultra Shot was always one of the products recommended.
Pros
6-Month Outsole Warranty
Added Comfort from Toe Box
Tongue upgrades Synthetic Leather for tough durability
Very affordable
Cons
Doesn't breathe as well as other court shoes
May need time to dry out.
2. The Wilson Rush Pro "Ace"
The Rush Pro Ace is one of Wilson's signature outdoor court shoes and is one of those shoes that has a following in the tennis community. Meaning, many people have bought and worn many pairs and keep coming back to it.
So, what does the Rush Pro Ace offer and why did it make my list of top shoes to consider for platform tennis?
Well for starters, this shoe has great comfort while still offering the "low to the ground" feel the Pro Rush series has been known for. Because of how the outsole and midsole are positioned below the upper, the Ace has an aggressive, learn-forward-like stance that makes you feel low to the court and ready to pounce like a cat.
Wilson has found a good middle ground where your feet still feel like they're in attack position but, not at the expense of being slightly uncomfortable. Wilson calls this their patented Pro Torque Chassis.
The breathable synthetic mesh upper using Wilson's Sensifeel technology is very durable and tough but has added comfort and breathability. Something other shoes simply don't have.
Again, you can tell Wilson has used what it's learned from multiple lines of court shoes to continue to hone and refine it.
The Rush Pro Ace also provides excellent durability much like previous versions thanks to its Duralast rubber outsole with a modified herringbone tread pattern. Push-off traction at launch is very good with this shoe, as is stopping power.
When you put the right kind of tires on a race car, you get better hook and traction control.The same can be said here.
In fact, the race car analogy is appropriate because of how low these shoes feel to the court. You'll feel that the lateral stability and traction control are more on the "sticky" side…but that's a good thing. All that, plus the break-in period is not bad depending on your foot shape and you get a 6 month outsole guarantee.
My favorite feature of this shoe is that despite being a mesh upper that has some breathability, it's still very durable and will work very well outside on a platform tennis court.
Is the upper as rugged as the K-Swiss Ultrashot? I'd say probably not. But for those that like a little lighter feel with a mesh material and a little more "give" – this may be the best shoe for platform tennis.
Pros
Provides great support and comfort thanks to a little lighter mesh upper -but still durable
Sticky traction and lateral stability
Very affordable
Low to the court, aggressive stance
Cons
Narrow feet players may need two pairs of socks
Narrow feet players could experience toe jam
Those with flat feet may want more arch support
3. Asics Gel Resolution 8
The Gel Resolution 8 made my "best of" list because it's quite honestly one of the most technologically advanced shoes on the market. And it's by far, the most advanced on my list.
In fact, the Gel Resolution series from Asics is arguably the most advanced court shoe series from any major tennis brand. Ever.
So, why did I choose the Gel Resolution 8? Well, because it's a little more heavy-duty compared to previous Gel versions. Here's what I mean by that.
The Gel 8 isn't a tank compared to the Gel 6 but it offers a more stable upper compared to the 6 and this results in a noticeably stronger, durable fit. Perfect for platform tennis.
But the best part of the Gel Res 8 is the shoe technology embedded into its soul or in this case, its sole.
Let's start with the outsole. It's one of the toughest in the court shoe market because of the Trusstic System Asics incorporates into all their court shoes.
It keeps the shoe lightweight while giving it a rugged toughness to keep it from breaking down. It's extremely durable without the heaviness.
Next up is the AHAR Plus Outsole Technology. This is the actual material or in this case, the rubber that makes up the outsole hitting the court surface. It's an upgrade from Asics previous outsole material that offers 50% more durability and is placed at the spots of the foot that are shown to get the most wear and tear.
Asics is not only meticulous with their design elements but also where they put them. The outsole structure and usage of the Trusstic and AHAR technology is a perfect example of that.
All in all, the Asics Gel Resolution 8 has six different shoe technologies designed into it. Including:
Solyte Midsole Material –
for advanced cushioning and comfort
I.G.S. –
An Impact Guiding System for proper heel to toe take off
P.H.F. –
Personal Heel Fit system with memory foam within the upper for an individualized form-fitting experience
PGuard –
For toe box protection which reduces abrasion
AHAR Outsole Rubber –
For better, longer durability
Trusstic System –
For a lighter outsole that remains tough
I have two favorite aspects of this shoe.
The first is the Personal Heel Fit System. I think it's a stroke of genius on the part of Asics to incorporate memory foam into the upper to create a unique and snug fit. The two layers of memory foam react to your foot's shape and hug it.
The cool part is, the shoe is fitting and forming to you instead of you trying to find a shoe that fits the shape of your foot.
The second aspect I like about the Res 8 is its overall durability. In fact, every Asics I've ever owned has lasted a long time.
Every shoe I've ever beat-up on the courts tends to wear out in the forefoot and tear at the pinky toe area. But with Asics, this doesn't happen until the bitter end of the shoe's life cycle.
I've always been impressed with how long-lasting my Asics have always been.
My only warning for this shoe is that it tends to fit better for those with narrow feet. If you have really wide feet, you may want to look elsewhere or adjust the size to find the proper fit.
However, they do make a "W" or wide version. So check that out if you have wide feet.
Buyer's Tip: When it comes to court shoes, I get the most bang for my buck with Asics. And the best part, the Asics Gel Resolution 8 is very inexpensive. You can usually find them well under $100!
Pros
Extremely long-lasting and durable
Memory foam upper for an individualized fit
Heel-to-Toe take-off guiding system
Special toe guard abrasion protection
Super affordable
Cons
May not be the right shoe for those with narrow feet
4. Prince T22 Court Shoes
Prince is one of the prominent names in tennis right now. Even though there is not a shoe dedicated only to platform tennis, this shoe would be the closest thing to that.
Prince has a long history in tennis and platform tennis and pickleball so their court gear is extremely reliable.
So it goes without saying that whatever type of court shoe Prince makes, they've got platform tennis in mind. And that's a good thing.
For men, the T22 comes in a sharp black and white combination or an eye-catching blue color pattern. The women's version comes in a traditional white and grey combination that is not loud or flashy. It's simple looking.
But it didn't make my list because of its color schemes. It's a great platform tennis shoe option because of its impact absorption technology and its enhanced forefoot support.
The absorption technology comes from two inserts that come standard with the shoe. The first is the ShockEraser in the heel of the shoe and the second is the SoftSpring pad underneath the mid-foot and forefoot.
These two pads of cushioning are designed to work in harmony with one another to provide a shock dispersion system that reduces the impact on the heel (where the most force is found) and sends it across the bottom of the shoe to the forefoot.
This makes the shoe stay soft and comfy despite heavy pounding.
Topping off the shoe tech included in the T22 is a synthetic/leather mesh material that includes TPU straps across the forefoot. The TPU straps are the two strips of reinforcement coming up to the lace eyelets.
The T22s retail for under $90, so they're relatively inexpensive.
Pros:
Made by Prince, a dedicated tennis company
TPU straps for advanced forefoot support across the medial and lateral section
Shock absorption system placed at the heel and forefoot to disperse impact
Cons:
No 6-month warranty included on the outsole
Shoes For Platform Tennis – Final Thoughts
If you're looking for a new pair or even a dedicated pair of court shoes for platform tennis, I hope this article has helped you know what to look for when it comes to proper footwear for platform tennis.
My top pick is the K-Swiss Ultra Shot because of the consistent feedback I got from platform tennis experts. Wherever I went for real recommendations, the Ultra Shot was always mentioned as a top pick. So, it tops my list.
Remember, the most important part when looking for the best pair of court shoes for platform tennis is that they're durable. And all 4 of my top picks have that so you can't go wrong.
Other Helpful Links On Shoes For Platform Tennis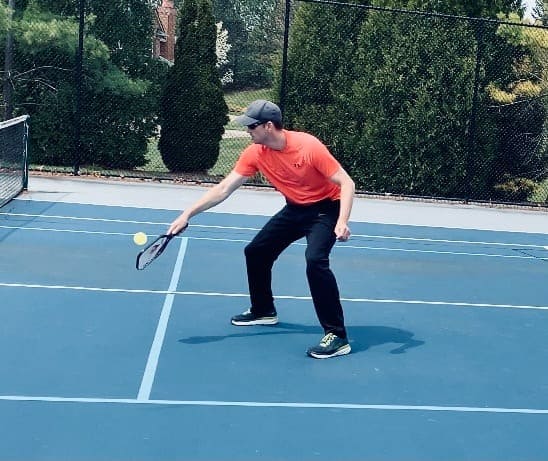 Welcome to TheVolleyLlama.com. My name is Keith, I'm just a lover of all sports that involve a racquet, net and a ball. I played competitive high school varsity tennis, love racquetball and my whole family plays pickleball regularly. I started this website to help give people like you the basics to learn these wonderful games.