The Rally Graphite Pickleball Paddle Review
If you're a new pickleball player, choosing your first pickleball paddle can be a difficult task because of the different types available on the market. The Rally Graphite Pickleball Paddle is a versatile paddle that offers new players great comfort, ample power and control.
You can read about the latest version of the Rally Graphite, the Rally 2.0, and other great beginner paddles in our article The Best Pickleball Paddles for Beginners.
Related: Ever wonder why some paddles have larger sweet spots than others? I interviewed the owner of a major paddle company and learned some facts about paddles that shocked me!
Read on for a more in-depth review of the original Rally Graphite Pickleball Paddle, which still offers novice players a number of great features and is still very much a great starter paddle.
While paddles are available in a variety of materials, such as wood and composite, graphite paddles are widely famous for their light weight.
These paddles are easier to maneuver and thus result in better performance because you do not need to apply too much force to hit the ball, which can help prevent arm fatigue.
Newbies and older players are likely to benefit from these lightweight paddles.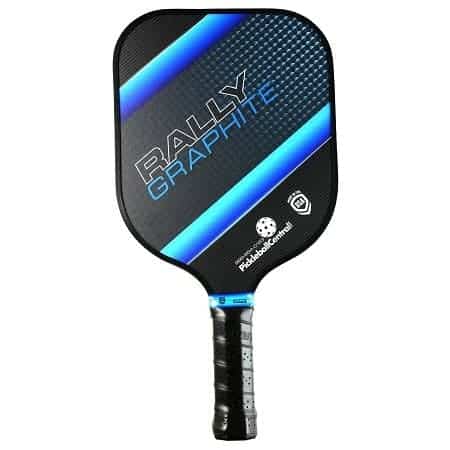 The Rally Graphite Pickleball Paddle is among the best-selling paddles on the market that features a honeycomb core made of Nomex. Nomex is a material that adds more 'pop' to the paddle, allowing the ball to bounce off with ease. The Nomex Core in this Rally paddle compliments the feather weight feel coming from the graphite paddle face nicely. This gives new players great pop and control.
Features of the Rally Graphite Pickleball Paddle
Made using high quality graphite grade with a Nomex core that is resistant to dents unlike aluminum paddles
Decent grip size of 4 1/4″ that conveniently fits into most hands, minimizing slippage
Comes in a weight range of 7.0-8.0 ounces that provides the player enough power control to hit good shots while maintaining great balance
Perfect choice for intermediate or beginner players who are still getting the hang of the game
Can be used indoors and outdoors
Wide hitting face that prevents the ball from hitting the edge guard, resulting in better shots
Available in 4 different colors including blue, yellow, red and green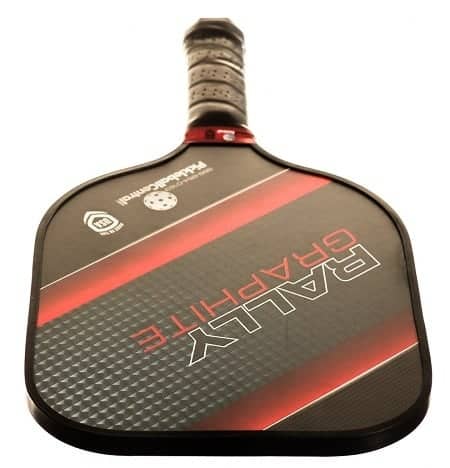 Pros of the Rally Graphite Pickleball Paddle
Lightweight: On an average, the paddle weighs around 7.5 oz. that is comparatively lightweight, providing the player sufficient ball control. Additionally, with a lighter paddle, you will be able to avoid arm strain and fatigue. There are lighter paddles on the market but the Rally offers a good combination of finesse and power at 7.5 oz.
Exceptional Quality: Most players who bought this paddle on Amazon were impressed with the high quality paddle and did not have trouble using it at all.
Perfect Choice for Beginners: The Rally Graphite Pickleball Paddle is an excellent paddle choice for beginners due to its light weight and wide hitting surface.
Resistant to Damage: The nomex core makes the paddle resistant to damage, dents and cracks, making it the perfect choice for players who don't always take good care of their equipment or are a little rough with their gear.
Suitable for the Elderly: The paddle is suitable for older players or those who suffer from arthritis.
Impeccable Design: The Rally Graphite Pickleball Paddle features an impeccable design and is available in 4 different colors including blue, yellow, red and green.
Cons of the Rally Graphite Pickleball Paddle
Noisy: On the downside, nomex cores are among the loudest of all the honeycombs hence this paddle is probably not a great choice for people who prefer a quieter paddle.
Edge Guard: A potential downside for experienced players is the edge gaurd. Although the paddle has a larger than average face, the edge guard does create the opportunity for the ball to hit the edge guard versus the paddle face itself; resulting in a potential fault.
Editors Note: Many people, like us at TheVolleyLlama, actually like the louder "pop" coming off of paddles like this one. Much like a baseball hitting a vintage baseball mitt, the signature pickleball "pop" coming off of some of these newer paddles has now become a recognizable, trademark part of the game.
Verdict
The Rally Graphite Pickleball Paddle is the perfect choice for you if you are a beginner and are in need of a graphite pickleball paddle to improve your game. Even advanced players will appreciate it! The paddle can get a little loud but it is still worth every penny.
For everything you need to now about pickleball paddles and how to choose the right one, check out our Complete Pickleball Paddle and Equipment Buyer's Guide. This resource is a must read for anyone looking to purchase a new paddle or buy additional gear!
Leave a comment below and let us know what you'd like to read more about!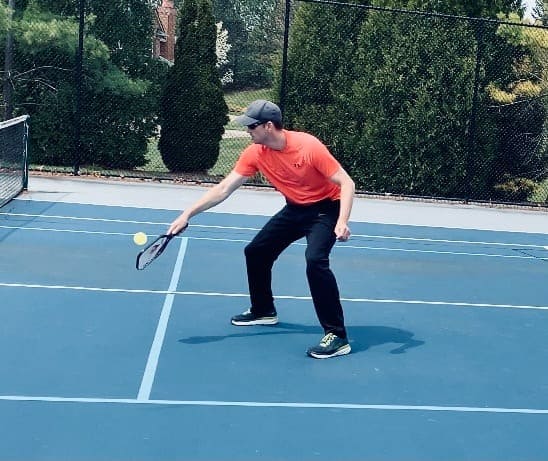 Welcome to TheVolleyLlama.com. My name is Keith, I'm just a lover of all sports that involve a racquet, net and a ball. I played competitive high school varsity tennis, love racquetball and my whole family plays pickleball regularly. I started this website to help give people like you the basics to learn these wonderful games.