Which Pickleball Machines Replicate Shots The Best?
In an effort to improve my pickleball game when I was on my own, I recently began to look into pickleball machines and if they are a worthy investment. Well, after doing a ton of research, and extensively demoing one of the top pickleball machines on market, I can honestly say there are just two brands to consider.
What is the best pickleball machine? Well, I recommend the Pickleball Tutor Machine or the Spinshot Pickleball Machine. Both pickleball machines come with variable oscillating delivery systems to keep you on your toes while at the kitchen line as well as both speed and spin adjusters depending on your skill level.
Are these machines just gimmicks, or are they worth the investment? Can you actually get better by using a pickleball machine? In this article, I'm going to break down each brand of machine and answer these questions.
Pickleball Tutor Review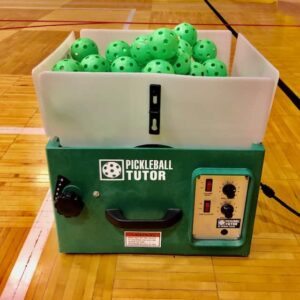 Before I go any further and get into the details of my review of the Pickleball Tutor I should tell you that this unit comes in quite a few different models.
There is the less expensive ($900, give or take) "basic model" that I played with or the more expensive but more feature rich Pickleball Tutor Plus.
What's the difference between the two models? Well, The "Basic" model is smaller, easier to maneuver and comes with variable 2-line oscillation, speed adjustments, left and right spin adjustments and elevations adjustments.
Editor's Note: You can even get the "Basic" model with no oscillation for an even cheaper, bare bones approach.
You can get manual elevation via a knob on the side like the model I played with or for a little extra cash you can get automatic elevation where the machine elevates with just the push of a button.
Pro Endorsement? Click here to see how Pro Player Simone Jardim uses the Pickleball Tutor Basic to help drill for her and her students.
The slightly bigger and heavier Pickleball Tutor "Plus" model gives you everything the "Basic" model does but adds higher ball speeds – a blistering 65 mhp! That's the highest in the industry!
The basic model just has side spin (left or right) but with the Tutor Plus gives you advanced spin from the machine in the form of topspin, backspin and flatspin!
​In addition, you also get a faster feed rate compared to the basic model.
Aside from the Tutor Plus being a little heavier and slightly harder to move around, the only down side to the Plus model is that it only holds 110 balls vs 125 for the Basic model.
Basically, both models offer variable speed, spin, oscillation and elevation features to tinker with. But the bigger "Plus" models give you slightly more spin, speed and feed options for a more advanced experience.
Either model can give any play the ability to emulate virtually any shot in the game and make any player better. This is why the two Pickleball Tutor machines are the best selling machines in pickleball right now and the ones most used by 5.0 players!
Both models comes with two different power source options; battery power or A/C Power to plug into the wall. But you'll want an extension cord…more on that in a minute.
In the end, I'd recommend the Pickleball Tutor Machine Basic model because it holds more balls and offers plenty of ball adjustment features to make every lesson or solo session enjoyable. In my opinion, the Tutor Plus model just isn't worth the higher price tag.
My Pickleball Tutor Machine "Basic" Play Test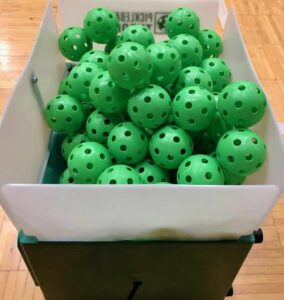 -The Pickleball Tutor Basic Pickleball Machine Easily Holds 125 Balls!
My review of the Pickleball Tutor Machine is going to be super thorough. Because I got to set it up, and play with it extensively at my local Rec Center.
Keep in mind, this is as unbiased of a product review as you can get because I had never played with ANY pickleball machine prior to this.
Nor had I ever set one up.
From plugging it in to the wall, to loading the ball into the feed, to playing with the variable speed and spin adjustments, I figured everything out on my own.
Nobody was there to help assist me or provide a manual.
So, when I give you my opinion on set up and utilization, this is as organic as it gets.
Pickleball Tutor – Set Up
How easy was the pickleball tutor to set up? Well, since I had no manual to guide me or someone to assist in setting up, I'd say it's pretty darn easy.
I was able to figure out where the A/C power cord plugged into the unit itself with no problems. However, I quickly realized that the cord was not long enough based on where I wanted the unit on my Rec Center's gym pickleball court set up.
Then I realized why my facility had a long orange extension cord wrapped over the cart that carried the machine. I had just found this machine's first minor drawback…the A/C power cord is not very long.
If you coach lessons and want to use the Pickleball Tutor, you're going to need an extension cord. A long one. Or, get the battery powered model. Either way, it's a minor factor and an easy fix.
If you coach primarily indoor pickleball lessons, a 50 foot cord might do but I'd check with your facility's set up first.
If you're an outdoor player or coach lessons primarily outdoors, you're going to want an extra long cord…like 100 feet or more.
After I got my extension cord plugged into the closest outlet I picked up the Pickleball Tutor and easily walked it to where I wanted it on the court.
It's only 29 pounds so moving it from the storage cart to the ground was easy. I feel carrying it can be a one person job. I had no issues moving it around myself with no help.
Would two people help? Absolutely.
In my opinion, a one-man crew can definitely pick up and move this baby around; no problem. But, everyone's strength is different.
If you're older and have back issues, use your best judgement and ask someone to lend a hand. You can never be too safe.
Ok, so set up was relatively simple. Placing the unit in the right spot was easy but it did take some adjustments to make sure I had the right distance away from the net. Too close or too far and the balls would spit right into the net.
Pickleball Tutor Review – My First Drill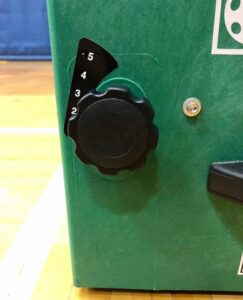 I had to tinker with the Pickleball Tutor's adjustable legs or feet to get the proper elevation. This required twisting the knob in the picture above.
Much like a projector you'd use in school, the bottom of the Pickleball Tutor has tiny round legs or knobs that unscrew to raise or lower the unit.
This gives the ball feed more height, or less height depending on how high you adjust the feet/knobs.
Keep in mind, both versions of the Pickleball Tutor Machine (Basic or Plus) give you the upgrade option for automated elevation with just the push of a button.
After playing with the adjustable feet and the distance to the net I was able to get the ball to come over the net with good precision.
Depending on how close up to or far away from the net I had it, I could mimic a third shot drive, or a third shot drop.
The third shot drive it emulated was fantastic! I stood at the kitchen line and had the Pickleball Tutor blast balls at me while I took speed off them and attempted a drop shot back at the pickleball machine.
It was tons of fun! 30 minutes went by and I was working up a sweat and getting a good challenge from the drill!
But, getting the Pickleball Tutor to properly give me a drop shot into the kitchen for me to hit back, proved to be a little more difficult.
I played around with the unit even more. Raised and lowered the height some more. Pushed it back away from the net. Brought it back closer to the net.
I was able to find an ideal spot for the Tutor to sit and lob drop shots into my kitchen and played with it like that for another 30 minutes! After that, I began to tinker with more drop shot alterations with the machine…
I stopped, stood back and realized it might be more fun if the Pickleball Tutor sat higher. What if the whole thing could be off the ground more?
Behind my Pickleball Tutor unit stood the storage cart I had taken it off of. I thought for a moment and decided to put the pickleball machine back on the storage cart and adjust the legs a final time.
Now with my Pickleball Tutor Machine up even higher, I could move it back and allow for the proper arc to let the ball land in the kitchen on my side of the net.
Perfect!
And moving the cart it sat on was easy because the cart had wheels. Which made me realize the Pickleball Tutor Basic doesn't have wheels of any kind.
Having some small wheels, with a wheel lock would have made moving this little guy around on the court a little easier.
Again, it's not that heavy. But once I had it on the storage cart with wheels, finding the ideal spot on the court for the Pickleball Tutor was a breeze.
It should be noted that if you upgrade to the Pickleball Tutor Plus machine, you'll get a unit with rear wheels and a handle. This allows you to easily grab the unit, tilt it back, and wheel it around easily.
Pickleball Tutor Machine – Speed, Spin, Oscillation And Ball Feed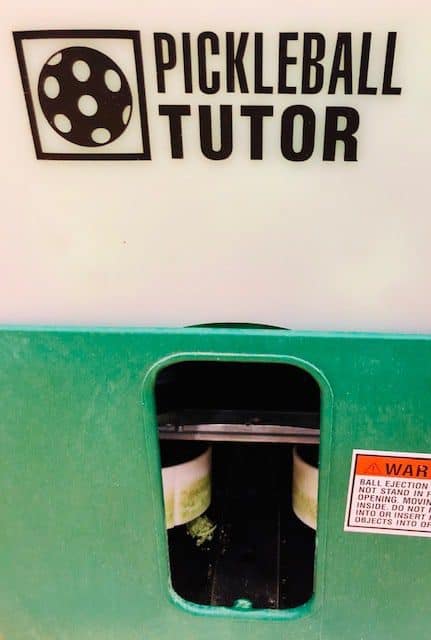 -This little ball feeder can shoot balls at you at up to 60mph!
In my opinion, the Pickleball Tutor Machine's biggest strength is its variable oscillation. This is such a fun feature!
The oscillation feature recreates a wonderful singles match and will have you moving back and forth across the court for return shots.
Combine the oscillation with some spin adjustments and you'll be building "return shot" muscle memory in no time!
I'm a big fan of the oscillation feature! With some spin involved it really has the ability to simulate the back and forth style of singles play and will give any beginner player a real workout!
Overall, the speed and spin adjustments are intuitive and very easy to use. You can turn the oscillation feature off, find a fixed position on your side of the court, dial up the speed, add some side spin and emulate some great drills that you would normally do with a live partner!
This little machine's ability to replicate a real human on the other side of the court was amazing!
Having the ability to crank up the ball feed speed too is a cool experience! This machine has a ball feed meter that allows you to get real aggressive!
I moved the dial to its most challenging, fastest position – a ball every second. I have to be honest, with the ball speed all the way up and the feed speed all the way up, I had a hard time keeping up!
Once I moved the general speed dial down, and kept the feeder speed up, I loved it! I was able to mimic the back and forth blistering pace you sometimes get a the kitchen line!
We've all had those "Bang Bang" rallies at the net where the pace of the ball is frantic and fast – well, the Pickleball Tutor was able to recreate that for me and it was fantastic!
Pickleball Tutor Basic and Plus – Storage and Portability
Are pickleball machines easy to port around and easy to store?
This was a question I wanted to explore and examine because it was a major concern when I began researching them.
I had a preconceived notion that all pickleball machines would be relatively bulky, heavy and not easy to store anywhere.
I was WRONG! With the Pickleball Tutor Basic or it's larger brother; the Pickleball Tutor Plus machine, storage isn't a problem.
And for the most part, portability isn't going to be an issue. Both models are small enough to store in a garage or a storage room without taking up tons of space.
And while the Basic model doesn't have legs, it is small enough and light enough to carry around without a problem.
The heavier Tutor Plus model is larger, but the rear wheels and handle make moving it around a breeze. You can tell the developers had this in mind when they knew they'd be making a slightly bigger and heavier machine.
Overall both machines are on the small side, can be tucked away in your garage conveniently or even sit the in trunk of a car with no issues.
I give both pickeball machines a storage and portabability score of 4 out of 5!
Spinshot Player Pickleball Machine Review – The Most Advanced Pickleball Machine
When I did my initial research about the Spinshot Player Pickleball Machine, I was a little skeptical. I admittedly judged a book by it's cover.
It looked big, bulky, heavy and confusing with all its options. But looks can be deceiving.
Granted, I've never played with the Spinshot Pickleball Machine. But I've done a ton of research and I have a tennis background.
Why does that matter?
Because anyone with a strong tennis background will recognize the Spinshot brand. Spinshot is actually known for making incredibly accurate, advanced tennis ball machines.
So you're getting a well known tennis brand. And the folks at spinshot have put everything they've learned from their tennis background into making the most advanced, feature rich and tech friendly pickleball machine on the market.
The Spinshot Pickleball Machine – What Makes It Great?
Well, the one feature that drives all of this pickleball machine's innovation is – the technology built inside of it.Yes it's bigger than the Pickleball Tutor (both models) and yes it's heavier. But once you learn about all the technology inside of this puppy, you'll began to appreciate that its size is not actually a bad thing. It's what allows all this stuff to work!The best part of all this tech is that it makes the unit future proof. The bluetooth functionality this machine has is brilliant!Connect the machine to your Apple iPhone or Apple Watch or even an Android device and bingo – this pickleball machine is easily programmable and more importantly, you can update it!Any update this machine has comes conveniently from its bluetooth connection to your phone.So, when Spinshot updates one of the 12 drills this unit comes with – you can update the machine by updating the app.When Spinshot fine-tuned the oscillation function, you get the upgrade by simple updating the app. Genius!Their app is intuitive and easy because they introduced it with their tennis machines and have been able to tweak it ever since.So when you download the app for this advanced pickleball machine – it looks and feels polished. I give Spinshot a ton of credit here!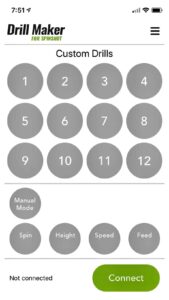 The Spinshot Pickleball Machine: On-Court Features and Specs
So when you get this pickleball droid on the court, what is it capable of?
For starters, it comes with 12 pre-programmed drills, each offering their own unique shot positions and challenge.
And the best part?
You can customize the drills on the fly using the app. So, if your using drill number 4, and you want to increase the spin put on the ball, simply open the app to that drill and dial up the spin meter for that specific preset drill.
All this is intuitive and can be done as you're drilling. This makes altering any of the 12 drills a piece of cake.
Some of these drills and adjustments include: forehand, backhand oscillation, as well as volley, ground strokes and lobbing via the vertical oscillation feature.
All of this makes for an experience that will have you slamming deep, baseline hugging return shots or taking pace of the ball and sharpening the all important third shot drop.
Wireless?
It should be noted that like the Pickleball Tutor machine, the Spinshot Pickleball Machine comes with either a battery powered option or a cord for A/C power. You can choose whatever is more convenient for you.
The battery powered option comes with a 12V battery and charging station. Spinshot claims a fully charged battery will allow for 2 to 3 hours of play. So, simply plug it in over night and you'll be good to go.
Based on what I've seen from this model, I'd go with the Battery powered option because of the added convenience it offers. If you're playing outdoors, it may be hard to find an outlet to plug into.
Having the ability to flip the power on and move the unit around freely without worrying about an extension cord getting tangled, sounds way better to me.
Plus, Spinshot offers reasonably priced replacement batteries.
Spinshot Pickleball Machine – Storage and Portability
This unit is bigger than the Pickleball Tutor but it's not as huge as it looks. In fact, it's not all that much bigger than the Pickleball Tutor Plus model.
However, it is heavier because it is not made of plastic. That gives it muscle and durability but…adds weight and makes transporting from car to court and court to car more of a chore.
It is just over 47lbs for the battery powered model and over 42lbs for the A/C version.
I'd suggest having someone around to lend a hand if you're taking it out of the back of a truck or SUV.
Once its out of your car though, this pickleball machine has rear wheels in the back and a handle up front. Simply tilt and pull to wheel it around.
Is it as easy to move around as the Pickleball Tutor Basic? No. But is it a total tank? No.
And it's plethora of features definitely make up for the additional weight.
Pickleball Machines – Related Questions
Let's explore a few common questions I had around pickleball machines and give you my honest opinion.
Who Are Pickleball Machines For?
Well, if you're reading this and run the day to day pickleball activities for a Recreational Center, YMCA, or tennis facility – I think you seriously need to consider having a pickleball machine on hand for your players to use.
If you run a dedicated indoor pickleball facility, like the Alley Pickleball Club in Michigan, then a pickleball machine makes a lot of sense.
In short, if my little local rec center has one for it's members, then I think any serious pickleball program should have one. It's worth it. And your members will love it!
I also think pickleball ambassadors and or coaches should think about making the investment. Coaching and teaching the game with pickleball machines as part of the drill rotation makes a lot of sense to me.
As a coach, you can only run one drill at a time, but with smart pickleball machines that have the ability to emulate so many different aspects of the game, it allows you to get so much more out of a practice session.
As a coach, a good pickleball machine allows you to teach more players and get more drills into your players practice sessions. There is no gimmick here.
Pickleball machines can legitimately help make you a better player. So pickleball coaches need to take having a machine on hand seriously.
Don't believe me? Just ask 5.0 Pro player Simone Jardim. Click the link to see how she drills with the Tutor Basic.
Related Content: Need paddle advice? Read why Simone and I both use the same pladdle.
I think there is real value in having one on hand for virtually any dedicated facility or coach.
Are Pickleball Machines Worth The Investment?
This question depends on how serious you are about that game.
If you're a serious coach and growing the number of players you're coaching up to the next level, it may make sense to have a pickleball machine on hand.
If you help run a facility with regular pickeball sessions, having a pickleball tutor machine on hand can help bring in more players. And it could help any coach or ambassador bring in more players to the game!
And the more players who fall in love with the game, the better the game will be!
Pickleball machines can help any pickleball coach with their students and have the ability to grow any facility's pickleball club. In short, pickleball machines can and will continue to help grow the game.
Pickleball Machines – My Final Thoughts
After playing exclusively with the Pickleball Tutor Basic, I highly recommend it as the best pickleball machine for anyone considering one.
It's small, lightweight, easy to bring to any court and can replicate almost any pickleball shot a human could throw at you.
If you've considered one for a facility or to up your game as coach, the Pickleball Tutor Basic machine is a great unit to start with.
Have you ever played with a pickleball machine? If so, which one? Leave a comment below and share it with our pickleball community!
About Me
I'm just a lover of all sports that involve a racquet, net and a ball. My whole family loves and plays pickleball regularly. I started this website to help give people like you the performance tips and buying info they need to make an educated and informed purchase.
The products I recommend here have been researched, analyzed, compared and in a lot of cases bought, worn and used. If it's a bad product, I don't recommend it. Any small purchase made from this site gives me a small commission that helps fund the growth of the site to provide you more helpful information.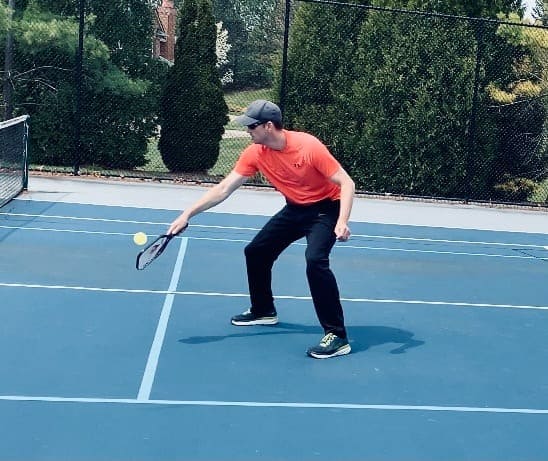 Welcome to TheVolleyLlama.com. My name is Keith, I'm just a lover of all sports that involve a racquet, net and a ball. I played competitive high school varsity tennis, love racquetball and my whole family plays pickleball regularly. I started this website to help give people like you the basics to learn these wonderful games.