In today's post, we're going to take a deep dive into a product review and discuss the pros and cons of one of the most popular ping pong paddles among online retailers. This is my full Stiga Pro Carbon paddle review!
The Pro Carbon represents Stiga's best effort when it comes to intermediate-level table tennis bats. Stiga makes a lot of paddles, across virtually all skill levels. But where does the Pro Carbon fit in Stiga's paddle lineup? Is it a beginner paddle? Is it an advanced paddle? Who is it for?
Our Stiga Pro Carbon Review aims to answer these questions for you!
A Quick Rundown Of The Stiga Pro Carbon
In a hurry and need the details? The Stiga Pro Carbon paddle is a powerful, durable paddle certified for professional play. Table tennis players of all levels will benefit from its top-of-the-line construction, including an ergonomic design that helps reduce hand cramping.
However, its features and design elements are best suited for players moving from the beginner-level ranks to something slightly more competitive – or intermediate.
In short, it's an intermediate player's dream come true, at one heck of a price point!
Pros
Quality construction from a trusted name
Excellent speed and good spin
Affordable for practically every budget
Great for offensive-orientated play
Cons
Slightly heavier than other paddle's its size
Control can be a little imprecise for brand new players
Not designed for soft shots
Before we get too far into our Stiga Pro Carbon Review, let us give you our two cents on ping pong paddles.
Your success when playing table tennis and more importantly, improving your game, will be determined by your personal skill level and the quality of the equipment you use.
Unfortunately, improving the fundamentals of the game like spin serves or advanced techniques like forehand loops and banana flicks, is very difficult if you're using a poorly-made paddle.
Cheap paddles make it harder to improve, while quality ping pong paddles, like the Stiga Pro Carbon, make it much easier.
As we mentioned above, this paddle is heavier than most, and much better suited for loops than soft shots. While this is a mid-tier paddle we recommend for most players, some competitive players might notice a lack of speed and control and may want more from their paddle.
But again, this is feedback from an advanced player who commonly spends almost twice as much as the Pro Carbon on their paddles, or even designs their own custom blade themselves.
So take that with a grain of salt. If you're a beginner to intermediate player, it's going to be hard to NOT be impressed with the Pro Carbon!
Related: Looking for other great beginner-to-intermediate paddle options?  These are my current favorites!
Let's take a closer look at the build quality of the Stiga Pro Carbon.
Manufacturing Quality
Stiga is a well-respected name in table tennis gear, especially paddles. As a Swedish company, they first began manufacturing table tennis products in 1944.
Today they're one of the world's largest table tennis brands with a presence in over 100 countries. So, the Stiga name carries a lot of weight, even for mid-tier paddles like the Pro Carbon.
The Pro Carbon is Stiga's fastest paddle, while their Evolution and Supreme paddles take the second and third spots. But a paddle with all this speed is surprisingly light on the wallet.
Depending on the retailer, this is one of the least expensive pre-made rackets of this caliber I've ever seen. It's that good.
Approved For Official Table Tennis Competition
The Stiga Pro Carbon has official approval from the International Table Tennis Foundation. This means the racket can be used during professional, competitive matches or tournaments.
The ITTF maintains strict specifications and regulations for all approved table tennis equipment. This means the Pro Carbon checks all the boxes from a compliance and quality stand point so feel free to enter your local tournament and get ready to go!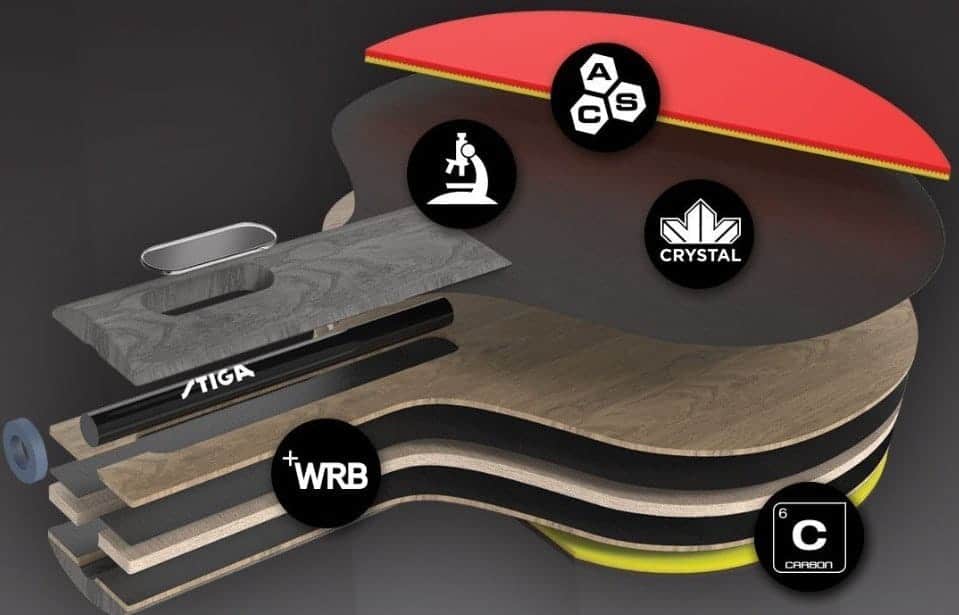 Now, do you need ITTF approved paddles for a friendly game in your basement? Of course not. But the ITTF seal does certify that the paddle is generally well-made. The ITTF considers material thickness, number of surface joints, rigidity level and more.
Plus, if you are interested in competitive play, you'll need an officially approved paddle. Many professional players use custom-made paddles.
But the Stiga Pro Carbon Table Tennis Racket is certainly a viable option for competitive play – and is significantly cheaper than a custom paddle.
Paddle Ratings – Spin, Speed & Control
Ping pong paddles are rated for sping, speed and control. The Stiga Pro Carbon gets high ratings for spin and speed but loses some points in the control department.
However, in defense of the Pro Carbon, this can be a natural progression of sorts. Beginner paddles tend to have less speed and spin and focus more on control. See the Stiga Titan for a perfect example. As you progress from an amateur paddle to a more skilled or intermediate based paddle, you'll see the ratings for Control, Spin and Speed begin to change.
The Stiga Pro Carbon falls comfortably in the middle between a beginner blade and an intermediate racket…leaning more towards an intermediate racket with less control (when compared to a beginner paddle) and more power and spin.
Ping pong paddles are rated on either a 10 or 100-point scale. While the two systems can be a bit arbitrary at times, they do help determine general strengths and weaknesses.
Spin
The Stiga Pro Carbon Table Tennis Racket has an incredible 100 rating for spin. The spin rating is mainly determined by the quality, thickness and orientation of the rubber on the paddle blade.
The ability to put spin on the ball is probably this racket's greatest strength. This is ideal for someone looking to improve their game and upgrade their paddle. If you're a beginner playing with your first or even second paddle, you'll notice an upgrade when wielding the Pro Carbon when it comes to wrist flicks and topspin forehands.
In short, if you're upgrading to the Pro Carbon, you'll immediately notice an improvement in your ability to put spin on the ball. Consequently, you're confidence will also improve!
For another great "spin-oriented" paddle check out our Killerspin Jet 800 Review!
Speed
The Pro Carbon's speed rating is an impressive 99! Speed is determined by the paddles ability to absorb and then quickly redirect force.
The faster the speed rating, the quicker the ball can be returned across the net. As mentioned above, this is the fastest paddle Stiga makes, and it's noticeable from the get go!
Control
Finally, the paddle's control ranking drops down slightly to 80. This is a heavy paddle ideal for players who play aggressive on offense. The paddle's wide sweet spot is a bit more forgiving than you'll find on similar rackets.
Still, control can feel imprecise at times – especially if you're used to lighter paddles. If you're brand new to ping pong and pick up this paddle for the first time, you may struggle with it's accuracy.
Newbies may need some "break-in time." 
Blade Quality
The Stiga Pro Carbon blade is made from lightweight wood with two layers of integrated high-performance carbon. As blade weight decreases, the rate of recovery increases after every stroke.
This allows for fast play over long periods of time without extreme arm fatigue.
The paddle is made from seven-ply extra light balsa wood. Stiga uses their unique Crystal Technology to harden the blade surface. As the surface becomes more rigid, speed increases.
This is what allows the Pro Carbon to generate so much speed! Intermediate players will appreciate the "pop" seen from this paddle and will be better equipped to harness it's power without sacrificing control.
Rubber Surface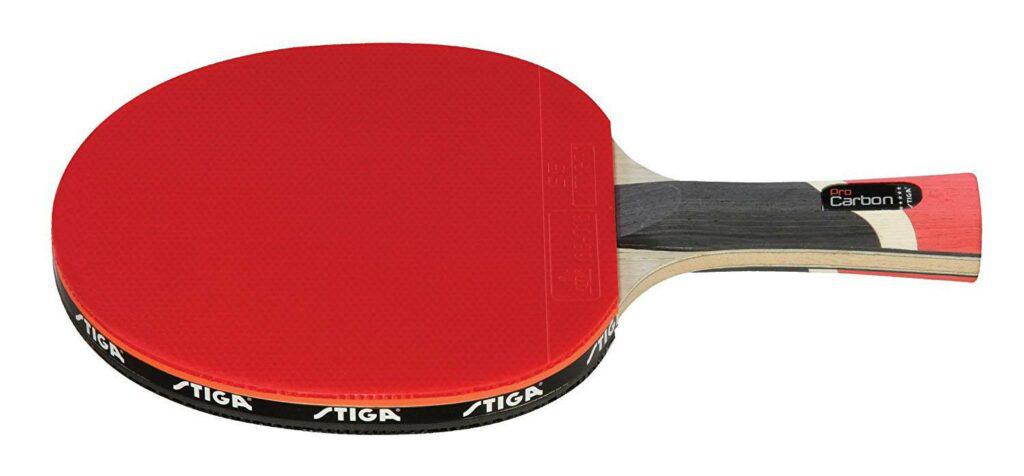 The surface rubber tightly conforms to the paddle with Nano Composite Technology, which helps increase speed and spin even more. Plus, microscopic air capsules in the rubber boost elasticity for improved ball control…this is ideal for spin.
All surface rubber is also ITTF approved. A two-millimeter layer of sponge material underneath the rubber lets you hit the ball hard without sacrificing gobs of control.
Related: Want to know how to make your own custom ping pong paddle? We cover everything from picking the blade, selecting the rubber and how to put it all together in my complete Guide to The Best Ping Pong Paddles.
Stiga Pro Carbon Review – Final Thoughts
The Stiga Pro Carbon is a powerful paddle that fits right at home in competitive play. Although a bit heavy, this is a fast and powerful table tennis paddle with a light blade and a large sweet spot. Often a great choice for offense-orientated players moving up skill levels.
Of course, you don't have to be a professional table tennis player to enjoy this paddle. With solid construction from a trusted manufacturer, the Stigma Pro Carbon Paddle is often perfect for rec. rooms and other casual play.
This is a durable paddle designed to last and has the look and feel of a much more expensive paddle.
Thanks for reading our Stiga Pro Carbon review. We are big fans of this paddle because both beginners and experienced players will find it to be a high-quality paddle at a very affordable price.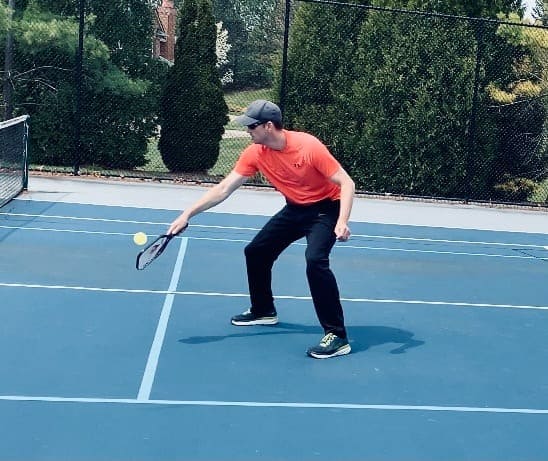 Welcome to TheVolleyLlama.com. My name is Keith, I'm just a lover of all sports that involve a racquet, net and a ball. I played competitive high school varsity tennis, love racquetball and my whole family plays pickleball regularly. I started this website to help give people like you the basics to learn these wonderful games.