Pickleball is arguably the most inviting, inclusive sports I can think of.  What I mean, is that whether you're a beginner and don't even fully know the rules yet, or an expert who's been playing for years, the attitude brought to the game is the same – Let's Play and Have Some Fun!  It is this unique, lighthearted yet competitive spirit that invites everyone, young or old, to the game.  That's why we just had to create this post around the Best Pickleball Shirts – the ones that capture that fun loving yet diehard fan approach that the game is known for! These are the fan favorite, make you laugh out loud Best Pickleball Shirts available in 2019!  Nothing tells the dedicated pickleball community where your fandom stands like an awesome pickleball t-shirt!
Related:  Ever wonder what kind of paddle material tends to lead to more miss-hits or why some paddle have smaller sweet spots?  I interviewed 4 paddle insiders, what I learned will shock you!
Nothing Makes You Smile Like a Fun, Creative Pickleball Shirt
There are so many creative custom pickleball shirt designs available that we felt we had to do a rundown of our favorite ones. You'll find a variety of different shirts here in a wide range of sizes and colors. There's sure to be one that is perfect for the pickleball player in your life who virtually lives on the pickleball courts.
Below we've broken down our picks for the best pickleball shirts into Men's options and Women's options but many shirts we've listed come in a men's and women's version.  We've even included a more serious, truly athletic option to consider – in case you're looking for something less fun and more serious to wear at a tournament.  Let us know what you think of these pickleball shirts in the comments section at the end.  We'd love to hear from you!
The Best Pickleball Shirts – Men's Options
1. Just Dink It
This fun pickleball shirt features a clever play on words using Nike's old tag line "just do it" as inspiration. The "Just Dink It" pickleball version gives off a great combination of witty fun while retaining the look and feel of a real athletic t-shirt. The is a lightweight, classic fit t-shirt for pickleball lovers and depending on the color scheme you get, can be up to 100% cotton. Speaking of color schemes, there are plenty to choose from here: dark blue, light blue, green, red and black.  There's even a women's version.
This is one of the best pickleball shirts because the pseudo Nike Swoosh image coming from the ball bouncing and the pun heavy "Just Dink It" tagline gives off a deceptively athletic/serious look and feel to it. But once you get the joke on the front, it'll have you saying "ahhhhh, I get it!".
2. Old Man With a Pickleball Paddle
This one is perfect for the retired pickleball fanatic in your life!  If you've got a father or grandfather who never misses an opportunity to strap up his court shoes and show the young bucks what good pickleball looks like, then this pickleball shirt could make the perfect smack-talking gift!
it's 100% cotton, comfortable, and perfect to play in!  It's available in many color selections including kelly green, royal blue, asphalt, brown, and black.  It's light weight, features a classic fit design and has a double needle sleeve bottom hem.  It should be noted that there is no women's version for this shirt.
3. I Have OPD
We had to choose this funny pickleball shirt because we can relate to it.  When we spend a long weekend with friends and family and the portable pickleball net, it becomes an obsession!  When you're trying to figure out when to carve out an hour for driveway pickleball during a family vacation, you know you've got a problem!  This fun loving obsession is exactly why this classic fit, light weight tee makes our Best Pickleball Shirts list.  If you've got OPD, when you wear this shirt, your pickleball friends will certainly be able to relate!
It comes in five different color variations and depending on the color, could be 100% cotton and is machine washable.  In addition, there is a youth and women's version.  It also comes in a women's version.
4. Zero, Zero, Two
Nothing gets the blood flowing and the energy up like the moment right before that first pickleball game of the day is about to begin!  And the signature phrase by the serving team "zero, zero, two" means Game On!  Here we go!  This pickleball shirt broadcasts to the world, albeit in a subtle fashion, that you are a dedicated pickleball player.  What's unique about this shirt is that those that aren't familiar with the game, but are curious about what your shirt means, will ask you!  No other pickleball shirt on our list creates more pickleball conversations like this shirt.  It's pickleball lingo, and if someone doesn't know it, they tend to ask!
This pickleball t-shirt comes in five traditional color patterns and even ​offers a youth and women's version.  Much like others on our list, it's machine washable and depending on the color, can be up to 100% cotton.
5. I'm a Heavy Dinker
Nothing brings out the fun spirit of driveway pickleball like a shirt that says "I'm a Heavy Dinker!"  A funny play on words and reference to being a "heavy drinker", this lightweight classic fit pickleball shirt is a favorite among recreational players who like to play the sport but also have a good time as well. If you don't take yourself too seriously when your playing with friends and mainly play for the fun of it, this is the pickleball t-shirt for you!  It also comes in a women's version and offers five color options: green, white, orange, blue and lemon.
Athletic Option – Men's Vapor Pickleball Club T-Shirt
If you're looking for something a little more serious with an athletic tone to it, check out the Pickleball Club T-Shirt from Vapor Apparel.  This 100% microfiber short sleeve shirt is lightweight and breathable.  At first glance, it looks very much like an Under Amour or Nike athletic shirt.  We like this shirt because it has something on it that is pickleball related to let the world know you play, but is a serious athletic shirt to let them know you are serious about your game. There are thousands of Dri Fit tees to consider but, we prefer the ones that have some tip or nod to the world of pickleball to show our fandom.  This pickleball shirt does just that while maintaining a professional look and feel.
For an added bonus, this shirt has the Skin Cancer Foundation recommendation of a UPF 50+ fabric for UV sun protection…making it the perfect pickleball t-shirt for outdoor tournaments and events.  It should be noted that this comes in a unisex style fitting and may not fit all female players as well.  ​
[tcb-script type="text/javascript"]amzn_assoc_placement = "adunit0";amzn_assoc_search_bar = "true";amzn_assoc_tracking_id = "tvco08-20";amzn_assoc_ad_mode = "manual";amzn_assoc_ad_type = "smart";amzn_assoc_marketplace = "amazon";amzn_assoc_region = "US";amzn_assoc_title = "Our Other Top Amazon Picks";amzn_assoc_linkid = "8547148f5e5afddc13a9ecb40617b6b2";amzn_assoc_asins = "B00KI67L6W,B0170STQOA,B072N1GJZY,B004VXSI1K";[/tcb-script][tcb-script src="//z-na.amazon-adsystem.com/widgets/onejs?MarketPlace=US"][/tcb-script]
The Best Pickleball Shirts – Women's Options
1. Dink Responsibly
Another fun play on words custom pickleball shirt, perfect for the wine drinker or martini drinker in your life who also lives and breathes pickleball!  This lighthearted tee comes in five unique colors: asphalt, black, navy, dark heather and purple.  Depending on the color, you'll get a combination of polyester and cotton or up to 100% cotton with a double needle sleeve.
Again, we like this shirt because it gives off a fun loving spirit but also includes some diehard pickleball fan lingo with the word "dink."  However, when it comes to pickleball strategy, the words "dink responsibly" ring true.  When finesse play at the kitchen line gets going, you must remember to dink softly.  Too high and you'll be eating a pickleball.  So, like the shirt says, dink responsibly!
2. Pickleball EKG T-Shirt
If you are like us, and your heart beats for pickleball, then this is a must have pickleball t-shirt!  Anyone with a love for the game will love this shirt.  It's available in men's and women's cuts and comes in navy, asphalt, kelly green, black, and brown.  The graphic is of an EKG heartbeat with a pickleball paddle and ball worked into it.  This classic fit tee will have no issue telling the world just how much you love this sport!  Let everyone know that pickleball is your passion using the heartbeat of the sport; a paddle and a ball, to deliver the message!
3. Live. Laugh.  Play Pickleball
For dedicated pickleball players, especiall older retired players, life can be pretty simple:  Live. Laugh and Play Pickleball!  That's why we love this shirt so much. It captures that simple lifestyle that all of us long for during retirement so we can relax, live life, have fun and play TONS of pickleball!  This shirt reminds us of the popular Life is Good brand; with some pickleball flare to it.
Style-wise you can choose from 5 dark color schemes: asphalt, brown, olive, black and navy.  All color options are 100% cotton and classic fit.
4. Dink'n Go Nuts
Who would have thought that the classic Dunkin Donuts moniker would have been used to make a great pickleball t-shirt?  Well someone thought of it, and we love the cleverness of it!  Anyone who's ever had a long volley point at the net will you know that the dinking aspect of the game can indeed get NUTS! Again, a fun play on words but it also subtly speaks to a very important aspect of the game – dink play!
This shirt only comes in four color options: white, grey, yellow and black. However, the classic Dunkin Donus color pattern and font is perfectly represented regardless of the shirt color.  In addition, the pickleball paddle with the "PB" on it fits in seamlessly.  Get it?  Seamlessly…shirt seam?  Ok, we'll leave the clever pun stuff to the folks creating the pickleball t-shirts.
5. Who's Serve?  What's the Score?  What Day is it?
Whether you're playing at the local pickleball courts or at a weekend tournament, when you've been playing pickleball for two hours straight – you tend to be in a daze when it's all said and done.  No other pickleball shirt does a better job of capturing that feeling than this one!  Lord knows we've lost track of time during extended play, even during family driveway pickleball!
This clever tee comes in five solid color options: navy, black, pink, green grass, and purple.  Like all other shirts on our list, this is a classic fit, lightweight style t-shirt.
Athletic Option – Nike Pure Court Women's Tennis Top
We'll be honest with you, there are not very many true athletic t-shirt options with a pickleball related tone or symbol on them for women that are worth buying.  So, we're not going to recommend junk options to you when it comes to true athletic wear.  This women's athletic t-shirt is technically a tennis shirt but, like you'd see at tournaments all across the country, high quality tennis apparel is used for pickleball all the time.
This v-neck tee boasts 10 different color options (the most of any option on our list) and is made from 100% pure polyester.  The Dri-Fit material is meant to hug the body without feeling tight and restrictive.  It'll give and move with your body during play and keep you dry by capturing body moisture while bringing it to the front of the fabric so it can evaporate away.  Perfect for outdoor play.
We hope you enjoyed our run down of the best, more fun oriented pickleball shirts available today.  We even threw in some options that offer a more athletic look and feel.
For other 3rd party online retailers offering other picleball t-shirt options, check out the folks at DinkorDie.com or DinkersandBangers.com.
For pickleball bags to hold your favorite pickleball shirts, paddles and other gear in, check out our Best Pickleball Bags post!
[tcb-script type="text/javascript"]amzn_assoc_placement = "adunit0";amzn_assoc_search_bar = "true";amzn_assoc_tracking_id = "tvco08-20";amzn_assoc_ad_mode = "manual";amzn_assoc_ad_type = "smart";amzn_assoc_marketplace = "amazon";amzn_assoc_region = "US";amzn_assoc_title = "Our Other Top Amazon Picks";amzn_assoc_linkid = "8547148f5e5afddc13a9ecb40617b6b2";amzn_assoc_asins = "B00KI67L6W,B0170STQOA,B072N1GJZY,B004VXSI1K";[/tcb-script][tcb-script src="//z-na.amazon-adsystem.com/widgets/onejs?MarketPlace=US"][/tcb-script]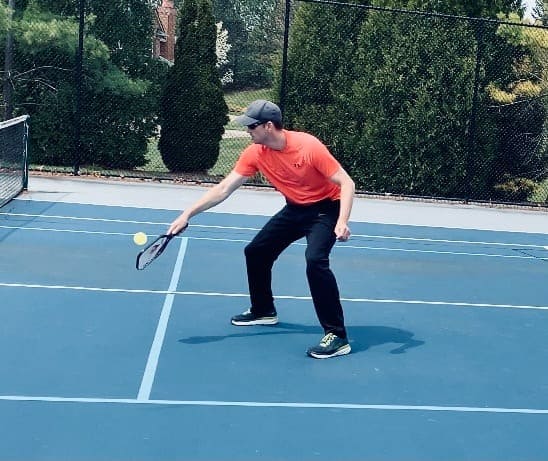 Welcome to TheVolleyLlama.com. My name is Keith, I'm just a lover of all sports that involve a racquet, net and a ball. I played competitive high school varsity tennis, love racquetball and my whole family plays pickleball regularly. I started this website to help give people like you the basics to learn these wonderful games.